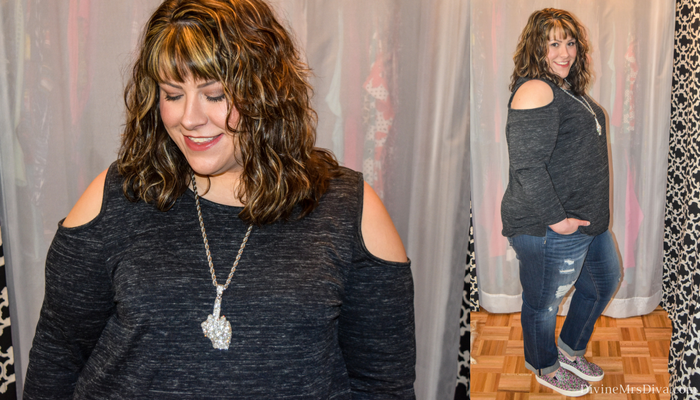 The weather has been total poop lately. We had decent weather (
sunny but cold
) until a couple weeks ago. Since then it has been rainy and gross, snowy and icy, and back to rainy. I try to schedule my photoshoot days for less wet weather days, but Mother Nature is not cooperating with me. And surprisingly, there aren't a whole lot of covered locations to shoot up here. #BloggerProblems
I say all this to preface my out-of-the-norm outfit photos from the comfort of my dressing room, instead of in some outdoor location. I didn't want to wait to show you this outfit because this top is on clearance already. Plus, I wanted to show off one of my Valentine gifts from Sean.

- I purchased the items in this post. All opinions presented are my own and without influence. This post contains affiliate links and I will be compensated if you make a purchase after clicking on my links. -
Before we get started, I am 5'9", typically wear a 22/24, wear a 40B bra, a size 11 wide shoe, and my measurements are 52/49/58.
It isn't that I am anti-Valentine's Day, even though I was when I was single and way more cynical that I am now. These days I see the day as a fun opportunity to make or buy a unique gift for Sean, look for a super sweet card, and to profess my love in as flowery a way as I can. It is also a reminder to tell my friends and family that I love them too.
What I don't like about Valentine's Day is all the stereotypical BS and the inability of people to think outside the box in terms of what they could get their significant other as a gift or show of affection. Sean had to stop at the grocery store to pick up some food for our celebratory fondue dinner at home. He said there is always a frenzy of men trying to scramble to get flowers and chocolates at the very last minute before they go home on Valentine's Day. Just use your brain and plan ahead, I would say to the fellas. Like maybe just watch your kids so your lady can go get a damn pedicure and eat dinner in peace with her bestie. Think outside of what is traditional, typical, or what you think is expected of you and, instead, do something more personally geared towards the person you are gifting.
I also can't stand those basic heart necklaces and all the cheese-tastic Valentine's jewelry commercials telling you that a heart necklace is the only way to show someone you care. So, when I saw all the heart necklace ads all over the Internet, television, and social media, I complained to Sean about how much I hate the basic heart necklace. To me, it just screams "no imagination, no thought, no effort". This is not to shade anyone who enjoys such a necklace. It is just not my flavor.
After a couple weeks of light-hearted complaining about said necklace, you can imagine my delight when I opened the box my husband gave me as part of our Valentine's festivities. He called it the "anti-heart necklace" and I laughed and laughed at how awesome it is. You know my penchant for rhinestone animal head necklaces, so this just takes it up a notch! It is a very sparkly reminder that I enjoy being who I am, even with a sense of humor that is often misunderstood. The
Rhinestone Middle Finger necklace
was calling to be worn immediately, so I paired it with a few new-to-me-and-the-blog items.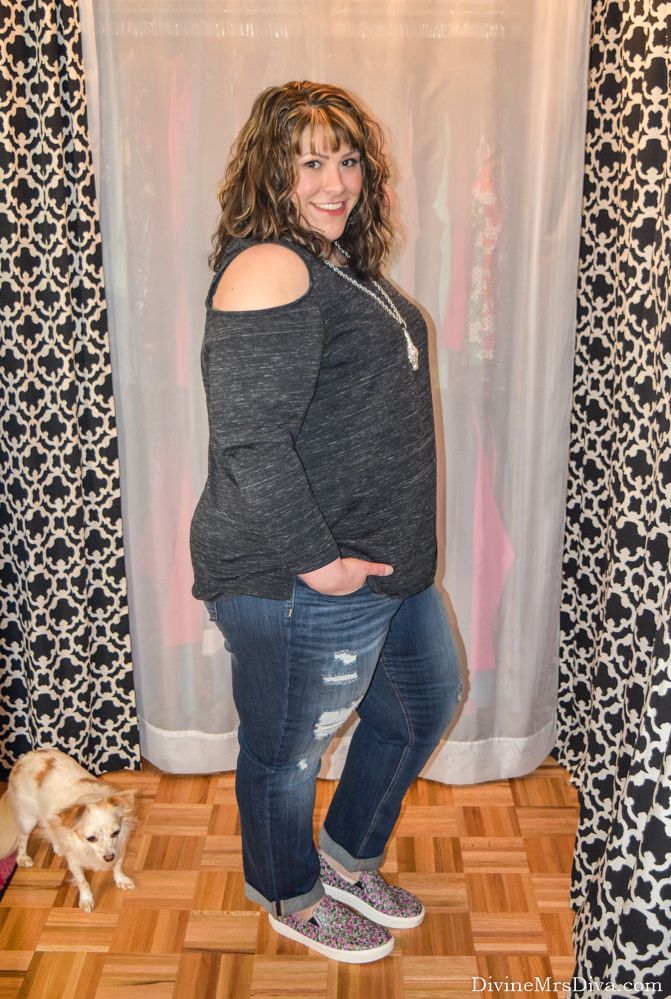 I found this
Cold-Shoulder Sweatshirt with Lace Back
top in the clearance rack at my local Lane Bryant while I was out shopping with my cousin recently. It is also on clearance online for $34.99 (
with an extra 40% off through March 1st!
). The black and teal are both available in sizes 14/16 to 26/28 currently. There is also
a burgundy option
in a size 14/16.
I am wearing the 26/28, so I do think this top runs a bit small. It isn't super loose or fitted in the larger size (I typically wear a 22/24), but it is loose enough to be comfortable and give me room. The fabric is a poly/rayon/spandex, so it is soft with some stretch to it. It is a thinner sweatshirt material - not too bulky, heavy, or hot. This works great for me because even though I have been way more cold than I used to be, I usually get too warm in long sleeves. This material, paired with the cold shoulder cut-outs, seems to regulate my temperature in a pleasing way. I normally am not a fan of this particular kind of cold shoulder cut-out. I think, 'what's the point of some missing shoulders? Just let the shirt be whole.' I really liked the look and feel of this one when I tried it on though. It would also be great for working out outside or going for walks when it is kind of chilly. The criss-cross back also adds a little surprise when you turn around. Clearance was 'Buy One, Get One Free' in-store at the time, so I figured why not? I love it, so I also picked up the teal version online.
I wanted a more relaxed, casual ensemble for hanging out with friends, so I paired the top with my new destructed straight leg jeans from Melissa McCarthy Seven7. I scored them for $15 during the clearance sale. I am wearing a size 24 and really love the fit. They seem to fit my butt well and the waist isn't as high as some of my other styles. The relaxed fit of the leg isn't too baggy or leaning more boyfriend style. The placement of the destruction is also done well. I'm still bummed Melissa's brand is apparently no longer. I did provide some links below for similar options.
In keeping with the casual nature of the look, I added my
Citilane Crocs
. They are slip-on shoes in that silicone material, with a black, pink, and green floral print on them. They are definitely comfortable, but aren't great for super rainy days as they have holes on the top that would easily allow water in. I am wearing an 11 and find it fits true to size. It also seems wide enough and didn't rub my foot weird. I do wear those little socks for flats with them because I hate naked feet in shoes. I also love the
black tropical flower print
version. I may need another pair. ;-)
Pairing my new bomber jackets with the whole look seemed like a fun idea. I ended up wearing the black sparkly one out that night. It added a more street wear vibe that made me feel cool, even though I am not street nor edgy.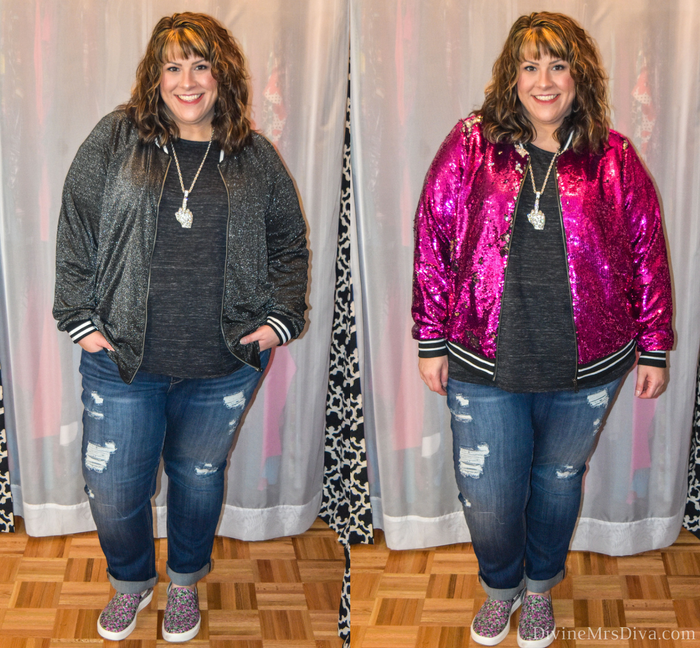 Cold-Shoulder Sweatshirt with Lace Back
- Lane Bryant (also in
burgundy
)
Destroyed and Patched Straight Jean - Melissa McCarthy Seven7 (
similar
,
similar
)
Crocs Citilane Roka Slip-On
- Crocs (also in
solids
and
other florals
)
Hip Hop Iced Out Punk Middle Finger Pendant Necklace
- a gift via Amazon
Ava and Viv Lurex Bomber Jacket
- Target
Pink and Silver Reversible Sequin Bomber Jacket
- Torrid
Just a behind-the-scenes look at shooting. Sean tried to keep the boys calm while I ran around changing clothes.
Have you received a humorous gift that was totally you or totally unexpected in a wonderful way? What kind of Valentine's Day gifts are more your style, or would you rather abstain?