It has been much easier for me to do these smaller groupings of At Home Fitting Room posts. I still have tops and pants to shoot and show you, but for today's posting I have dresses and jackets!
The usual spiel: I shop too much and want to use my experience to help you navigate brands and sizing. Let's get to it!

- I bought all the items in this post. All opinions presented are my own and without influence. This post contains affiliate links and I will be compensated if you make a purchase after clicking on my links. -
Before we get started, I am 5'9", typically wear a 22/24, wear a 40B bra, a size 11 wide shoe, and my measurements are 52/49/58.
Torrid Black Challis Lace Sleeve Hi-Lo Dress
(Still available in sizes 00 to 1 (10 to 14/16) for $38.98; Regular $75, I bought it for $26; A similar shorter dress style is also available)
When I first saw this dress online, I wanted it so bad! I have been so obsessed with this off-the-shoulder style of dresses and tops. I ended up purchasing something more practical, but when it came up during a clearance sale still in my size, I had to have it. I am wearing a size 3 and find it fits true to size. I was able to shorten the adjustable straps so it covers more of my Back Smoothing Bra, which has thicker straps in the back. Obviously, you can wear a strapless if you want as well. The challis (rayon/spandex/nylon/polyester) fabric is lightweight and comfortable. The fabric has a little bit of stretch, but not much. However, the back is smocked, so this does allow for a certain amount of stretch and room, but also keeps it fitted and in place. I absolutely love this dress and am so happy I bought it. My 20-year high school reunion is happening this year and I'm already thinking about what to wear. This dress is a contender.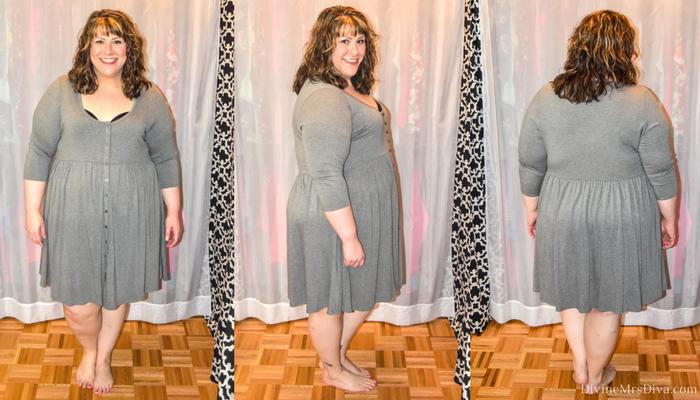 Torrid Grey Jersey Knit Button Front Shirt Dress
(No longer available online; Regular $65, I bought it for $21; Same style available in size 6 (30) in Olive for $33.73; a similar v-neck style in Olive in sizes 00 to 4, 6)
This dress is the same style as
the floral one just featured on the blog
, but the sizing is a little different. I am wearing a 3 and find it to be a little more fitted, with a lower neckline, than the floral dress. I bought this dress first, which is why I initially bought the floral one in a 4. Still, this fits and is cute. I would obviously wear a cami underneath for some coverage and to smooth things out a little. In fact, I really like how it was styled online. The model had a cami underneath and the first few buttons unbuttoned. I want to try that look.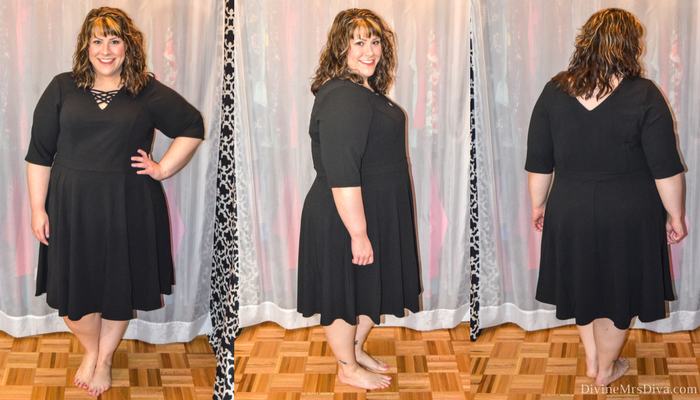 City Chic X Front Skater Dress
(No longer available online; Regular $89, I paid $40.)
It has been a long time since I bought anything from City Chic. Their sizing has always been very inconsistent for me. I usually purchase the XXL/Size 24. Some things in that size fit perfect, some are way too big. So I swore off buying from them. Then my favorite beauty YouTuber Cora, of
Vintage or Tacky
, posted a video of
a City Chic haul
with lots of cute pieces. City Chic happened to be having a $40 dress sale, so I picked up this dress to try out. I am wearing an XXL/Size 24 in it as well. I haven't owned a lot of black in quite a while and have been drawn to more black pieces lately. I liked that this one had the strappy look in the front and 3/4 sleeves. It is a bit more conservative than it looked online, but it doesn't bother me. The overall fit is great. I love the length, the sleeves fit well, the bust fits without being too baggy. It is a little more fitted through the waist, with a waistband not quite empire height but higher than my natural waist. Personally, I would want to wear shapewear with it to smooth things out a smidge in order to feel more comfortable. The real issue for me here is the fabric. It is a thick polyester that can only be meant for colder weather. (The tag says 68% viscose, 27% nylon, 5% elastane.) I would never wear this in the summer because the fabric would be so stifling. I kept the dress because I like the style, but it is more limiting because of the fabric. I was actually surprised this fit, so it did persuade me to give City Chic another chance.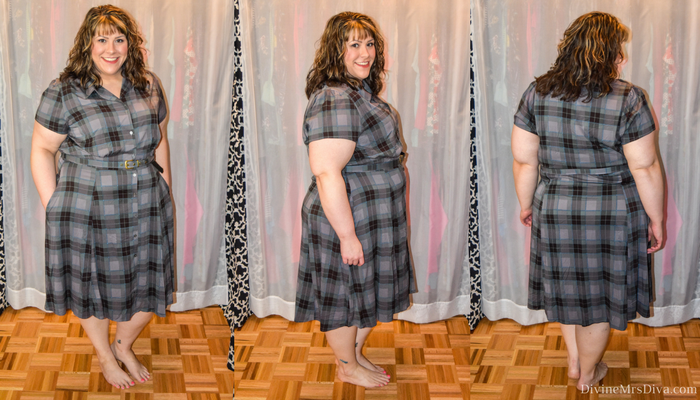 Torrid Outlander Mackenzie Tartan Shirt Dress
(Still available in sizes 0 to 6 (10/12 to 30) for $48.67; Reg, $65, I bought it for $49.)
You know I love Outlander. I ordered this dress in a size 3 during the pre-order in September. When it arrived, I was so sad that it just didn't work for me. This style of dress, overall, probably isn't best for my body type because I do have more weight in my tummy and hips. But I am not one to go down without a fight. I returned the size 3 and kept an eye on Torrid and Hot Topic in case the dress came back in stock. Hot Topic was the first to bring it back, so I purchased it in a size 4. While the 4 still has some fit issues in the tummy and hips, I think sizing up any more would leave the top being a bit too baggy. I love this retro style and the tartan, which is a muted purple/grey with brown. It is much prettier in person than in the photo. The fabric is a lightweight rayon/spandex, so it does have some give. It is soft and really comfortable to wear. The matching tartan belt is included. I would definitely wear shapewear with this to smooth things out and offer a better fit, but that isn't a huge issue for me. I am pleased with this dress and really enjoy when Torrid has an Outlander collection.
Torrid Outlander Claire Red Satin Swing Dress
(Still available in sizes 14 and 20 for $66.67; Reg, $89, I paid $73.)
I was able to purchase a decent chunk of the latest Outlander collection, this dress included. I'm wearing a size 24 and find it fits mostly true to size. If I had a larger bust, it would be just fine. But I wear a B cup and find the top to be a little big. I want to find a tailor to take it in up top just a little bit to combat the slight bagginess in the back. I don't think it looks too bad from the front, but the sides of the back have extra fabric that looks a little sloppy to me. Still, I didn't want to size down because of my larger upper arms. The polyester/spandex fabric is lightweight and does have some give. It is comfortable to wear and a great length for me. The lining has a layer of tulle around the bottom to give the skirt some lift. Don't mind the tulle being a bit bunched in the back in these photos. Sean isn't the most detail oriented photographer. Bless him. lol I love the ruching detail on the sleeves and the fact that the V notch has wire to keep it from curling up.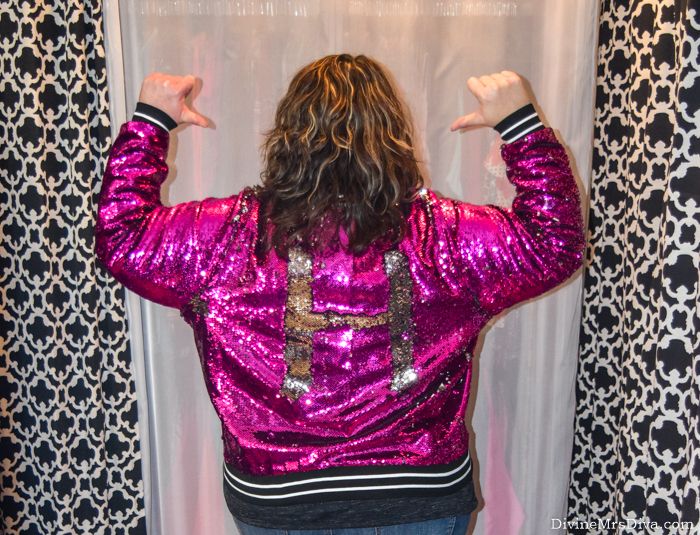 Torrid Pink & Silver Reversible Sequin Bomber Jacket
(Still available in sizes 00 to 3 (10 to 22/24) for $61.48 on clearance; Reg. $108.90, I paid $59.99.)
First, let me talk about the process of actually acquiring this jacket. THEN I will get into the review. The MOMENT I saw this jacket online, I knew I needed to buy it. I snatched it up quick in fear it would sell out. It took forever to arrive as Torrid had just implemented their new delivery system. When it did arrive, the left sleeve lining was sewn weird and twisted so the jacket was uncomfortable and did not fit right. I was so bummed because I had planned on wearing it to a concert. I tried returning it at my store, but they did not carry this jacket. I haven't had to return anything to Torrid by mail, so I looked up the directions. The directions specifically say to call customer service to start the exchange process, so I did. I was on hold for about half an hour before talking to a man smacking on gum. He told me all I had to do was download a return/exchange slip from the site and send it in with my jacket. The conversation itself was pretty short and I thought, 'wow, I really didn't need to call them.' Well, turns out this guy was just a really shitty customer service rep. What he actually had me do resulted in a return without an exchange. I complained multiple times and contacted customer service about what I actually wanted - an exchange! Eventually, someone helpful told me to call customer service and the original price I paid would be honored. So I finally was able to talk with a nice customer service guy who sounded Italian. He had a thick accent that was hard for me to decipher, but he was super nice and very helpful. I made my order via the phone and they did honor the original price.
I was relieved when my sequin bomber finally arrived, free of weird sewing issues and the like. I am wearing a size 4 because I wanted some extra room and a more relaxed fit. I think this was a perfect size for me to get because it also gives a little extra length compared to the website model. I love this jacket so much and am looking forward to an opportunity to wear it out soon. Some people complained that the sequins flip too easy and they don't like that it doesn't stay all pink. If this is your worry, this jacket probably isn't for you. I don't find that the sequins are that easily manipulated, but depending on what you touch and how you move, yeah, some sequins are going to change to silver. The jacket itself is a little heavier because of the sequins, but the lining inside is a poly in the body and spandex on the arms. The lining is very smooth and lightweight. The spandex allows the arms to be a little stretchy, which is a really great thought in design. I'm just overjoyed with this purchase and glad all the drama got worked out.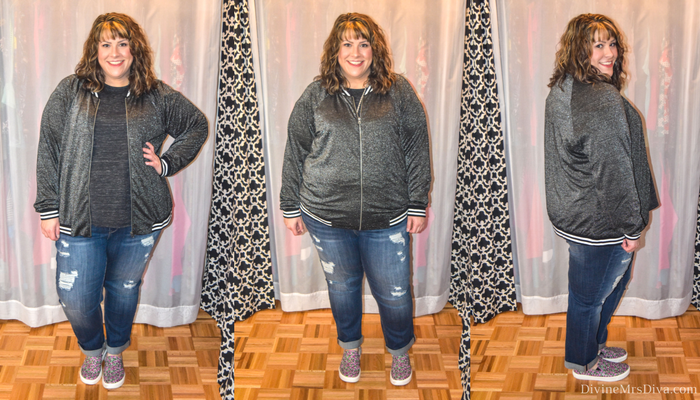 Target Ava & Viv Lurex Bomber Jacket
(Still available in sizes X to 3X for $19.98 on clearance; Reg. $39.99, I also paid $19.98.)
Speaking of bombers, this was a spur-of-the-moment purchase when I saw it on clearance at Target. I am wearing a 3x and find it fits pretty true to size, thought more relaxed in fit. The material is very soft, lightweight, and stretchy. I purchased this because I own the matching sparkly Ava and Viv jogger pants (no longer available) and thought it would be fun to have this set to mix and match. The fabric of the joggers is thicker and more coarse, so I was surprised that the jacket was so soft and lightweight. Anyway, it is a fun piece for layering, and would be good for travel or light work-outs. I think it also added a more funky street wear vibe to the outfit I was wearing with it, which included an accessory that I'm not showing you yet. ;-)



Melissa McCarthy Seven7 Geo Kimono with Bow
(Available on Amazon for $129; Reg $130, I paid $32.25. I do have one in a 3X that I would like to sell if you are interested. It would also be $32.25.)
I am so sad that Melissa McCarthy's Seven7 site is no longer up. All I know is that it seems her line has been phased out and that Seven7 carries plus sizes, just not Melissa branded things. I am so bummed about this because I love my Melissa items and the sale prices were phenomenal! Such an item is this kimono. I love this colorful print, so when this kimono came up on sale I purchased it. It is the only Melissa McCarthy top I bought because I initially bought a 3X, which was way too big on me. I wanted the kimono to be more fitted and way less roomy. I only found one blogger wearing it in a post when I was doing research on sizing, and even she did not mention what size she was wearing (which is why I try to include so much detail in my posts). I ended up buying it in a 1X and find the fit is still oversized, but definitely more along the lines of what I wanted it to look like. The fabric is a polyester, but feels more like a rayon. It is lightweight and cool, but isn't quite as soft as rayon and has a little bit of texture to it like a poly. The kimono has a drawstring waist with matching tie. While it doesn't look best with this particular outfit, I find it looks great with shorts and a tank. I still have the 3x because the sale price meant no returns, so if you are interested in purchasing it from me I will just charge what I paid. Email me or leave a comment if you'd like to buy it.
I hope you've enjoyed this latest At Home Fitting Room! I always love bringing these posts to you and hope you find it helpful. Do you own any of these items? Do any appeal to you? If you have further sizing thoughts or questions, let me know!