We had a short bout of sunshine a couple weeks ago, so I ventured out to take another round of outfit photos. Snow is falling down incessantly as I write this, so to say I am looking forward to spring (
or more likely the case here - summer
) is an understatement. Still, it is nice to have an excuse to stay home and work inside without feeling guilty about it.
Today I am bringing you some floral jersey goodness in the form of this button front dress from Torrid. I saw it, had to have it, and couldn't wait to wear it - even if it was a bit cold out.

- I bought most of the items in this post. All opinions presented are my own and without influence. This post contains affiliate links and I will be compensated if you make a purchase after clicking on my links. -
Before we get started, I am 5'9", typically wear a 22/24, wear a 40B bra, a size 11 wide shoe, and my measurements are 52/49/58.
Despite my best efforts, Torrid's
Multi-Color Floral Print Jersey Knit Button Front Shirt Dress
(
*whew* that is a mouth full!
) is almost sold out. It is still available in a 0 (size 12), so I am going to tell you about it anyway. As it has been so popular, this could mean it will come back in stock at some point. In my defense, it was on its way to sold out status when I made my first order for a size 4 (26/28). That order was canceled, so I snatched up a 3 (22/24) instead.
I wanted this dress so bad because it meets a number of requirements I look for in a dress. It is jersey knit, has 3/4 sleeves, is lightweight but able to be layered, has an open neckline, is longer than most of Torrid's other dresses that hit me a few inches about the knee, plus it has a pretty floral print. The pink, purple, and turquoise colors remind me of the thyroid cancer ribbon colors, which makes it that much more special to me. Add to that the butterfly is a symbol for the thyroid, so I felt this dress was screaming for me to have it, like, NOW. As stated, I ordered this dress in a 3 when my size 4 order was canceled. I wasn't sure how it would fit because I ended up ordering
a solid grey dress
(still available in a size 2, or 18/20) in the same style during a big clearance sale. While I also bought that dress in a 3, it is definitely more fitted and a little smaller than its floral sister.
I'd sworn off buying shorter Torrid dresses because, at 5'9", most of them are just too short for my personal preference and desired aesthetic. When I saw that this beauty looked a little longer than the others, I was thrilled. While it still hits right above my knee, it is at least two or three inches longer than the typical Torrid sundress. I absolutely adore the fit-and-flare style of the empire waist and the button detailing. I own a couple other dresses in this similar style and especially love them for their ease of wear in the summer. Because of the knit fabric, this piece will also be great for traveling and perfect for any season. It fits true to size in every way. I truly hope Torrid makes more of this style in the future. I've worn the dress multiple times already and receive lots of compliments whenever I wear it.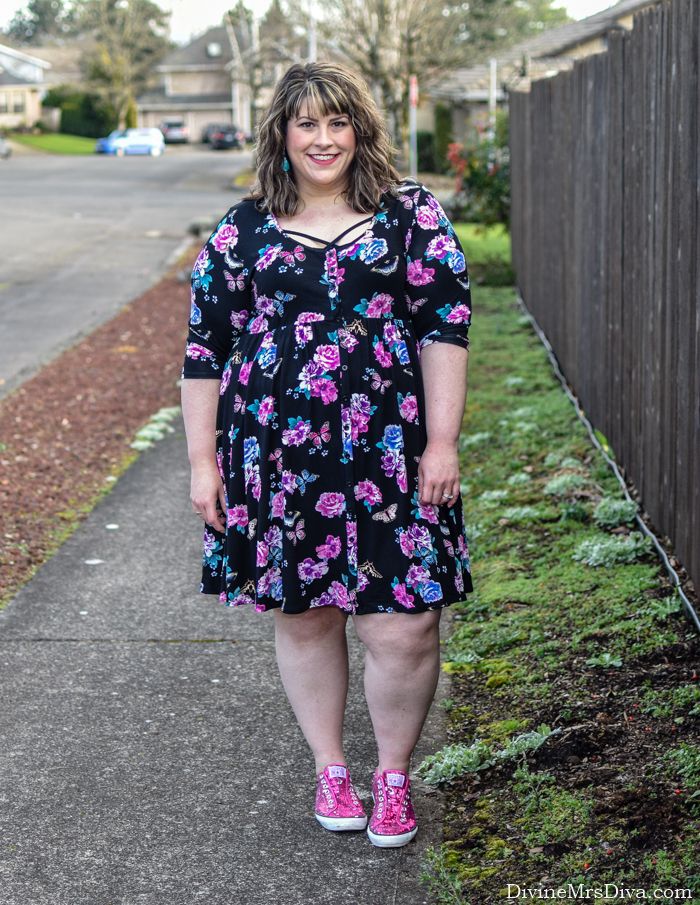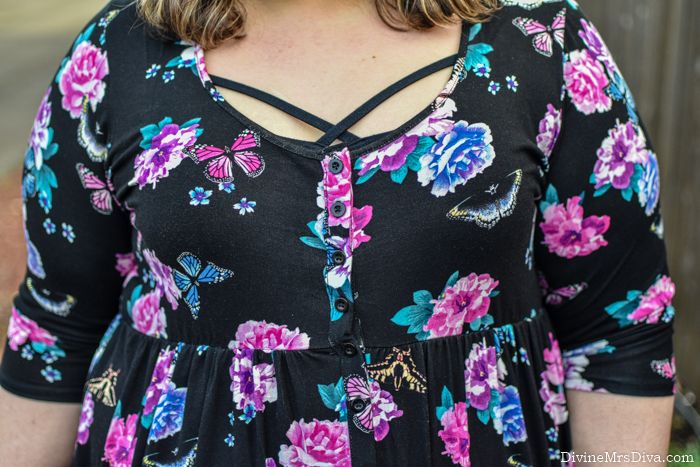 With the lower neckline that I love, comes the responsibility to not show off too much of my Girls. While I would still be totally fine not layering a tank underneath, I really liked the opportunity to add the
Black Strappy Foxy Cami
, also from Torrid, to this look. I prefer the Foxy Cami in a size 4 for layering. I want to size up to a 5 or 6 in the Foxy tops to see if they have more tummy room. The 4 is super fitted, but still comfortable to wear. I just wouldn't want to wear it with an open top because of its skin-tight nature. Strappy tops are still super trendy right now. I love the added sexiness of the straps, and think it lends a little more of an adult feel to this very feminine and girly dress, while providing me a little more coverage and helping me to keep warm. The air was chilly, so I still needed that added layer.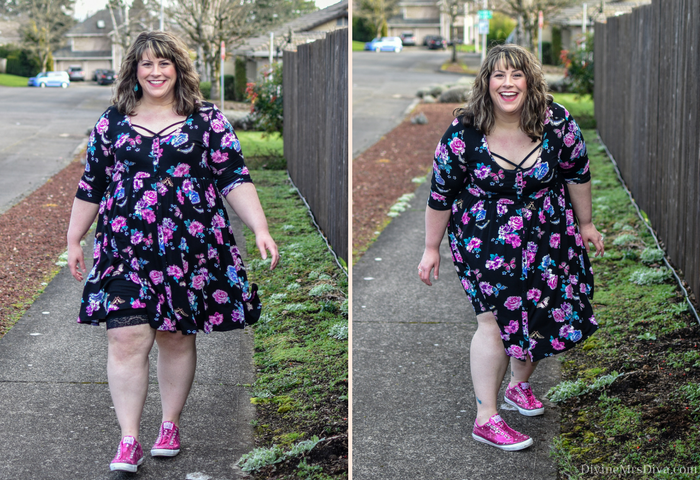 Also layered underneath the dress is a pair of black
Modal Mid-Thigh Lace-Trim Shorts
, an Amazon find and a steal at $12.99! They come in sizes 1X to 3X in six different colors. I love the super soft, stretchy fabric and cute lace trim. I own them in five of the six colors (you've
seen the green ones
on the blog before). I'm wearing a 3X and find they fit true to size, while still being extremely comfortable. If you are larger than a 22/24, these may still work for you because the fabric does stretch quite a bit. The lace doesn't seem to stretch as much as the fabric, so that may be an issue. The Zerdocean brand also has plus size
leggings
(
fleece-lined
, "
fall
",
printed
),
capri leggings
(
printed
,
lace-trim
), and
basic mid-thigh shorts
with no lace.
For accessories, I added older pieces from my closet. A trusty denim jacket is always in style.
This one
, from Yours Clothing, was gifted to me
for a previous post
, and has become my favorite denim jacket. I linked below to a couple solid versions (including this one from Yours), but also included a couple of really great embroidered options as well. If you need a denim jacket, the good news is that you can find them just about anywhere and in any price range.
A pink eyelet purse and sequin converse add pops of color and keep with my flirty casual vibe in this ensemble. I decided to go sans necklace because of the strappy tank, and instead chose to accessorize with my turquoise orchid petal earrings from Maui-based brand
Nagasako Designs
. I am really happy with this whole look and am counting down the days to warmer weather, sunshine, and even more excuses to wear it all again.
Multi-Color Floral Print Jersey Knit Button Front Shirt Dress
- Torrid
Black Strappy Foxy Cami
- Torrid
Modal Mid-Thigh Lace-Trim Shorts
- Zerdocean via Amazon
Indigo Denim Western Jacket with Long Sleeves
- c/o Yours Clothing (
similar
,
similar
,
similar
)
Sequin Converse - Target (
similar
,
similar
)
Liz Claiborne Joan Crossbody Bag - JCPenney (
similar
,
similar
,
similar
)
Moana Earrings -
Nagasako Designs
(
similar
,
similar
)
My cousin and I headed out for a fun girls' day after taking these photos. We got pedicures, had a tasty Thai lunch (
Tom Kha Gai soup
is my new favorite thing!), and went shopping at Lane Bryant and Maurices. Because of our new 35mm lens, Sean and I don't get to take as many of our traditional selfies during photo shoots. Mindy offered to take a few for us, so I can at least include a couple of those. lol
Do you enjoy easy, breezy, knit dresses for summer and layering in the cooler months? Is there a style of clothing you need every color in? Do you have a fantasy article of clothing you wish was being made?