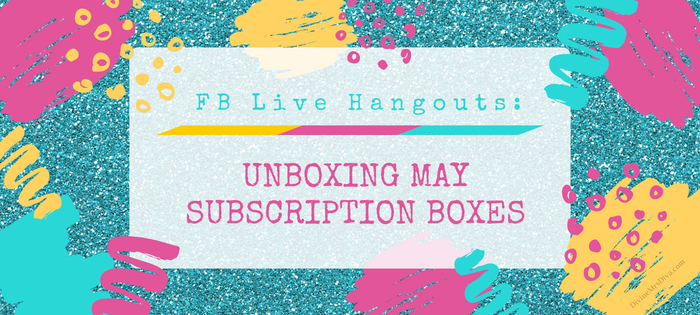 A few weeks ago, I started toying with the idea of doing impromptu videos for y'all so I could talk about a variety of subjects. I asked the folks over on
my Facebook page
if they were interested in seeing me do some Facebook Live videos, and what they would want those videos to be about.
Doing a FB Live video is helpful for me, versus making a video for YouTube, because I don't have to edit or upload a video. I can simply log on and talk to you as friends. This facilitates my ability to still talk to you about the topics that interest us, but I don't have to worry about the time-consuming task of presenting a sleek video to the world.
So from here on out, we will be having
FB Live Hangouts
on Thursdays at 5PM Pacific Time. I will post on my Facebook page at the beginning of each week to let you know if we are still on for Thursday, and what the topic will be for that week. I certainly hope you can hang out with us live, where we can chat, ask and answer questions, and get to know each other better. However, if you can't make a Live, you can still watch it after the fact and ask questions that I can respond to. I am so excited about this latest supplement to the blog and look forward to hanging out with all of you!
In today's post, I'm talking a little about this process and introducing you to my first FB Live Unboxing video! Future unboxing vids will be at the end of each month. Enjoy!

If you follow me
over on Facebook
, none of this is new to you; but I did want to make an official announcement on the blog in case it interested the rest of you in any way. I haven't had enough time lately to post on the blog as often as I would like, or to talk about the multiple topics that interest me. Makeup was the topic that most people wanted me to talk about in FB Live videos, so we started with an unboxing of my May subscription boxes. In the future, we will also discuss makeup application, play with products from various makeup brands, etc. I would also like to use this platform to go over clothing when I do At Home Fitting Room posts and the like.
I've tried different ways of presenting the contents of my subscription boxes to you, but nothing has stuck. For me, photographing the products, finding all the links and item descriptions, testing all the products, and then writing all that information down for you was something that easily became incredibly time-consuming and would snowball into a backlog of stuff I could never catch up on. This would exacerbate my anxiety and make me feel like a failure and a let-down. I would beat myself up about it and just completely feel like poop for not being able to share these things with you.
So now, we are starting fresh. I threw out all my old info cards I was keeping to post about in case I ever caught up. I've been a Birchbox subscriber since 2012, Ipsy since 2013, and Sephora Play for about two years now. It was a LOT of cards.
I always look forward to seeing what my next box includes and trying out new products! In the May unboxing, I also go over a Target Beauty Box, which I buy on occasion, and I discuss my Weebox, a subscription box about all things Scotland. Sean gets Birchbox Man, so I can go over that one in the future if y'all are interested. I've also tried subscription boxes for jewelry, handbags, wine, dog toys and treats, etc.
If you are reading this when it goes up on Thursday, today we are starting our Build Your Face (
this is the silly name I came up with
) series in which I will be discussing different topics on makeup application. Today we are starting with primers and color correctors. Come join us!
Want to subscribe to any of the boxes I discuss in the video?
If you have topic suggestions or questions for future videos, please feel free to comment or message me! I appreciate your feedback and hope to catch you on the Live!