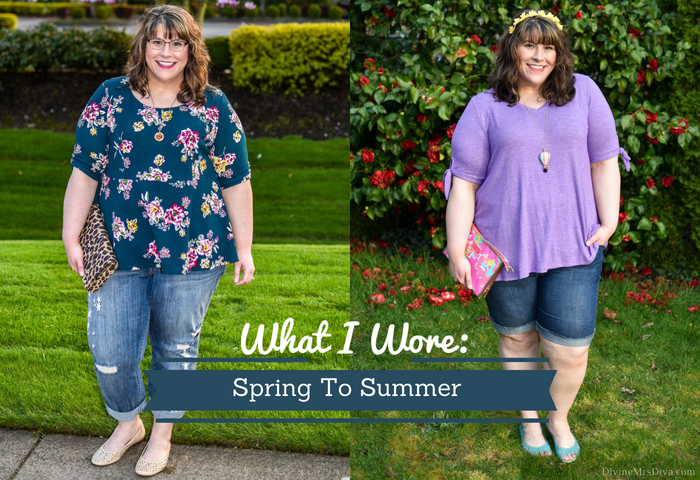 Man, it has been a month! I struggled through the usual springtime depression I get having to deal with Mother's Day and the anniversary of my father's death. I tripped around on my anxiety leading up to my dentist and endocrinologist appointments. I cheered as my friend Brandon
released his album
. I was whisked away to the beach for my birthday weekend. Then I came home to clean the entire house, finish a time-sensitive craft project, and pack my suitcase for our anniversary vacation. That week I also had the aforementioned doctor's appointments, culminating in the Red Dress Party the night before we left for vacation.
Once back from vacation, I had a migraine for most of last week. I decided to cater to my body and rest (
not that much can be done during a migraine anyway
). But this week, I am back in business!! I've been working on more ideas for blog and social media posts, editing photos, and trying to get back in the swing of things. I'll be working on these latest adventures first before catching you up to all previous adventures, of which I am still making time to edit photos. Also, I want to add that when I say "edit photos", I am referring to making sure the lighting is good (
I usually need to lighten them up a smidge
), cropping them, resizing the photos for the blog, and adding a watermark. I saw some very obvious photoshop jobs done by some bloggers recently - bloggers who claim to be body positive and full of acceptance - and it rubbed me the wrong way. Everyone is going to do what they are going to do to be comfortable but I think photoshopping your body in photos, especially when you tout yourself as being body positive and full of self-love, is a hypocritical move. I digress.
In today's post, I am showing you two looks I shot for a spring project that got pushed back. I really like both of these looks, so I wanted to make sure you got to see them. I imagine they won't fit with the project when/if it is done at another time. (
I am not in control of this project, but was asked to participate. Fingers crossed it comes back around!
) Enjoy!

- I bought most of the items in this post. The Kiyonna top was gifted to me last year for review. The Propet shoes were gifted a few years ago. All opinions presented are my own and without influence. This post contains affiliate links and I will be compensated if you make a purchase after clicking on my links. -
Before we get started, I am 5'9", typically wear a 22/24, wear a 40B bra, a size 11 wide shoe, and my measurements are 52/49/58.
Look #1 - The Spring: Floral Top and Capris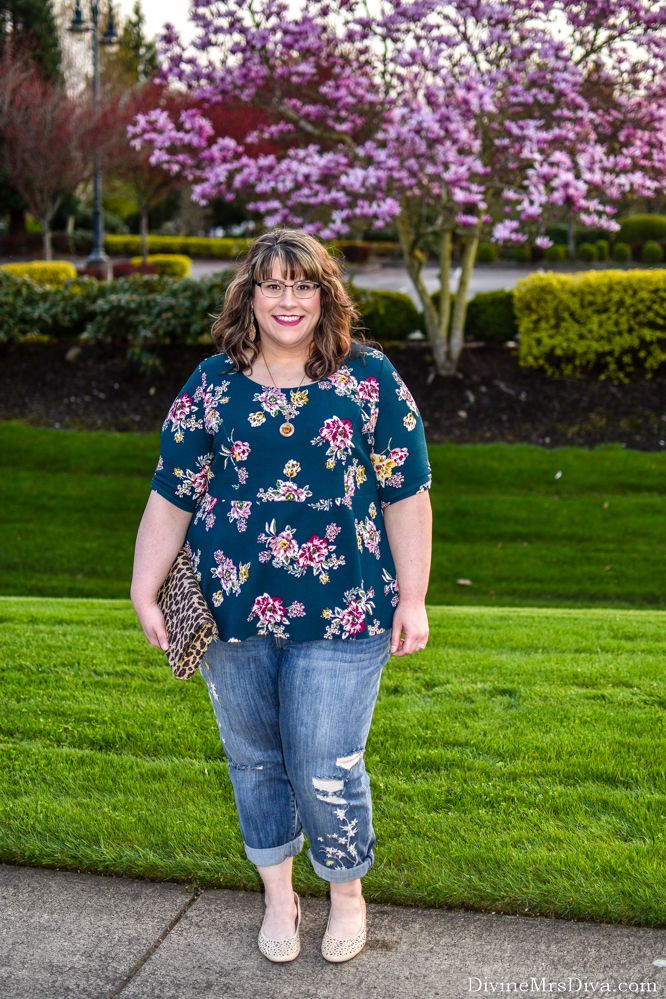 When I was putting together looks for this defunct project, I wanted to touch on various versions of spring outfits I would normally rock. I picked out a couple dresses, a
colorful denim look
, this capri ensemble, and the shorts outfit below to represent my spring style. Once I put the looks together and began to choose photos, I noticed that a majority of them were heavy on floral patterns. I definitely have a spring style. haha
I love this
Penny Peplum Top
from Kiyonna. It is one of those I wish they would make every season in different prints and color combos. It is lightweight and easy to wear and fits my body well. You can read
my full review
from my original post about it last year. It was easy to style in a fall look, but I have been trying to incorporate it into more outfits as we move through each season.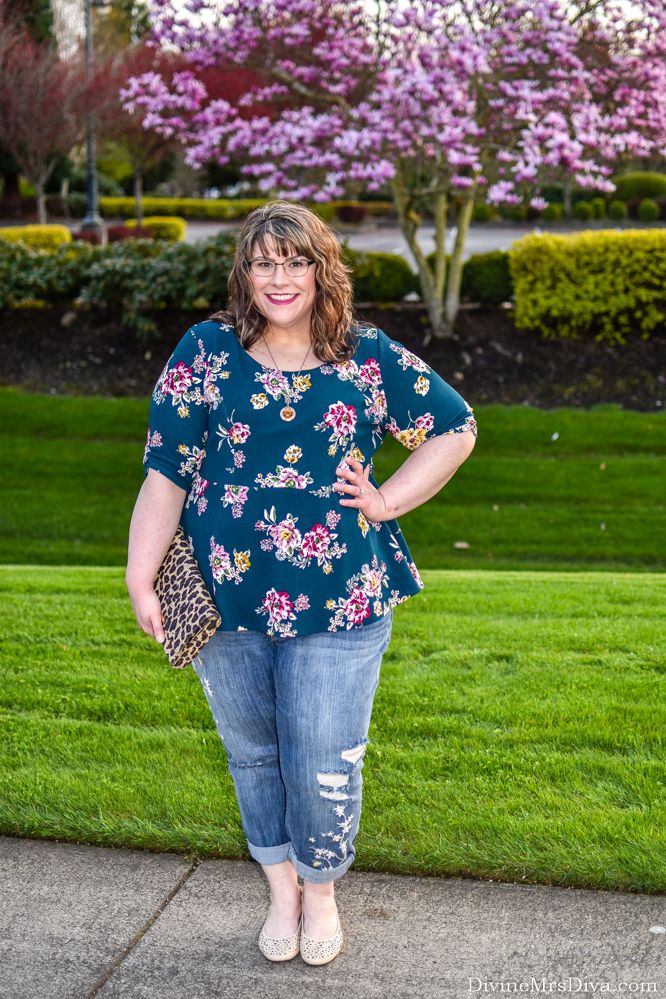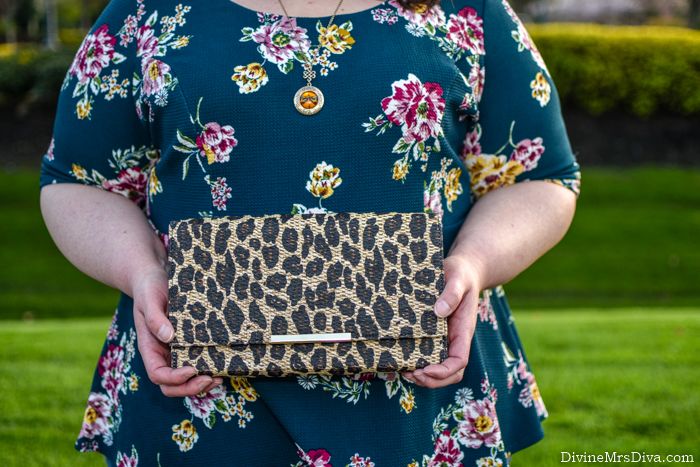 I really wanted to push myself to mix prints and play up the colors and pattern in the top, depending on what I found when I shopped my closet. The floral embroidered capris (
this pair was a birthday gift from Sean last year
) seemed logical. Both the top and embroidery contain white and yellow elements and I appreciated the major nod to spring. A nude flat seemed a little more dressy casual and kept the shoe from competing with the rest of the look. The shoes do have little dotted cutouts that seemed to mimic the shape of the flowers on the jeans, so I thought that was a fun detail for those who would notice. I chose more subdued gold jewelry to add warmth and complement the yellow of the flowers in the shirt. Filigree earrings and my dragonfly necklace did the job! Finally, I added this leopard print bag because I loved the texture of the straw and the colors of the leopard print played really nice with the colors in the top.
It was a really fun look to put together because I just played around in my closet and tried different things. It took shape organically, but felt like it belonged together all along. I felt super cute!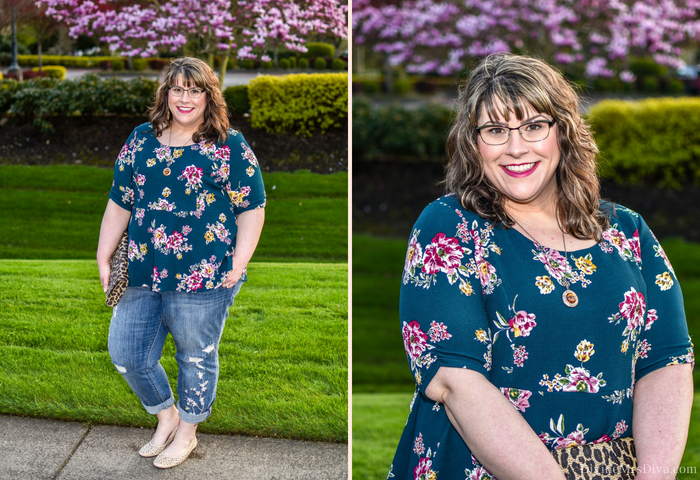 Penny Peplum Top
- c/o Kiyonna (
similar
,
similar
)
Torrid Premium Boyfriend Jeans with Floral Embroidery - Torrid (
similar
,
all boyfriend jeans
)
Cicely Flat
- c/o Propet
Outlander Dragonfly Locket Necklace
- Hot Topic/Torrid
Boardwalk Style Brown Leopard Large Straw Clutch -
Zulily
(
similar
,
similar
,
similar
)
Look #2 - The Summer: Shorts and Swing Top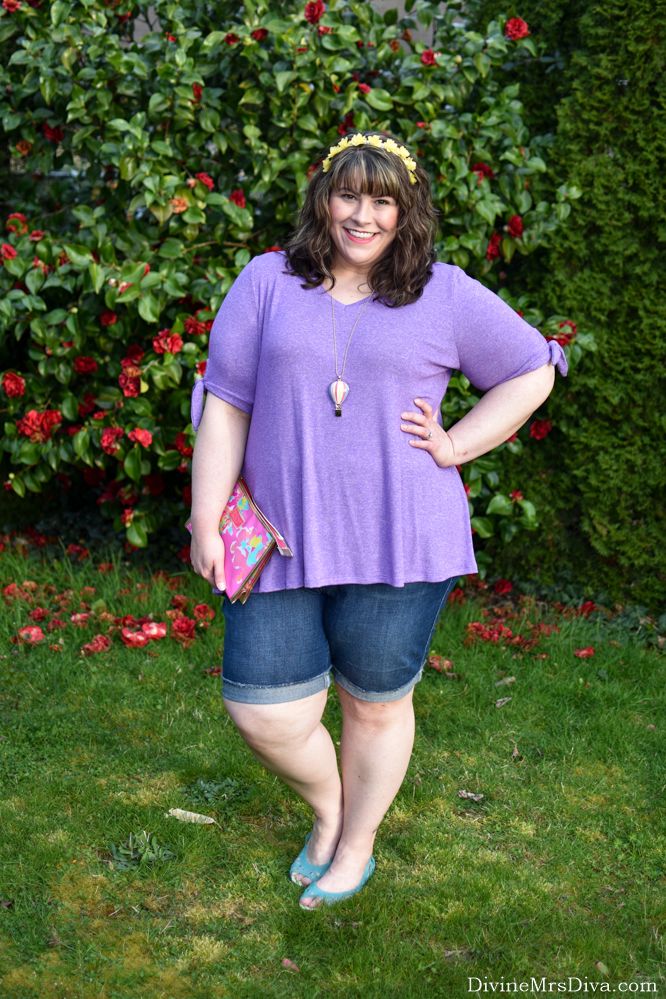 My shorts look was another colorful, fun ensemble to put together. These Lane Bryant shorts are my favorite, though their new offerings don't fit quite the same. The Catherines shorts I linked below fit more like these do.
The purple swing top is new to my wardrobe. I picked up this top, and its turquoise twin, while I was in store one day trying to spend my Rewards Points. I love swing style tops because they give me ample room in the tummy and hips without clinging. The soft, stretchy fabric of this top is lightweight and moves really well. I wasn't sure if the ties on the sleeves were too cutesy or just right, but they felt like a fun detail that I certainly didn't already have in my closet. I started with the shorts and top and branched out from there.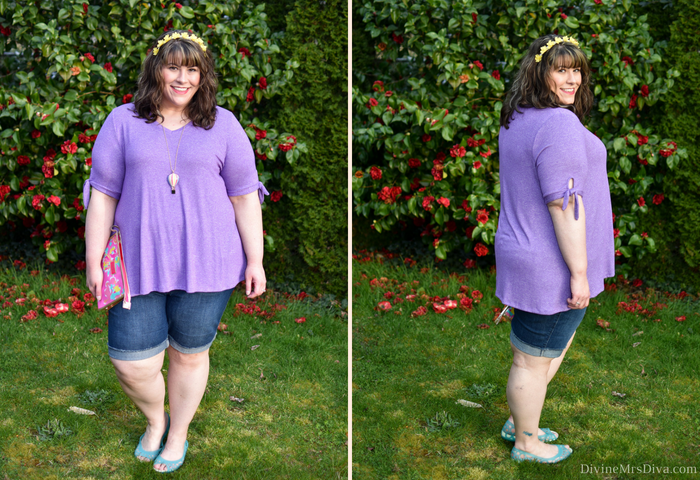 I loved the turquoise shoes with the purple, which led me to the whimsical hot air balloon necklace from Charming Charlie. The necklace contains mostly yellow, so I grabbed my flower headband for that extra springy vibe. Rifling through my purses was very quick work when I spotted this colorful Lilly Pulitzer bag that really brought all the colors together. This bag is actually one of those "Free with purchase" cosmetic bags that got handed down to me when someone else didn't want it. I love it as a little colorful clutch.
Again, this was a look I hadn't worn yet that was a perfect representation of my spring style. Now maybe once it gets hot here, I can wear it outside!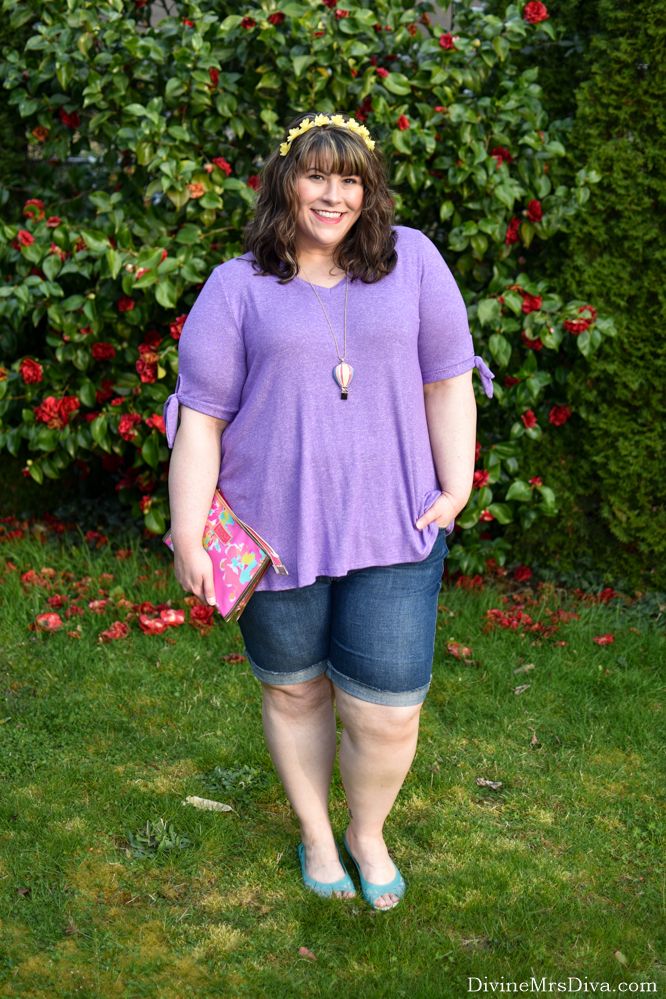 Hacci Tie-Sleeve Swing Tee
- Lane Bryant
Roll Cuff Bermuda Shorts - Lane Bryant (
similar
,
similar
,
similar
)
Adrina Flats - Crocs via Amazon (
Isabella
is the latest iteration)
Estee Lauder Lilly Pulitzer Floral Cosmetic Bag
- (
similar
,
similar
,
similar
)
Hot Air Balloon Necklace - Charming Charlie (
similar
,
similar
,
similar
)
Headband - DIY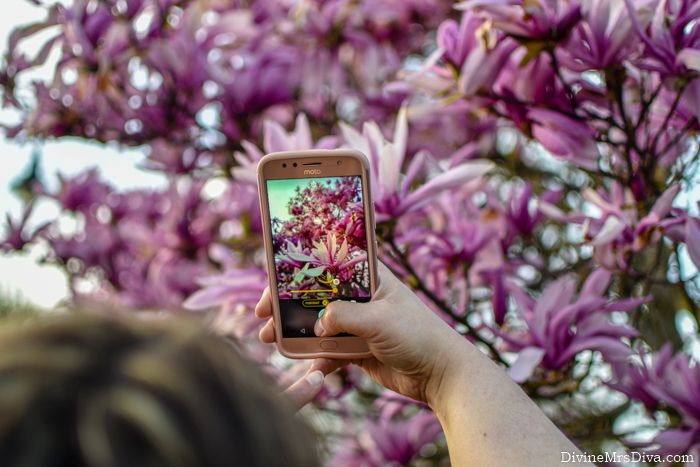 How would you describe your style? Have you seen pictures of your outfits and been surprised by the style or patterns you see in your clothing choices? What kind of outfit represents your personal style?