While the sun is few and far between these days, I like being able to take advantage of the days when it is nice. For today's post, I was able to bask in the sunset of one such day while I pranced around in my latest Kiyonna pick.
Today is all about reviewing the
Penny Peplum Top
from Kiyonna, a versatile choice with a great color palette. I've also added reviews of these Melissa McCarthy Seven7 jeans and Comfortiva oxfords. Enjoy!



- Kiyonna gifted me the top for this post. All opinions presented are my own and without influence. This post contains affiliate links and I will be compensated if you make a purchase after clicking on my links. -
Before we get started, I am 5'9", typically wear a 22/24, wear a 40B bra, and my measurements are 52/49/58.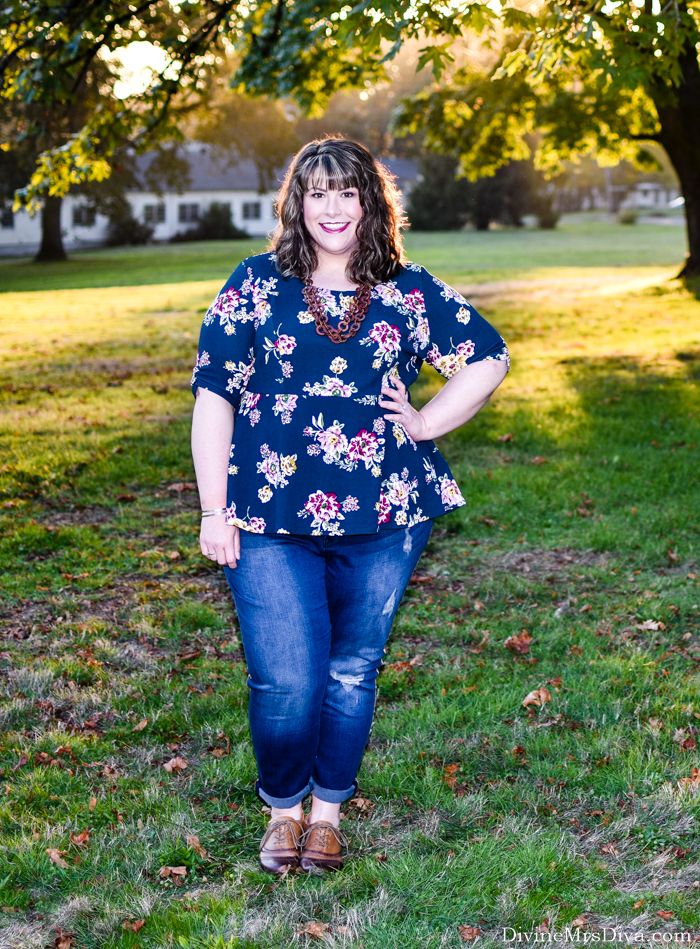 When I saw the beautiful color combo of the latest
Penny Peplum Top
, I knew I needed to see it in person. The dark teal green background is almost like a very deep, blue-based forest green, with a floral print in burgundy, mauve, muted greens, golden yellow, and white. I think it is even prettier in person! The soft poly/spandex fabric has some stretch to it, making it quite comfortable to wear. The lightweight fabric is neither too thin nor too thick, which makes it ideal for every season. It also has the benefit of being lined with the same teal green shade of fabric on the inside, which helps give an overall smooth appearance (no lumps and bumps or bra strap outlines). I also love the texture of the fabric. It isn't totally smooth but has a tightly knit, almost basket weave-looking, texture to it (see photos). This adds some interest to the solid areas, but isn't scratchy or distracting. One of my favorite Kiyonna wrap dresses,
the All Work and Play dress
, has this same texture.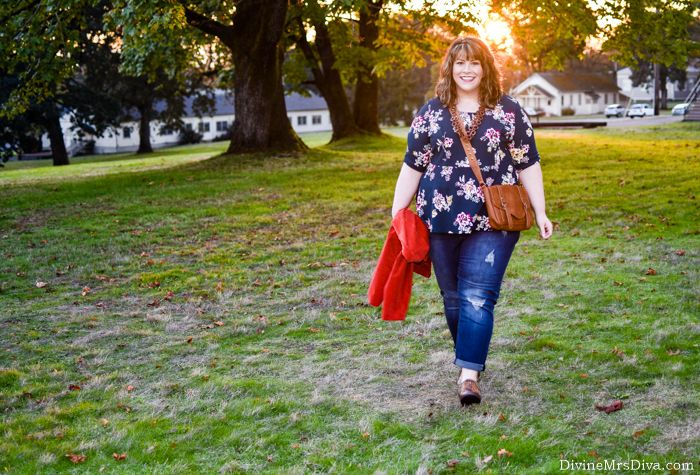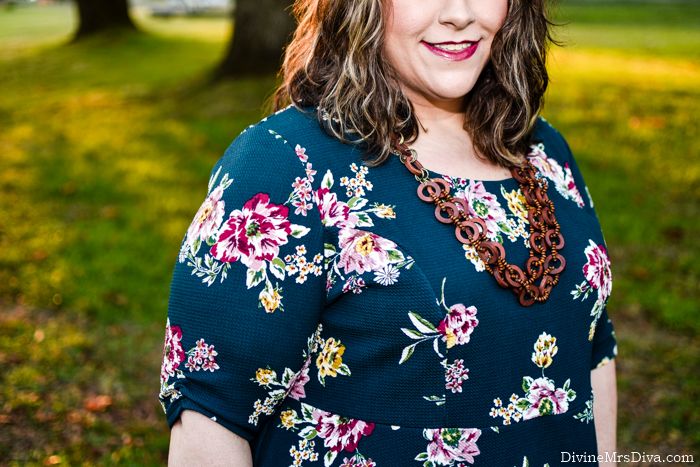 Peplum style tops are some of my favorite because they have such a feminine flair to them. The skirted portion of the top flares out from the more fitted bust and accentuates one's curves in such a lovely way. I definitely have tummy rolls and don't like tops clinging to them. No one wants to be fidgeting with their clothes all day. Peplums are great for disguising tummy rolls, but also help create that fit-and-flare shape without needing to add a belt.
I'm wearing a 3X in this top and find it fits true to size. The waist/top of the peplum hit me at just the right spot, slightly below my bust, while the hem of the top hits right above the tops of my thighs. This length is certainly more versatile and will allow me to wear this top with pencil skirts as well. I definitely have some extra room in the bust, but it doesn't make the top look oversized or sloppy. In fact, I love the more relaxed fit. And can more places please make sleeves this length?? These perfectly elbow-length sleeves are the most darn perfect length I can imagine as of late, with little ruching details along the outer hemline.
To summarize, I love this top! It's pretty and polished, feminine and versatile, casual and dressy, and comfortable to wear. I hope that Kiyonna continues to make it in some more prints as well. If teal isn't your jam, the Penny Peplum comes in three other color combos/prints. What's your favorite? From now through October 31st,
take 20% off your order of $150 or more
at Kiyonna with promo code MONSTER20!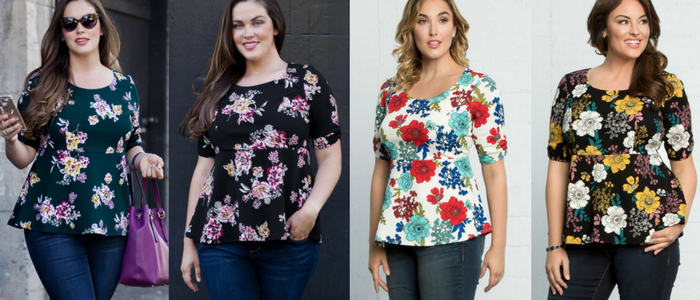 Source: Kiyonna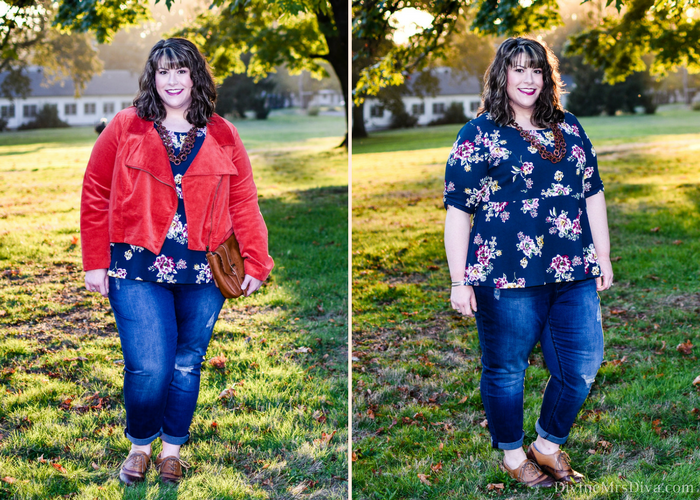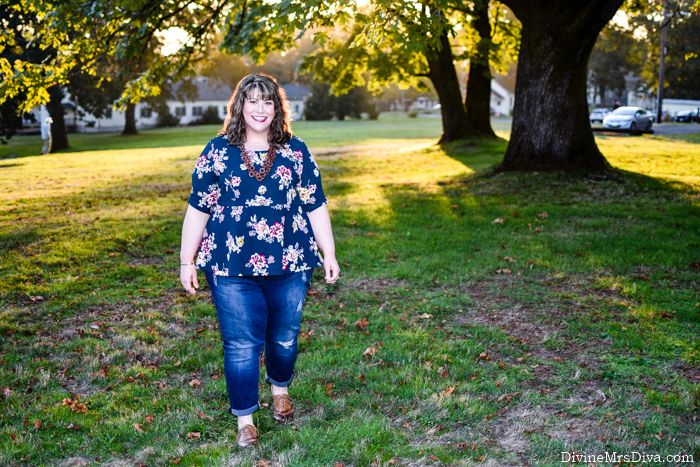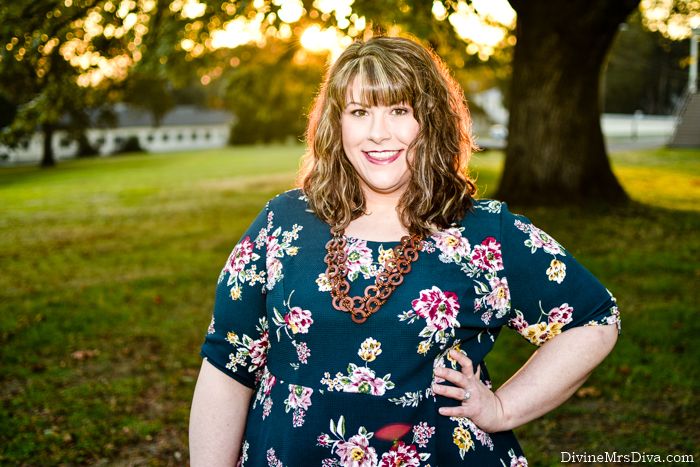 In styling this top, I wanted to keep things casual but incorporate warm colors and some texture to go with the fall weather. It is easy for me to think of florals as cutesy and girly, which they can be, but I wanted to challenge myself to accessorize a different way. As I mentioned above, the top has a gorgeous color combination. It would look great with a burgundy jacket or jeans, but I don't have those things. Instead, I paired the top with some distressed, straight-leg jeans and rolled the cuff for a more relaxed look.
These jeans
are another Melissa McCarthy pair I picked up on sale and are still on clearance for $22.25 (down from $89)!! A majority of the plus sizes are still available. This is my first straight leg pair from the brand, but they are not too long. The roll cuff certainly adds to their versatility and style for me as I am a generally casual dresser. I think these stretch out just a bit though and I *maybe* could have sized down one.
The warm brown oxfords are still casual and comfortable, but add some interest and mimic the color of fallen leaves. I haven't worn my oxfords too much on the blog since I bought them in winter of last year. However, with this outfit you have now seen all three colors that I own on the blog: brown,
black
, and a
brown/blue combo
. They are quite comfortable and so cute, but I wouldn't recommend them for all day events,
like Comic Con
, where you are on your feet for at least ten to twelve hours.
I veered from my typical sparkly necklace to add some texture and more earthy tones with this wooden circle necklace. I also think it helps tie the shoes in as well and keeps with my fall leaves inspiration. This thrifted brown messenger bag, a
ThredUp
find, also keeps with my "shades of brown" accessorizing as well. And while I don't necessarily love the orange jacket with this overall look (
I think it looked cuter in person than it does in photos
), I wanted to continue that "fall leaves" color palette and grabbed this vibrant orange moto jacket. Thankfully, it wasn't crazy cold out.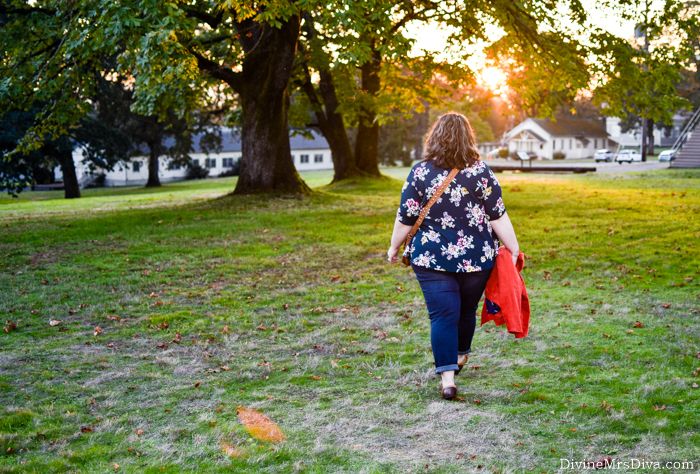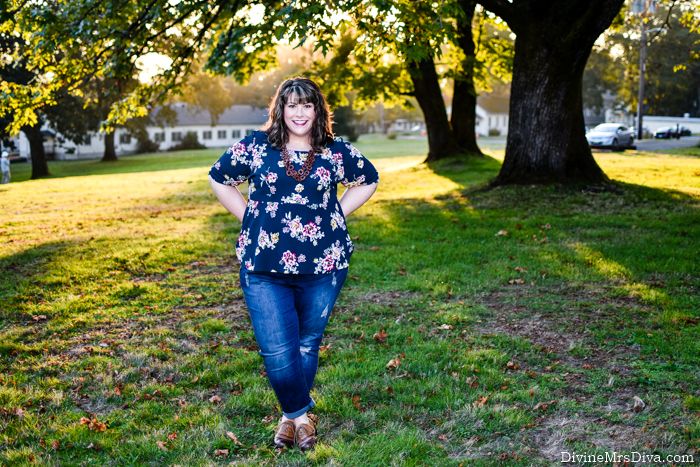 Penny Peplum Top
in Teal Floral Print - c/o Kiyonna
Roll Straight Leg "M" Pocket Jean
- Melissa McCarthy Seven7
Comfortiva Reddell Oxford
- Zulily
Woodland Necklace - Catherines (circa 2015)
Full Steam Trailhead Jacket - Modcloth Stylish Surprise (
similar
,
similar
,
similar
)
Carlos by Carlos Santana Messenger -
ThredUp
Lipstick - A mix of Colourpop's
Blotted Lip in Lolly
&
LOC Vibrant Matte Lipstick in Glam Life
, with Colourpop's
Ultra Glossy Lip in Wolfie
on top
Of course, I must share this cute photo of Sean and I together, but I am also including a video Sean took of me dancing around to the bagpiper that showed up while I was shooting photos. I was really pissed off that he had no respect for me being there first. He parked in the background of where I was shooting and just stood around talking to some old man for a while. So I moved over a bit to take the photos you have seen here on the blog. But even after doing that, he moved into the MIDDLE of the field behind me and proceeded to play his bagpipe. So in most of these photos, there is a bagpiper hidden behind my body because he wouldn't get out of my shot. Also, I love bagpipes, so at some point I had to not be pissed off and just accept it.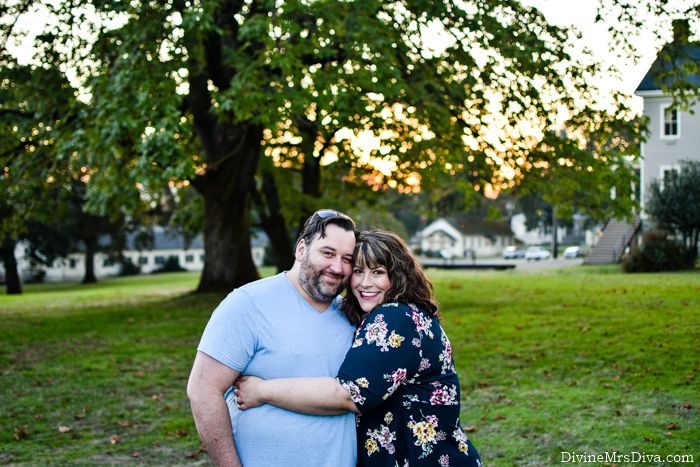 How important is versatility to you when you purchase an item? Do you focus more on how much you like it or do you think of all the different ways you can wear it first? How would you style the Penny Peplum Top?