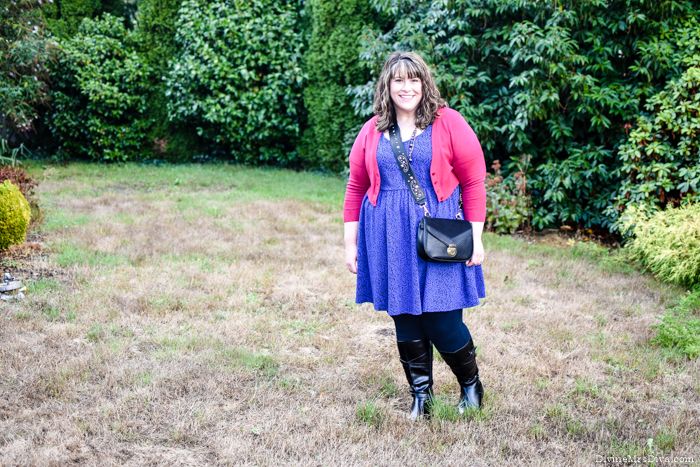 Well, I brought out my boots, so you know what that means - it's officially fall!! I cannot tell you how happy I am to have crisp fall air and changing leaves. Of course, in the Pacific Northwest this usually means rain until June, but we've had some bouts of sunny days here and there. Overall, the weather has been rather ideal - cool air and sun or clouds with only the occasional rain. As the rain sets in, it gets harder and harder for me to take decent outfit photos. I've been taking advantage of the dry weekends this month by shooting various outfits.
Today's post is a look at th
e
outfit that I wore to the Cirque du Soleil show. It was a comfortable and cute ensemble (duh!) that helped me transition into the fall weather.

- All opinions presented are my own and without influence. This post contains affiliate links and I will be compensated if you make a purchase after clicking on my links. -
Before we get started, I am 5'9", typically wear a 22/24, wear a 40B bra, and my measurements are 52/49/58.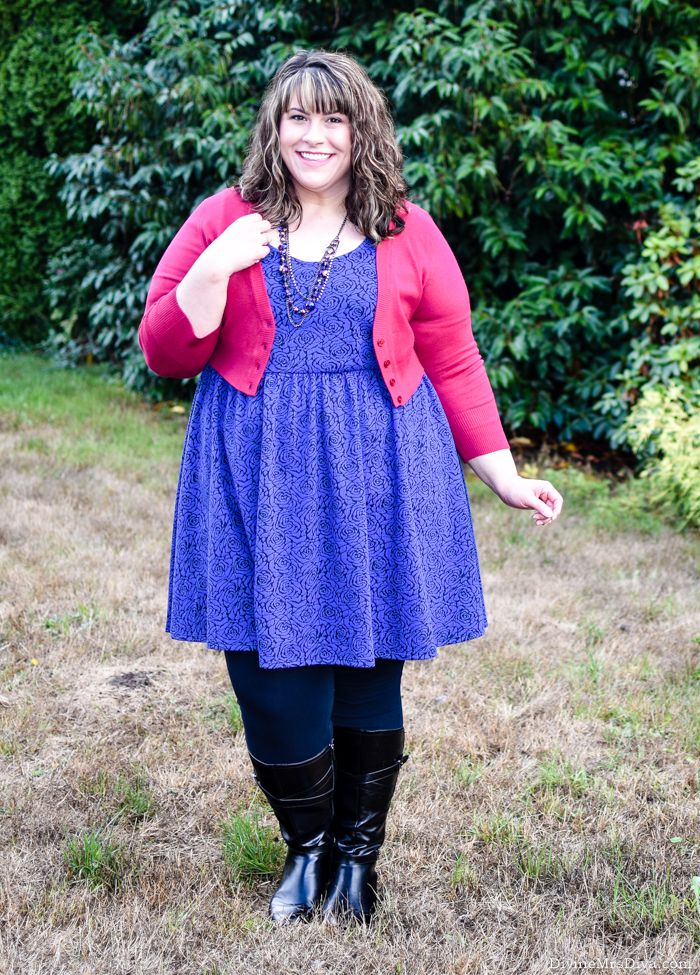 I threw this look together when Sean and I headed out to Portland to see the new Cirque du Soleil
Kurios
show. It was slightly rainy and cool, but I knew how hot it was going to be inside the tent. When I posted the outfit to social media, I received a lot of compliments on it. I wasn't planning on blogging about it because it was a mix of already owned pieces, but everyone's interest in it was exciting. I don't often re-post specific pieces and outfits I wear though, realistically, I am always remixing items or wearing the same outfits a lot. I think I will be rethinking this going forward and making more of an effort to show you guys how I wear things in multiple ways or with multiple outfits.
It can be so easy to focus on the NEW and the NOW and the LATEST as a blogger, and that can cause one to have more self-doubt when they don't see that in themselves. It is been really frustrating lately to feel like I belong here when all I see are folks throwing out lies and bullshit and just trying to sell the next thing - and then they become incredibly successful. I pride myself on my integrity. I refuse to try to sell you something simply because I was asked or paid to. I can't live like that. And thus, I am not a "successful" blogger. (And just to clarify, I don't think all bloggers or all successful bloggers are lying, but I know for a fact that some are.) I think my point in all this is that, it can be very frustrating to feel unseen and unheard when you put so much time and effort into what you do and don't seem to get ahead for all the effort. The result is that you doubt yourself and second-guess everything you do. You think nothing is good enough. It is a constant struggle and something I battle on a daily basis. Sometimes those negative voices are loud, sometimes quiet.
But this is where y'all come into play, friends. Because you loved this look, it made me realize that it doesn't have to be "new and now" to be worthy of blogging. I need to just focus on continuing to be myself and go with my gut.
And now that I have digressed, I shall get back on track.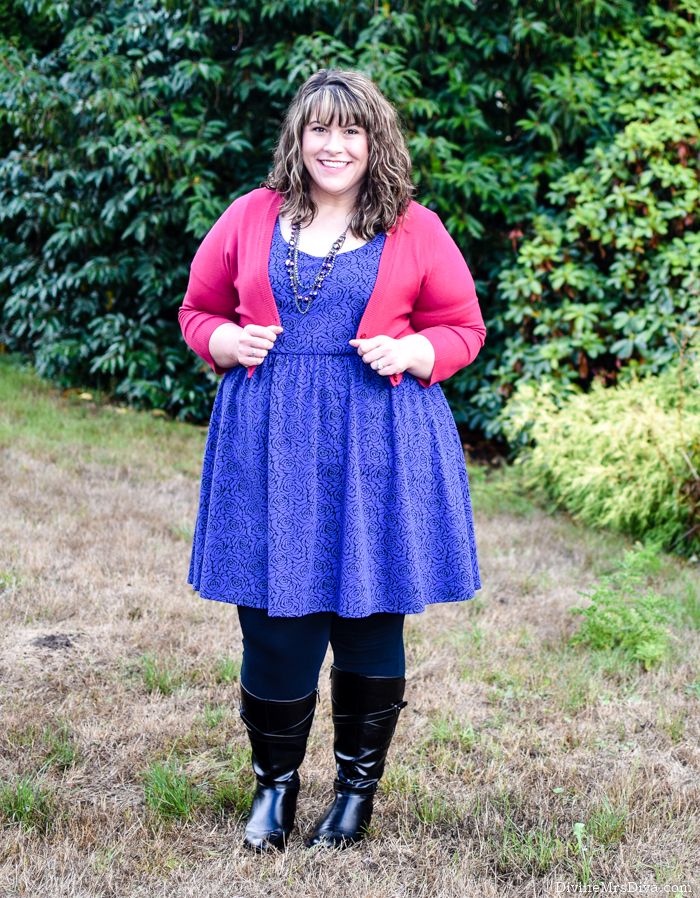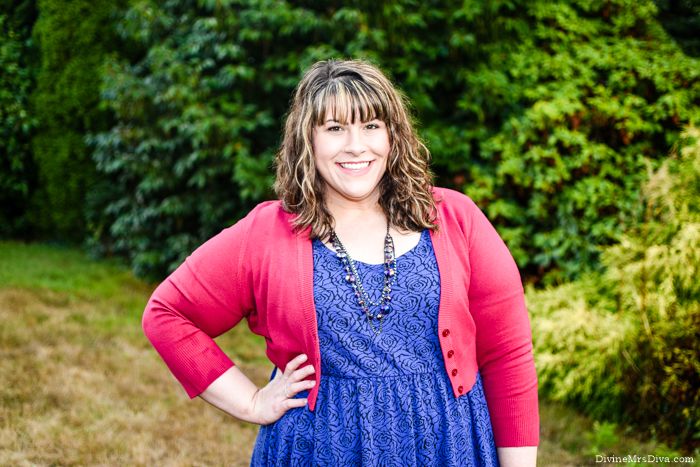 As I stated above, this outfit is a mix of various items I already owned. The only somewhat current piece is the
Dream of the Crop Cardigan
from ModCloth. While this raspberry color is no longer available, they continue to carry a variety of colors. I wear a 3X in this style and own it in a few colors now. You've
seen this same style of cardigan on the blog before
, but in navy. Since the dress is short-sleeved and I didn't want to wear a jacket I would have to carry around a majority of the time, I went with the three-quarter sleeves. I hadn't worn this bright berry shade yet, but I think it went well with the purple/blue of the dress. I just wish Sean had told me to pull it down in the back when we took photos. (See below. I swear dudes never see the little details.)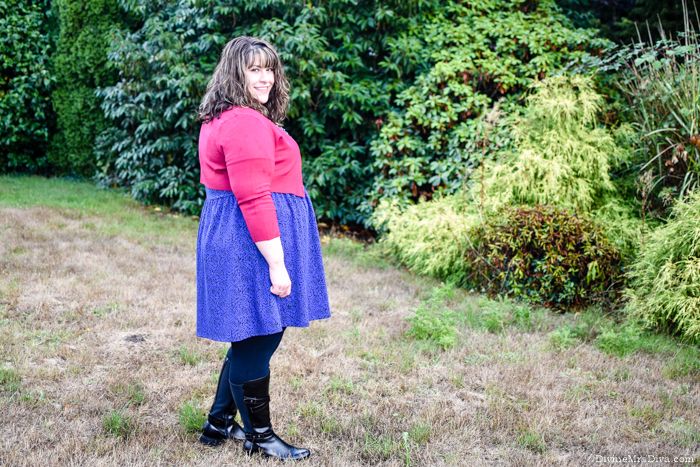 My go-to look for a throw-on ensemble in the fall is leggings, boots, and a dress. I am comfortable, I feel cute, and I can mix it up in multiple ways. I've been trying to start the process of cleaning out my closet for quite a while now. I was going through some dresses and found this one tucked away amid the stuffed rack in my closet. I pulled it out and vowed to wear it again soon. I bought this dress back in 2013 and
did a post about it
on the blog. I love the heavier ponte-like material, which works well for a fall dress. It isn't too hot and heavy, but still provides a nice bit of coverage. Plus, the jewel-toned purple is totally me.
I bought these boots on clearance from Avenue last year because my current ones were getting a bit out of shape. I think this was actually my first time wearing these boots since purchasing them. It finally got cold enough! Also a first time wear was the studded crossbody purse in the top photo. I am a notorious giant purse carrier, but my back and shoulders are not what they used to be. I've been challenging myself to carry less and use smaller purses in the process. This little beauty was a $13 clearance find at Charming Charlie over the summer. I am SO GLAD I bought it. I was eyeing it online, but it sold out before I could get it. Thankfully, it came to me in store while I was out shopping with my mom-in-law. I didn't dare let it get away from me again. I have received so many compliments on this purse. The studded strap is such a great statement piece! I felt like the outfit was pretty simple for my taste, so this purse really dressed things up for me and added some interest. I've been carrying the purse ever since.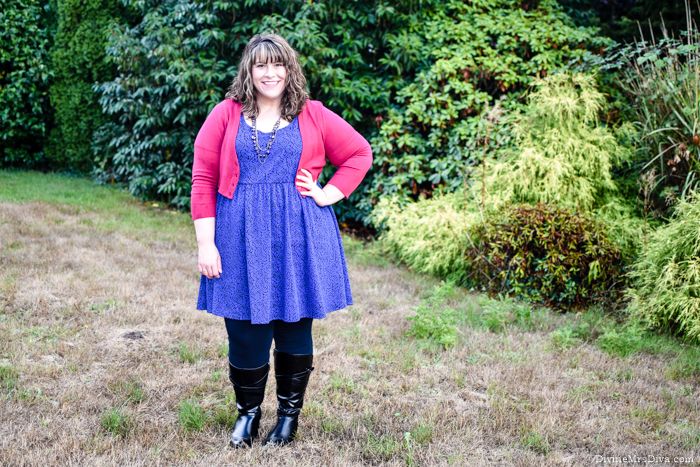 Blue Rose Print Jacquard Knit Dress - Torrid (circa 2013)
Dream of the Crop Cardigan
in Raspberry - ModCloth (available in multiple colors)
Multi-Strand Necklace - Vera Wang via Kohl's (circa 2014)
Active Leggings - Lane Bryant (
similar
,
similar
)
Andie Stretch Riding Boot - Avenue (
similar
,
similar
,
similar
)
Studded Strap Crossbody - Charming Charlie (
similar
)
Do you find yourself wearing the same outfits on repeat or do you prefer to mix things up? Is it hard for you to think of new ways to wear items? Do you have a loved piece that got lost in your closet and you found again recently?