If you've been reading the blog for a while, you know Sean and I like to come up with themes, silly pictures and costumes, and crazy ideas for our Christmas cards. This year is no exception. You can see our other cards on the blog
here
and
here
.
In today's post, I present you with our card photo and review the new accessories I bought to get cold weather mileage out of my Torrid Outlander dress. I have been wearing it a lot lately and am so happy I went ahead and purchased these pieces. Read on!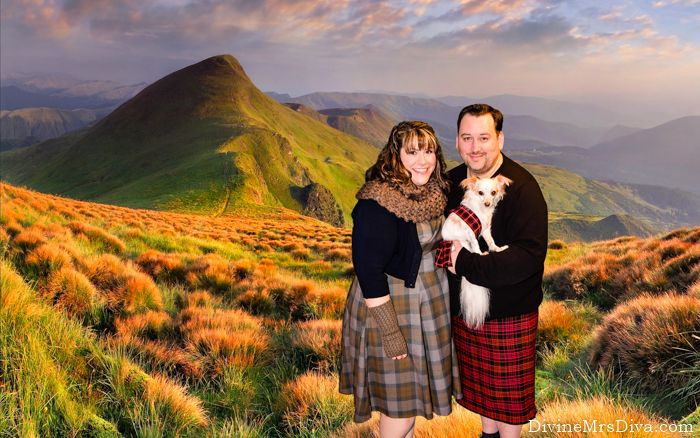 First of all, Merry Christmas and Happy Holidays! I hope you are all finding joy in your week - be it spending time with family, watching your favorite holiday movies, indulging in some favorite holiday treats, taking a vacation, etc. Things can get hectic and drama-filled, but make sure you take some time for those quiet little happy moments that make life so special.
You may have guessed, our card theme this year is Outlander!! I couldn't pass up a nod to my new obsession, plus I wanted any excuse to wear my dress again. I'll talk more about my ensemble a little later in the post. Sean's had a kilt for a bit now, partly to appease my obsession but also because he does have Scottish ancestry. We didn't need to purchase a whole lot of things to complete our card, which was another plus because we were late getting it made this year. One thing I did have to come up with was a kilt for a dog. Something I never thought I would say, "Dog kilts are so expensive!" hahaha
I wasn't willing to pay $60+ for a dog kilt, so I picked up a yard of fabric at the craft store that looked close to Sean's McDonald tartan kilt and set to work. I measured over and over again and worked out the pattern backwards in my head based on what I wanted it to look like. I was happy to pull out my sewing machine again because I was getting a little rusty. It was another one of those creative endeavors I mentioned yesterday that made me feel so happy and confident in the end. I finished it in an afternoon and was thrilled with the results.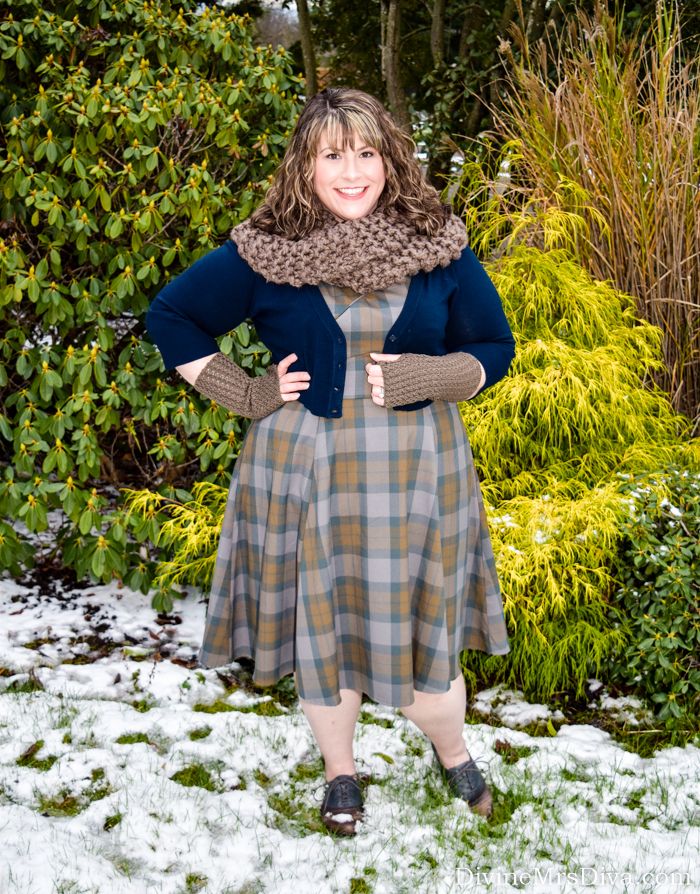 I was so excited to finally wear all of the pieces gathered for my look!!
The last time you saw this dress on the blog
, I was enjoying the last of summer weather in a brown crocheted shrug and pewter flats. As the weather turned colder, I started looking for a warmer cardigan I could pair with the dress. I was mainly looking for warmer toned browns or navy because I thought grey would be too light and cool-toned. Eventually, I narrowed it down to this
The Dream of the Crop Cardigan
from ModCloth. I haven't purchased a whole lot from ModCloth, but have really enjoyed the things that I have bought from the brand. When they had a sale over Black Friday, I went ahead and snatched up the cardigan. It really exceeded my expectations.
I am wearing a 3X and find it fits true to size. My bust measurement is 52 and I wear a 40B bra, so I do have a smaller bust in comparison to a lot of plus size women. While I don't really intend to wear the cardigan buttoned that often, it buttons easily and fits very well that way also. The cardigan is thick enough to be well-made, but doesn't feel stifling and too heavy. I haven't washed it yet because the elbows haven't stretched out like a lot of my thinner cardigans and shrugs. Like I said, it is very well made and comfortable, with nice stretch and room for my larger upper arms. I am keeping my eye on the style for more colors that work in my wardrobe.
The three-quarter sleeves are exactly the length I was looking for and the cropped length of the cardigan itself really works well with the fit and flare style of this dress. The dark navy color is absolutely gorgeous and really works with the tones in the dress! Sometimes it is hard to tell when looking at online item photos, so I was thrilled when it arrived in the mail and was exactly what I wanted it to be.
I honestly do not own a lot of navy. I bought a cute sundress over the summer that was all navy. When I posted it on Instagram, someone I admire said navy looked so good on me and I should wear more of it. That compliment stuck with me. Now I find myself trying more navy items instead of immediately going for black or brown like I normally would.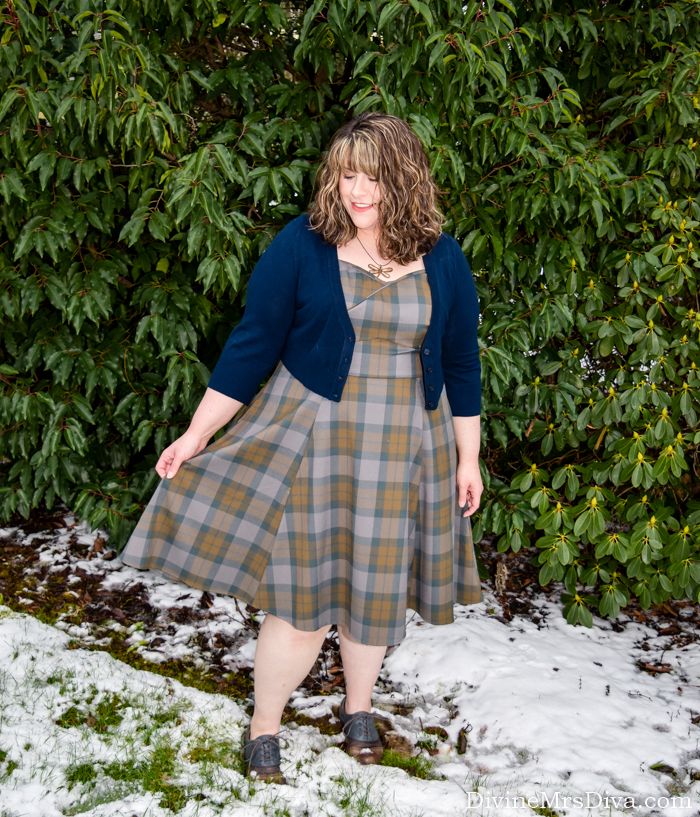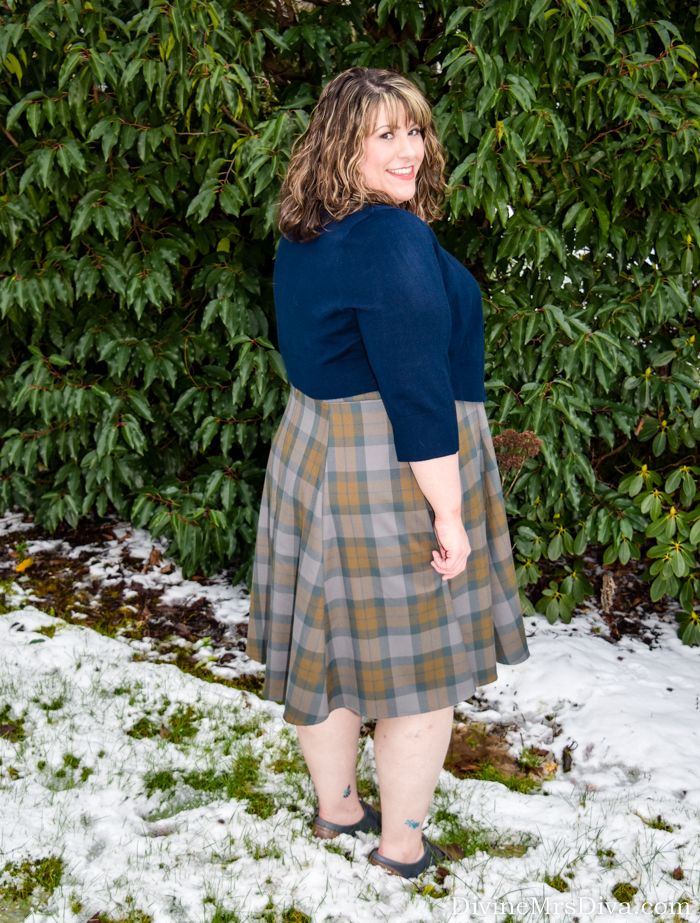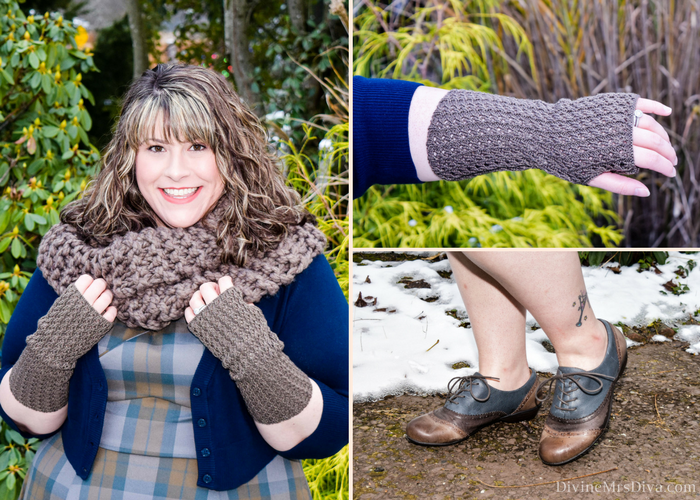 For other accessories, I definitely lucked out. I spotted these
Comfortiva Reddell Leather Oxfords
on Amazon not too long after I bought this dress. I wanted the plain brown ones, but they are regular $90. While I was waiting for them to hopefully go on sale,
Zulily
ended up carrying Comfortiva. They only had the brown and blue version of the oxfords in my size (11W). I read a lot of reviews and ended up buying them because they were on sale for $50 via Zulily. Zulily also has the option to make two payments on your purchases for a majority of the products they offer, so I took advantage of that as well.
I am so glad I bought them! Not only do they work well with this dress and meet my future needs of cosplaying as 1940s meets 1743 Claire Fraser, but they are incredibly comfortable. The inside sole is cushioned, the width is wide enough (maybe even slightly wide at the ankle), and they look really great. Zulily often offers the same brands over time and I already snatched up the black pair on sale as well.
I have lots of Etsy favorites saved with versions of Claire's crocheted cowl and gloves. I was putting off buying them because I wanted something close to the show version, a similar brown color, gloves that matched the cowl, but also something budget friendly. I was actually going to wait until closer to Halloween next year to buy the pieces because I want to be Claire for Halloween. Once we decided on our holiday card theme though, I needed to hustle and make a decision. A company called
Abbyshot
had a big sale over Black Friday in which they offered the cowl and arm warmers for 50% off. I was nervous about the gloves fitting my arms, but they were a great deal.
Both items are actually well constructed, soft, and warm. I was very cozy in the snow with just these pieces and no extra jacket. Thankfully, the arm warmers do fit my arms well without being tight or feeling too restrictive. I cannot find the arm warmers anywhere online anymore, but
the cowl is still available at Abbyshot
. Likewise, you will find lots of vendors on Etsy offering similar pieces. If you use search terms like "chunky cowl", "Outlander inspired scarf/gloves", "Claire Fraser cowl", etc., you will find lots of choices! And if you know how to crochet your own, you don't need me to tell you all of this. haha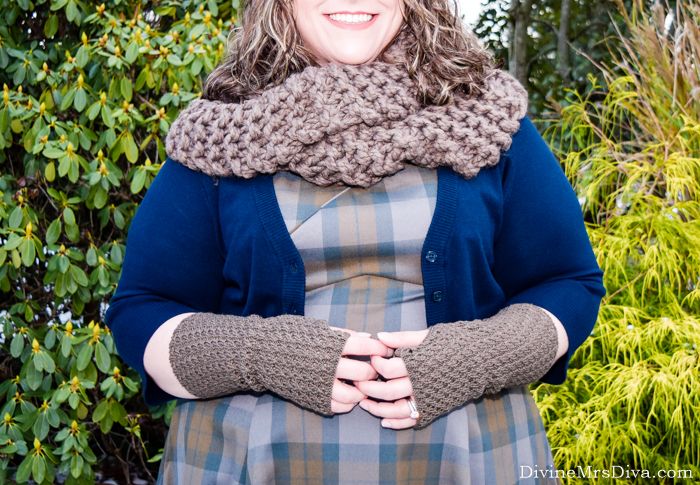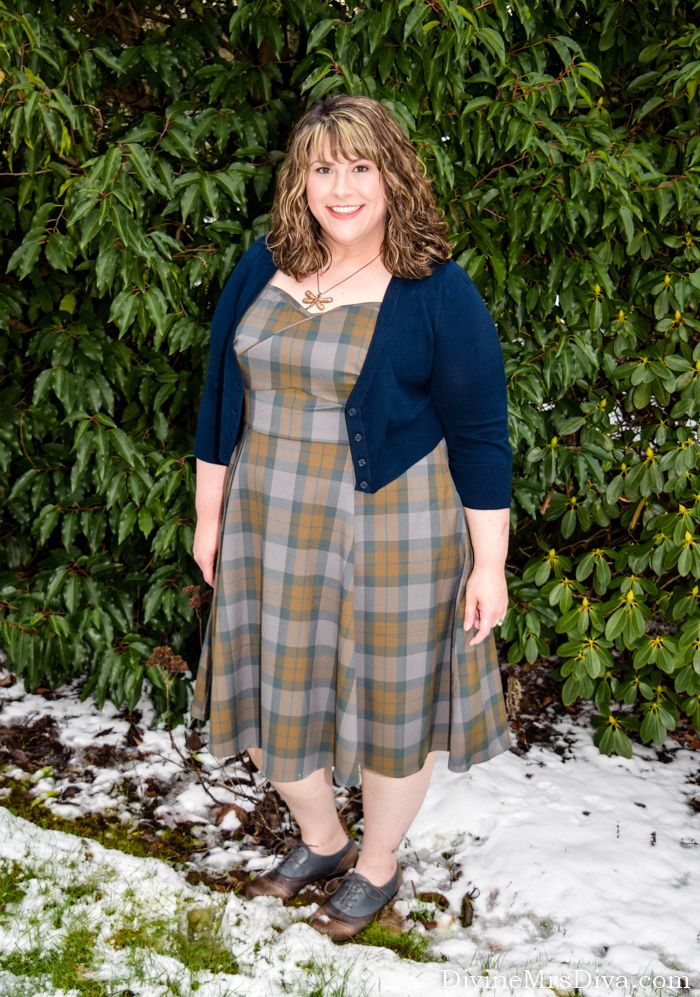 Outlander Tartan Wrap Bodice Swing Dress - Torrid
The Dream of the Crop Cardigan
in Navy - ModCloth
Reddell Leather Oxford
in Denim Blue- Comfortiva by Sofft via
Zulily
Claire's Chunky Cowl
- Abbyshot
Claire's Arm Warmers - Abbyshot
Lipstick -
Calypso
by Colourpop
Do you do anything special for your holiday cards? Did you make an exciting Black Friday purchase? What is your current favorite obsession?