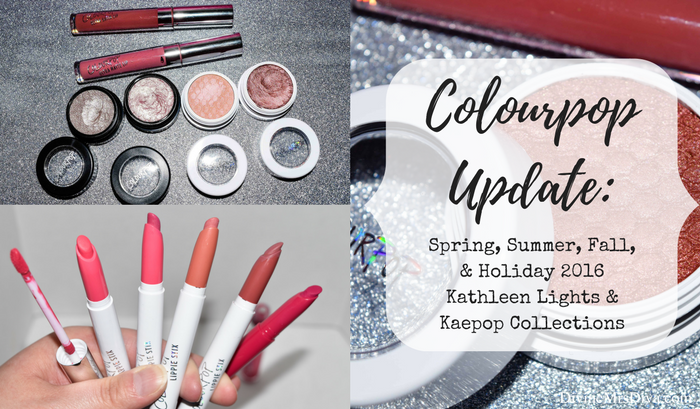 It has been quite a while since I did a Colourpop Swatchfest on the blog. I have a lot of new lippies, eyeshadows, and more to show you from collections over the past year. A majority of them are still available online.
If you are looking for more Colourpop swatches and info, you can check out my previous posts:
Let's get this swatchfest started!!
Before we begin, this post is not sponsored by Colourpop in any way. I do not have affiliate links with them. These are all items I bought on my own because I really like the products. They are great quality products for very low price points and come in gorgeous colors.
In some instances, permanent or regular items are swatched in with collections because I sometimes purchase regular items with my new collection launch purchases. If something has been on my wish list for a while, I usually cave and buy it along with any new collection items. Also worth noting, I seldom buy a whole collection. These swatches are just a small part of what is carried by Colourpop. As time has gone on and my CP collection has grown, I am more picky about what shades I buy because some are very, very similar to others. I felt betrayed when I bought the Flush'd blush that was part of the Kaepop collection and it turned out to be the exact same color as Quarters, my favorite CP blush. It is my favorite, so I don't mind having a second one....but still.
To keep things more streamlined, links to each product will be in captions below each photo.
Collab Collections: Kathleen Lights & Kaepop
The Kaepop Collection (collab with Karrueche Tran) is no longer available online. The
Kathleen Lights collection
is still available (
also in the collection but not grouped together, due to my mistake, are Glow and November. November is down in the Summer section of this post
). Other shades below include regular items and an eyeshadow called "Puppy Love". All proceeds from purchases of "Puppy Love" will be donated to
Best Friends Animal Society
and their
NKLA
effort to Save Them All. CP also just added a color called "
Cat Nap
" that also benefits these charities as well.
When they first launched "Puppy Love" it was a limited time product, so I bought a few. I love the shade because it imparts a pretty candlelit glow to the eyes. It is probably the color I wear most often because I tend to always use it as an inner corner highlight. Sweeping it across the lids gives such a pretty glow and is a great low maintenance look and also perfect for those of you who don't wear much makeup.
Spring 2016
Spring was all about soft, pretty colors, including various pink lippies. I went a little bonkers with those. Brooklyn was the first Ultra Satin Lip I purchased. It has the same application as a matte liquid lipstick, but is a lot more comfortable to wear and has a slight satin finish. It does dry down and wears for quite a while if you aren't eating. But unlike the matte lipsticks, it does transfer.
Summer 2016
Summer brought metallic lipsticks, lip glosses, and an array of shades of the sculpting stix. The first sculpting stix I had was a much lighter, basically white, color on me. Venice is much more suited to my skin tone while still being light enough to highlight and conceal a little bit. I use it to highlight under my eyebrows. I am not a big gloss wearer these days, but these shades were too pretty to pass up. I have had to toss most of my old glosses because I have had them around for a long, long time. So these glosses replaced those oldies.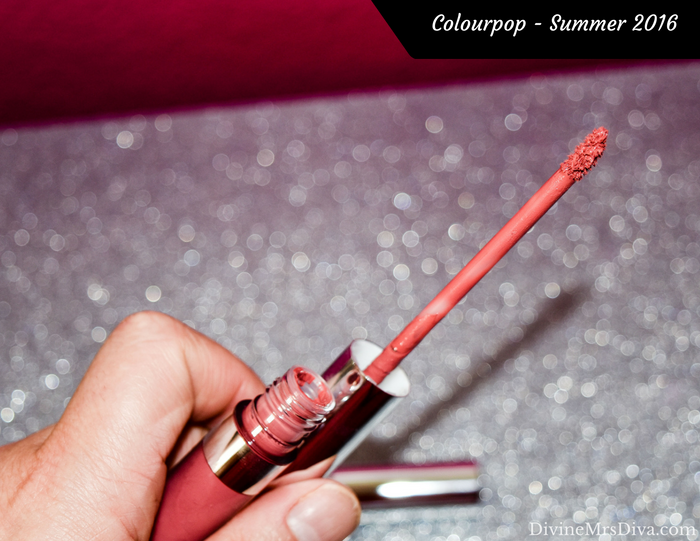 Fall 2016
Fall had a lot of really beautiful warm tones that I loved. I started getting really choosy and comparing swatches online quite extensively before I made purchases because some colors seemed very similar to things I already own from Colourpop. I chose to go with an Ultra Satin Lip in a color I felt I didn't have in my makeup stash and a glowy, warm blush. I was worried the blush would be too dark for me because CP products are so pigmented, but this blush has become one of my favorites. The pearlized finish gives it a gorgeous glow and makes it look more natural on my skin. I have been wearing it all the time since it arrived.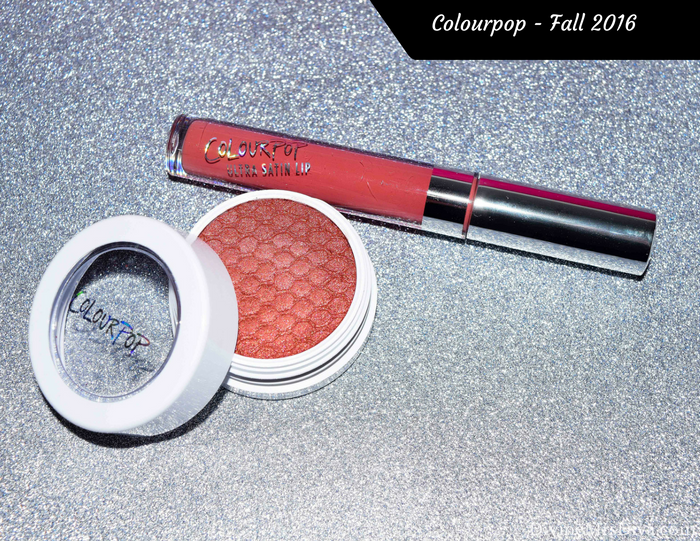 Holiday 2016
I was disappointed the
Hello Kitty collection
didn't have individual items. I only wanted two shadows that were only part of a set, so I didn't purchase that collection at all. The
Holiday collection
had a couple of similar things, so I bought those instead. I also went ahead and bought a couple long-wearing matte lip colors. These swatches include Muse, which was actually a fall purchase.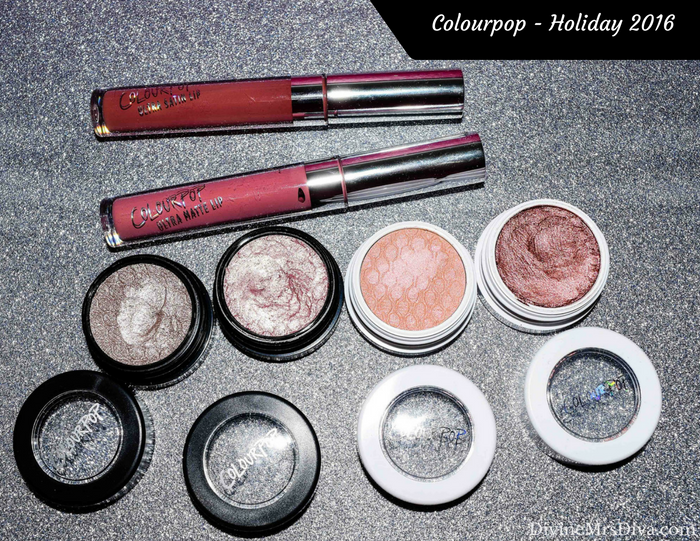 And there you have it! I did order some of my favorites for an upcoming giveaway, so stay tuned for that!
I'd love to know what brands or products are your favorites to use. Do you have a favorite brand you watch for new collections? Have you tried Colourpop yet? If you aren't a big "makeup person" but want to delve into it, what is most intimidating to you?