We've been playing Bunco with a group of friends for a few years now. On some occasions, we choose a theme for the month where we are all encouraged to dress up. For Halloween one year we did
an 80s theme
; and this is the second "Ugly Christmas" Bunco. I don't think buying holiday-specific apparel is all that practical, but I wanted to wear something different from last time. Once we decided on tops, an idea snowballed into me crafting accessories for both Sean and I to wear to the party.
In today's post, I review this Christmas sweater from Target, new skinny jeans from Lane Bryant, and show you more details of my Ugly Christmas ensemble!

I don't know why we didn't do Ugly Christmas Bunco last year, but back in 2014 I wore the below outfit. I pieced it together from a turtleneck and thrifted vest I had from our crazy 2009 Christmas card photo. (
You can see our silly card photos here.
) I kept the size XL vest together in the front with a gold pipe cleaner. The vest was cut down the middle in the back and safety pinned to my shirt so it would fit me in front. hahaha I sewed sparkly pom poms to the neck and added my Santa hat headband and called it a day. I just wanted to work with what we had because, like I said, I don't really like to buy holiday-specific items.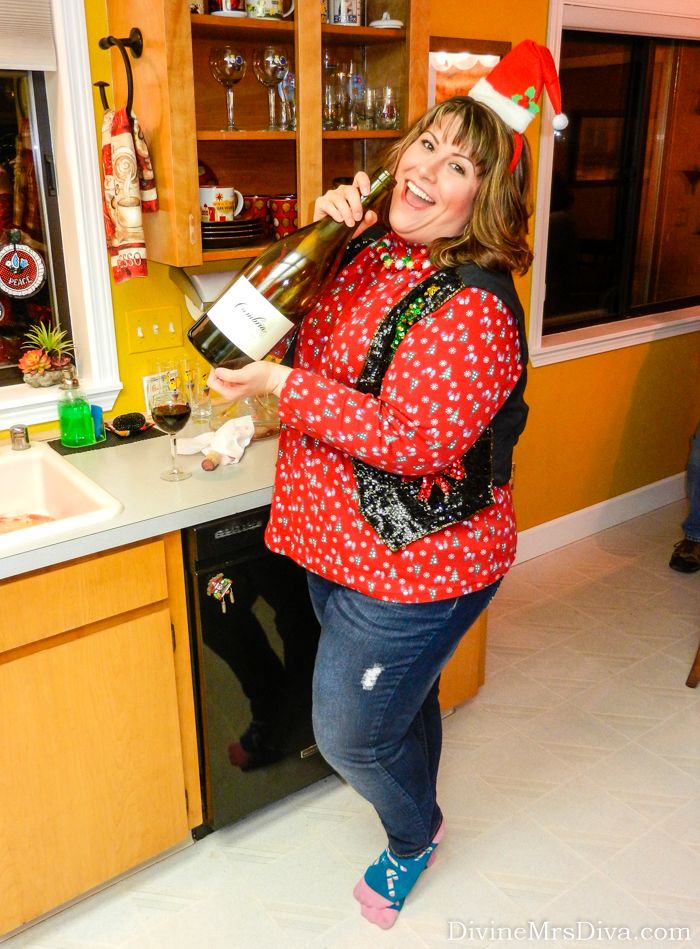 But this year I wanted something new and super cute. I spied the Oh Snap! Gingerbread Man Sweater at Target one day and was looking for any excuse to snatch it up. I say "Oh snap!" in real life a lot, so it really resonated with me. Ugly Christmas Bunco was announced and the sweater was on sale at the time, so I felt it all meant I was supposed to have it. I picked up
a gingerbread man tee
for Sean at the same time so our outfits would complement each other. In telling my mom-in-law about my purchases, we came up with the idea of Sean having a necklace of gingerbread man legs like Daryl from
The Walking Dead
's zombie ear necklace. Not one to be left out, I came up with the idea of a tiara made of gingerbread man legs and, later on, decided I also needed a scepter and cape to complete the look. More on that below....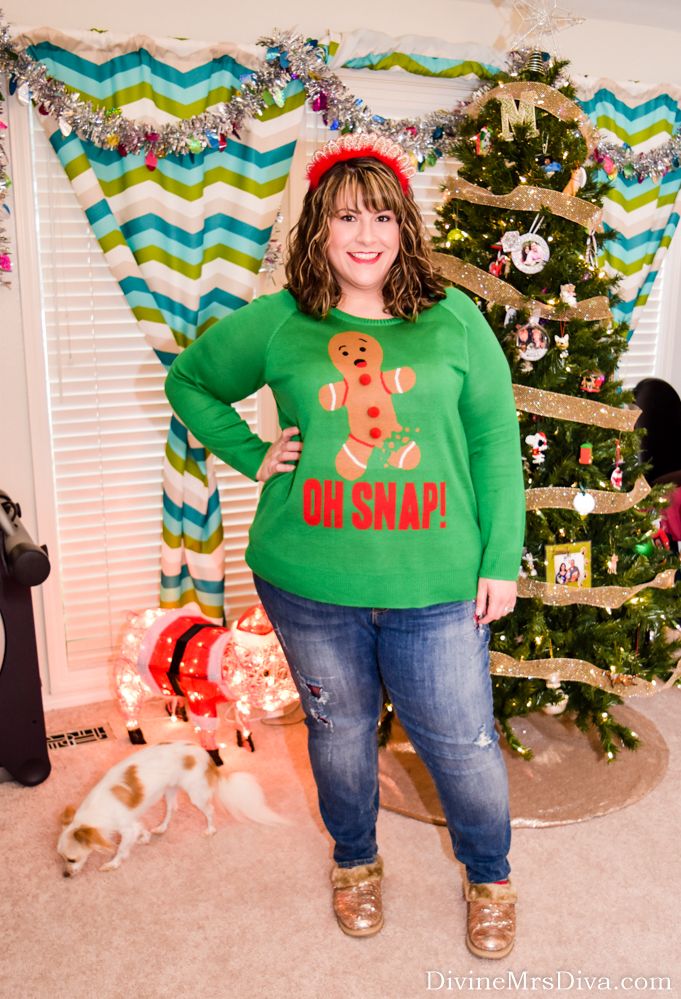 While I never saw the plus version of this sweater in store, I have seen straight size versions still available at my local Target. Sadly, it is sold out online in plus sizes. I am wearing a 3X (juniors') and find it fits true to size. I find it a little more fitted in the tummy than other 3X tops I have bought from Target recently, but the bust fits me very well. It isn't too tight or restricting in any way and can be stretched a little to accommodate where I need extra room. The sweater is thicker and well made, but I didn't get too crazy hot in it either. The inside portion of the front of the shirt is thicker because of the way they have the design knitted in. I wouldn't call it a backing or lining, but there is a striped design on the inside behind the gingerbread man. You can see the stripes a little bit in these photos because of the flash, but I didn't see it in person.
I love that the colors are bright and festive and not muted at all compared to the online photo of it. The gingerbread man himself is sporting three red pom poms that are attached to the sweater. Another thing I loved is that the sweater isn't too short or too long. It hits me right at the tops of my thighs, which is a good length for me. The sweater was regular $29.99 and on sale for 30% off. I think $21 is a really good deal because it is a well-made item.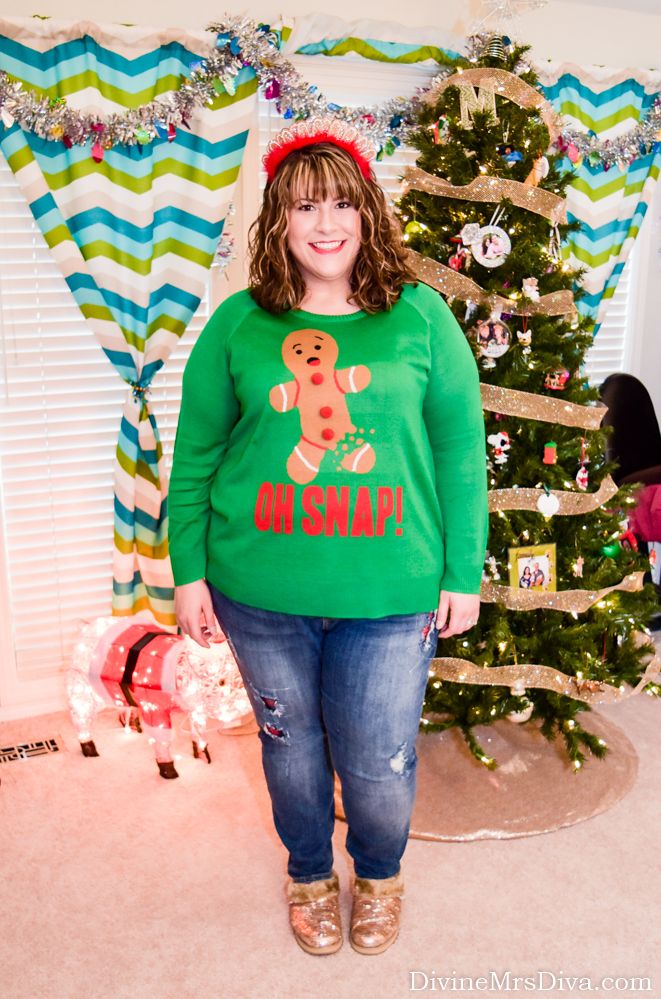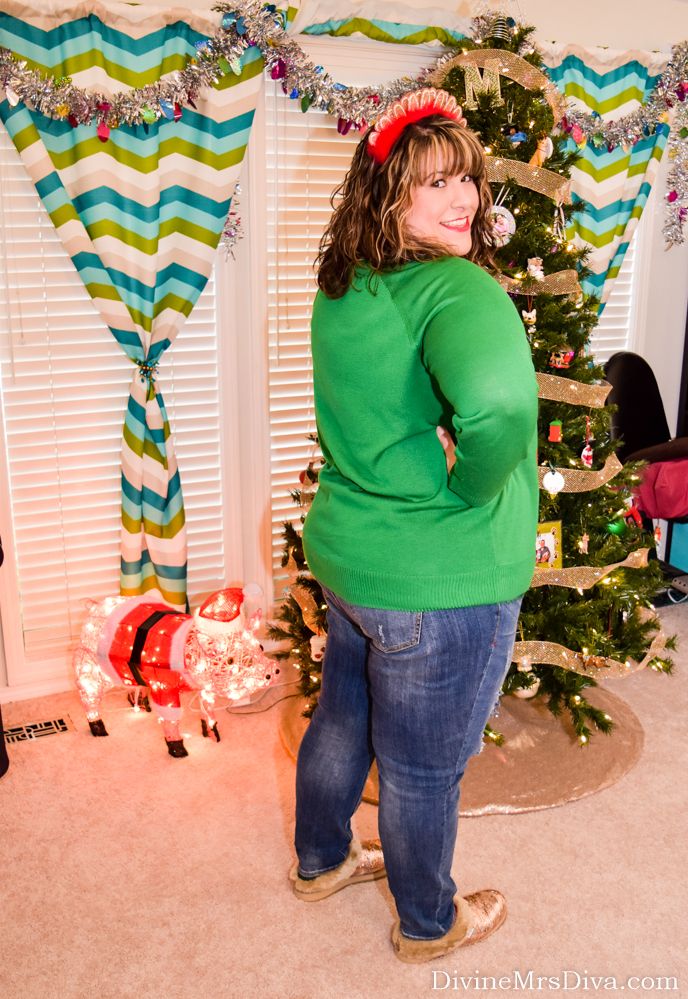 Also new to myself and the blog are these
Distressed Plaid Skinny Jeans
from Lane Bryant. These jeans are still available in store and online. I am wearing a 24 and find it fits true to size. The waist is slightly big on me, but hasn't been an issue where I need to wear a belt. I almost thought about sizing down once I tried them on, but I do feel like the jeans may be too tight in the hips and upper thighs if I sized down. The 24s fit comfortably with the only issue being the slightly larger waist. (
We are talking maybe an inch or so. I am not tugging at it all day or finding I have issues with my pants migrating
.) I have worn them multiple days and washed them already.
Happily, they don't stretch out too much. I have some previous denim from LB that seemed to stretch out as soon as I put it on, so I was hoping these would stand up to a few wears. And they did. The area around the knees got a little stretched out from all my moving around, but they did not look baggy or sloppy. They also washed well. The distressing is backed with a red and navy plaid fabric and stitched well. Y'all know how much I hate open distressing because I always seem to get my toes stuck in the holes when I put my jeans on. Face planting is not my idea of fun, so I prefer the distressing to be covered on the inside.
The length is also really great for me. These days it seems I can only buy skinny jeans from Lane Bryant because every other style is at least six inches longer than I need it to be. At 5'9", I am considered pretty tall, so I have no idea how you shorter ladies deal with these jean issues. It is maddening.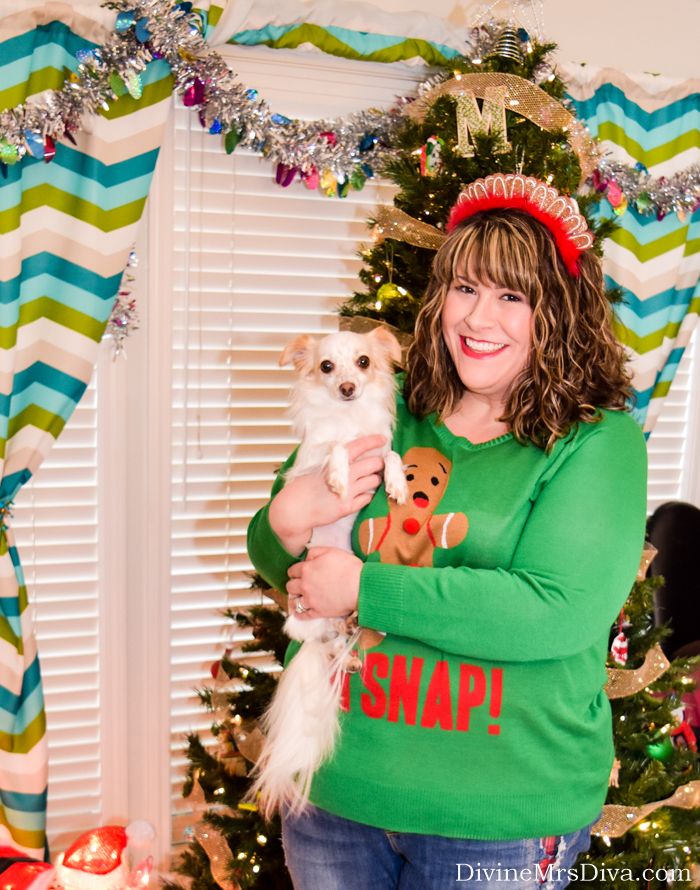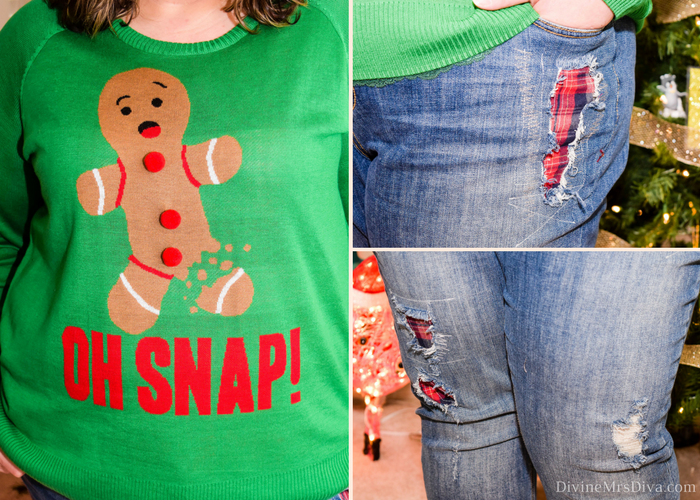 Like I said, the idea of making gingerbread man themed accessories for our party outfits got me excited. It has been a while since I have had the time to do any craft projects. Honestly, I miss it. I need to try to work creative time into my regular schedule. For me, that creative time is so helpful for my anxiety. Whether I do some crafting, painting, or writing, I just feel so much better after some time of working on creative endeavors. So I welcomed this Christmasy project with open arms! Sean and I made a trip to Michaels to pick up some supplies before I got to work.
I used my thumb as a guideline and cut out about forty gingerbread man legs from brown foam and gold glittery foam. Then I used a pearly white paint to draw the icing edges and designs on each leg. For Sean's necklace, I added red glittery paint to the top of each leg to act as magical blood. Once the paint was dry, I punched small holes in the legs for his necklace and strung them up on plaid ribbon.
For my tiara, I hot glued the same plaid ribbon to a plain headband before I began to affix the glittery legs. I made three rows of legs on top of the headband - two facing forward overlapping each other and one facing the back to cover the regular brown side of the glittery foam. Once that was done, I added a piece of a red feather boa along the bottom edge of the legs for some extra pizzazz.
The scepter idea came to me late in the game. I decided to wear my old Christmas tree skirt as a capelet, so I wanted to take the regal idea farther. Thankfully, I had all the supplies for that one already. I cut a wooden dowel and spray painted it silver. I glued a glittery red ribbon to it candy cane-style and then started working on the other elements. Using the red glitter ribbon and previously mentioned plaid ribbon, I cut short strips to attach to one end of the dowel. The red glitter ribbon is really stiff, so I attached jingle bells to the plaid ribbon. I made two gingerbread men from the same regular brown foam and white paint as the necklace legs, adding googly eyes and sparkly pom poms to complete the look. I wanted each gingy man to look aghast, but one turned out better than the other. hahaha Before I glued them back to back, I added some more red boa in the middle and then shoved the dowel between them. It was a fun and kooky little project, but I am pleased with the results. It is always cool when an idea in your head can be turned into something tangible.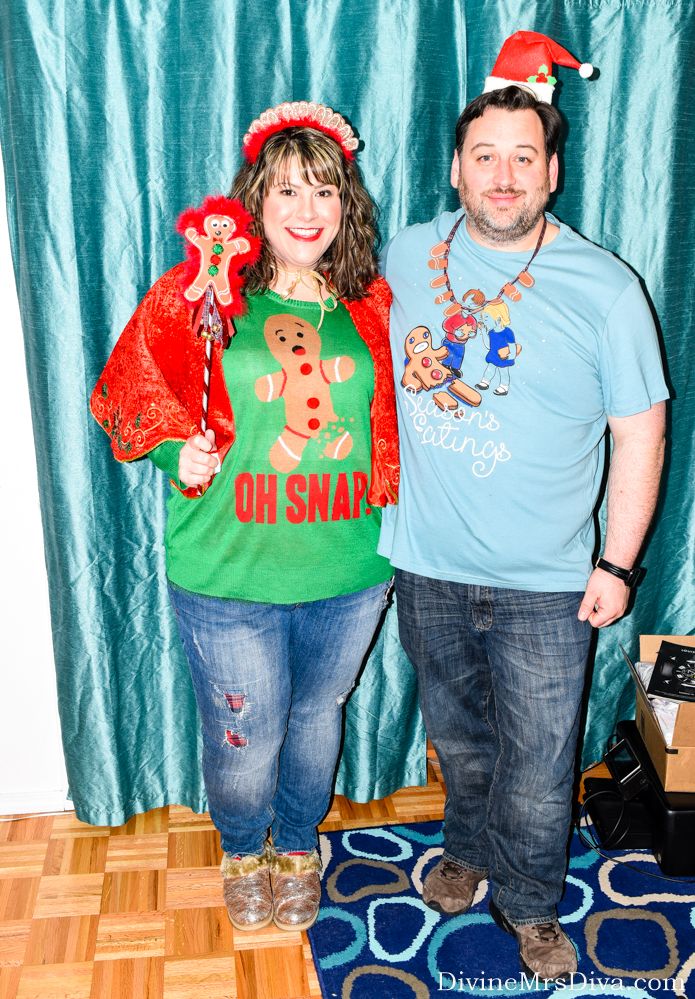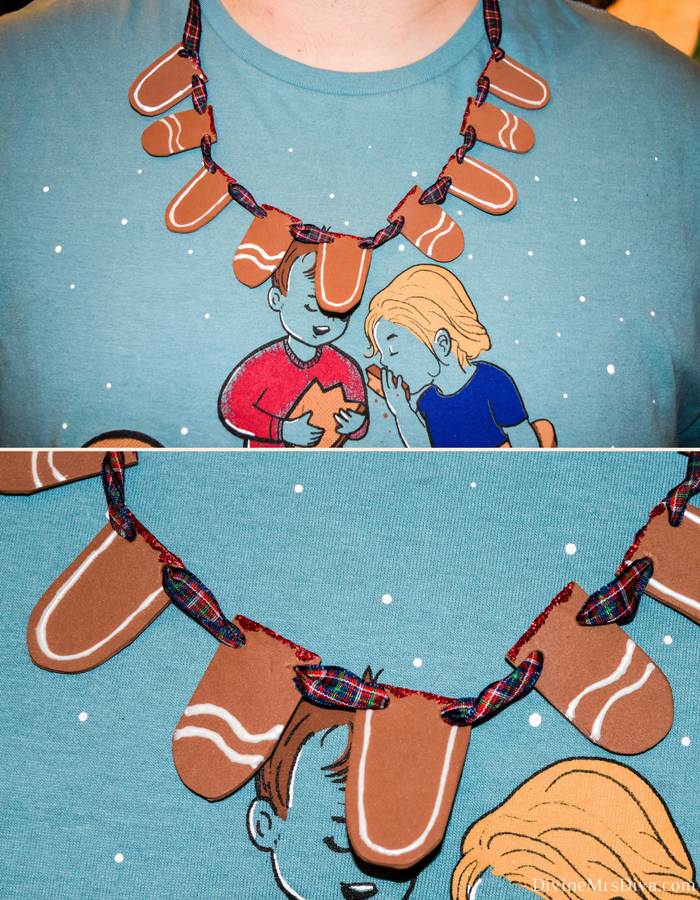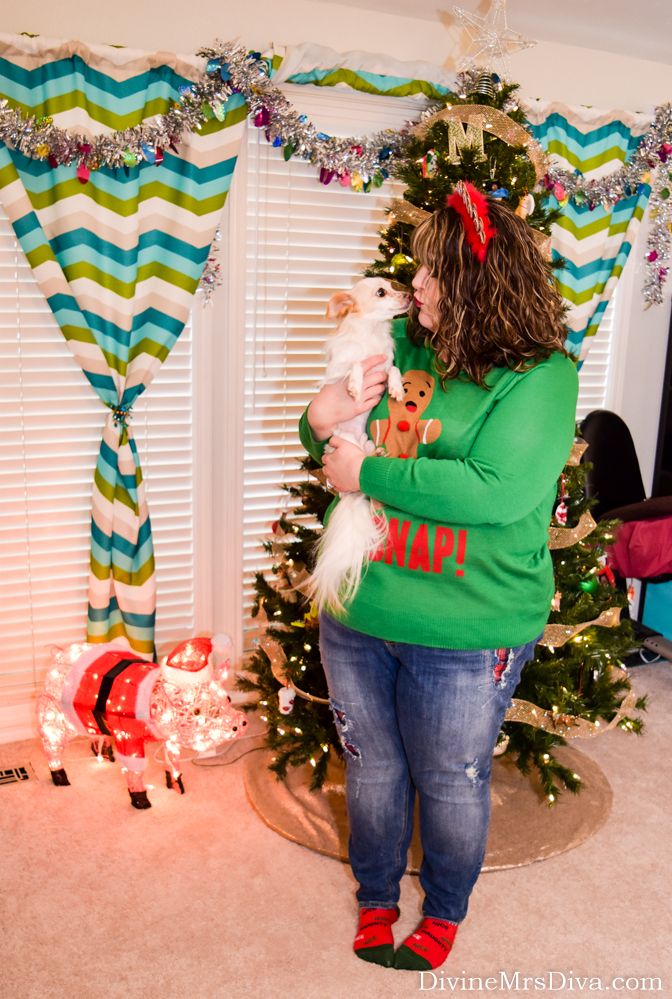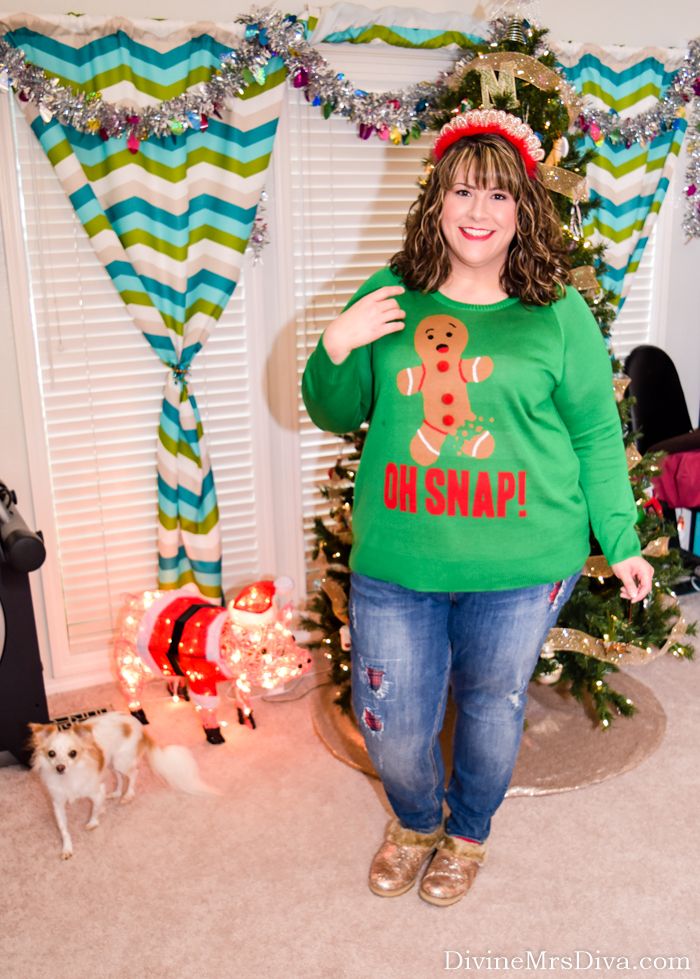 Oh Snap! Christmas Sweater - Target
Distressed Plaid Skinny Jean
- Lane Bryant
Sequin Bobs from Skechers Clogs - via
Zulily
Lipstick -
LOC Vibrant Matte Lipstick
in Wildest Dreams
Did/do y'all have any Ugly Christmas parties this year? Do you have a favorite creative outlet? What is it and how does it help you feel better?