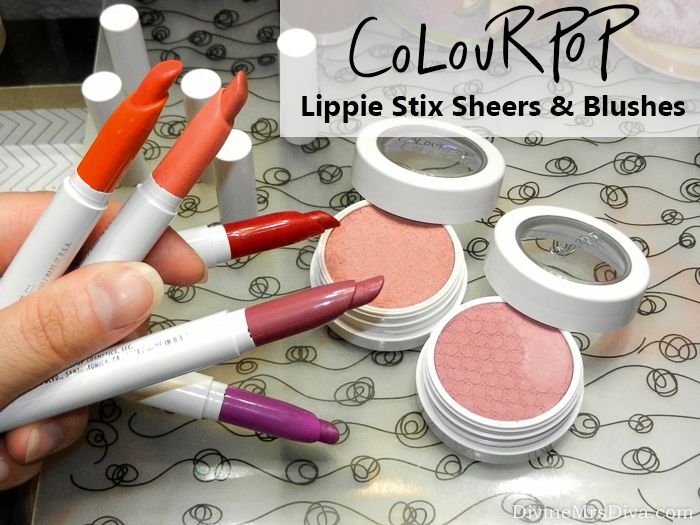 As you know, I am a Colourpop fan. They continue to provide quality products that perform very well (and at an awesome price point - $5 to $8!). In the last month or so, they have introduced their
Ultra Matte Liquid Lipsticks
and
Lippie Stix
in a Sheer formula. The Ultra Matte Lip products sold out before I could get my paws on them, so I snatched up some of the sheers when they came around. Makeup-wise, the sheers are more my style as they are balmy lip products with great pigmentation. If you missed my previous Colourpop posts, I presented
swatches and a more in-depth review
, and
a huge swatchfest
of all forty-one products I owned at the time. Continue reading for a look at the latest additions to my Colourpop collection....
- All Colourpop products were purchased by me.
I have not been compensated in any way for my review. -
Colourpop's Super Shock Cheek Blushes
come in three finishes: Matte, Satin, and Pearlized. Being a girl with oily skin, I thought the matte finish was going to be the best for me. But I quickly came to love the Satin finish so much and wear those blushes most of the time. When I added to my collection, I chose two more Satin finish blushes - Birthday Suit and Prenup. If you have a fair to medium complexion like me, these shades are a great option.
It is also worth noting that this formula is long-wearing. I hardly ever have issues with fading throughout the day. I recently used a Colourpop blush (Between The Sheets) for a bride's wedding day makeup. The weather was grotesquely hot (upper 90s to 100s) and she obviously had a busy day preparing for her wedding. I did her makeup at 11AM and she was still looking amazing at 10PM, even after sweating and crying and dancing. That blush was intact!
Birthday Suit
is described as "neutral pink". It is a lighter, pink-based shade that doesn't seem too warm or too cool.
Prenup
is described as "a mid-tone plum pink". It is definitely more on the pink side than I had anticipated, but there is definitely a purple tone to it that makes it a little bit different. Both shades are on the lighter side, but are definitely build-able.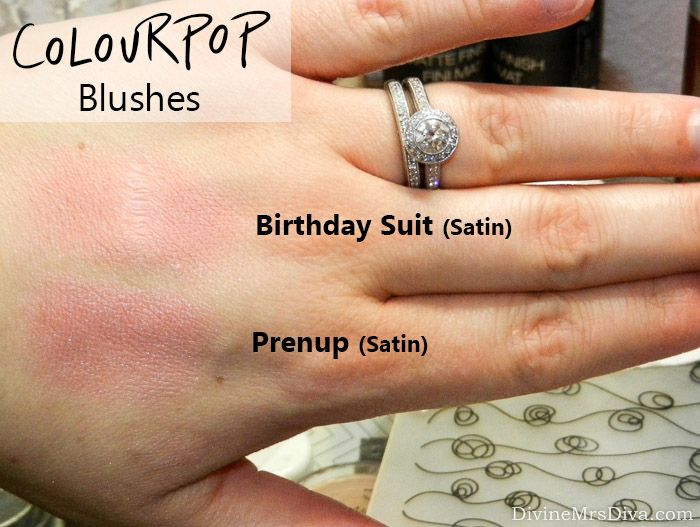 The
Lippie Stix Sheers
came out just last month. The finish looks similar to the Revlon Balm Stains that I LOVE, so I was excited to try these out. The pigmentation is fantastic, with a balmy finish that lasts quite a while. I don't think these are quite as long-wearing as the original lippie stix formulas, but they still last a lot longer than I thought they would. They feel hydrating and light.
I bought five of the eight colors:
Crunch
is "a peachy coral";
Juice Bar
a "cool-toned berry pink";
Safari
is a "bright true orange";
Whip
is "vivid blue violet"; and
Peacocky
is "blue red". I think these descriptions from the website are pretty accurate. Crunch is the least pigmented and doesn't show up much on my lips. Juice Bar is about the same color as my lips, and the rest are more pigmented and add color for me. Peacocky is my favorite because I really love to wear the deeper, brighter pink shades.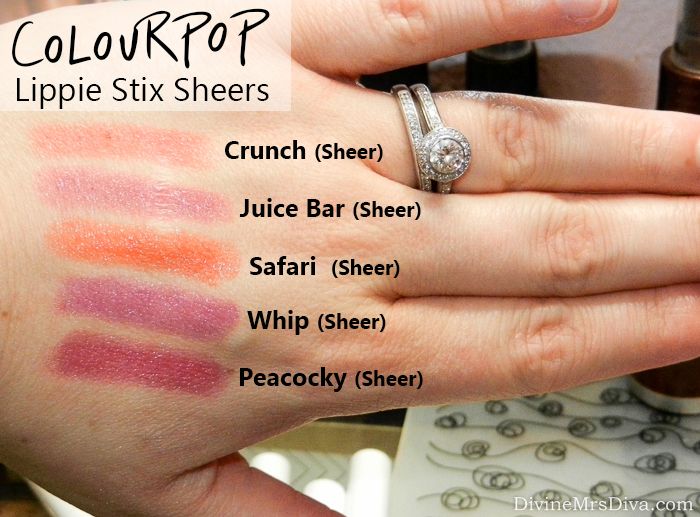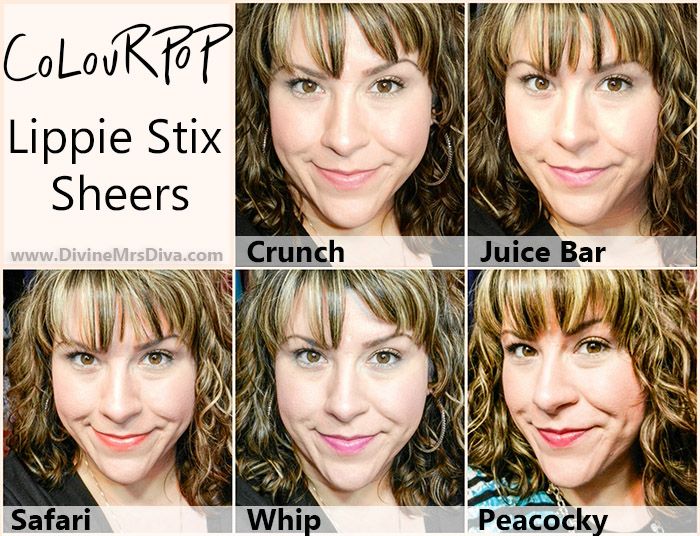 Would you wear any of these shades? Do you love Colourpop or are you thinking of giving them a try? I'd love to hear your thoughts!