The weekend is finally upon us! I'm going to a birthday party tonight and delighted my weekend will be a bit low key, running errands and doing projects around the house. In today's post, I talk about new-to-me brand
NIC+ZOE
. This striped sweater is from the Boston-based company via
Gwynnie Bee
. Inspired by life, travel, design and textiles, the brand offers knitwear and tailored essentials geared towards the busy woman.
This is also the first time I am wearing my new teal capris on the blog. I picked them up on one of my trips to Macy's, which is becoming one of my favorite places to shop lately. Check out the rest of the post for my reviews....

- I pay for my own Gwynnie Bee subscription. -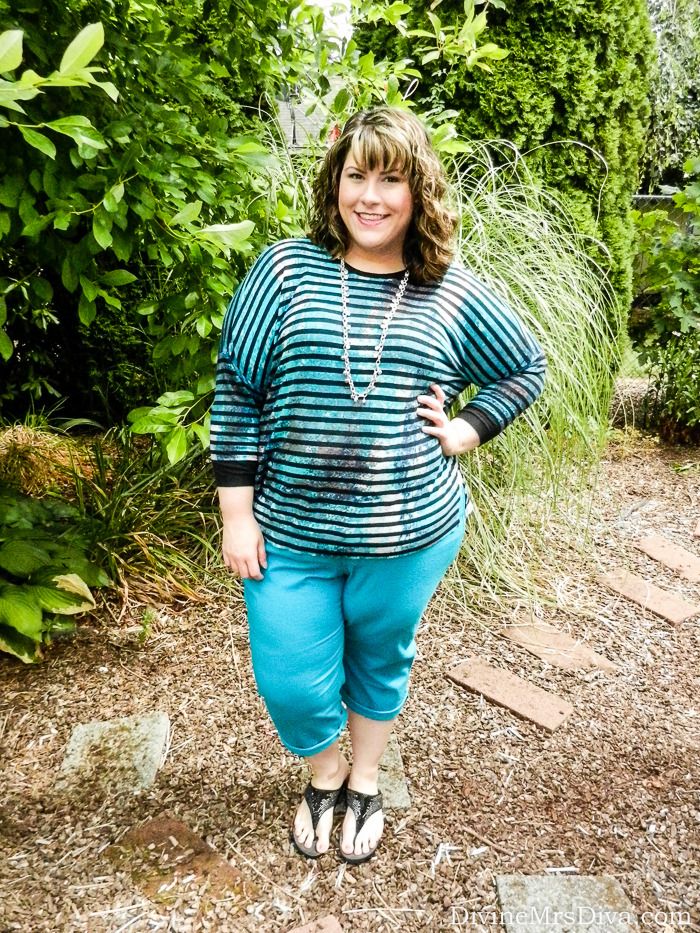 NIC+ZOE specializes in knitwear designed for the busy and fashion-conscious woman. In writing this post, I realized that I did receive a NIC+ZOE blazer in a GB package over a year ago. I
wrote a post about it
and loved it overall, but was thrown off a bit by the piping. I can attest that the same craftsmanship is in this sweater though. It is very well made and true to size (I'm wearing a 3X). I love the marbled teal pattern with stripes and the soft knit fabric. It is a thinner sweater material that lays well and doesn't feel too hot or suffocating.
While I'm not usually a fan of the dolman-style sleeves, these didn't seem exceptionally big and baggy. My arms fits well into the sleeves giving me a very comfortable pull-on piece for running errands around town.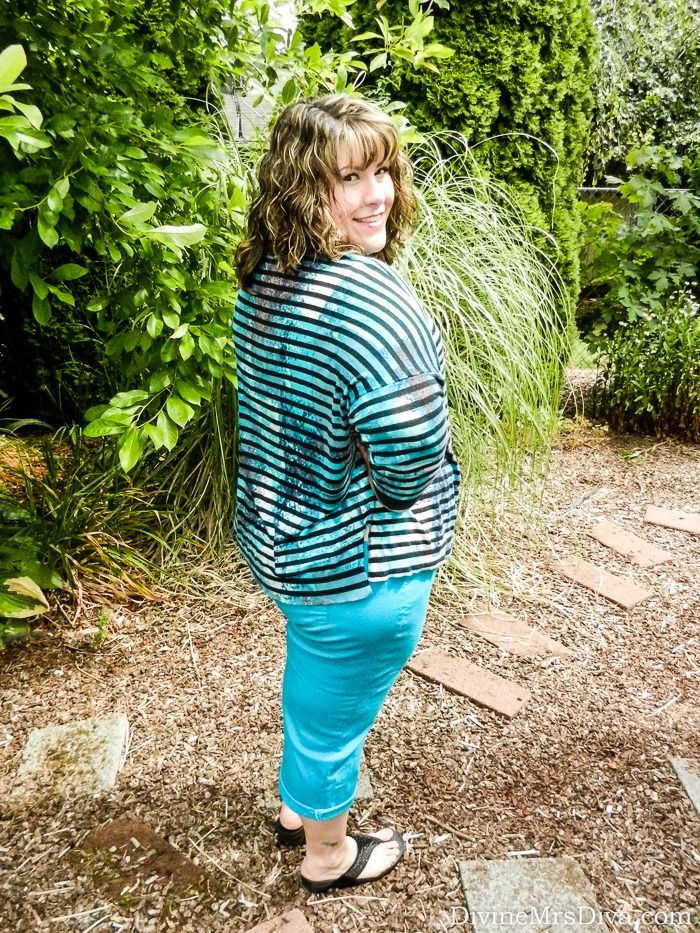 These Style&Co capris were on sale at Macy's during one of my visits. Getting reacquainted with Macy's has opened up a lot of options for me. Yes, certain items and brands can be expensive, but they also have really great sales and clearance prices. While most items only go up to a size 24, fit varies depending on the style, fabric, and brand. If you can, I highly advise just going in to the store and trying things on. I think you will be pleasantly surprised!
When I found this great teal color called "Barrier Reef", I knew I had to try these capris on. They are made from a very stretchy, thinner denim that is very comfortable. While this pair is a little more form-fitting on the thigh during initial wear, it did loosen up a bit. I sized down to a 22 because the 24 was too baggy in the waist and bottom of the butt for me. The brand regularly carries this style of capris and jeans in lots of colors. The capris are on clearance right now in preparation for fall, but I tried on a pair of pink jeans in-store that were super cute!
As I said above, I spent this hazy day running errands, which meant I went pretty simple with the accessories. This summer has been one of basic accessories, simplified hair-dos, and natural lip shades. I can't say that I am less fussy over things like that, but the heat has made me tweak my usual go-all-out ways for a more laid-back approach. Maybe it will help me learn to balance life better. Who knows.....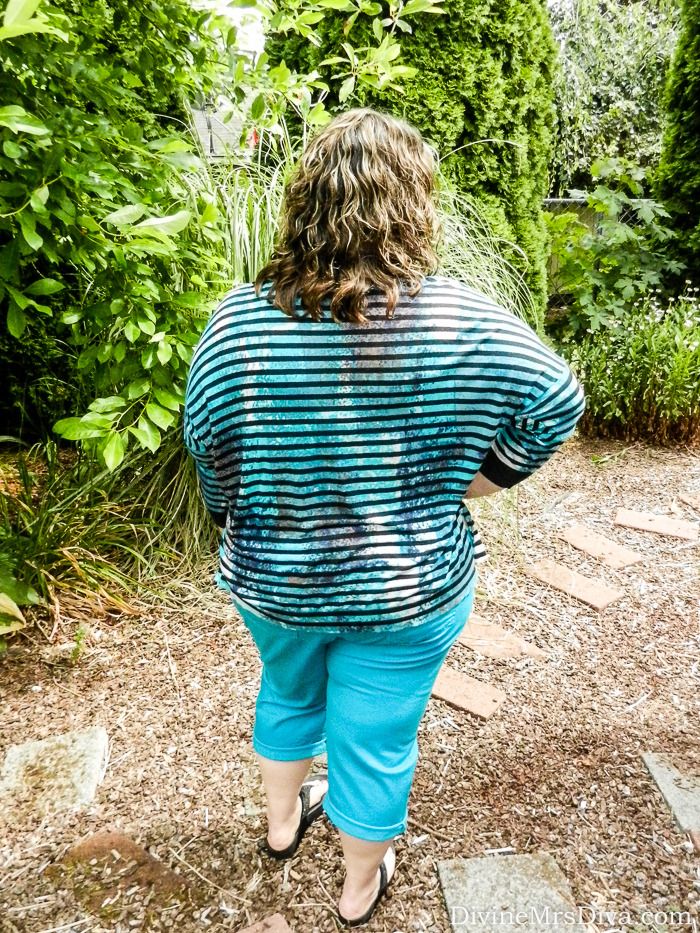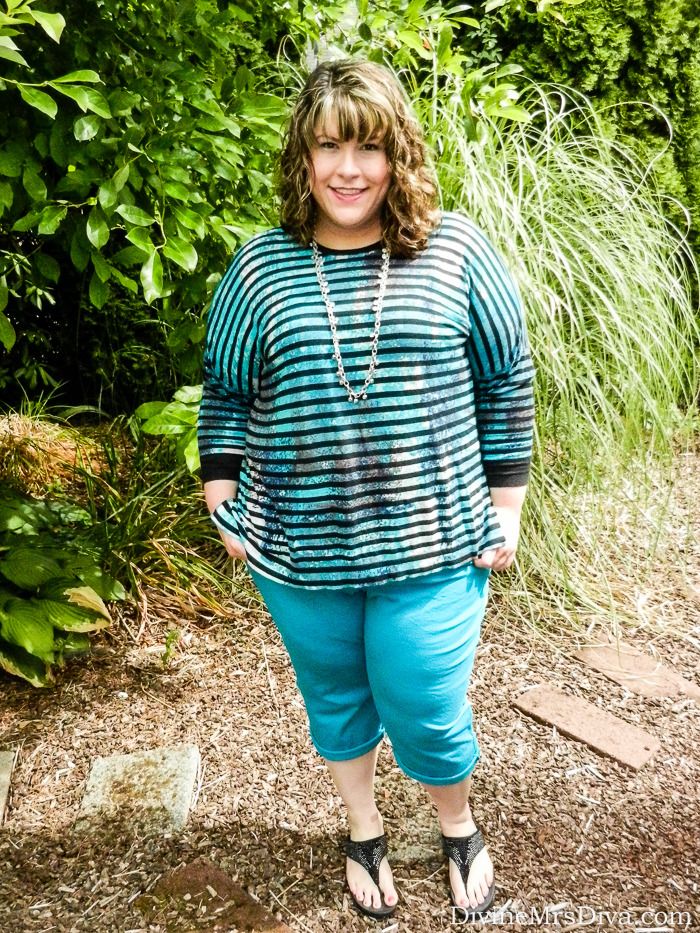 Misty Stripes Top
(Available
here
on clearance to size 16) - NIC+ZOE via
Gwynnie Bee
(FREE 30-Day Trial)
Roll Cuff Capris - Style&Co via Macy's (On clearance now)
Rokkit Sandal
- FitFlops
Rhinestone Necklace - Possibly Lane Bryant or Kohl's....
What are your weekend plans? Do you have recommendations for my Gwynnie Bee closet? Do you like NIC+ZOE or Style&Co? Leave me your thoughts in the comments.