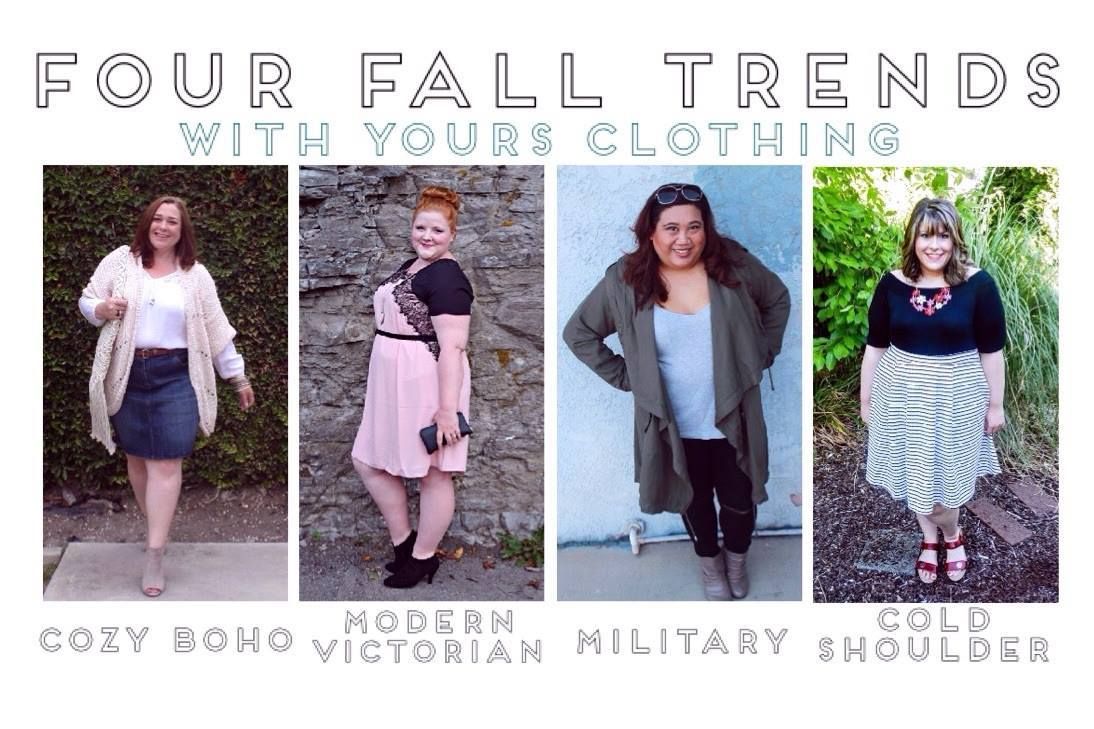 Fall is approaching, though it seems to be traveling at the pace of a tortoise. I've quite enjoyed seeing all the new fall fashion and trends popping up all over the internet. As it is still in the 90s here this week, I long for the cooler weather that makes items like fun jackets, patterned scarves, jeans and tall boots, all perfectly acceptable sartorial options.
Until such a time, my awesome blogger buddies and I have teamed up to show you four fall trends inspired by Yours Clothing.
Janeane takes on Cozy Boho
,
Liz dons Modern Victorian
,
Nina tackles Military
, and I delve into Cold Shoulder.


- I was gifted this top and skirt by Yours Clothing. All opinions and experiences with the items are 100% my own. -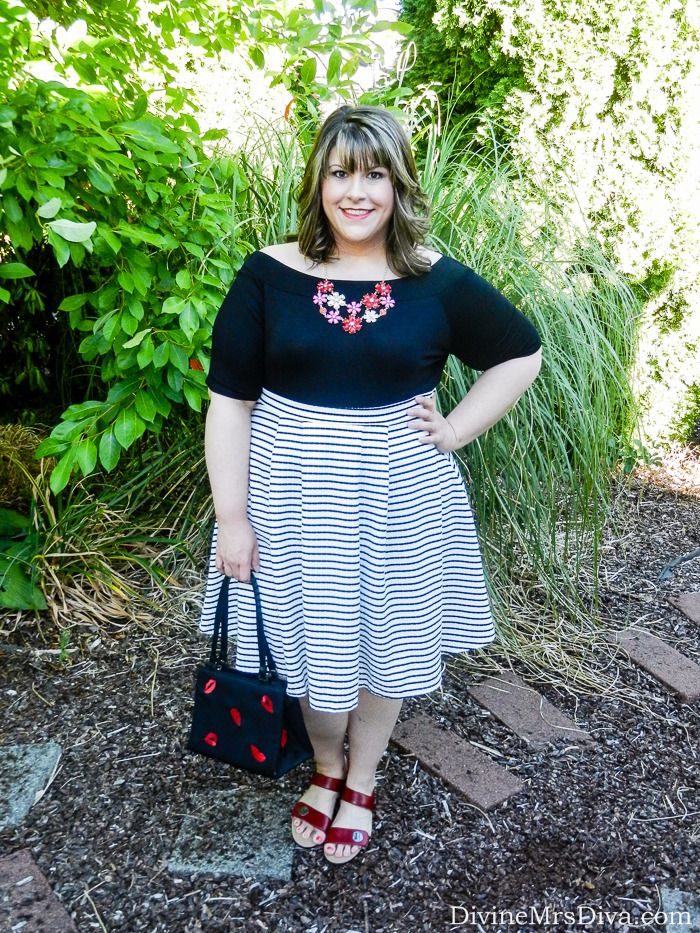 Yours Clothing
is a UK-based company offering youthful and fashionable plus size fashions. (
Shipping to the USA is only $5 standard.
) I started shopping at Yours very recently, purchasing a handful of shapewear pieces that I love. This is my first (
and not last!
) venture into trying their clothing.
For reference, I typically wear a size 24. I am 5'9" with measurements of 52/50/59. Hopefully this better helps you envision what the clothes might look like on you.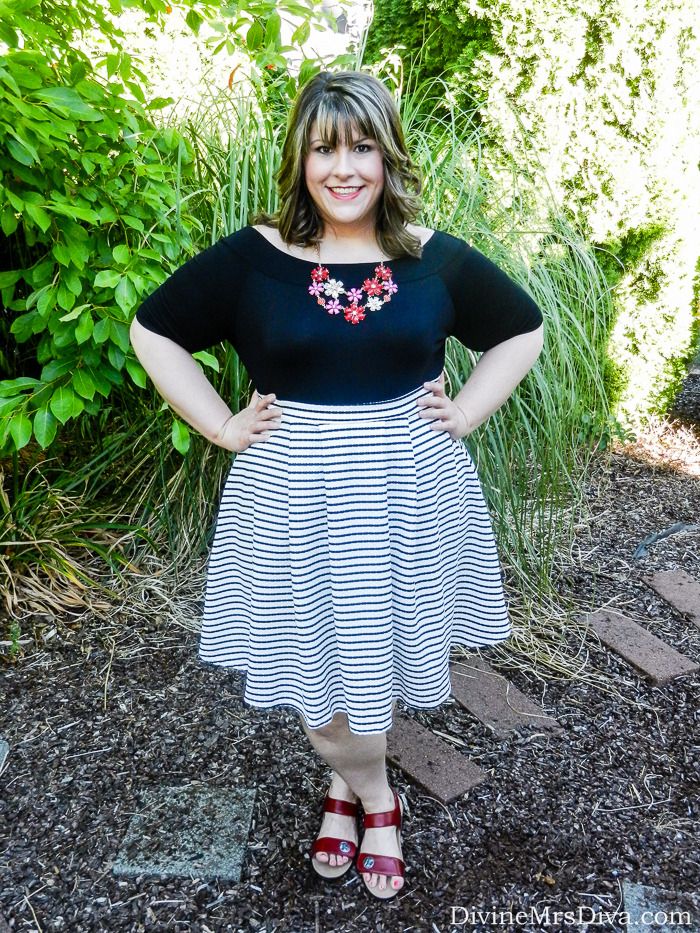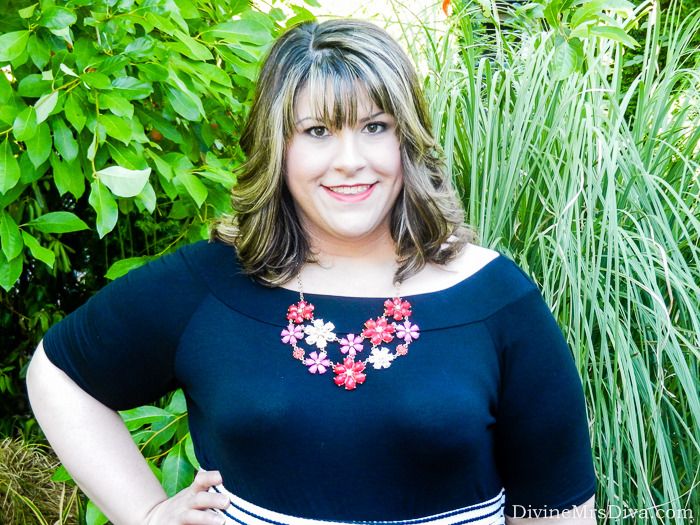 The
Black Stretch Jersey Bardot Top
is cold-shoulder perfection. The fabric is a deliciously soft knit, with a great amount of stretch. The short sleeves are a wonderful length that give me coverage without adding extra layers. Hitting me at the low hip, the shirt length is pretty spot on as well. I received this top in a UK22-24, which is pretty true to size. If you have more weight in your tummy and hips, you may want to size up for a looser fit.
The shoulders can be pulled down lower than I am wearing them here. Whenever I pulled them down past my shoulders, they would naturally go back to this pictured position when I moved around. The classic, off-the-shoulder silhouette is not one I wear often, which made this top all the more exciting to me. Sean was reminded of
Grease
and Audrey Hepburn, though it took him a while to remember those names. haha I think in a casual ensemble, I could wear a regular bra with black straps that would tie into the shirt, but I went with a strapless bra for a more elegant look. And let me tell you, I was the best dressed lady at the little fish and chips joint in Portland that night!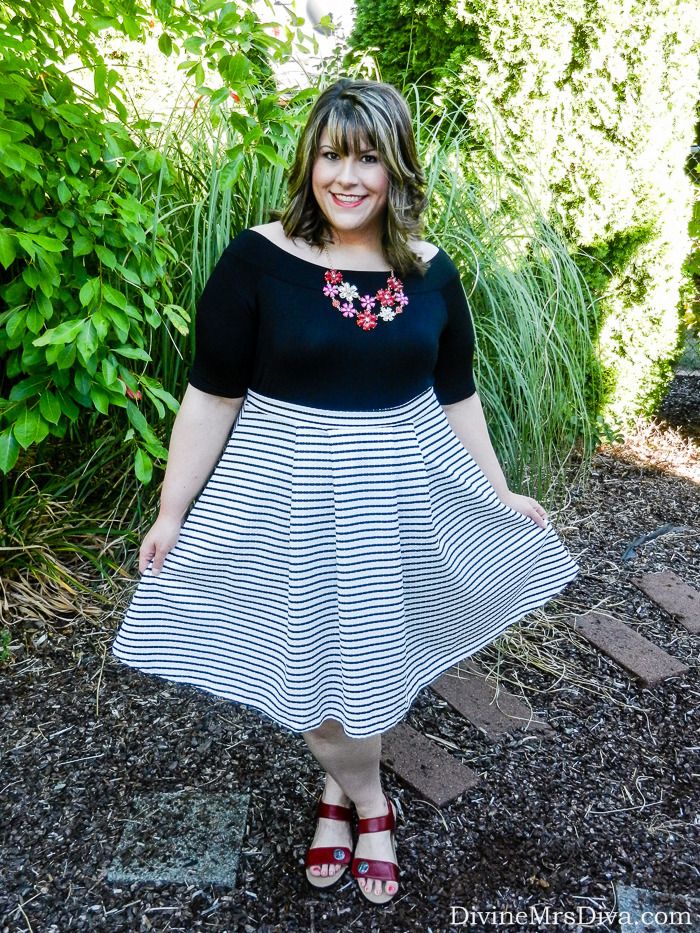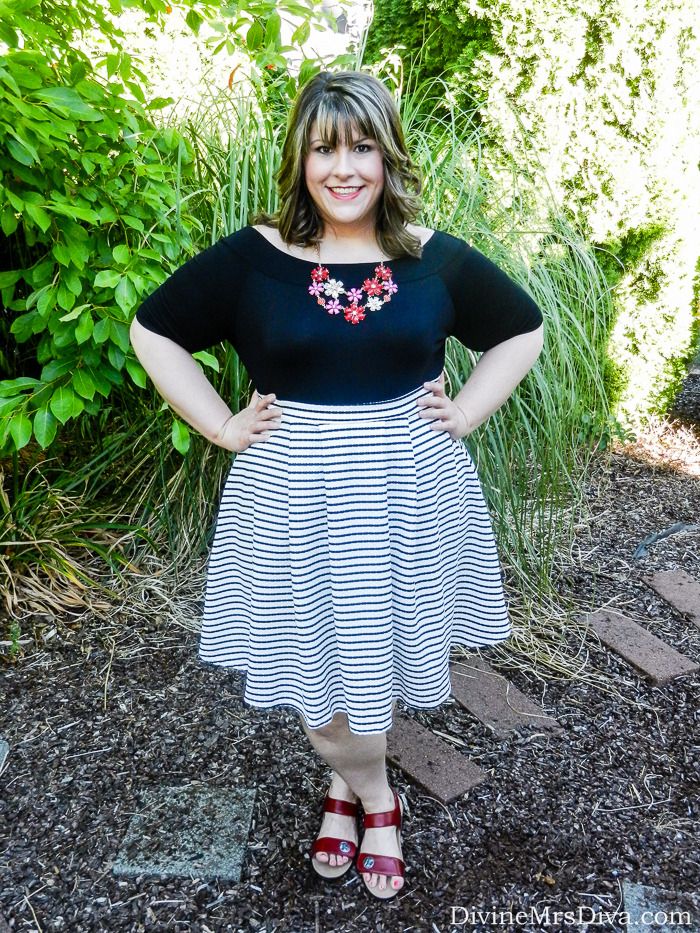 In styling my main cold shoulder piece, this
Ivory and Black Textured Stripe Pleat Skirt
jumped right out at me! It is a great piece for versatility. Whether dressed up or down, worn with sandals or booties, this skirt is going to get you through every season. Black and white goes with ANY color, while the small stripes can act as a neutral of sorts when pattern-mixing.
Knowing I would be wearing this skirt a bit higher on my torso, I opted for the UK22 instead of the 24. The fabric is a ponte knit with great stretch and a textured feel. It also features an elasticized waist band covered in the same fabric. Sizing down helped the skirt stay in place in its higher location. The material and elastic is stretchy enough to be very comfortable, but I also didn't have to constantly pull it up in the back and readjust. Going from sitting to standing just meant a quick pull on the back to ensure it was in the right place. No excessive fussing involved!
The pleat details on the front of the skirt add fullness to the skirt, but do not look extra bulky on my figure. It was just a lovely detail for a bit of interest, a bit of extra room, and the added bonus of skimming the things I wanted it to hide.
While this skirt is selling out (
it's on sale for $24, y'all!
), I wanted to offer you some similar styles to check out:
the Pink and Black Oriental Floral Skater Skirt
(same length at 25"),
Floral Skater Skirts
(23"),
Colorblock Skater Skirts
(21"), and
Floral Box Pleat Midi Skirt
(30"). They are made with different fabrics and are different lengths, so make sure to read the descriptions thoroughly.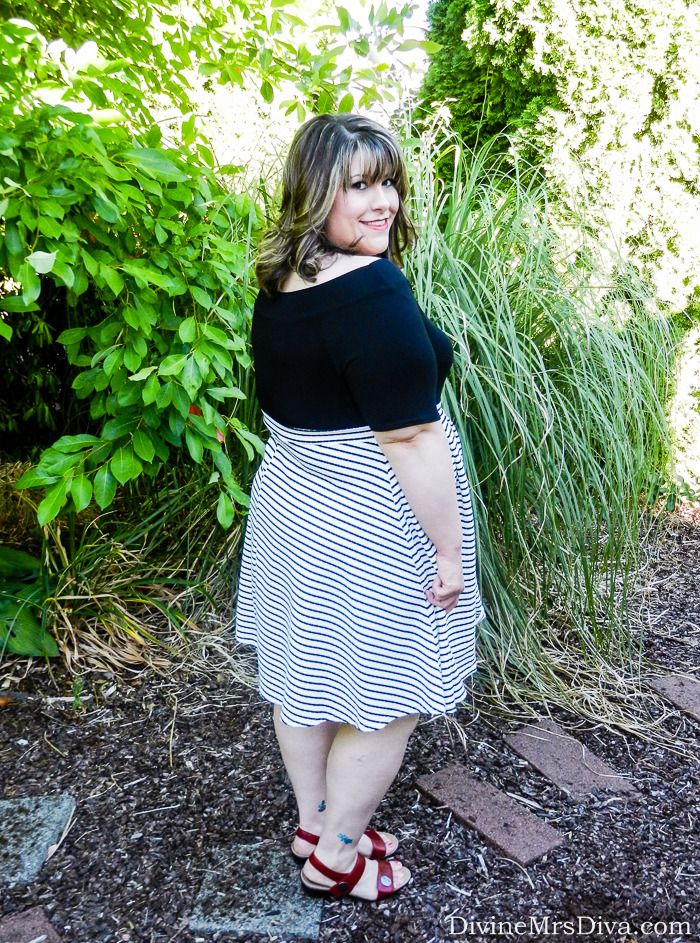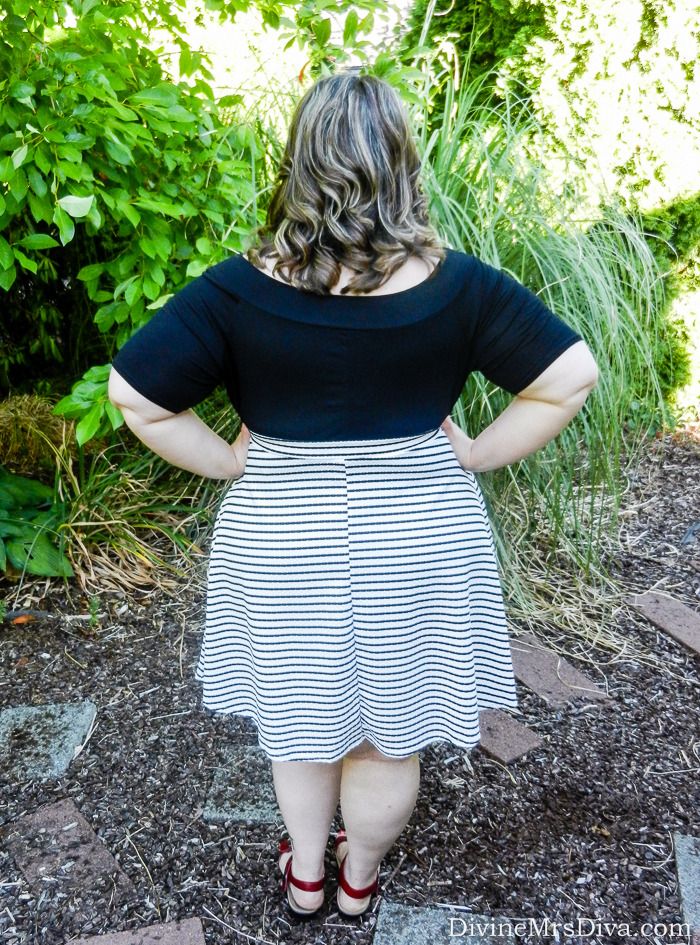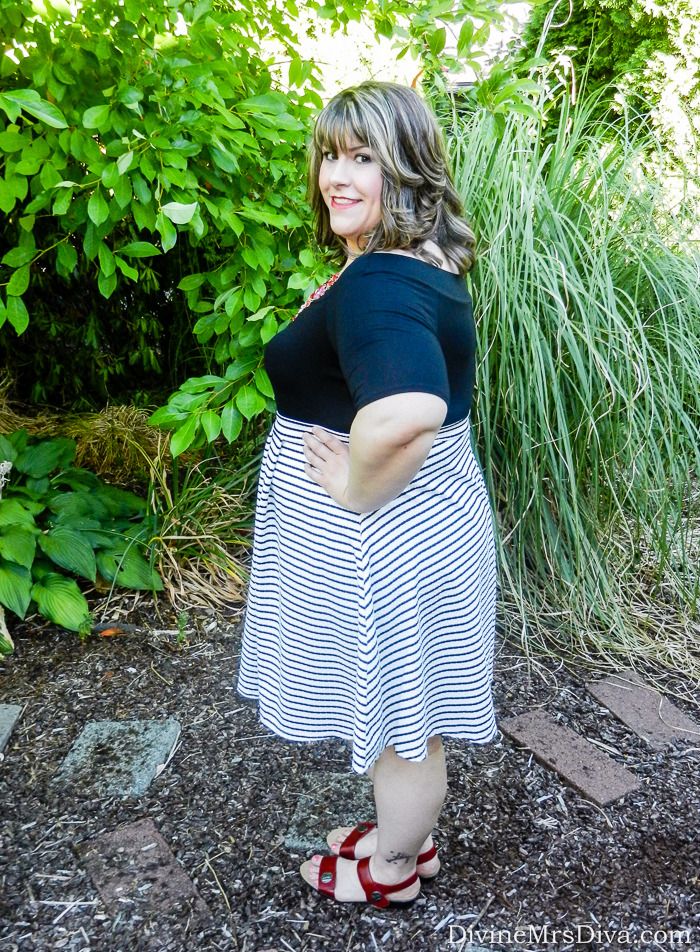 In accessorizing this look, I chose my dark red sandals and floral statement necklace with pops of red and pink. Red has been a popular color in emerging fall collections this year. Add tights and boots, a cute jacket, and/or a colorful scarf to this ensemble to battle the cooler temps when they arrive. I really look forward to styling these pieces in lots of ways throughout the seasons!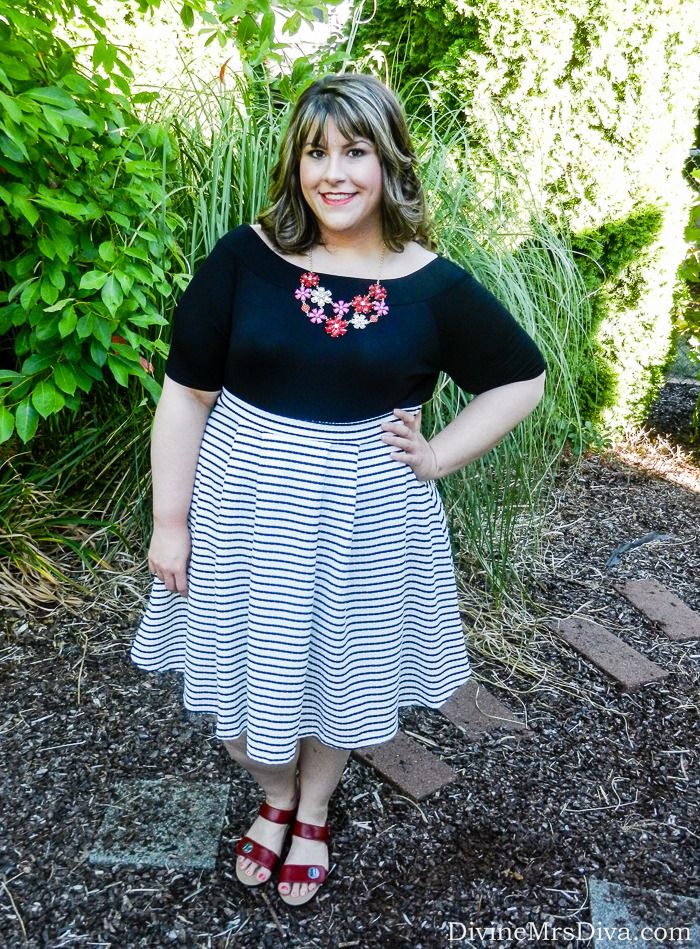 Black Stretch Jersey Bardot Top
- c/o Yours Clothing
Ivory & Black Textured Stripe Pleat Skirt
- c/o Yours Clothing
Annika Slide Sandal
- c/o Propet USA
Flower Statement Necklace - Charming Charlie
Lip Print Purse - (
similar
,
similar
,
similar
)
Make sure you check out the other fabulous fall trends from these amazing ladies:
Have you tried any pieces from Yours Clothing? Which fall trends are callin' your name? Which of our four trends/outfits speak to you the most? I would love to hear what you think!