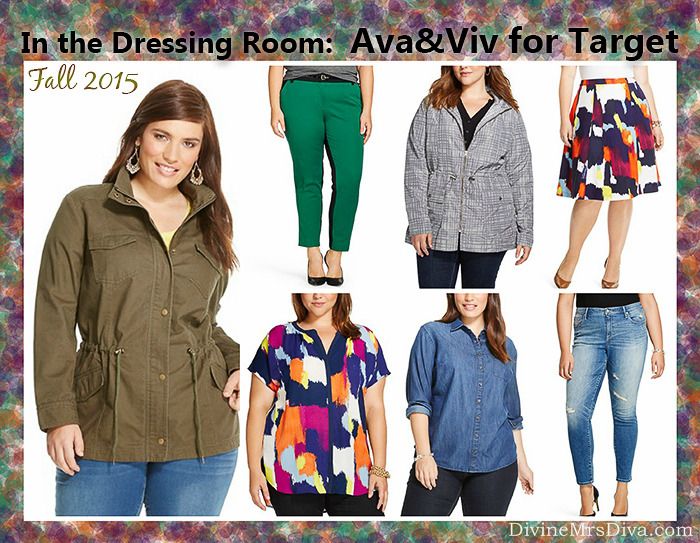 Images Credit: Target.com
Hello again my friends!! Welcome to a new week! I had a busy weekend, which I am sure I will post about eventually. It was all fun stuff - a haircut, a summer party, a bbq, lots of errands, some dressing room trips, and precious little time to relax . But I do feel somewhat invigorated and ready to get more posts out than I have lately.
A week ago, I ventured to my local Target to try on the new Ava & Viv collection for fall. As usual, I was disappointed in the limited selection available in store and the lack of clothing in my size. None of the Targets near me seem to have much when I go in person. Other downsides to this trip: 1) The prickly dressing room attendant had me hang up my items on a rack so she could count them with her hands, which I found odd; and 2) The temperature of the dressing room area was so incredibly hot that I was sweating in no time and couldn't really wait to leave. It was stifling in there! I still managed to snatch up a small handful of items and try them on for you.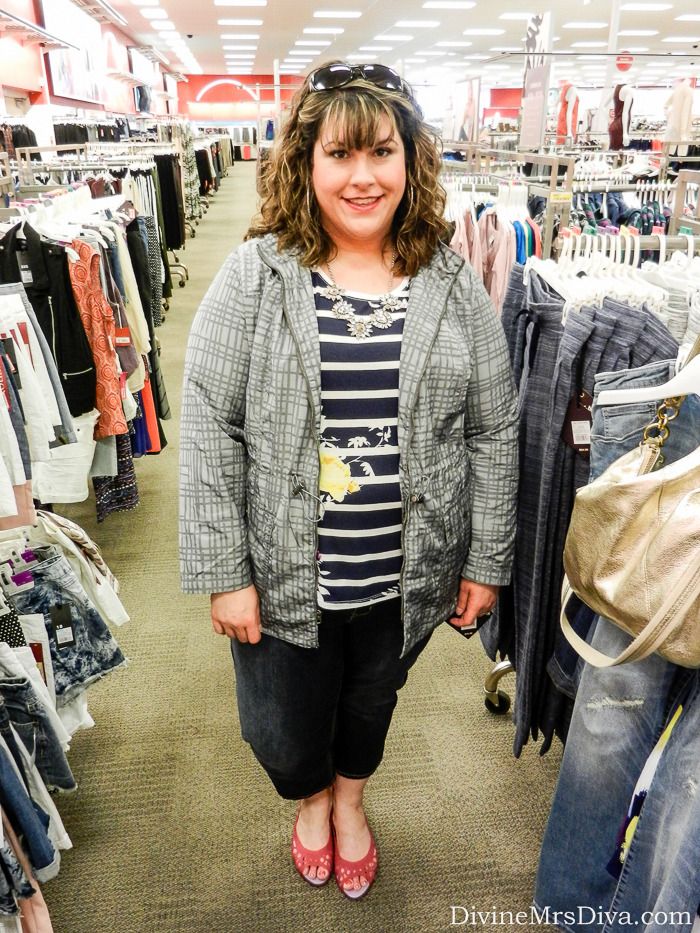 Ava & Viv Anorak Rain Jacket (Size 2) - $44.99
Jackets are easy enough to try on without going into the less than ideal dressing room. I saw this jacket on
Amanda of Fashion, Love, and Martinis
via her Instagram. It looked so cute on her! Of course, in the Pacific Northwest, a jacket with a hood and a rain-resistant surface is always a hot commodity. This jacket was only in stock in a size 0 and size 2 during my visit. I would typically wear a 3 or 4 at Target. This 2 wasn't a horrible fit, but I would certainly need the extra room of a larger size in the hips. The upper arms were a little small as well. It was a great length and I love the lighter color with the linear pattern.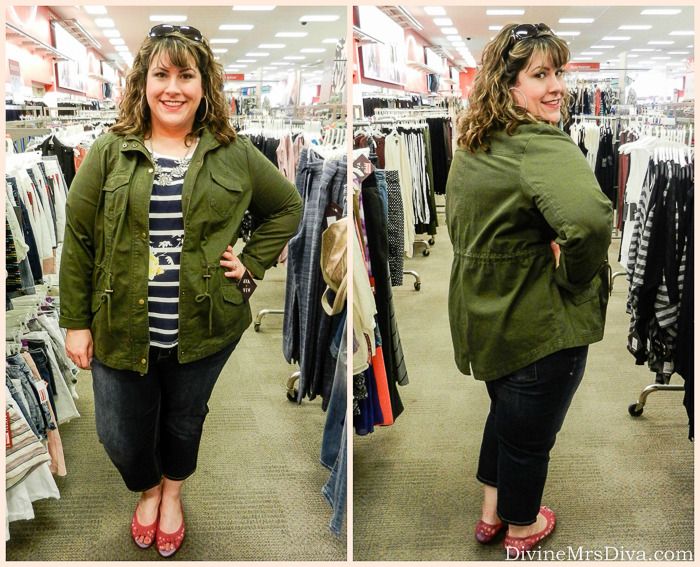 Ava & Viv Forest Anorak Jacket (Size 2) - $44.99
This green jacket was also only available in smaller sizes. I am sporting the size 2, which is a pretty good fit minus not being able to zip it around my hips. The fabric is soft, a little stretchy, and felt very comfortable. The length was perfect, with a high-low back. The upper arms were just a smidge tighter than I would like, but overall this was a great fit for me. I wanted to buy it, but I would really like to be able to try on a size 3 to make sure. I think the 3 might be too baggy in certain areas. This jacket is SO CUTE though! I really loved it.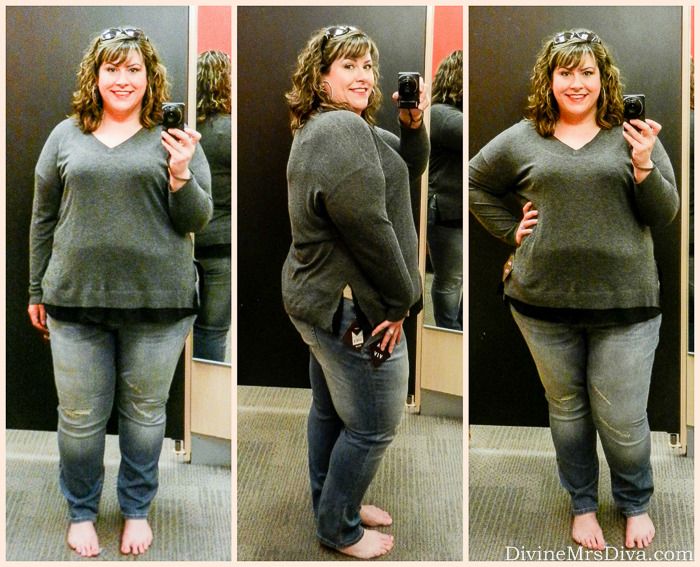 This first outfit seemed great at first. Both pieces are very comfortable and cute on first look. The lighting in the dressing room was HORRENDOUS, so while I couldn't see the line of my tummy roll so harshly in real life, the pictures show a very exaggerated tummy shadow.
Ava & Viv Pullover Sweater (Size 3X) -
I cannot find this sweater on the website, so I have no link or price point for this particular piece. The overall fit was good, minus the tummy cling issue. I am just not a fan of things like that showing. The fabric was soft, so it was a great basic piece to build an outfit with. The black part is more of a sheer, chiffon-like fabric that adds a little dimension to the hemline. I'm not really a fan of the dropped down seam. A lot of dolman tops do that and I just don't like it. I'd rather the seam be at the edge of the shoulder and not halfway down my upper arm.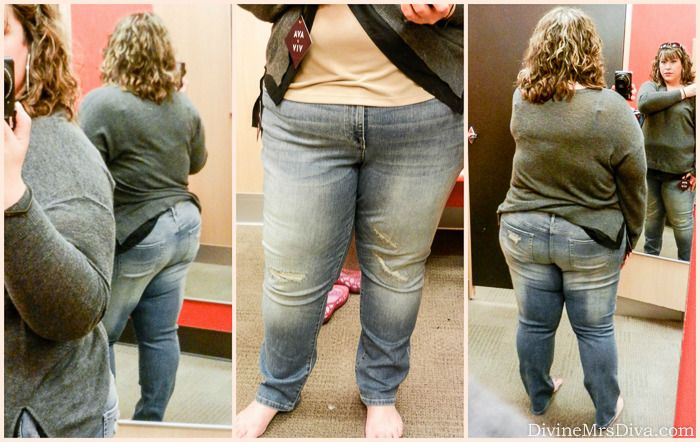 Ava & Viv Skinny Jeans, Medium Blue Wash (Size 24W) - $34.99
These skinny jeans fit great! They were stretchy and comfortable with distressing (the rips) that wasn't overdone. I loved the way they looked from the front and was thinking of purchasing them. Then I saw them from the back. The weird butt and side of thigh fading is hideous. It seems very oddly placed with harsh lines instead of a more subtle fade. Once I saw that, it was bye bye jeans. It just accentuated lumpiness in my thighs that I like to camouflage. If these were in a darker wash with no weird fading, I would have bought them.
Ava & Viv Multi-Color Skirt (Size 24W) - $24.99
If you've seen the look books of the Ava & Viv fall collection via
Garnerstyle
,
Nicolette Mason
, or
Gabifresh
, then you've seen these pieces. As a sucker for bright hues, I was really excited about these colorful items. The skirt was mostly a really great fit. I wore it a little higher than my natural waist and the fabric flared out into a great silhouette. It isn't as full as a circle skirt, but it does have more room than a typical a-line. I did find that the waistband would fall a little in the back being worn higher. However, I don't think a smaller size would have fit me. The material is textured with a bit of stretch, but I don't know if it is stretchy enough to size down completely. It would really depend on your body shape. It was a really great skirt though, and a piece that would look good on anyone.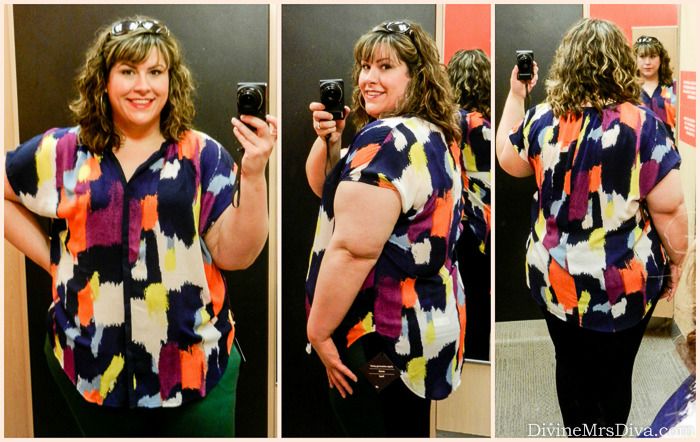 Ava & Viv Printed Multi-Color Woven Top (Size 3X) - $22.99
The matching multi-color top was okay, but I didn't like it on me. The fit was fine except for the hem of the upper arms, which was tight. The fabric is a very warm polyester with no stretch. It just wasn't a comfortable fabric against my skin, plus I wasn't a fan of the shortness of the sleeves either. Also, at this point I was burning up and getting cranky.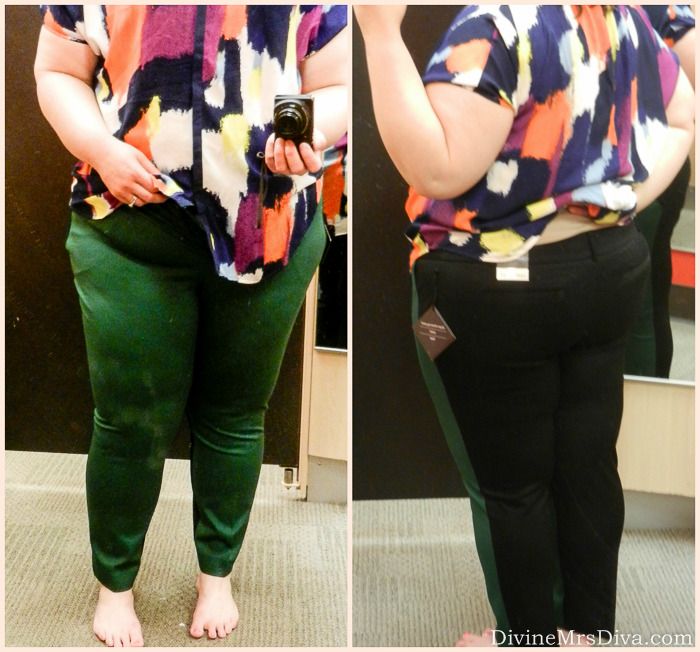 Ava & Viv Color Blocked Ankle Pant (Size 24W) - $29.99
The color blocked ankle pant looks so cute on other people, but not on me! I am wearing the 24, which I think is the largest available size. They fit like leggings, which showed every lump and bump imaginable. (Although my butt looked nicely bubbly!) Also, they didn't come close to being able to zip or button up. So if you are shaped like me, you probably need to be a size 20 in the hips to wear a 24 in these pants.
Ava & Viv Denim Button-Down Shirt (Size 3X) - $24.99
During my two to three month wait for Torrid's chambray shirt to become available, this color was more like what I was hoping for. But now that I really see I need a chambray shirt, they are really hard to find. I did buy the Torrid shirt, but I was crazy about this darker wash. It was soft and fit well in the arms. It did button through the hips and tummy and seemed really cute. I started to think about possibly purchasing it before I realized how big the bust looked. When my arms are down, it doesn't seem too bad, though there is extra fabric behind my arms. Arms out and you can see how big it is in the bust for me. The denim shirt is cute and comfy and super versatile, so if you get a good fit you better snap it up!!
Have any of you tried on the new fall items from Ava & Viv? Did you make any purchases? How was your experience? I look forward to hearing your thoughts!