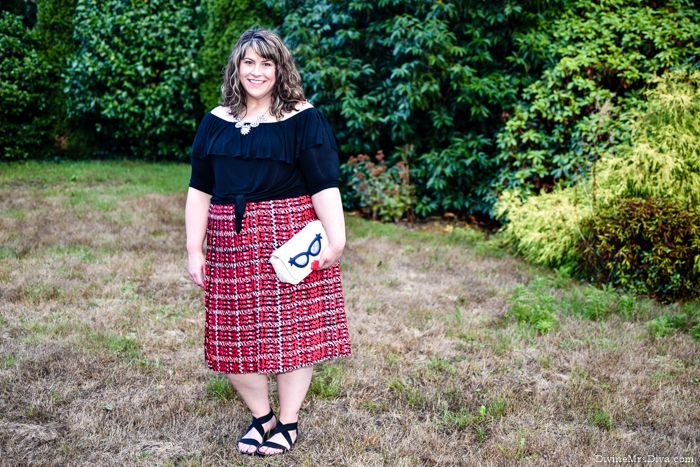 Well, it has been a tough week for anyone with a heart. I've found myself more prone to panic attacks this week, so I've tried to take it easy and go easy on myself. I often find that I beat myself up about getting posts out by this time or that time. Frankly, there are lots of reasons I have taken to blogging less this year. And while I would like to put out posts more often, I need to make sure that I take care of me in the process. I hope all of you are taking care of you.
Today's post is a look at the outfit I wore to Sean's recent 20 year high school reunion. At the 10 year, I was super uncomfortable and felt out of place. This year my focus was on wearing an outfit that made me feel comfortable, confident, and cute.

- I bought all the items in this post. All opinions presented are my own and without influence. This post contains affiliate links and I will be compensated if you make a purchase after clicking on my links. -
Before we get started, I am 5'9", typically wear a 22/24, wear a 40B bra, and my measurements are 52/49/58.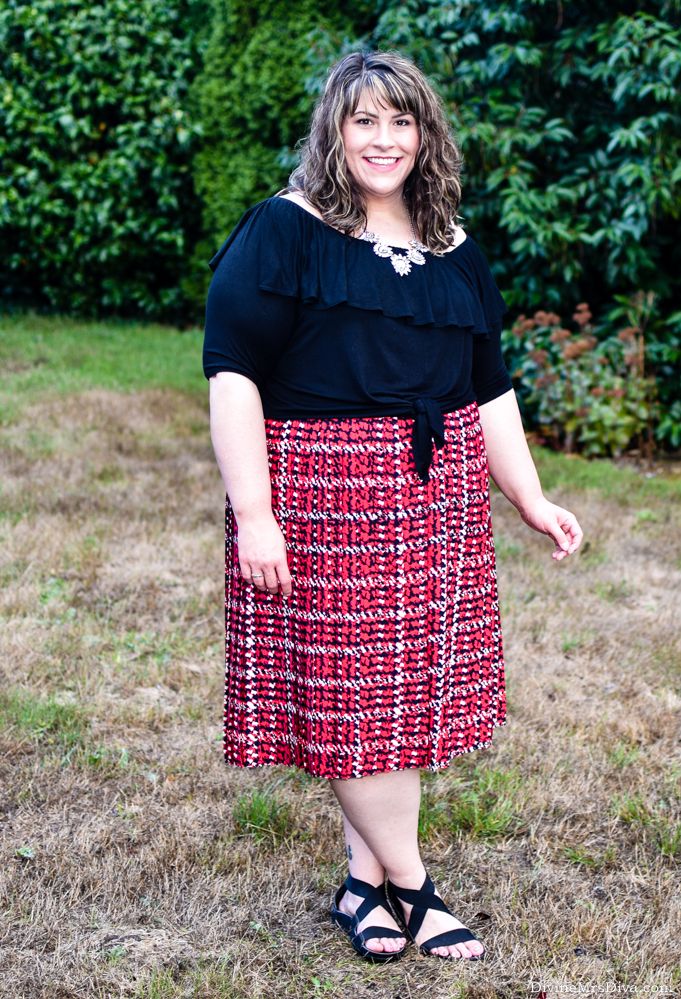 Sean kind of decided at the last minute that he wanted to go to this reunion. While I went my senior year to this particular high school (
I moved to Washington from Georgia the summer of that year
), I was a year behind Sean and never really had a lot of friends there. It is always nerve-wrecking going to a party where you know no one. Thankfully for my anxiety, people were really nice and seemed as awkward as I felt. I spent most of my time chatting with the wife of Sean's high school best friend. They were visiting from Florida with their small children. Copious amounts of wine and 90s music helped immensely as well.
I had been anxiously awaiting an event in which I could pair this top and skirt together. Back in one of May's
At Home Fitting Room posts
, I paired these two when giving my item reviews. I've since worn this top multiple times on the blog (
here
,
here
,
here
). It has been a go-to this summer and become quite the wardrobe staple for me.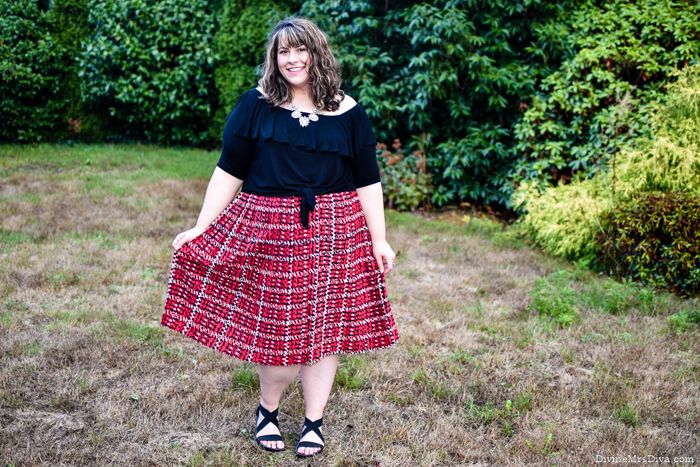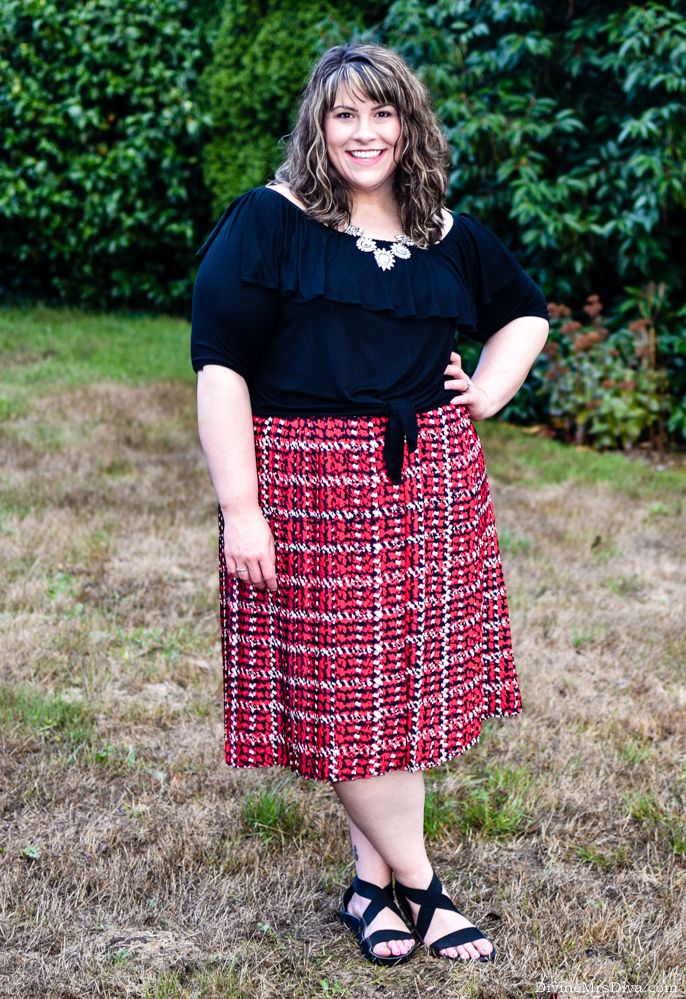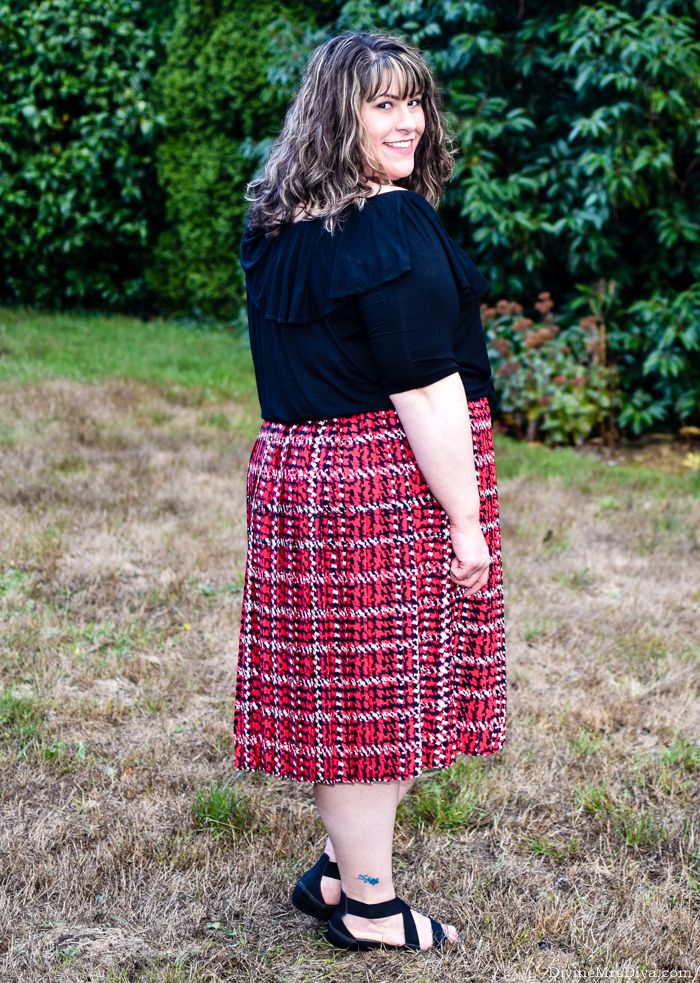 While the Pleated Houndstooth Skirt from Eloquii is no longer available online, I thought I would reiterate my review here. I have had such great luck with Eloquii items. I've now bought a few skirts and two dresses from them. The sale prices are spectacular! (This skirt was originally $79.90, but I bought it for $23.99.) I bought this skirt in a size 24 and find it fits true to size. The smooth, lightweight polyester fabric doesn't have any stretch to it, but there is an elasticized waistband in the back. I'm wearing it higher than my natural waist in these photos, so it is longer than I thought it would be. Wearing it higher puts it at a better proportion for my body though, so the length doesn't really bother me. I love the houndstooth plaid pattern and pleated details. It is really lightweight and comfortable to wear.
Eloquii has this same style
available in solid colors
, with a completely elastic waistband. They also have a
teal velvet version
and
black and gold velvet version
.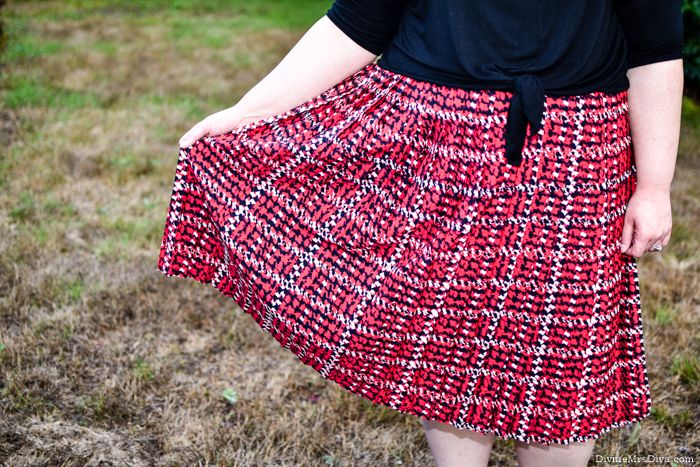 In styling the look, I wanted to keep it pretty simple but infused with my personality. I donned a super sparkly statement necklace for shine, my Crocs sandals for comfort, and a sassy clutch that makes me happy. I felt confident in my look and received lots of compliments during the night.
Pleated Houndstooth Skirt - Eloquii (
similar
,
similar
,
similar
)
Kelsey Flounce Top
- Kiyonna
Anna Ankle Strap Sandal - Crocs (available in
a slide style
now)
Perry Street Selina Crystal Necklace - via Rocksbox circa 2015 (
similar
,
similar
,
similar
)
Perfect Look Quilted Bag - Charming Charlie (
similar
,
similar
,
similar
)
Have you been to a high school reunion this summer? If so, what did you wear? What would be your ideal outfit for a similar event?