I've always loved road trips. As a kid, it was fun to sit in the backseat, listen to music on my cassette Walkman, and eat tasty road trip foods - like peanuts in my Coke. Of course, when my family took road trips it was usually because we were moving back and forth across the country - which upset me greatly. But it was the only chance I had to take some kind of vacation and to see other sights. I saw so much more of the United States than my peers because of our constant moving. Having been to various landmarks and places that would come up in school classes, I felt more worldly than the people around me. Fun fact: I was the only person in my high school Geography class who could spell Massachusetts correctly. Once you know this was a class full of 12th graders, that becomes a super sad fact. I digress.
After having cancer and going through the treatment plan, Sean and I decided life was too short not to do more traveling. Truth is, we had been putting it off for lots of reasons: we wanted to buy a house, we had lots of responsibilities, my brother died, Sean's dad was diagnosed with leukemia and died a year later, our precious furkids were getting elderly and passing away, and there was a lot of family drama we had to navigate wherein I essentially lost my mom and brother. We were beyond stressed and wanted a break. Our first vacation since our 2008 honeymoon was
a trip to Las Vegas in 2014
. We planned the trip around a concert I was attending with a friend and had a great time! It was so much fun to experience new things together.
After that trip we wanted to make sure we started traveling more regularly, even if it was only little weekend trips here and there. One of the places on our Travel Wish List was Northern California and the glorious Redwood trees. It seems like life is a never-ending game of catch-up sometimes. I've been busting my butt trying to get all these vacation photos edited and I am still nowhere near being done. While this road trip was two years ago, I still feel it is definitely worthy of a share. It was a really special trip for the both of us. In the coming weeks, I will be posting our journey through Oregon and California to share with all of you. (This was pre-GOOD camera, so now our excuse is we have to go back to get better photos!)
P.S. - We love taking couple selfies and photos of trees.
We live in southern Washington, so to get to the Redwoods we had to travel through the entirety of Oregon. There is plenty of Oregon I have yet to see, so we decided to go slightly farther west than usual, around Mt. Hood, through Warm Springs, and south to Bend. We made good time on this roughly three hour leg of the journey. There was lots of interesting scenery as the landscape changed to high desert. Sean and I talked and had a great time observing the mountains, trees, and beautiful horses running alongside fences.
Along where one of the big fires was. It was strange to see the obvious difference along the sides of the road. Horses ran along the fence on the burnt side and grazed in little green patches.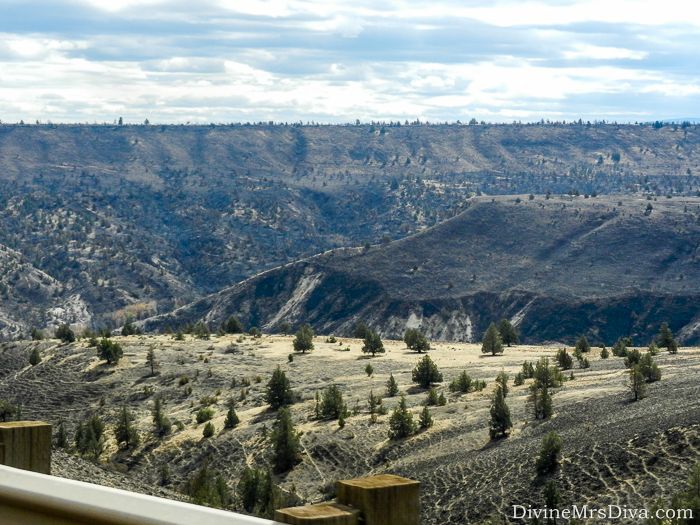 Near Kaneeta
Bend, Oregon
Of course, we had a late start, so we went straight to the
High Desert Museum
upon making it to Bend. We saw turtles, snakes, lizards, owls, eagles, and more. Plus, they have exhibits on art, natural history, and history and culture of the West. This included a series of immersive exhibits about how Native Americans, trappers, and settlers lived in the harsh High Desert climate. The weather that day was cloudy, breezy, a little chilly, and perfectly suited to our casual stroll on the grounds. While the museum isn't too big and we were able to get through it all in about an hour, we would definitely love to go back. There are walking paths on the grounds, along with picnic tables. It is quite a lovely area. There were so many squirrels and chipmunks to watch too! Admission is $15 for adults. I do recommend making sure you have more than an hour to get through everything so you can set a leisurely pace.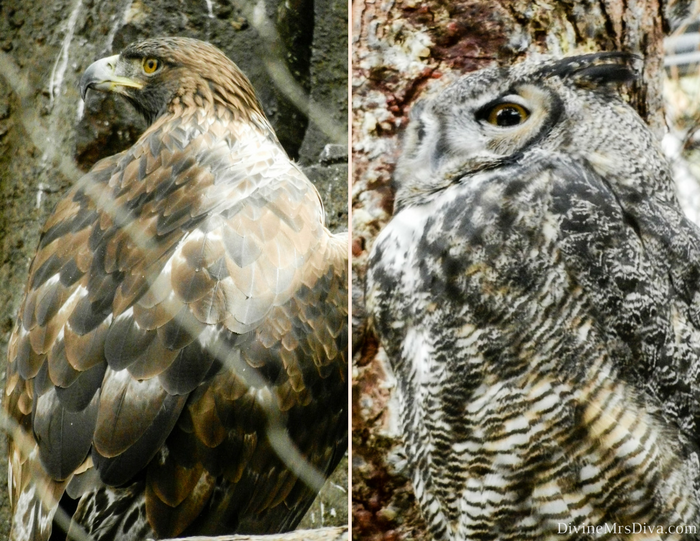 Golden Eagle and Great Horned Owl
Bald Eagle
I loved this horse scultpture made of barbed wire.
Once we left the museum, we realized we were STARVING and hadn't eaten since breakfast. We used Yelp to find a bite to eat near where we were driving. That led us to
Curb B Q
, a food truck located at the edge of a shopping center parking lot. I loved their use of a paneled door/chalkboard for writing down the menu. Sean and I decided to share the chicken tacos and Philly Cheesesteak Quesadilla. We ordered our food and took it to the car to eat because the wind had picked up and made it quite chilly outside.
The chicken tacos had a mild spice to them and a great cilantro flavor. But the Philly Cheesesteak Quesadilla was so tasty! We wanted to go order more right away. The meat was grilled with a crispiness around the edges, but not too salty. And I quite liked the meat and cheese on a tortilla instead of a big piece of bread. Both were served with chips and a really delicious, fresh mango salsa on the side. We resigned ourselves to only eating this appetizer and headed off to find our hotel for the night. Next time we visit Bend though, we will definitely be eating here again.
We stayed at the La Quinta Inn. I never know what to expect with hotel rooms anymore. The room was budget-friendly and quite large inside. It is an older hotel, but had obviously had some recent renovations done. The room was clean, but the bathroom was really small and the toilet was even smaller. I don't know what the obsession is with putting a toilet SO CLOSE to the wall and door, but I have since been in hotel rooms with the same situation. I always leave them complaints because they obviously didn't think about anyone larger than 120 pounds actually using the toilet. Rant over.
Sean and I were still a bit hungry, so we decided to go to the
Deschutes Brewery
to share another round of food. After a small wait, we were seated at a booth table. It was a pretty hoppin' establishment, but maybe not totally our jam for next time. We shared a Jalapeno Cheese Dip appetizer (tasty, but really thick. More suitable for four people rather than two. Served with seasoned tortilla chips.) and a scrumptious fish and chips basket. I don't care too much about gluten when I'm on vacation. haha After second dinner, we headed back to the hotel and went to sleep.
Onward to Crater Lake
While in Bend, we stopped at Trader Joe's to stock up on lunches, snacks, and waters for the trip. We knew there wouldn't be much in the way of convenience until we made it to southern Oregon that evening. The drive to
Crater Lake
from Bend was only about an hour and half. The lake was formed 7,700 years ago when a major eruption collapsed the volcano. Crater Lake is considered the deepest lake in the United States (1,943 feet) and the most pristine.
I had been keeping an eye on the weather forecast as we got closer to our actual trip so I would know what kind of clothing to pack. The weather at Crater Lake was supposed to be great that day, but as we got closer and closer to the lake the fog set in all around us. It was very cold and a bit rainy in spots. The fog was so dense in areas that we couldn't see past the road, and sometimes not very far ahead of us. I took a short video of our drive along this road.
We stopped at one lookout point and watched ground squirrels run around and eat. We knew the lake was somewhere out in the fog, but couldn't see anything. Having never been here before myself, I had no reference as to what anything was supposed to look like. Our next stop was the lodge, where there was plenty of snow on the ground. We browsed the large gift shop and used the restroom. I found some cute woven thread earrings, plus we bought an art print and some knick knacks to add to our travel collection. We heard someone say the sun was out on the farther east side of the lake, so we decided to take the extra time to drive around some more in order to catch a glimpse. I don't know how long we were driving, but we eventually found a scenic viewpoint to park. We thought, 'Well, at least we saw some beautiful snowy, wooded scenery.' At times, it was a little treacherous-looking (no guard rails) and spooky in a Sasquatch-is-about-to-run-out-at-us kind of way, but pretty nonetheless.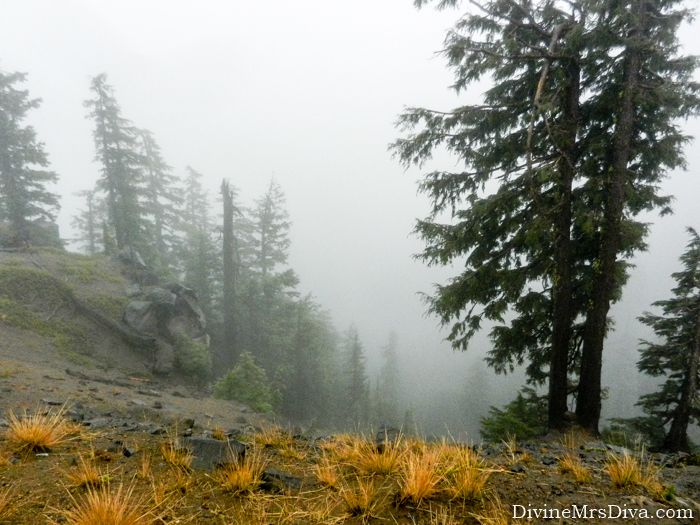 The lake is down there in the fog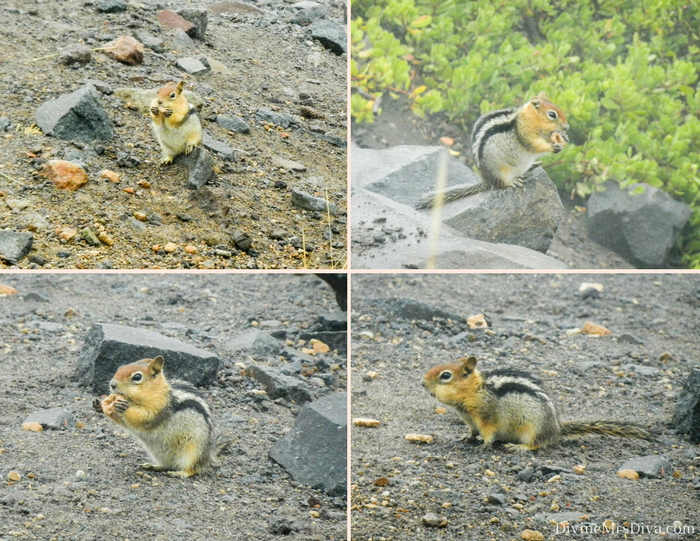 These cuties were everywhere and super FAST!
At the viewpoint, it was cold and raining, but there
was
a view of the lake! We stopped, got out, and started taking lots of pictures. The silence was amazing. It was so quiet and peaceful and lovely. Sean and I both just stood there breathing in the fresh air, staring at the beauty around us, and listening to the silent majesty of it all. I love being able to stop and try to memorize as much of a place as I can. Occasionally, other people would stop, look, maybe take a photo, and leave. This was the first time I truly observed this trend in people and realized that no one was really experiencing it or taking in the moment. Some people didn't even get out of their car. I was so flabbergasted by this, I almost started crying. How could you come all this way, be amid so much beautiful nature, and dismiss it so quickly? How could you not stand and admire and appreciate all of it? They just took and went. We have both continued to notice this trend of behavior everywhere we go now. For us, this means that if there are crowds and people annoying us, we just have to sit back and wait five minutes. The fickle, unappreciative folks disappear and we have more time to enjoy wherever we are.
Sean and I stayed and took as many photos as we could through the cold and wind and rain. I wanted to stay as long as possible. It was SO BEAUTIFUL - the moss covered trees - and SO QUIET. I stayed until I got so cold my teeth were chattering and I couldn't feel my toes. We sat in the car looking at it a little longer and then headed to the hotel and gift shop area to get waters/coffees/go potty.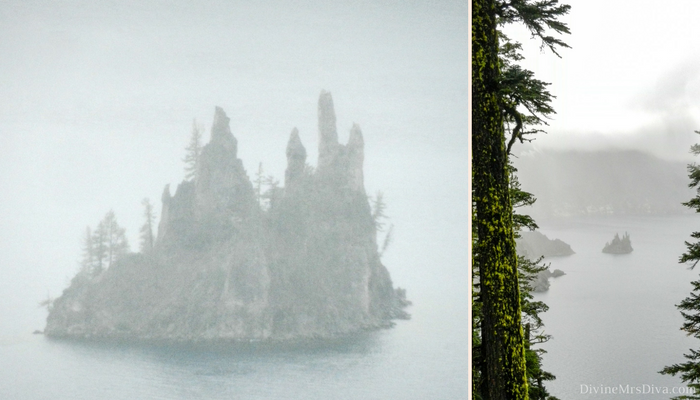 The Phantom Ship, a remainder of the ancient cone of the volcano. These rocks are around 400,000 years old.
After leaving the crater, we tried to stop at any little scenic place we could to check it out and take more photos. While I am pretty cautious by nature and like everything to be planned meticulously, sometimes I get a bit adventurous. We continued southeast towards Grant's Pass for another couple of hours, stopping to eat dinner, get gas, grab more coffee, go potty, and get a few odds and ends at the store. Again, it was fun to watch the terrain change as we moved farther along our route, with fields and mountains in the distance. Everywhere we looked there was so much beauty. I compared the landscape to that of places I have traveled through, telling Sean tales of road trips past. The sun was setting as we left Grant's Pass, so most of our journey into California and to our hotel for the night was quite dark. The road into Cali was very twisty, but otherwise uneventful. We do remember the moment we noticed the trees were suddenly
much
larger. We could smell the ocean six miles before we found our beach hotel. Once we checked in, we immediately walked down to the beach to look at the stars, all wrapped in jackets and blankets. It was wonderful to be able to just stare at them twinkling above us, We came back to our hotel, ate some of our dinner leftovers, and went promptly to bed!
Near Grant's Pass, OR
Next on the road trip chronicles - the glorious Redwoods!!
Update:
You can check out all the Road Trip posts you may have missed: