It's the second to last post wrapping up our Oregon/California Road Trip! Today's post covers Days 5 and 6 of our trip as we drove back through Oregon, stopping to visit the Wildlife Safari, and on to the coast at Lincoln City before heading home the next day. Enjoy!
Previous Road Trip Series Posts:
Crescent City, CA to Lincoln City, OR
The last two days of our trip involved a lot of driving. It was slow and tedious going through rather bland central Oregon. It was also insanely HOT out, like hovering near 100 degrees! PEH! I am not a heat-loving person by any means.
We started the day early, having breakfast at The Good Harvest Cafe in Crescent City before grabbing a Starbucks and making our way back to Oregon. We drove up through the center of the state and stopped in Winston to check out the
Wildlife Safari
. I bought tickets via Groupon prior to our trip (
before I started my Groupon boycott because their customer service is a POS
). When I was little and lived in Texas, our family would go to a Wildlife Safari near Dallas. I loved seeing the animals so much. Finding out their was a similar drive-through wildlife park here made me want to relive a bit of that childhood fun.
I do not recommend going on a super hot day if you can help it. We saw plenty of animals, but they were mostly trying to stay in the shade and keep cool. Prior to the driving portion of the park, there is a walk-through area - Safari Village - with a cafe, gift shop, petting zoo, camel rides, koi fish, smaller animals, birds, and an "Australian Walkabout", with Wallaroos and a Kookaburra. Obviously, children and rude people run rampant in this area, so just be mentally prepared for that when you go. This area was pretty simple and didn't take too long to go through. Of course, we like to watch the animals and take photos and just observe (
and usually have to wait for the rude people to pass so we can enjoy our time
). This area also tugged on my heartstrings more because it bothered me seeing the animals make sad faces in cages. I am not insinuating they aren't cared for, but I am a sensitive soul and feel that way about all animals.
Anyway, I think in total we were there a couple hours or so (
I didn't write that detail down in my vacation notes
). It was mildly busy and some parts get more congested than others. The drive-through part is 600 acres. There are rules about not getting our of your car or approaching animals, so you know some numb-skull got out of their car and tried to pet an ostrich. There are rules for a reason. And it is usually the people that think the whole world revolves around them and what they want who want to make dumb decisions. Just be on the lookout for the dumb ones is all I'm saying. I really enjoyed seeing the animals and watching them just be. Some of the animals - like ostrich, turkey, giraffes, deer - came close to the car, but mainly they were out in fields.
Tickets are $19.95 for adults and $13.95 for children. They are open 363 days a year, but times vary seasonally.
After the Safari, we drove and drove until we reached rainy and foggy Lincoln City on the coast. It was already dark out by the time we reached our
hotel
. This was our first time staying at the Sandcastle, but it wasn't too bad. I'm not a fan of dragging my suitcase up and down flights of stairs (
er, well, having Sean drag my suitcase
), but it was worth the trouble to have a third story room. After getting checked in, we went over to
Mo's
to get dinner take-out. While we were waiting for our order, some women seated at a table near the gift shop made fun of my New Kids On The Block tee. I am used to this bullshit because I have been a New Kids fan for 30 years, but I found it funny how they thought they were making fun of me on the down low and I wouldn't know it.
Back at the hotel, we turned on the in-room fireplace and ate our dinner while listening to the waves crash outside.
These fish would come up ON THE PAVEMENT looking for food!
Lincoln City to Home
The last day of our trip also started early. We watched the sunrise from the comfort of our bed. While I was busy getting ready, Sean went over to Macadangdangs Reefside Bar and Grill (
which is apparently now closed
) to pick up some breakfast. We ate in the room with the screen door open to feel the gentle ocean breeze. Of course, a seriously curious and hungry seagull stared us down while we enjoyed the food he wanted.
Once on the road, we stopped at the
Outlet Mall
for some shopping, which is where I bought my most favorite Reebok hiking shoes that you have seen plenty on the blog (the lavendar and grey ones). We continued driving along the coast to Netarts, and then east to the
Tillamook Cheese Factory
. Lunch and ice cream was in order before making the last two hour journey home.
It was a really great trip and one of our favorite vacations to this day. I talked about how special this trip was to us, and it really was. There was such a peace and contentment and sense of adventure. We realized how truly comfortable we are just being with one another. For me personally, I realized I can be okay with silence, with not "entertaining" all the time, with just sitting quietly and observing. We saw some of the most beautiful scenery and felt the mysterious, magical, wise energy of the trees.
And I can't wait to do it all again!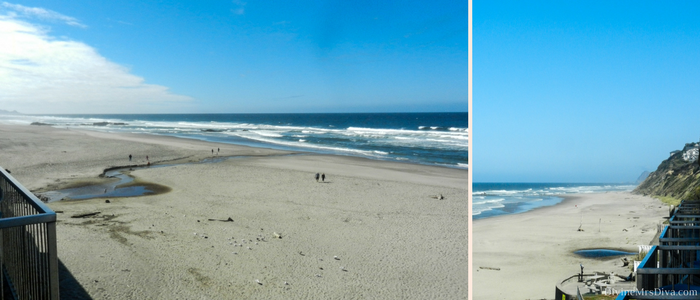 The view from our room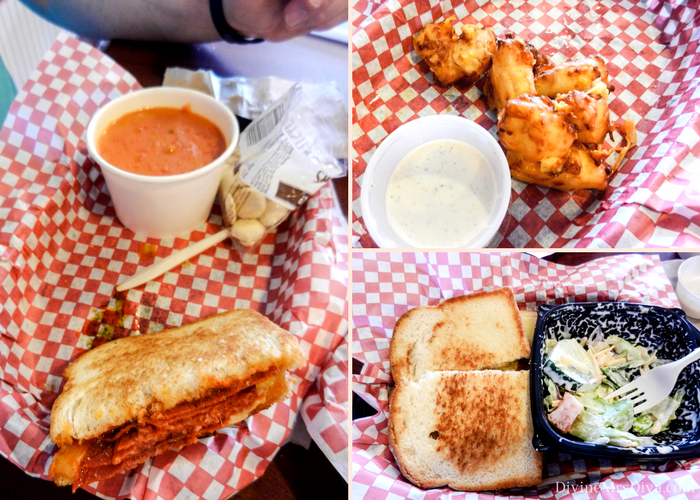 Grilled Cheese and Cheee Curds - *nom nom nom*