My first outfit post of the new year! As you know, I love the
Outlander
series - both books and television. Ahead of the start of season three, Torrid released another collection inspired by the series. Of course, I had to have it! I'm finally having some opportunities to wear these pieces and photograph them for you. Let me know if you'd like to see a separate At Home Fitting Room with all the pieces I purchased as a few items are still in stock. You can check out the pieces that are still available on
Torrid's website
.

- All items in this post were purchased by me. All opinions presented are my own and without influence. This post contains affiliate links and I will be compensated if you make a purchase after clicking on my links. -
Before we get started, I am 5'9", typically wear a 22/24, wear a 40B bra, and my measurements are 52/49/58.
Want to check out my previous
Outlander
posts?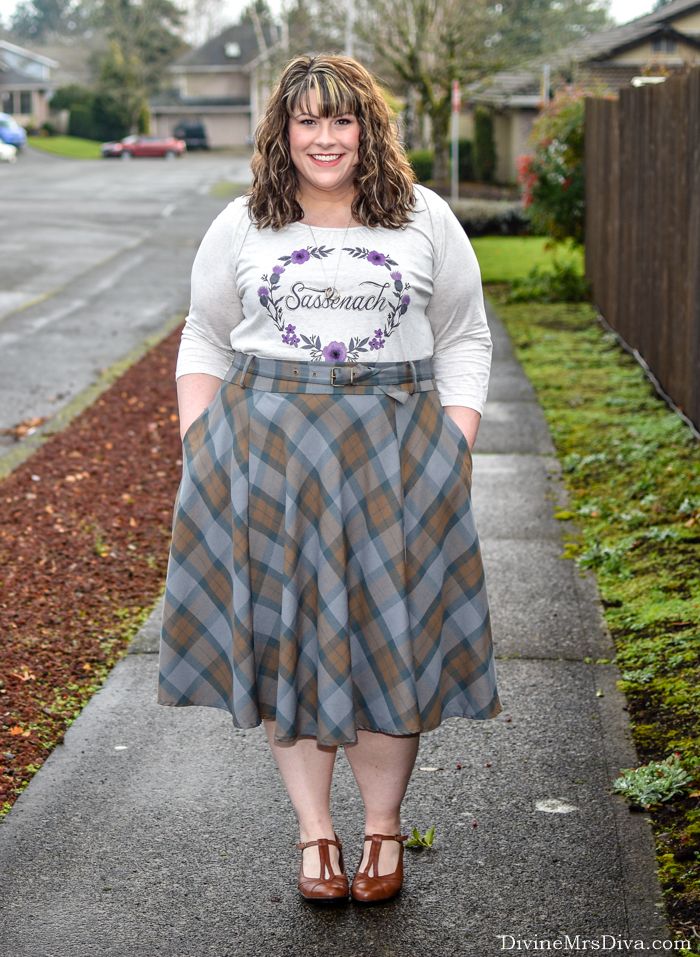 The word "Sassenach" is a Gaelic word meaning foreigner or, more specifically, an English person. It is a derogatory term, but is used affectionately as Jamie's nickname for Claire in the
Outlander
novels. I wouldn't advise you wear this top to Scotland, as it is still seen as a derogatory word, but you can rest easy knowing that most other people have no idea what it means or how to say it. As someone who often feels like an outsider, I wear my
Sassenach tee
with pride.
I am wearing the tee in a size 3 and find it fits true to size and a bit more generously cut then typical Torrid tees. The cut itself is a bit more a-line, leaving a good amount of room for my hips. The hem hits right below my butt (
see below
), so it is also longer than Torrid's usual t-shirts. I love the soft, stretchy cotton/modal knit. It is quite comfortable to wear, but a smidge see-through because of the light color. The front shoulder seams have a lovely angled lace detail, while the back has a tie with a large keyhole feature at the upper back. This keyhole is my main complaint with the top. I usually wear a cami underneath my tees, but this keyhole allows you to see whatever I am wearing underneath. It isn't the loveliest of aesthetics, unless you have decorative backs on all your camisoles/tank tops. However, I do like the font used and the addition of the wreath of purple flowers to decorate the front of the tee. The Sassenach tee is still available in sizes 00, 3, and 5.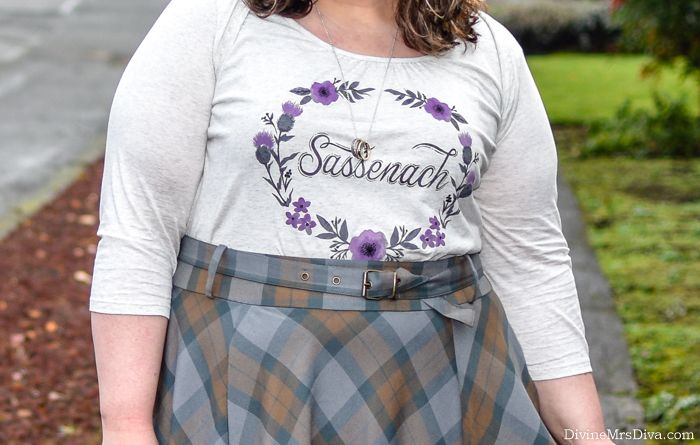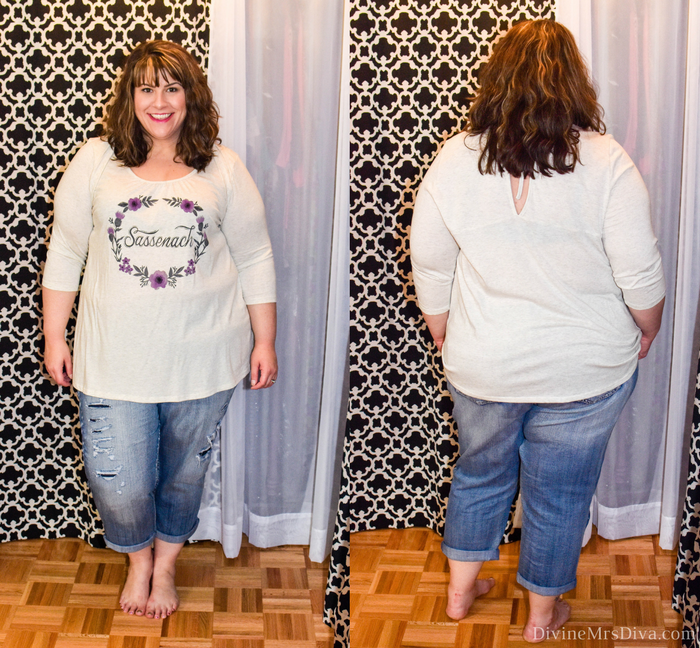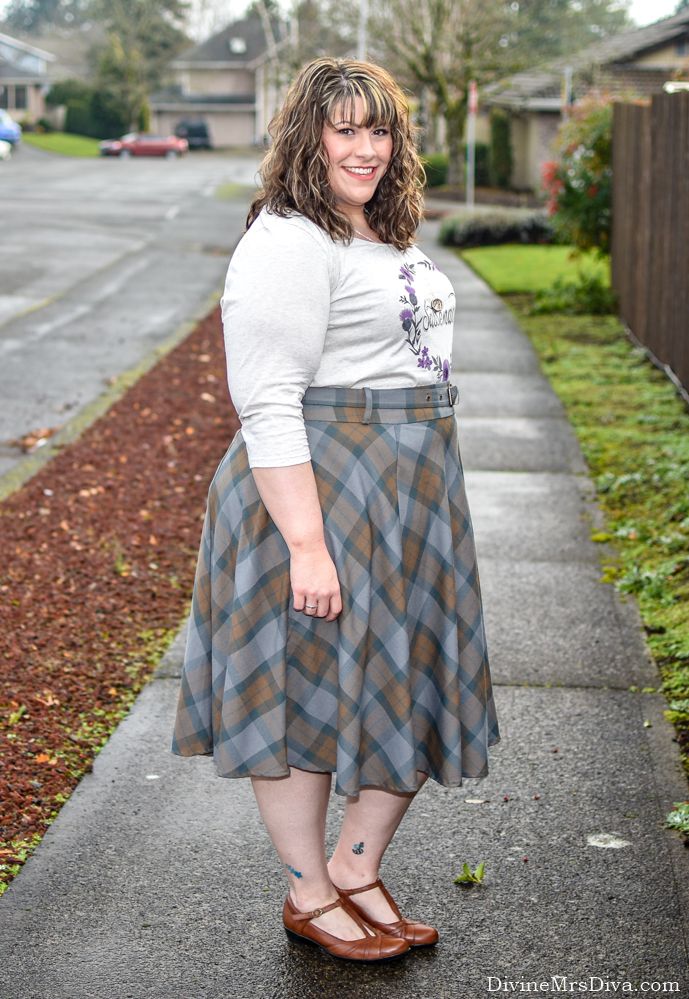 From the moment they arrived in the mail, I really wanted to pair the Sassenach tee with the tartan circle skirt. I think it is such a cute combination and a little more casual to keep with my style. The skirt is no longer available, but I am going to go ahead and give you a rundown anyway. I'm wearing a size 24 and find it fits pretty true to size. Since I do tend to wear skirts higher than my natural waist, I find the fit just a tiny bit loose. It doesn't look that way in photos, but it felt like it was going to travel a little with wear. The awesome thing about this skirt is the built in belt that lets me cinch it just a bit tighter to keep it in place when I wear it higher.
The fabric is a polyester/rayon that is smooth and sturdy, but lightweight and comfortable to wear. It isn't lined, but it isn't see-through at all. The hem hits below my knee, which is a great length for me aesthetically and so I'm not worried about flashing folks. It does have pockets and a zipper closure in back. I love the full circle silhouette! I've loved a circle skirt since I was a kid. I would have my mom make me poodle skirts so I would twirl and twirl until I couldn't stand upright. Of course, I had to give this one a little twirl too.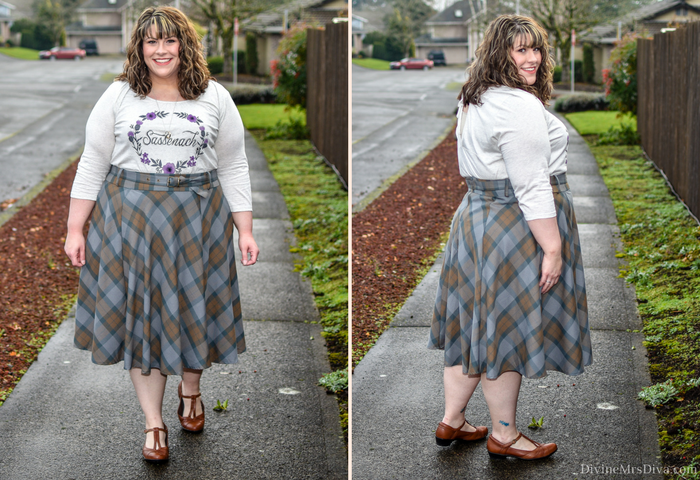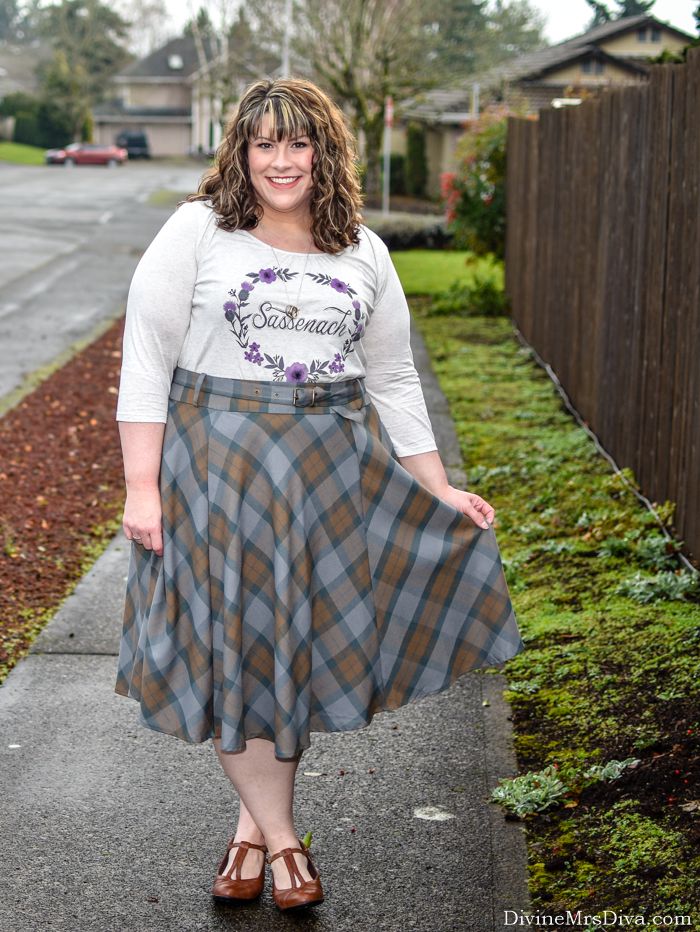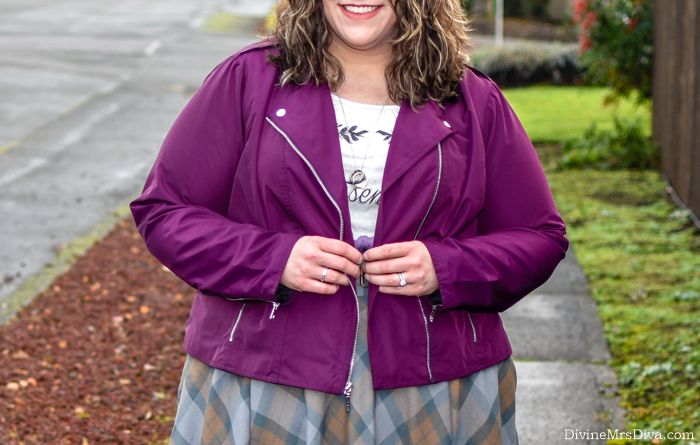 The purple flowers of the t-shirt inspired me to break out of pairing the tartan with navy and brown, and instead opt for this lovely dark purple hue. I picked up this
moto style jacket
during a Lane Bryant sale because I wanted a moto in my wardrobe. I absolutely LOVE this Winter Bloom shade! I debated about also buying it in black, but eventually chose not to. It is still available in both colors though.
I am wearing a 22/24 and was actually surprised that it fits well and isn't too fitted, though the sleeves are a little long. I often worry about jackets not zipping up around hips and tummy, but this one does so comfortably. I really love the purple shade with the tartan. The jacket also added a little more of a modern feel to a more 1950s inspired look. You'll find this jacket in the Activewear section, though the fabric choice makes me wonder how it behaves if you are wearing it to workout. It is made of a smooth polyester material that feels similar to a windbreaker or raincoat and makes a
swoosh, swoosh
sound as you move. The material has a really pretty sheen to it, with bright and shiny silver hardware. The jacket is lined on the inside in black. Overall, I really like this jacket and hope this style will be carried in a ponte knit or knit come spring.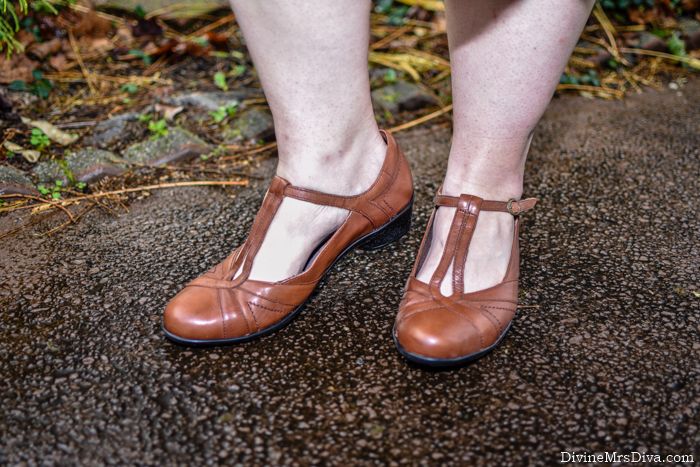 For accessories, I opted for the Jamie and Claire wedding rings set that Torrid offered as another nod to the series. I bought the necklace in a later transaction when only a size 10 in the rings was left. It is fine that they are too big to wear because I already have a silver ring that is kind of a combination of both book and show versions of Claire's ring. What I love about the Torrid necklace versus the
locket necklace
I bought at Hot Topic is that the Torrid necklace is a longer length. I do not have to add extensions to it, which is awesome.
Also new to me and the blog are my
Cobb Hill Valentinas
. I bought them via Zulily for $47, so it is possible to get a good deal on them. Just be on the lookout. They are still $100 on Amazon. As you know, Cobb Hill and Comfortiva are my top comfortable shoe brands that I have been trying to acquire more of. I love the shorter 1.25" heel on the Valentinas, but the
Angelina
is also a great option with only a slighter higher heel. My 11 wide feet can get away with a medium width in Cobb Hill, with room to spare. These are very comfortable shoes! I am so glad I found them.
If you have a wider foot like mine, I would opt for the wide width in the Comfortiva brand though. I can get away with medium width in the Comfortiva sandals, but for closed toe shoes I go wide.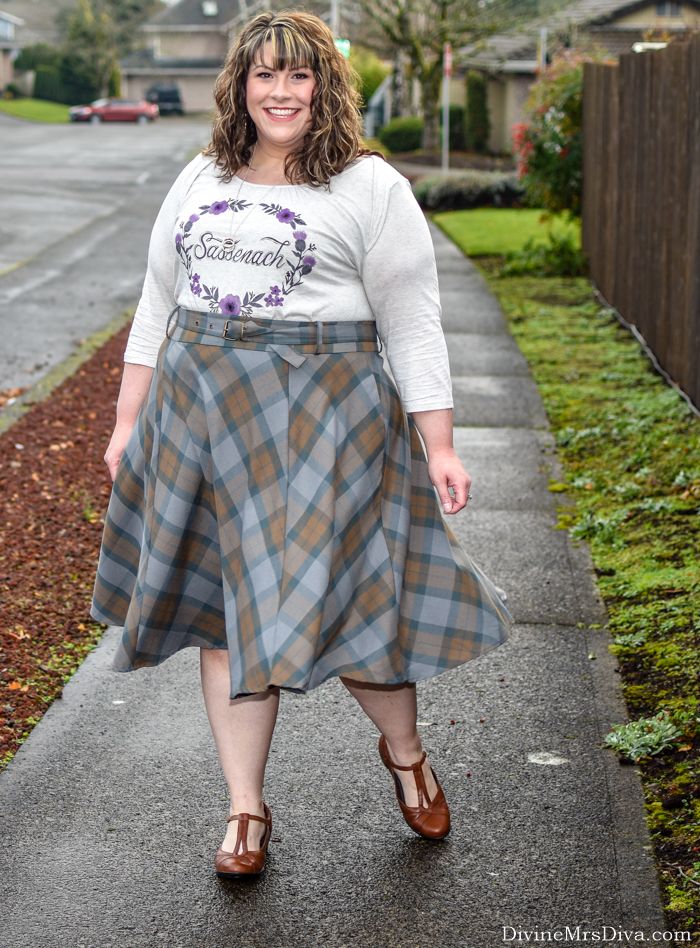 Outlander Lace Trim Sassenach Top
- Torrid
Outlander Tartan Skirt
- Torrid
Fast Lane Woven Active Moto Jacket
in Winter Bloom - Lane Bryant (Also in
black
)
Valentina Leather T-Strap Pump
in Almond - Cobb Hill via
Zulily
Outlander Wedding Ring Set & Necklace - Torrid
I wore this look to our traditional Ladies' Christmas gathering, celebrating the holiday with my mother-in-law and family on my stepdad's side.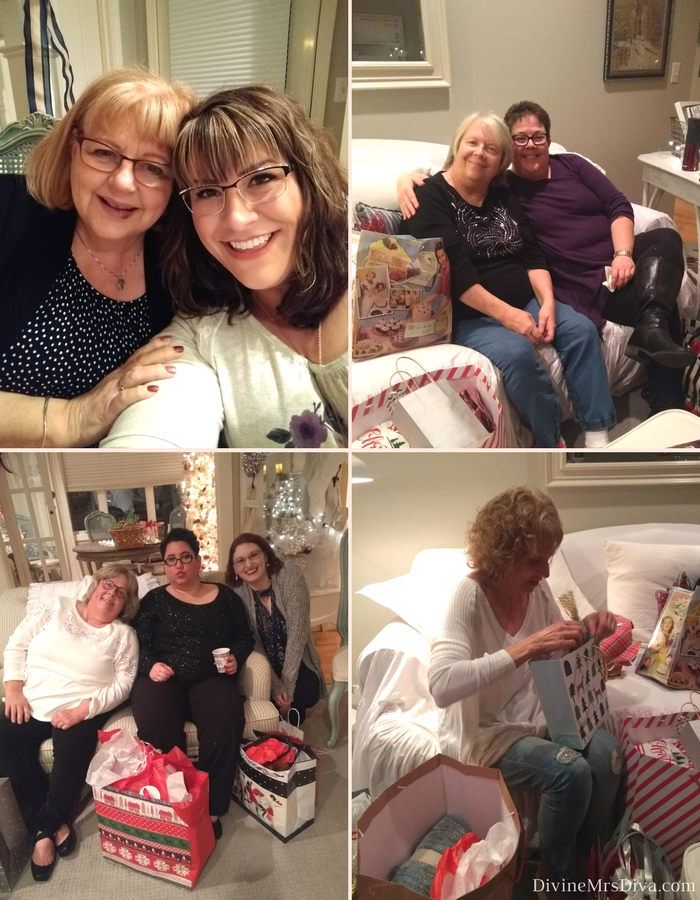 What fandom are you part of that you wish would have its own inspired-by fashion collection? Do you already have a loved fashion item from your favorite fandom? Let me hear about it!