Hey, y'all!!
Monday has arrived again. I hope all of you had a wonderful weekend. Saturday was actually sunny here, so we did some photos outside and ran some errands. Did anyone watch Justin Timberlake on SNL? I always find him very funny on the show.
My husband and I spent six hours on Sunday doing some spring cleaning and reorganizing the bedroom. I still have a few things to do, but will take some pictures and blog about the changes we made. I feel so accomplished and excited to have gotten it done and hope the extra space allows for me to do some makeup tutorials and beauty reviews from my
vanity table
.
This week, I am trying to get up earlier and start incorporating more accomplishments into my day. I really want to work hard to make my daily schedule one where I have plenty of time to do the things I need and want to do. It will certainly be a work in progress, but you have to start somewhere, right?
Additionally, if you feel like giving me some insight into your opinions as a reader of this blog, I'd appreciate it if you could answer
a few short questions
for me. Thanks in advance!
It is time again for Friend Makin' Monday. If you have a blog, I would like to invite you to answer the questions as well. Leave me a comment here, so I know you are playing. Then you can also leave a comment over at All The Weigh, so other folks can check out your answers as well. It is a fun way to connect to other bloggers.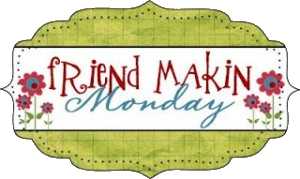 1. What did you eat for dinner last night?
Last night, we were busy running errands, so we stopped at a local Mexican restaurant. I had half of a Fajita Burrito and some chips and salsa.

2. If you could make one food calorie-free for the next year, What would you choose?
Ice cream and cheese. I don't eat either one as much as I used to, but it would be nice not to have them count toward the calories I intake.
3. How often do you go to the grocery store?
We probably do a big trip where we hit up our two main stores about every two weeks. I have been focusing on fresh fruit and veggies for snacks and meals, so we have to go more often to stock up.
4. Do you make a list before buying groceries?
Yes. I make a list per store and try to have the items in order of how we walk through the store so I don't forget anything. I usually decide on several recipes to keep us from just buying whatever.
5. List three things that can always be found in your kitchen.
Apples, Bottled Water, Gruyere Cheddar cheese
6. How often do you clean out your fridge?
I tend to clean it out when I see things need to be cleaned out. But if I get busy with other stuff, I clean it out every time we come back from grocery shopping.
7. Do you ever use a slow cooker? If so, will you share a recipe?
I do and I want to use it more often. If you want to check out some recipes, I have a few under "Crock Pot" in my
Recipe Index
.
8. How often do you try new recipes?
I think I try new recipes in waves. I'll go back to tried and true stuff we love and have weeks where I don't really feel like putting much effort into cooking. Then I will have weeks where I try a lot of new recipes. In the last week, I've tried 2 or 3 new recipes. This week, I have 3 more to try. :-)
9. What is the most delicious meal(s) you make?
Oh snap. Well, I think various friends and family would have different answers for this, so I will stick with the meals I make that
I
love the most. My
Smoked Salmon Chowder
is so good! It tastes like a chowder we can only get in Seattle (our FAVORITE), so I am really proud that I was able to make something similar. Also, I love the
Sour Cream Enchiladas
,
Crash Hot Potatoes
, and any combination of my
Roasted Veggies
.

10. Share at least one thing that is currently in your kitchen even though you don't like it.
My husband bought a small bag of Baked Kettle Chips in an effort not to get the tasty ones. These taste like cardboard and I despise them, so the unopened bag is still on the pantry shelf.
Now it is your turn! I hope you all have a Happy Monday and a great week!