Hey, y'all!! Hope everyone had a great weekend.
My Weekend Update:
It was haircut time on Saturday. After the appointment, I played in Sephora and then the husband and I ran errands. We got home later than we had anticipated, so we made dinner quickly and watched a
Mystery Science Theater 3000
episode in honor of my brother who passed away four years ago Saturday. It is one of my favorite ways to honor his memory.
On Sunday, I spent eight hours cleaning my kitchen - doing dishes, wiping counters, scrubbing cabinets, reorganizing cupboards, soaking and scrubbing drip pans, dusting, vacuuming, steam mopping, cleaning blinds, wiping down walls and the fridge, etc etc etc. My feet hurt.
I
did
get to enjoy my St. Patrick's Day meal though - corned beef, cabbage and baby carrots, garlic and avocado mashed potatoes, and a Chocolate Raspberry beer. Yum! Hopefully Monday will be more low key for me. lol
It is time again for Friend Makin' Monday. If you have a blog, I would like to invite you to answer the questions as well. Leave me a comment here, so I know you are playing. Then you can also leave a comment over at All The Weigh, so other folks can check out your answers as well. It is a fun way to connect to other bloggers.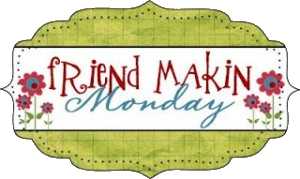 Pondering Personal Thoughts
1. How old would you feel if you didn't know how old you are?
It really depends on my mood, what is going on, and sometimes who I am around. I usually feel like I'm in my mid-20s, but sometimes I feel like I'm 55 (or anywhere in between). It's mostly a mental thing.
2. Are you the kind of friend you'd want to have as a friend?
Absolutely. I certainly would frustrate myself from time to time, but I am fun, kind, and fiercely loyal.
3. Look back at the last year. When did you feel most excited about something in your life?
There hasn't been a whole lot of happy in the last year. My brother cheated on my sister-in-law and they initiated divorce proceedings. My brother stopped talking to me. My father-in-law lost his battle with leukemia. One of my sweet fur kids died right before Christmas. A wonderful friend died in February. So I guess the most excited I have been lately is when NKOTB announced their new tour dates and I scored second row seats. And maybe my husband and I can take a vacation for the first time in 5 years.
4. Have you ever been with someone and not spoken a word, only to walk away thinking that was the best conversation ever?
I don't think so.
5. If you won 100 million dollars Monday, would you continue doing whatever you usually do on Tuesdays?
Sure. Except I might take some classes and be busier than normal. lol Once in a while anyway...
6. What would you do differently if you knew no one would judge you?
I would do everything I've always wanted to do. And I'd be more peaceful doing it since I would not be worrying about what others are thinking.
7. Share something you do differently than most people.
I do a lot of things differently than others. I keep finding out new things all the time. For example, when I sing along to songs on the radio, I change as many words as I can to incorporate "chihuahua" into the song.
8. What's one thing that you really want to do that you've never done?
I really want to travel to Ireland. I've never even been overseas, but Ireland is at the top of my list.
9. If you had to move out of state right now, where would you move?
Maybe Canada? I can't think of any state in which I would be truly happy. I love living in WA, but there is a lot of rain. I deal with it because I hate humidity, lots of bugs, flash floods, tornadoes, hurricanes, red states, etc. I've lived all over the USA and I like where I am more than other places, though I don't feel like I quite belong in any of the locations I have lived.
10. What is the one thing that you'd like to change most about the world?
I wish everyone was kind and intelligent and had manners and thought about others instead of being selfish. That's more than one thing, but there is too much wrong with this world to pick one thing.
Now take a moment to answer the questions and link up! Have a wonderful Monday and week!