Hey, y'all!!
I hope everyone is back from a great weekend! Mine consisted of grocery shopping, cleaning, preparing food, and hosting Bunco night on Saturday. We cleaned up the house Saturday night, so Sunday was a straight up chillin' kind of day. The husband and I slept in, watched The Hobbit (the new one
and
the animated one from 1977), and just relaxed all day. It was fantastic!
Now on to a busy week!!
It is time again for Friend Makin' Monday. If you have a blog, I would like to invite you to answer the questions as well. Leave me a comment here, so I know you are playing. Then you can also leave a comment over at All The Weigh, so other folks can check out your answers as well. It is a fun way to connect to other bloggers.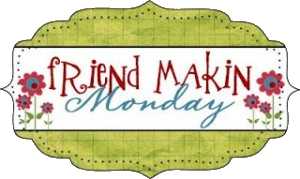 1. Describe the kind of home you would live in if money were no object.
It would be a large house near the beach with HUGE closets, a giant kitchen with top-of-the-line appliances and tons of counter space, lots of windows, a huge fenced backyard with some pretty trees and a great patio for entertaining and lounging. The bathrooms would be spacious with lots of counter space. The laundry room would be organized and dreamy. There would be a personal chef, house-keeper, and landscaper on the payroll..and probably a personal chauffeur for me so I wouldn't have to drive. Other rooms I would have: a two lane bowling alley, a basement game room/dance club with full bar, a movie theater room, a crafting studio, a massive walk-in closet for me..etc. etc etc.
2. Are you more conservative in your actions or more rebellious?
I tend to be more cautious in all of my endeavors. That caution just comes from different places depending on the situation. Sometimes it comes from previous experience, sometimes self-doubt, sometime self-preservation. There are definitely certain times where I tend to be more rebellious, they are just not common.
3. Would you go to Mars even if it meant you could never return to Earth?
I don't think so. There is too much unknown. I'd rather be with friends and family and not all isolated.
4. Name one song that makes you want to dance every time you hear it.
"Wake Me Up Before You Go-Go" by Wham. I always have to at least do a little Carlton Banks-like dance to it. lol But there are many, many songs I love to dance to. I do it as much as possible.
5. Share one thing that you wish you could go back and do differently in your life.
I wish I talked to my dad, or at least reached out to him, in the two years before he died. I let my mother manipulate me into treating him a certain way and not speaking to him for two years. And even though he didn't treat me well, I wish I would have reached out and tried to talk to him before he passed away. I was only 17, so there was much I didn't know.
My mom stopped speaking to me almost two years ago and I have learned from the lesson with my dad. I reached out to her and tried to speak with her. I told her almost everything I had to say and have no regrets with her. So that is important to me.
6. Share at least one accomplishment that people wouldn't expect you to be proud of.
Well, I wouldn't necessarily call it an "accomplishment", but it is on my mind so....being up front and open with my mom about things I needed to say to her about the way she has treated me in my life. And being honest with my brother when he proved to be a woman-hating cheater. Even though they hate me and have chosen to disown me, I am glad I stood up for myself, my sister-in-law, and my niece and nephew.
7. Describe one delicious thing that you've eaten lately.
In hosting Bunco Saturday night, I made these tasty little ham and cheese sandwiches on Hawaiian rolls. It had a yummy glaze you put on top and bake it until the cheese melts. They were tasty! Our guests ate them all.
8. If you had a theme song that would play every time you entered a room, which song would you choose?
Hmmmmm, this is tough! My initial response is "Fighter" by Christina Aguilera. I asked my husband what he thought it should be and he said "Just The Way You Are" by Bruno Mars (
awwwww
).
9. Has technology enhanced your life, or has it over complicated your life?
There are certain times when I feel overwhelmed with keeping up with social media for the blog, but mostly technology has enhanced my life. It has made communication easier, affords me the opportunity to learn anything I want, keep up with friends, make new friends, and find things I may not have found otherwise. It is a great tool to make life easier.
10. If you could get paid to do any job, which job would you choose?
I would love to get paid to do nothing. And by "do nothing", I mean live my life. I would travel, take classes, and work on various hobbies. But if I had to choose a job, it could be an actress, an interior designer, an author, a stylist, or a personal shopper.
Now get on it, y'all!! Have a fantastic Monday and week!!