This is the final week of my October Soup Series. If you missed the previous recipes, I will list them at the bottom of this post.
When I was given some tasty smoked salmon as a gift, I knew I wanted to make a chowder with it. Sean and I
LOVE
the clam chowder at
FX McRory's
, a bar in Seattle. Every time we travel up to Seattle, we
have
to eat there. It is probably the best chowder I have ever eaten; and I've tried chowder from many regions.
My goal was to make a chowder that tasted as close to the FX McRory's chowder as I could possibly get it. I used my memory of my favorite chowder, along with
this recipe
, to make the following meal. The addition of the dill, along with the bacon, celery, and green onions, really makes this fantastic. You can use whole milk to make this super creamy, but I always use our favorite 2%. I took liberty with adding the green beans because I was using the vegetables that happened to be in my freezer. I loved the green beans in it so much, I kept them in.
I think this is probably my husband's favorite soup that I have ever made. When I told him it was going on the blog this week, he was really hoping I would make it at home again. :-)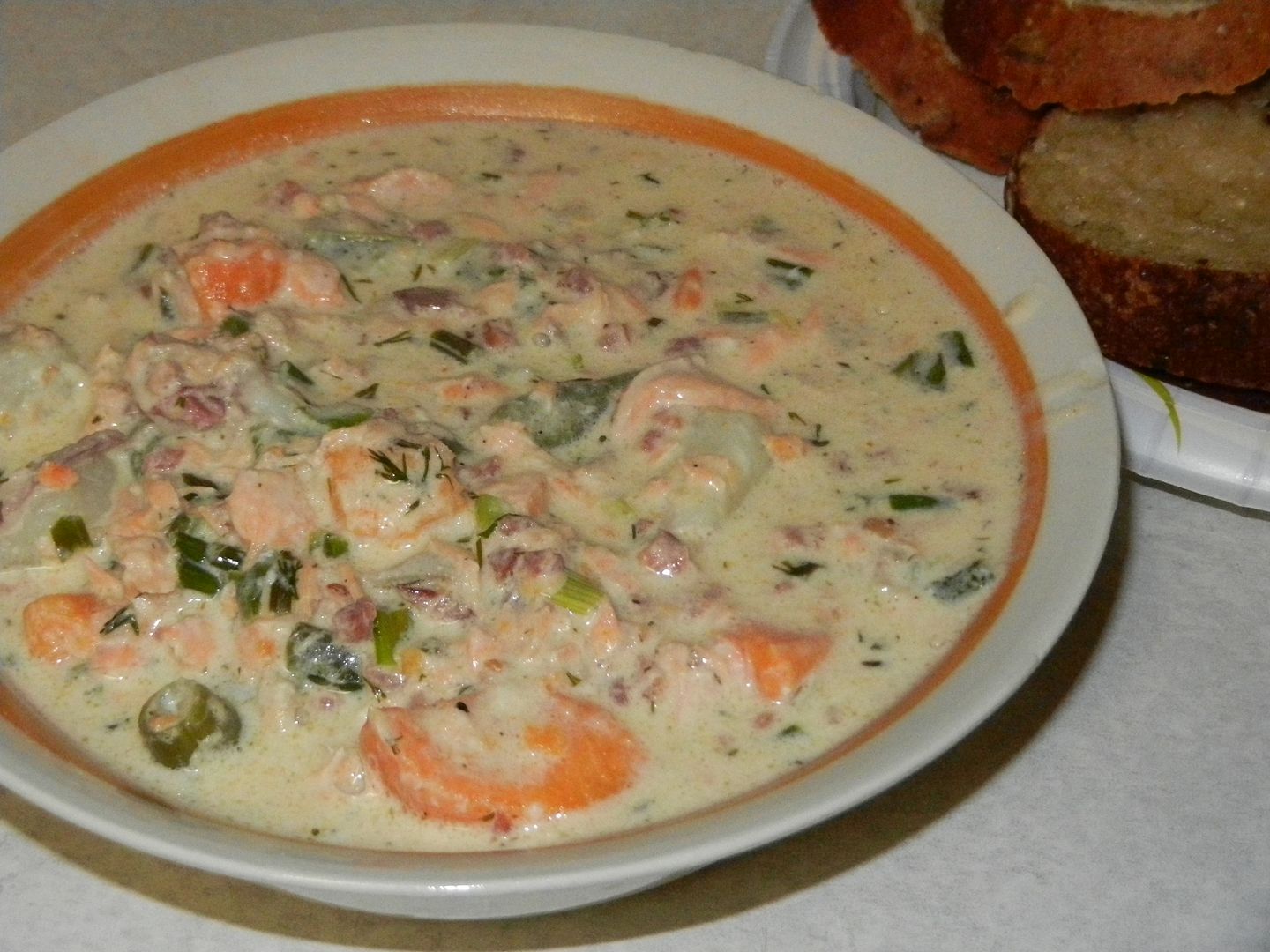 Smoked Salmon Chowder
Ingredients
- 1/2 pound red potatoes
- 1/2 pound sliced bacon, cut crosswise into 1/4-inch wide strips
- About half a bag of frozen cut green beans, thawed
- 1/2 cup celery, chopped
- 2 cups scallions, chopped
- 2 tablespoons minced garlic
- 2 teaspoons fresh thyme, chopped
- 1 tablespoon fresh dill, chopped
- 1 Turkish or California Bay Leaf
- 1/4 teaspoon dried hot red pepper flakes (I probably added 1/2 to 1 teaspoon)
- 3 cups milk
- 2/3 cup heavy cream
- Filet of Smoked Salmon, cut into small pieces (or 1 1/2-pound salmon filet, skin discarded and fish cut into 1-inch pieces)
- 1/2 teaspoon salt
- Black pepper to taste (I usually add a lot of fresh cracked pepper)
- 2 teaspoons lemon juice
Directions
Cut potatoes into 1/2-inch cubes, then cook in a 1 to 1 1/2-quart heavy saucepan of boiling salted water until just tender. (About 10-15 minutes) Drain in a colander and set aside.
Cook bacon in a 5-quart heavy pot over moderate heat, stirring occasionally, until crisp. Transfer with a slotted spoon to paper towels to drain. Pour off all but 2 tablespoons of fat from pot, then cook scallions, garlic, thyme, dill, celery,
bay leaf, and red pepper flakes in fat in pot over moderately low heat, stirring occasionally, until scallions are tender. (About 5 minutes)
Add milk and cream and bring just to a boil. Reduce heat to moderately low, then add potatoes, green beans, salmon, bacon, salt, and pepper. Cook, gently stirring occasionally, until salmon is just cooked through and begins to break up as you stir, 5 to 8 minutes. Let simmer for 10 minutes or so.
Stir in lemon juice and salt and pepper to taste. Discard bay leaf before serving.
Previous Soup Series Recipes:
Skinny Mac and Cheese Soup with Broccoli
Thai Cabbage Soup
Chicken/Shrimp Tortilla Soup
Chicken Pot Pie Soup