Welcome to Week 4 of my October Soup Series!
This week brings us Chicken Pot Pie Soup. This recipe was posted earlier this month on
Skinnytaste
. Every recipe I have made from their site has been really tasty so far. For healthier and low calorie recipes, they are consistently delicious and flavorful. The Chicken Pot Pie Soup is only 169 calories for a 1 cup serving.
This comforting (and very filling) soup is full of veggies. I chose to serve it over half a buttermilk biscuit, with the other half on top. You could make little pie crusts or puff pastries or any kind of biscuit really. I highly recommend this soup, and so does my husband. He loved it!
I changed a few things, just a couple small differences, which I will include in the recipe below. Most of my changes stem from the fact that I wanted to add some extra veggies, so I increased the liquid a bit by adding some vegetable broth. You can find the original recipe
here
. If you are starting out with raw chicken breast, poach the breasts in water for 15 minutes to cook through. I removed them from the water and shredded them with a fork.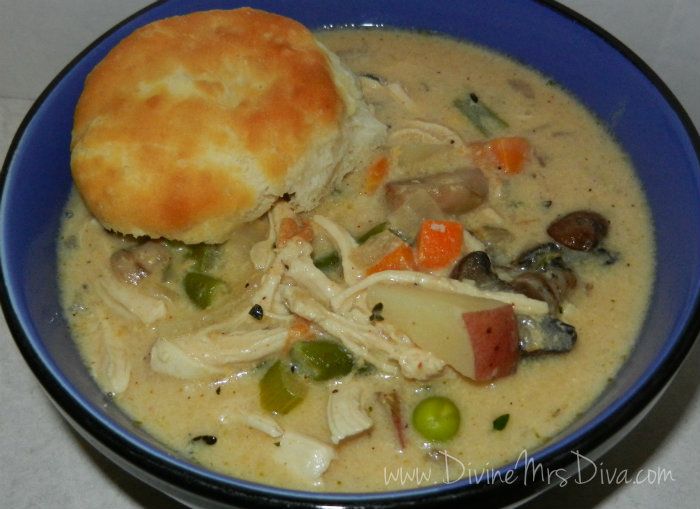 Chicken Pot Pie Soup
Ingredients:
- 1/4 cup and 2 tbsp flour (to make gluten-free use 2-3 tbsp cornstarch instead)
- 2 cups water
- 1 cup vegetable broth
- 4 cups fat free milk
- 3 large celery stalks, chopped
- 1 medium onion, chopped
- 2 tbsp minced garlic
- 8 oz sliced baby portabella mushrooms
- 2 chicken bouillons
- Fresh ground pepper
- 2 tbsp fresh thyme
- 1 tsp smoked paprika
- 12 oz frozen classic mixed vegetables (peas, carrots, green beans, corn)
- 2 potatoes, peeled and cubed small (
I used 4 small red potatoes, skin on, cubed small
)
- 16 oz cooked chicken breast, diced small
- Salt
Directions:
In a small bowl, create a slurry by combining 1/2 cup of the cold water with the flour. Whisk until well blended and set aside.
Pour remaining water (1 1/2 cups), 1 cup vegetable broth, and milk into a large pot and slowly bring to a boil. (You could also replace the water with veggie broth for added flavor.) Add celery, onion, mushrooms, garlic, chicken bullion, potatoes, thyme, fresh pepper, paprika, frozen vegetables and return to a boil. Partially cover and simmer on low until vegetables are soft, about 35 minutes. Add chicken, then slowly whisk in slurry. Stir well. Cook another 10 minutes, until soup thickens. Adjust salt and pepper and other seasonings to taste. Serve and enjoy.
This soup would also be great over rice!