I love coming across recipes I just can't wait to make. I love cooking, I just don't love doing it every day. When I find a recipe that not only looks good, but is lower in calories and will provide leftovers for a few days, I jump at the chance to make it.
Enter this recipe for
Skinny Sour Cream Enchiladas
. I found it via Pinterest from
Skinnymom
. This is the most popular recipe on her site (and when you make it, you'll know why.) Each enchilada is a pretty good size and only 275 calories. I made a few changes in my adaptation of her recipe (mainly my use of flour tortillas instead of low carb tortillas), so my version is probably about a hundred calories more. Still pretty darn good, in my opinion. Her recipe also used no spices or seasoning, so I had to remedy that. I need flavor!!
(PS - I know these pictures aren't the prettiest representation, but I was hungry and in a hurry. You better believe I am making these again soon and will update the pictures then.)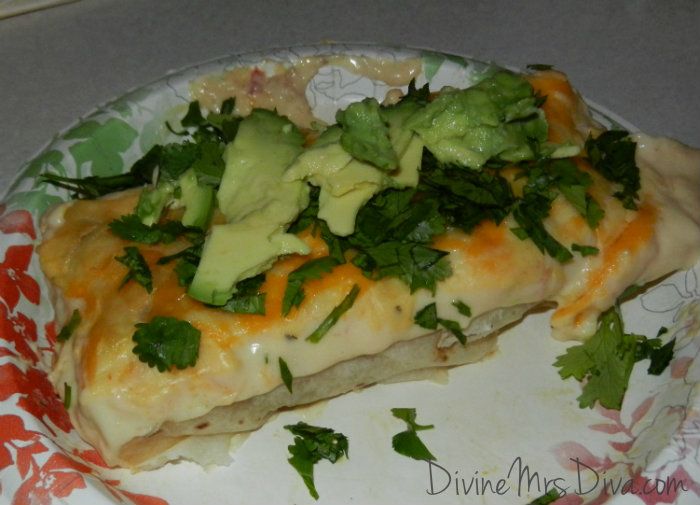 Ingredients
• 16 oz. fat free sour cream
• 1 can fat free cream of chicken soup
• 5 tbsp. fresh chopped cilantro (
Less if you don't like it as much as I do. If you are using dried cilantro, use half as much.
)
• 2 1/2 cups cooked shredded chicken breast
• 1 can Mexican Rotel, don't drain
• 1 cup chopped onions (optional)
• 8 flour tortillas
• 1 cup shredded pepper jack and colby cheese blend (
I always use more cheese.
)
• 1 can diced green chile, don't drain
• 2 tbsp. minced garlic
• 1 red bell pepper, chopped
• Mrs. Dash Fiesta Lime Seasoning
• 1 lime
• Salt and Pepper
• Olive oil
• Avocado for garnish
(
Hailey's Notes: I used about 5 tbsp of fresh cilantro because I love it so much. I had to have the husband pick it up on his way home from work, so the enchiladas were in the oven already, hence the cilantro just sprinkled on top in the photos. Still super yummy.
If you start with uncooked chicken, I just boiled chicken tenders in water with some olive oil and salt for about 12 minutes. Take them out of the water and shred them when they cool a little bit.
)
Directions
- Set oven to 350°F. Spray a 9x13 baking dish with cooking spray. Set aside.
- In a saucepan on low heat, combine the sour cream, soup and cilantro. Stir occasionally as mix heats up. Set aside.
- In a separate pan, heat a couple tablespoons of olive oil over medium heat. Add chopped onion, chopped red peppers, and minced garlic to the pan, stirring occasionally. When onions just start to become transparent, add the shredded chicken, Rotel tomatoes, and green chilies. Stir well and let simmer for about 5 minutes.
- Zest the entire lime right into the chicken mixture and add Mrs. Dash Fiesta Lime seasoning to taste. (
I probably used about 3 teaspoons.
) Add a pinch of salt and lots of fresh cracked black pepper. Stir again and turn heat down to low.
- Pour a couple spoonfuls of sour cream sauce mixture into the bottom of the baking dish. Spread around the bottom of the dish to cover a good portion of it in a thin layer.
- Warm the tortillas until flexible. (
I microwaved them for 15 seconds each, sandwiched between two damp paper towels.
)
- Fill each tortilla with about 2-3 tbsp. of the chicken mixture.
- Top mixture with a tablespoon (or slightly more) cheese. (
Okay, maybe I did 2 tbsp of cheese.
)
- Roll the tortilla and place seam side down in the baking dish. Continue doing this for all tortillas. (Need help folding the tortilla? Check out directions
HERE
.)
- Pour/Spread the sour cream sauce over enchiladas.
- Top with the remaining cheese
- Bake at 350°F for 25-30 minutes until bubbly and cheese is melted.