The husband and I prefer a low-key Valentine's Day. We like to stay home, make dinner, watch a movie, exchange presents and cards, and just spend time together. In the eight Valentine's Days we have spent together, we've only gone out for one -
last year
. It was a wonderful evening spent at one of our favorite restaurants, but we chose to return to our low-key ways this year.
Our most favorite thing to make for dinner on this fun occassion is fondue. In previous years, I have done various broth and wine fondues with seasonings in whatever flavor category we want that year. We set out a tray of raw meats (chicken, pork, scallops, shrimp, steak, etc.) and cook the meat in the broth. When we do this, I also set out lots of dipping sauces for us to try various combinations of flavors. I think I only made chocolate fondue the first year we started the tradition. It is very easy to fill up on all the bite-sized pieces of meat.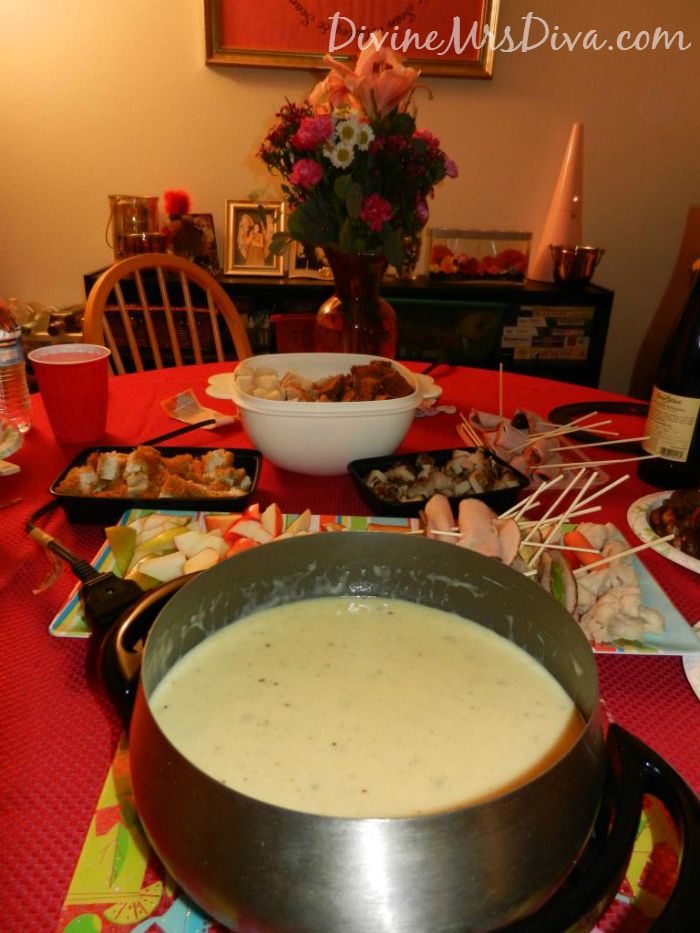 This year, we decided to go with a cheese fondue to emulate our favorite German restaurant's yummy appetizer. We also went way overboard with the food to dip and barely made a dent. It is very filling! I have used all the other fixins in lunches and dinners this week.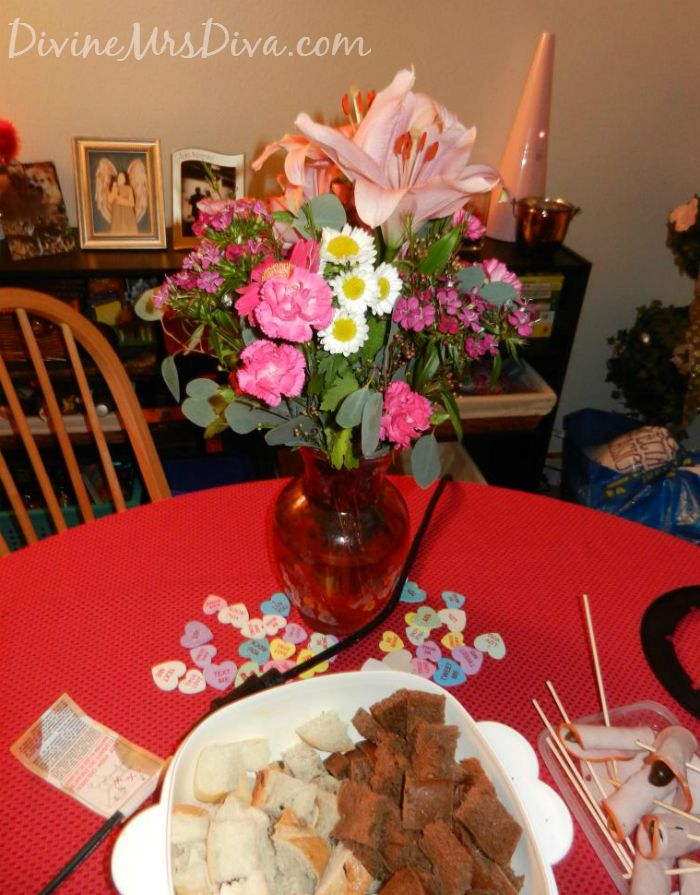 Pretty Flowers
Some very yummy wine. Even the dry one is tasty. I used it in the fondue as well.
My sweet fuzzy man waiting for some hand-outs.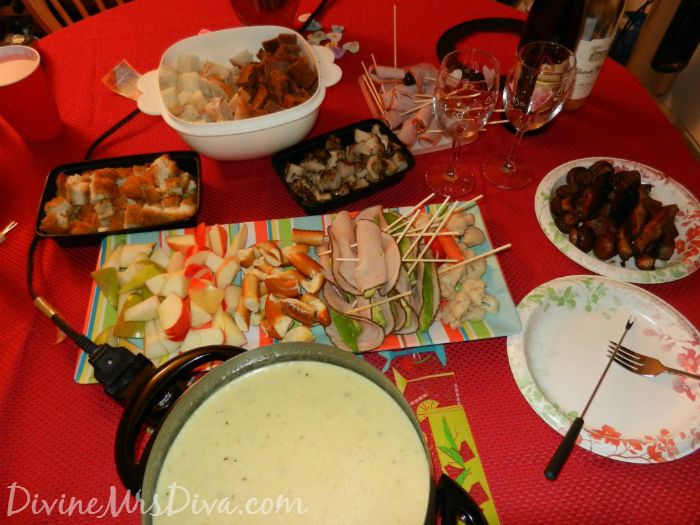 Our smorgasbord all laid out.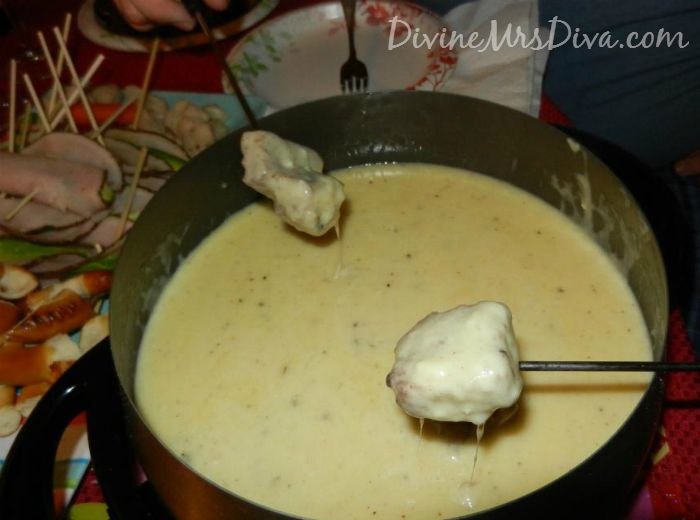 Ingredients
- 1 clove garlic, halved crosswise (
I used a tablespoon or so of minced garlic
)
- 1 1/2 cups apple cider vinegar or dry white wine
- 8 oz. Gruyere cheese, grated (3 cups)
- 8 oz. Emmental cheese, grated (3 cups)
- 8 oz. raclette cheese, grated (3 cups)
- 2 tbsp freshly squeezed lemon juice
- 2 tbsp cornstarch
- Freshly grated nutmeg (I ended up using about 2-3 tsp, but could have used more)
- Freshly ground white pepper (Also used about 2-3 tsp, but could have added more)
- Assorted items to dip!! (
We used a pear, an apple, a soft pretzel, rye bread, olive bread, French bread, Italian crusted chicken, grilled chicken, sweet pickles wrapped in ham, avocado slices wrapped in turkey, sauteed mushrooms, and pickled cauliflower
.)
More Hailey's Notes: I also added fresh cracked black pepper. In the future, I think I would use a Gruyere/Cheddar mix (Trader Joe's has a delicious one), and probably add some mustard to the mix for a bit of tang. I use an electric fondue pot that gets hot really fast. If you are using an electric one, watch your heat and make sure you don't burn the cheese or make it grainy. After it was all smooth and ready, I just stirred it occasionally.
Directions
- Rub inside of fondue pot with garlic; discard garlic. (
If you use minced garlic, just sprinkle it in.
) Pour cider or wine into pot and place over medium-low heat. When liquid starts to bubble, start adding cheeses by the handful, stirring until melted and combined.
- Whisk together lemon juice and cornstarch in a small bowl until cornstarch dissolves; stir into cheese mixture. Continue stirring until mixture is smooth and bubbling slightly, about five minutes. Season with nutmeg and pepper.
- Transfer fondue pot to the table, and keep warm over the fondue pot warmer. Serve with an assortment of items to dip.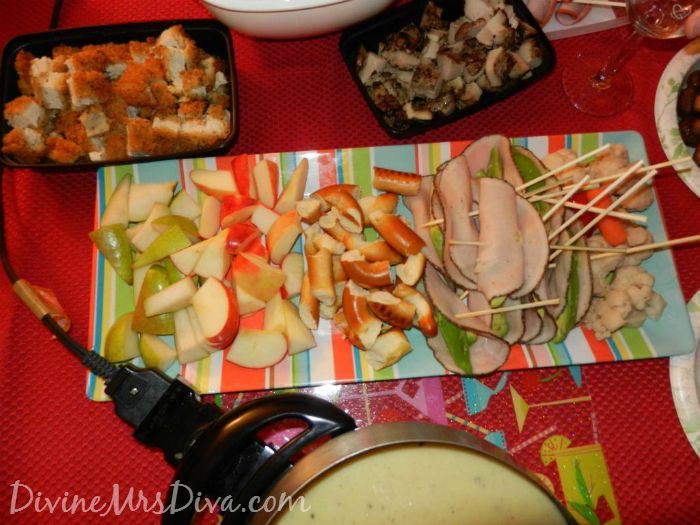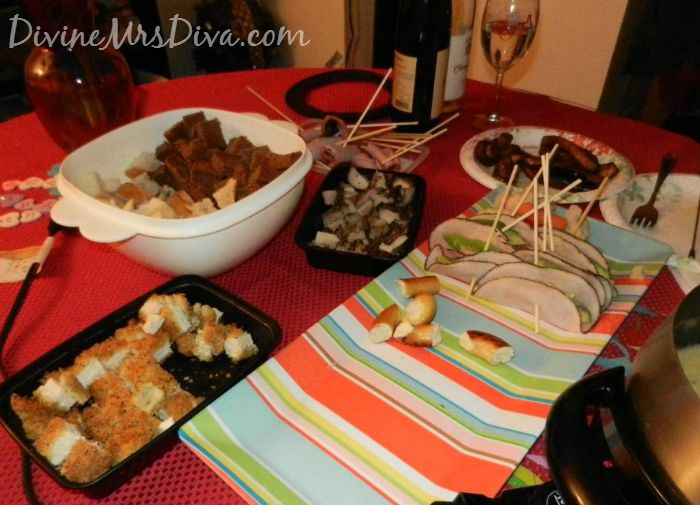 As you can see, we really only finished off the pear, apple, and pretzel.

lol