Hey, y'all.
Last Monday evening, I got a phone call from my close friend Nigel. It was an unexpected phone call informing me that another great friend of ours had passed away that morning. It has been a tough week dealing with the loss of such an amazing person as our dear Manuel. I've tried to stay pretty busy. I knew I wanted to make Nigel a photo book of Manuel as a gift, so I started collecting pictures and helping Nigel with things he needed.
Yesterday, we held a memorial for our close knit group at ours (and Manuel's) favorite Drunch place. (Drunch = Drunken Brunch) We all donned tiaras and boas in honor of Manuel, drank, talked, ate, and played some fun group games. It was a fun memorial celebrating a life that ended far too soon. I know he was there in spirit, enjoying the laughs and feeling the love we all have for him.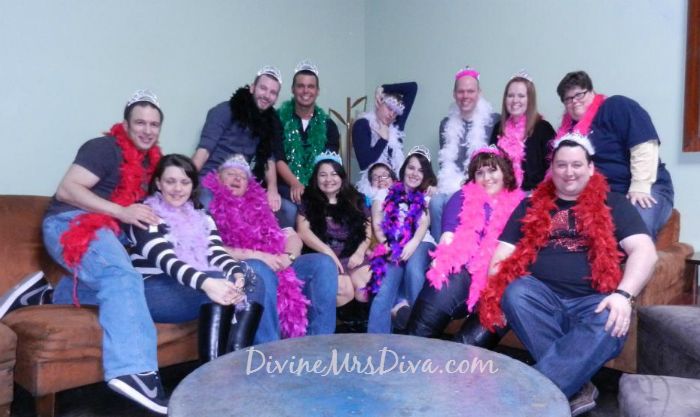 ~~~~~~~~~~~~~~~~~~~~~~~~~~~~~~~~~~~~~~~~~~~~~~~~~~~~~~~~~~~~~~~~
It is time again for Friend Makin' Monday. If you have a blog, I would like to invite you to answer the questions as well. Leave me a comment here, so I know you are playing. Then you can also leave a comment over at All The Weigh, so other folks can check out your answers as well. It is a fun way to connect to other bloggers.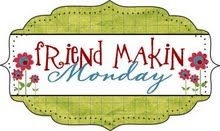 Personal Quirks and Habits
1. Share one unique character trait that sets you apart from your friends.
Hmmm, oh gosh. I have some wonderful friends who I share various things in common with, so I'm not sure what sets me apart necessarily. I have a sense of creativity that allows me to express myself in ways that are different than my friends, perhaps. And maybe my perseverance in the face of things which some people may feel they wouldn't be able to handle.

2. List at least two pet peeves that always aggravate you.
Ignorance in its many forms (racism, homophobia, just being dumb, etc.) and poor manners.

3. Is there a word or phrase that you say so regularly that people expect to hear it from you?
Fabulous!/ Aye chihuahua! / daaaahling

4. Are you a risk taker, or do you typically play it safe?
Play it safe. I like to be slow and steady and follow the rules.

5. Describe your life as it was in high school. Are you the same person? Have you changed?
Ugh, high school was awful. I went to three different high schools because we had to move around. I have always been "the fat girl", so as you can imagine, many of the idiot kids made fun of me. It was really hard for me to make friends at the new schools. I basically did my homework all afternoon/evening - day after day. The friends I did have were wonderful. I loved drama class and choir and had some amazing teachers as well. But when I think about high school, I mostly remember the feeling of dread every day I'd have to go to school.
There are parts of my personality that are similar, but I have changed a lot since then. I'm more opinionated, have more self-confidence, and speak up more often than I did in high school.

6. What is the craziest thing you've ever done that you're glad you did?
When I was 20, I decided to move away from home for the first time - 3,000 miles away. I saved up my money, bought my plain ticket, packed up my room, and didn't tell my mom and stepdad until a month before it happened. I moved in with two of my friends, having only $300 in my pocket.
Even though all my luggage got lost in transit and I had to use my little bit of funds to buy clothing and underwear and toiletries, it was still the best thing I have ever done for myself.
And, on a lighter note, pushing my honeymoon back a week so I could see NKOTB in concert in 2008 was pretty darn awesome too. lol

7. Do you ever talk to yourself? If so, share an example.
Of course. I always have a running monologue in my head. I'd say a majority of it is reminding myself of things I need to do, and the rest is probably interview type scenarios about some event or person in my life that is bothering me. Otherwise, I talk to my fur kids, make up voices for them to talk back to me, and sing any song and change the lyrics so it is about chihuahuas.

8. Share something you did that unexpectedly helped shape your life.
It all shapes one's life, doesn't it? I could say moving around a lot unexpectedly allowed me to be more informed and more intelligent than my peers. I could say that moving across the country when I was 20 helped me start to become an independent woman and see how great the world could be when I make my own rules and no longer live in a negative household. I could say that standing up to my mother allowed me to see how truly flawed and selfish she is. She can't be the mother I want her to be and that has been a tough lesson to learn. Accepting a blind date led me to my husband. He's my best friend and helped me achieve some long-awaited dreams. The list goes on and on....

9. Do you follow a strict routine, or are you a free spirit? Are you somewhere in between?
I suppose I am somewhere in between? I don't necessarily have a strict routine, although this year I would like to have a more planned schedule to keep me on track with things I want to get done.

10. Share something about yourself that you hope will inspire others.
Hmmmm, I'm not really sure what to say as I feel I have a few stories I could share. But maybe I will share this: I grew up being bullied about my weight and appearance my entire life. It wasn't just idiotic school children who said nasty things about me, it was also a lot of family members. My mom especially hated me for not looking like the daughter she wanted. When she wasn't picking apart my weight, it was about my skin or hair or personality or dreams. I was never, ever good enough and she let me know it. I'm sure a lot of people can relate to that, unfortunately.
I still have crappy days when nasty things people said to me seep back into my brain, but I now dedicate a majority of my time into helping other people feel good about themselves. It is important to me because I never had that growing up. It doesn't matter your size, weight, height, or whatever. You are beautiful, wonderful, fabulous, and spectacular. Truly loving yourself is the best gift you can give to you.

Now it's your turn! Link up here and with Kenlie to share your answers. I hope you all have a Happy Monday and a Fabulous week.