Hey, y'all! I hope everyone had a great weekend!
This weekend, for us, was a fun and busy one. My mother-in-law hosted our official second month of Bunco night with friends and family on Friday. We all had a blast! We are hosting the next one at our house, so I have to clean and find some yummy recipes to make. Thankfully, I have three weeks. lol
On Saturday, we attended a 25th Anniversary Party for my sister-in-law's parents. They surprised everyone by renewing their vows. It was so sweet and so much fun. I drank way too much wine and chatted with friends all night. Sunday was spent catching up on sleep, doing some house chores, and the like. Monday waits for no one!
It is time again for Friend Makin' Monday. If you have a blog, I would like to invite you to answer the questions as well. Leave me a comment here, so I know you are playing. Then you can also leave a comment over at All The Weigh, so other folks can check out your answers as well. It is a fun way to connect to other bloggers.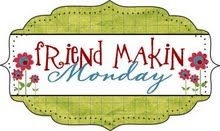 Random Q & A
1. Did you watch the Oscars? If so, who did you enjoy seeing most?
I haven't watched them yet, but I recorded them. I'll probably watch them in segments this week as I work on various household chores.
2. Do you drink meal replacement shakes, smoothies, etc? If so, what's your favorite kind?
Nope. I've never really liked them.

3. Share one thing you have done to help someone in the last week.
A friend was putting together a slideshow at the last minute and needed some pictures scanned in, so I was able to email some photos and save him some time.

4. What is the tastiest thing you ate last week?
I made a yummy Four Bean soup that was pretty good. Had a taco salad for lunch one day...Can't remember anything else....

5. Think of one fun thing that you could do this week without spending any money to do it.
Work on my craft projects and photo books. I am way behind in both.

6. Share one place that you've been to and would like to visit again.
Victoria, B.C. Hope to take a little vacation there this summer.

7. Do you prefer Facebook or Twitter?
Facebook is easier for me to use and I enjoy posting pictures more frequently. I like checking in on things on Twitter and connecting with other bloggers (who seem way more active on Twitter), but I usually forget to post things on Twitter as they are happening. I guess Facebook is just easier for me to keep up with mostly.
8. What is your favorite vegetable?
Oh man....I love vegetables and fruit. It really does change with my mood, as I am craving something different from time to time. I love mushrooms, green beans, Brussels sprouts, cabbage, celery, sweet potatoes, parsnips, etc.
9. Share a goal that you have for the month of March.
I would like to get at least one photo book done, work on my painting of Miss P (who passed away right before Christmas), clean the house really good since we are hosting Bunco this month, and work out more often.

10. Share a quote that inspires you.
"Be the person your dog thinks you are."
"You can be the ripest, juiciest peach in the world, but there's still going to be somebody who hates peaches." - Dita Von Teese
"Always be proud of yourself and understand that it's your individuality that makes you beautiful." - Mark Feehily
Now it is your turn! Happy Monday and have a fabulous week!