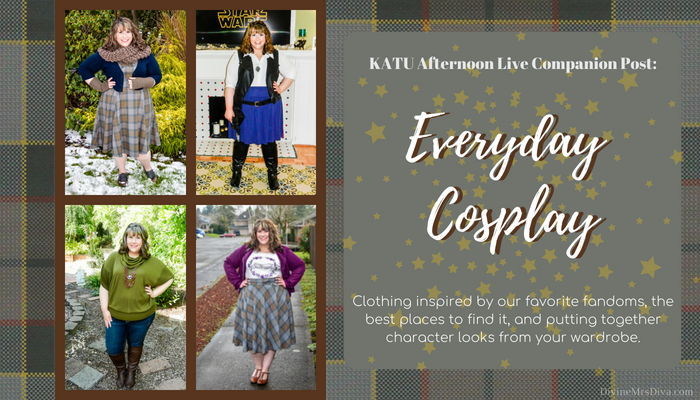 Today, I'm back on
KATU Afternoon Live
with tips for finding your Everyday Cosplay. This includes places to shop for geek-centric clothing inspired by your favorite fandoms, and inspiration for putting together character looks from items in your closet.
With
Rose City Comic Con
coming up in a couple of weeks, I have been thinking about what I am going to wear. But also, it can be really hard to find plus size options for geekwear, fandoms, and pop culture interests. Torrid has been keeping my geeky heart afloat for a while now. Most official fan stores don't have anything above a 2X. I want you to know your options; and I want to see more plus size geeks reppin' their interests at these cons!

- I bought the items in this post. All opinions presented are my own and without influence. This post contains affiliate links and I will be compensated if you make a purchase after clicking on my links. -
Before we get started, I am 5'9", typically wear a 22/24, wear a 40B bra, a size 11 wide shoe, and my measurements are 52/49/58.
When you think "cosplay", you probably are thinking of elaborate, detailed costumes worn to comic cons and the like. I am always in awe of people's talents in researching and creating the costumes they wear to these events. If that is your passion, GO FOR IT! I love seeing plus size women all dressed up at the cons. I often feel like it is a space we haven't been included in or welcome to for quite some time. Typically, female comic characters have been big-busted, tiny-waisted, hourglass-shaped women wearing very little clothing, a caricature of a woman designed for the male gaze. As comics become more diverse and this geek world expands to include more interests and more types of folks, we will find that there is room for everyone.
Love what you love and be who you are unapologetically. I'm obviously crazy about
Star Wars
and
Outlander
. I totally need some kind of Claire/Leia mash-up costume, don't I? While dressing in a detailed costume is super fun, it can certainly be time-consuming and expensive to create. What if you are more of a practical, comfortable girl like me? What if you don't feel super creative? Well, that is where this "everyday cosplay" comes in.
Putting together a costume from your wardrobe doesn't have to be time-consuming and shouldn't cost you too much extra. You may have to think outside the box or get a little creative in the process, but that's part of the challenge and the fun. Instead of thinking too literal, think "inspired by". Try to keep the same feel and/or look of the character. The same colors will help people recognize who you are. But don't be afraid to make a male character into a more feminine look, and vice versa. Use subtle or not so subtle accessories to add detail to your look. For instance, I owned a good deal of items for my
Lady Han Solo look
- the shirt, vest, leggings, boots. I knew the Lane Bryant knit skirt was a style that I wanted for the look, and I knew they made one in the navy color I needed. Looking on eBay, I found one in a larger size for cheap. I bought it and took in the sides a little with my sewing machine. The iron-on stripes were also an eBay find and easy to adhere. Additionally, I found a cheap Millennium Falcon keychain on Amazon and turned it into a necklace. It was also pretty easy and inexpensive to find a belt and holster on Amazon. I completed the look by purchasing a toy Han Solo blaster and painting it to look close to the blaster in the movies. This was probably the most time-consuming and creative endeavour of the whole look.
Just wearing a graphic tee and jeans is fine and dandy. But nowadays, there are collections of clothing inspired by your favorite fandoms that are fit for date night, but can be transformed into an easily wearable cosplay with the right accessories. As I mentioned previously, Torrid and Hot Topic are really carrying most of what you will find in cute, plus size geekwear. Their collections, inspired by your favorite movie/television series etc., come out throughout the year. The selection of band tees and other pop culture favorites also come and go as well. If you don't see your "thing" yet, keep checking back.
Between the two, a list of fangirl interests includes Harry Potter, Disney, Marvel, DC,
Outlander
,
The Muppets
, Hello Kitty,
Doctor Who
, Betty and Veronica/
Riverdale
,
Jurassic World
,
The Nightmare Before Christmas
, etc. etc. In addition, graphic tees also include
The Golden Girls
,
Jaws
, SpongeBob, NSYNC, Journey, Backstreet Boys, Snoopy,
The Craft
,
Daria
, Nirvana, Johnny Cash, Beetlejuice, Drag Queens, Barbie, Pokemon, and on and on and on.
Below, you'll find a list of links that include some of my posts in which I have reviewed Torrid collection items or dressed up in my favorite cosplay. You can also find graphic tees scattered throughout the blog. I generally wear a size 4 in graphic tees from Torrid and Hot Topic. I size up to a 4 in both Her Universe and ThinkGeek items. I've also included a run down of the different retailers where you can find geekwear and how they compare to each other. Lastly, you will find three different articles featuring plus size women who cosplay. Enjoy and be inspired!
My Everyday Cosplay on Discourse of a Divine Diva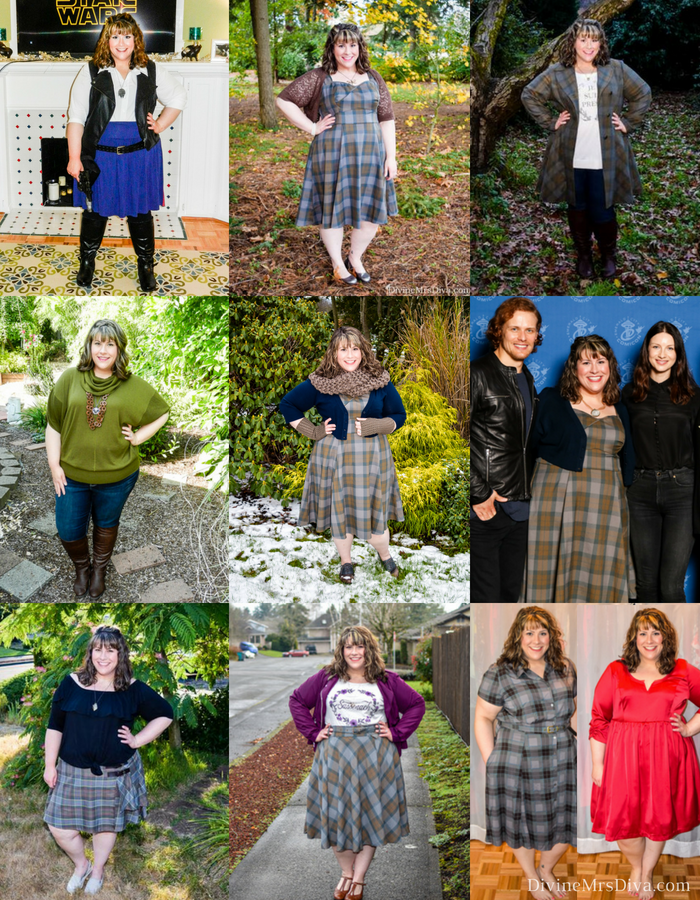 (
links correspond to photos in each row, top to bottom & left to right
)
Places to Shop for Everyday Cosplay
Sizes 10 - 30
Large selection of fandoms/movies/television, musicians/bands, inspired by collections
Selection changes throughout the year as new collections and tees, etc. are introduced
Also includes accessories like handbags, jewelry

Sizes 12 - 30
While some items run the same as Torrid (they are sister stores), I do find a lot of Hot Topic's items to skew more junior. I size up on pretty much anything I order from Hot Topic. And if it says "Girls", know a 3X is more like a 16 or maybe an 18.
Large selection of fandoms/movies/television, musicians/bands, inspired by collections
Selection changes throughout the year as new collections and tees, etc. are introduced
Also includes accessories like handbags, jewelry

Sizes 12 to 28. Sizing does tend to run small, so size up.
Various fandoms include Star Wars, Marvel, Disney, Doctor Who, Star Trek, Studio Ghibli, DC
Also includes accessories like handbags, jewelry, shoes, etc.

Minimal women's plus size finds available in sizes 0X to 5X. Various men's items up to a 3X.
Various fandoms to choose from and shoppable by interest
Sizing tends to run smaller, so size up.

Adorably illustrated graphic tees covering a variety of fandoms - Star Wars, Marvel, Supernatural, Disney, etc. Also, lots of tees featuring cute and sarcastic unicorns, cats, crafting, gaming, and other interests.
Largest size is a 3X, which is a bit fitted on my 22/24 body.

More Shirt Shops

Searchable site with lots of fandoms represented.
Also carry home goods, phone and laptop cases, and stickers.
Mens' classic tees up to 5X.
Womens' classic tees up to 3X, but seems more like a size 20.
Womens' "Curvy" tee sizing goes up to a size 26/28.

Searchable site with lots to choose from.
Also carry invites, cards, clothing and accessories, home goods, electronics covers, office supplies, stickers, art, etc.
Men and Womens' shirts up to a 3X, more like a size 20.

Searchable site with lots to choose from.
Also carry stationary, clothing and accessories, stickers, greeting cards, art, home decor, bags, etc.
Mens' shirt sizes up to a 3X.
Womens' shirts up to a 2X, more like a size 16.


Cosplayers
What are your favorite pop culture interests? Do you have a favorite cosplay look you love to wear or would like to create? Is there a fandom/tv show/movie/comic you would love to see fashion inspired by?