Hello! I hope you are all having a wonderful week. Today's post is a big one, so I am just going to get into it. Kiyonna sent me the dress in today's review post, the
Glittering Affair Wrap Dress
, which inspired my latest KATU topic - special occasion dresses.
I tend to be more of a practical special occasion dress kind of gal. Don't get me wrong, if I could rock a sequin fit-and-flare, I totally would. However, dresses like that tend to be out of my budget in terms of being a wedding guest or attending a party. And as you know, I love to be comfortable while also being cute. With wedding season in full force, I wanted to make sure folks knew about some great options for wedding guest attire, bridesmaid dresses, or any type of event or party. Watch my appearance on
Afternoon Live
below, and read my review for this sparkling Kiyonna dress.


- Kiyonna gifted me the dress in this post. All opinions presented are my own and without influence. This post contains affiliate links and I will be compensated if you make a purchase after clicking on my links. -
Before we get started, I am 5'9", typically wear a 22/24, wear a 40B bra, a size 11 wide shoe, and my measurements are 52/49/58.
I am all about not paying full price for anything. If you start looking for a dress in advance, you have a better chance at scoring a great deal during seasonal and flash sales. The companies I mentioned on Afternoon Live all have sales going on at any given time. But I also believe in investing in a dress when it is a quality piece, meaning it fits well, is well made, and will last a long time. This also applies to an item being timeless in classic silhouettes. It is easier to accessorize and change up accessories for solid dresses, but I never say no to a great print. As with the floral maxi, it needs minimal accessories to stand out or make a statement. Make sure you find a dress that makes you feel amazing and really speaks to who you are. You want to be comfortable and confident, not fidgeting or self-conscious.
Dresses
Kiyonna is my first stop in looking for a special dress, not just because they gift me items for review. They offer well-made pieces in classic silhouettes, have great fit, and make me feel confident. While they specialize in a variety of wrap dresses (ones which are also great for work wear), they also carry beautiful lace gowns, sexy bodycon dresses, floral maxis, separates, and more. You can check out all the Kiyonna items I have reviewed on the blog to see what I mean.
Sizes 10-32
Made in the USA
Online shopping, unless a boutique near you carries some of their pieces or you live in Southern California

ModCloth definitely has options for bridesmaid dresses if you are a bride looking to clothe your ladies from a "regular" store. While not every dress is carried in all sizes, there are still options. A lot of ModCloth's designs are vintage-inspired and pretty classic, in my opinion. Along with tulle skirts and retro lace gowns, they also have metallic party dresses, floral maxis, and more casual dresses and separates.
Straight and Plus Sizes - Sizes 0 to 30
Online shopping, with fitshops in Austin, San Francisco, and one opening in Washington, DC.

Eloquii offers a variety of pieces that include trendy details, interesting styles, vibrant prints, pops of color, and a variety of silhouettes. I appreciate that they offer items that are a bit different from most things you see in plus size. While a lot of them are a bit more daring or "out there" in terms of what I like, I still find pieces that appeal to me.
Sizes 12-28
Online, with stores in Chicago, Columbus, Detroit, Houston, and Pentagon City.

Torrid is kind of an obvious choice, I know. I forever want ALL THE THINGS from Torrid. They do carry styles they label as special occasion, but many of the flowy maxis, floral skater dresses, and more are wonderful for dressing up for a more formal affair while still being great options for a more casual gathering. I chose the black off-the-shoulder number in the video because that is the dress I am wearing to my upcoming 20-year high school reunion! Many of Torrid's pieces are in more lightweight fabrics like knit and rayon, which make them ideal for travel. Seeing as how my reunion is 3,000 miles away, I wanted something lightweight for travel that would keep me cool in the heat and humidity; but I wanted to be able to dress it up while still feeling comfortable and confident. Plus, the theme of the party is our school colors - black and gold. I love to dress for a theme!
Sizes 10-30
Online and stores open across the USA and Canada

In putting together this short list of places to shop, I decided to include Kohl's because I have found some great pieces there. Yes, you have to dig through a lot of "grandma styles" in the plus section, but finding a diamond in the rough is exciting. I find more practical knit fabrics at Kohl's in fun prints. This makes the items casual but easily dressed up, lightweight, great for travel, and comfortable to wear. My favorite brands at Kohl's are Apt. 9, Sonoma, and Jennifer Lopez Collection.
Sizes 14-26
Online and stores across the USA
Accessories
Investing in a great fitting dress and comfortable shoes are very important to me. I still have a budget though, and find inexpensive accessories to complete my look.
Shoes

Comfortable shoes are a MUST for me these days. Long gone are the days of hobbling around in uncomfortable heels or shoes with no support. As someone who wears an 11 wide, it can be really hard to find cute and comfortable options.
Brands mentioned: Naturalizer, Rockport Cobb Hill, Crocs
Shoes shown: Naturalizer Irena Wedge, Cobb Hill Valentina Leather T-Strap Pump, Crocs Anna Ankle Strap Sandal

Earrings

eBay has been a great place for me to find sparkling chandelier styles of earrings and other accessories like bracelets and tiaras. You can search for pageant jewelry to start your hunt.
Other places to accessory shop: Charming Charlie, JCPenney, Kohl's, Lane Bryant, Macy's, Nordstrom
Earrings shown: Ruby Crystal Drop Earrings, Rose Gold Crystal Chandelier Earrings

Evening Bags

Small clutches are so not practical if you like to pack everything and the kitchen sink like I do. But somehow I manage to fit the basics in a decent sized clutch for a night out. While any store you love to shop at is bound to have options in terms of evening bags, I tend to find the best prices and the prettiest options at places like Target and Charming Charlie.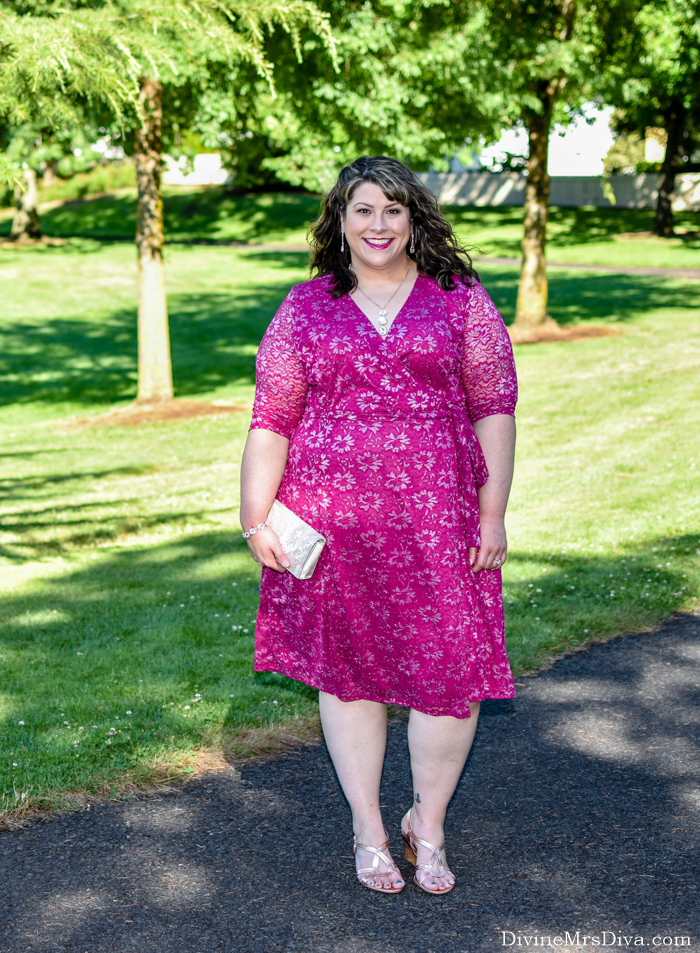 As I mentioned earlier, Kiyonna sent me the
Glittering Affair Wrap Dress
this month. It is a gorgeous raspberry-hued wrap dress with a sparkling floral design. This dress is available in sizes 10/12 to 26/28. I am wearing a 3X, or 22/24, and find it fits true to size. The shimmering lace fabric is stretchy and comfortable, laying over a stretchy polyester lining of the same raspberry color. As with all my Kiyonna wraps, this dress is easy to tie and stays in place all day. I don't find the v-neckline to be too low cut, but I also have a smaller bust than a lot of plus size women. (I'm a 40B.) There is still room enough that it would accommodate larger busts than I possess, while still looking great and feeling comfortable.
I'm wearing my regular bra underneath with no shapewear. I feel comfortable without it, but the cut of the dress makes it easy to wear my shapewear bodysuit underneath if I choose to do so. The hemline stops right at the knee on my 5'9" frame, which is a pretty darn perfect length for me. I also wore this dress on a 90+ degree day and did not find it oppressively hot, nor was the lace itchy. This wrap is dry clean only, which I know is kind of a pain. But for special occasion dresses, this is kind of the norm. There were a few wrinkles in the lining out of the package. I turned the dress inside out and steamed the lining, indirectly steaming the lace. This got the wrinkles out just fine. By the way, right now everything is 25% off at
Kiyonna
with the code 22YEARS!
The Glittering Affair Wrap made me feel really pretty. I loved the entire look from head to toe. I tried something new with my hair (
pulled back one side and fastened it with bobby pins
), donned some new jewels, and rocked a new shimmery lipstick. I couldn't narrow down all the photos from the shoot, so please don't judge my bit of self-indulgence on this post. I was "feelin' myself" as the kids, and Beyonce, say.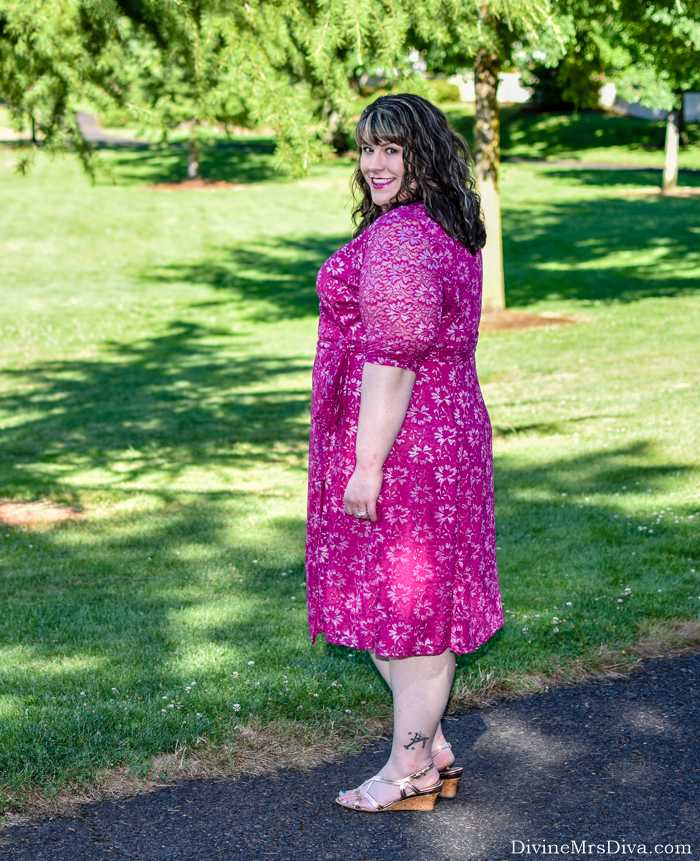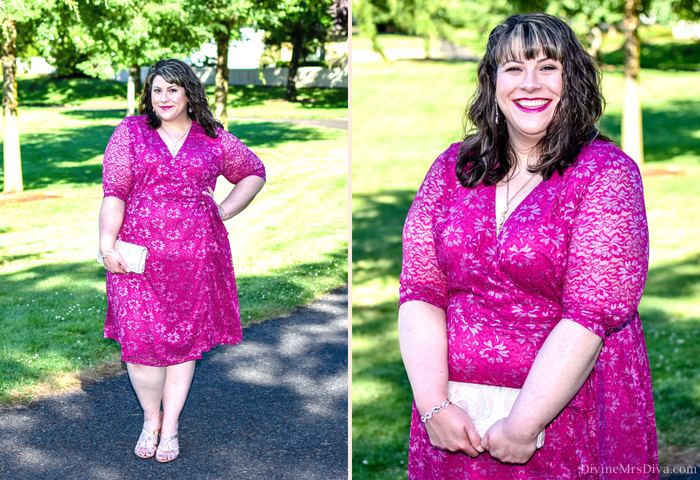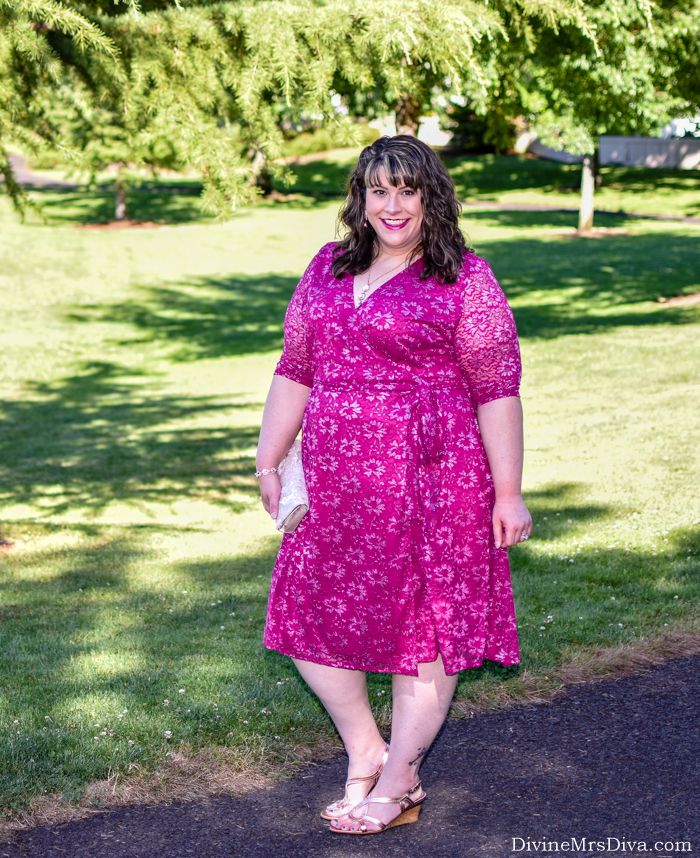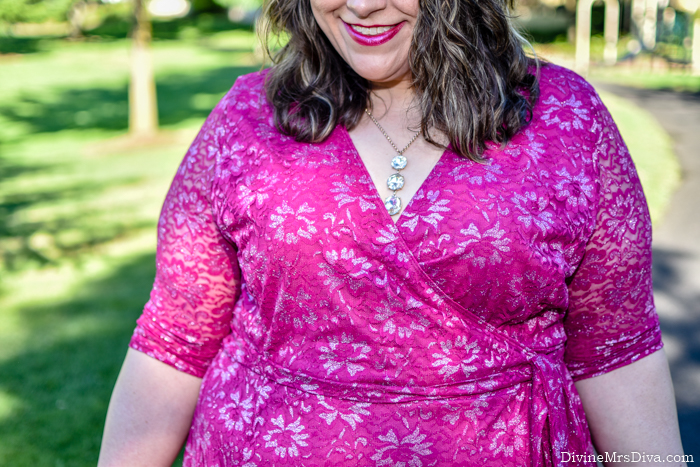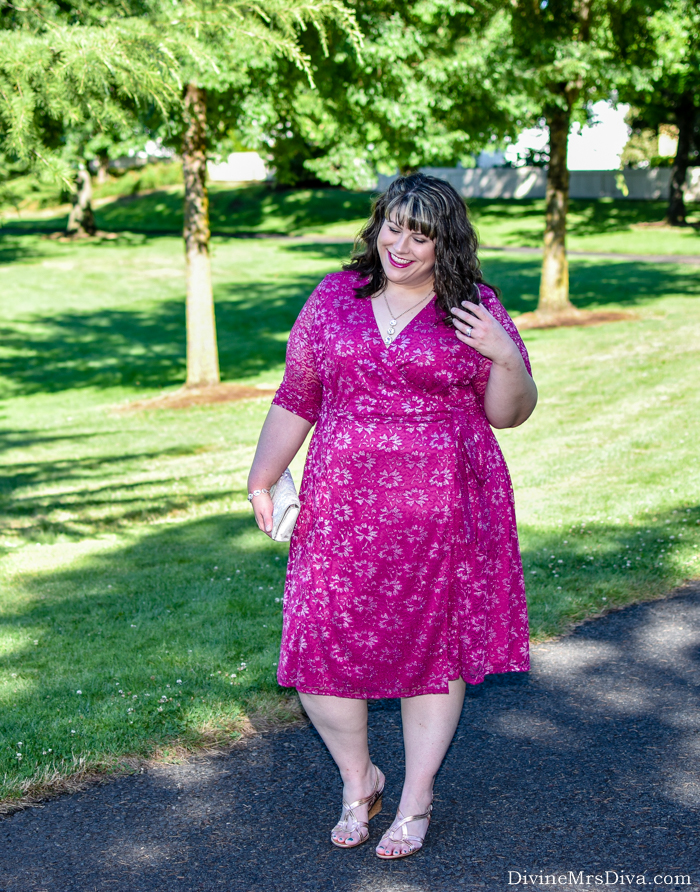 While the shiny floral design on the dress is more silver in tone, I decided to go with rose gold accessories and a neutral clutch. The pink of the rose gold complements the pink of the dress, so it is a non-issue that the flowers appear silver. For that matchy-matchy lip color I love, I am wearing Colourpop's Lippie Stix in
I Heart This
, with Revlon Electric Shock Lipstick in
Wine Surge
over the top. This Revlon lipstick is glittery and shimmery, but in a more metallic way versus full-on glitter. The glitter is there, but very fine. They are pretty much the same as the
Tarte Color Splash Shade Shifting Lipstick
, which I grabbed a couple of during their $10 Prime Day sale. At $21 regular price for each Tarte lipstick, these Revlon ones, regular $10.99, are quite a deal. Plus, the Revlon collection has some seriously unique colors like teal, royal blue, turquoise, lilac, and silver, if you want to get adventurous.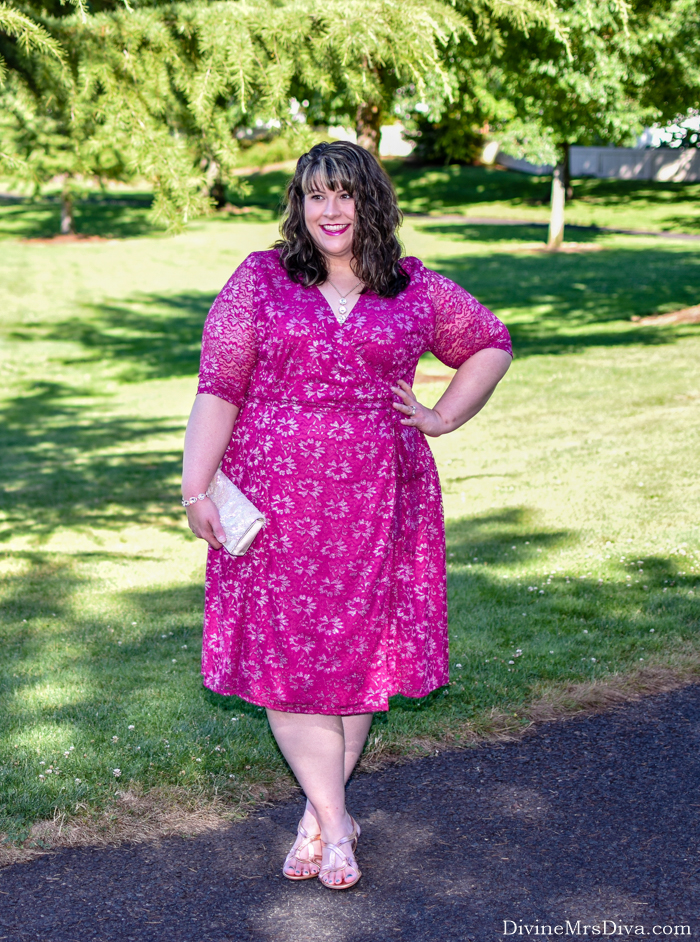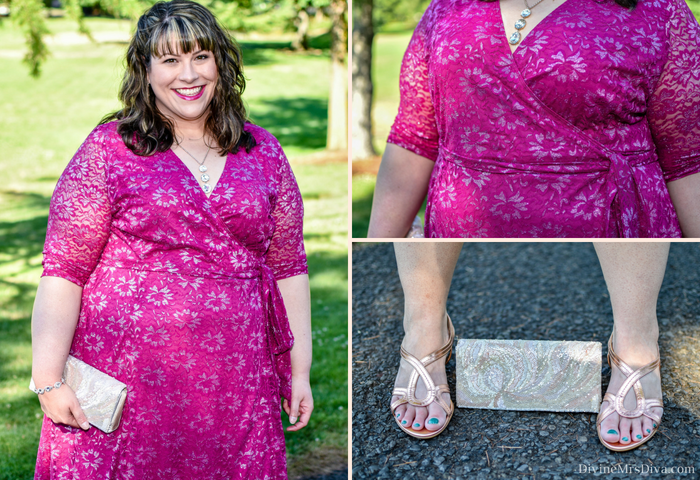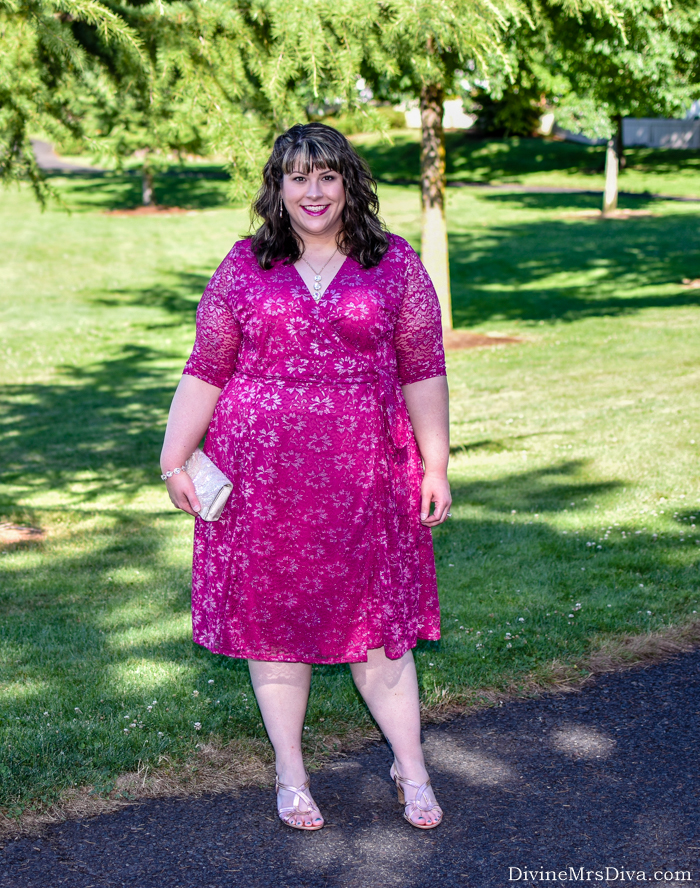 Glittering Affair Wrap Dress
- c/o Kiyonna
Paharita Open Toe Wedge Sandal - Sofft via Amazon (
similar
,
similar
,
similar
)
Beaded Clutch - Target (circa 2008) (
similar
,
similar
,
similar
)
Rose Gold Drop Earrings - Lane Bryant (
similar
,
similar
,
similar
)
Rose Gold Pear Crystal Bracelet
- eBay
Bella Rose Gold Necklace - Charming Charlie (
similar
,
similar
)
Lipstick - Colourpop
I Heart This Lippie Stix
with Revlon's Electric Shock Lipstick in
Wine Surge
over the top
What do you look for in a special occasion dress? Do you have any special events coming up?