I'm finally bringing you a little glimpse of our end of May vacation to Victoria, British Columbia. Life has been so busy and hectic that I haven't found too much time to work on vacation photos. I'm going to attempt to go backwards in filling you in on all the trips I have yet to tell you about - Victoria, the birthday beach trip, New Kids in Seattle, Hawaii, Newport. I have so many photos to work on and so much to do. Life gets hectic again starting this weekend, so I will be doing my best to maximize my time.
So first, I'm going to show you what I wore in Victoria. Since this was partly a road trip, I didn't need to pack as minimally as possible, though I did try to challenge myself on limiting certain items. I felt I did a good job at taking things I could wear multiple times, though there wasn't a particular color scheme, which is also helpful for packing. Without further ado, I present you with my vacation style once again.

Sean and I chose Victoria to celebrate our 10-year wedding anniversary. He'd been as a child, while I visited in 2009 for a New Kids concert. We had not visited there together, which is something that has been on our list for a while. It is relatively close and easy to get there, and we didn't have to fly. Victoria is a beautiful city in a gorgeous part of the world. We really enjoyed it there and look forward to visiting again.
Our trip was eight days, including travel. We drove to Seattle, took a ferry (with our car) to Vancouver Island, and used our car to drive around the island also. We mostly stayed close to the city, but look forward to venturing farther out in the future. The weather was supposed to be fairly mild. But as always happens when I pack for mild weather, it was hella warm! When we were close or on the water the temperature was great, but inland at all was way too warm for our liking.
Day 1
For travel day, I went comfy. I wanted something suitable for warm weather, with layers for being on the ferry. My outfit needed to be comfortable for hours of travel and sitting, but something that felt put together enough if I needed to go in a store. I decided on knit joggers, an active tank, and a matchy-matchy pair of sneakers and short sleeve hoodie. I also had a thicker hoodie I had to wear on the ferry. I was freezing, so Sean let me borrow his scarf while we were on the boat.
The joggers are so comfortable. I own them in both black and grey in a 22/24 and find them very roomy without looking sloppy. The knit is slinky and cool, but also doesn't show off every lump and bump. The Torrid active tank is my first activewear piece from them. The words describe me well. The back of the tank is mesh, so I had to wear a black knit tank underneath just in case I took my pink hoodie off. I bought a 4 in the active tank and found that to be a good size. The nylon/spandex material doesn't stretch in a way that gives you more room. It retains its shape, so I am glad I sized up. These tanks tend to sell fast, so if you find one that speaks to you - snatch it up right away. The shoes and hoodie are ones I have had on hand for a while, but the grey hoodie (below) is a new one from Torrid. I also ordered this in a size 4 because I find I like Torrid jackets to be a bit more roomy. I can zip this one and it doesn't cling to my tummy. It also stretches out a bit as you wear it and is super comfortable. I'm so glad I had it on hand.
Black & Neon Green Perforated Active Tank
- Torrid (
similar
,
similar
)
Spa Active Capri Joggers
- Lane Bryant
Pink Hoodie - Lane Bryant
YourFlex Trainette 3.0
- Reebok Outlet (
Current Version
)
Heather Grey Embroidered Hooded Jacket
- Torrid
Day 2
Our second day was spent doing a lot of walking downtown. Comfortable shoes were a must. My Reebok hiking shoes are my absolute most comfortable shoes I own, so those are my go-to when I know I will be doing a lot of walking. Denim capris and a lightweight tunic are usually perfect for mild weather, but this was one of those days I could have dressed lighter. I was burning up.
The Torrid denim capris are the boyfriend style, so I can wear a 22 in those. These are a pair Sean bought me for my birthday last year, but Torrid has carried various embroidered pairs in this style. Even in the non-embroidered boyfriend styles, a 22 is perfection for me. My plaid tunic is from Catherines a few years ago. You've seen in it on the blog plenty! I love the lightweight, soft, stretchy fabric and can wear this top year round. I continue to get lots of use out of it and love the color combo.
I'll also mention, I picked up this Baggallini purse from Marshall's at a great discount. It is neutral enough to go with most everything, so it has become my travel purse. And since it is a Baggallini, it has features that are great for travel, like extra pockets and hidden spaces and a wire cable in the strap so pickpockets can't easily cut it off of you and steal it.
Embroidered Boyfriend Jean - Torrid (
Same style, similar design
)
Trail Grip 4.0
- Reebok (
5.0 version
)
Taupe Grey Bag - Baggallini via Marshall's (
similar
)
Day 3
Day three was all about checking out Butchart Gardens. We had Afternoon Tea there and spent the day walking around and taking photos. I was all about comfort and trying to stay cool.
I love the Promenade Tops from Kiyonna. While they have gifted me a couple of them for my monthly reviews, I have several I have bought on my own. I particularly love the printed versions, so I was excited to snatch up this navy and ivory number. These tops are great for travel, as the soft knit is easy to wear and lightweight. I wear a 3 in pretty much everything Kiyonna, and find this fits true to size. I layered with a strappy Torrid cami to minimize sweat on my top if I needed to wear it again. The Torrid Foxy Camis are great layering pieces. I size up to a 4 for some extra room, though they are still skin tight. My Danskos seemed like a kind of impractical purchase at the time, but a lot actually goes with the blue and pink plaid. I am wearing these in a 42 instead of a 41 and love the fit. They are also really comfortable for walking, though hours and hours on cement with barely a break was pushing it. They still did better than a lot of my other shoes.
Promenade Top
- Kiyonna
Black Strappy Foxy Cami
- Torrid
Bermuda Shorts - Lane Bryant (
similar
,
similar
)
Belle Blue Madras Canvas Sneakers
- Dankso via Amazon
Floral Drop Earrings - Torrid (
similar
,
similar
)
Day 4
On day four, we headed off to visit some wineries farther into the island. I chose this ensemble for ease and comfort as we rode in the car. Also, I needed a break from shaving my legs. haha I wanted to look put together and more sophisticated than just shorts and a tee. This is the day I truly fell in love with these soft pants from Torrid. I loved them so much (and this outfit!), I got online when we got back to the hotel and ordered two more pair of soft pants. I also own the coral version of this top.
The soft pants are in a size 3 and fit great. They are rayon, but do stretch out a bit with wear. The ones that Torrid carries now are a rayon/spandex, so they have more stretch and do not stretch out as much. I bought both of those in a size 3 also. I find the floral ones fit a little closer to the body at first, but the fit does relax a little as you wear them. The top is from Target. I found this medallion-printed version in store during an errand run. I would normally wear a 3 at Target, but 4s seem to be a better fit usually. This one was in a 3X and fits well, if not a bit generous. Had there been a 2 in store, I would have tried it on, but I felt it would have been too short. I love the tie front with the slightly longer back and flutter sleeves. It is a lightweight rayon/spandex material as well, so easy to pack and wear. I have worn this look so many times since then!
Printed Soft Pants - Torrid (
similar
,
similar
,
similar
)
Anna Ankle Strap Sandal - Crocs
Gold Long Chain Stone and Tassel Pendant Necklace - Yours Clothing
Day 5
On day five we had a 6PM whale watch booked, but it was cancelled due to impending high winds. They rescheduled us for 3PM, so we had a leisurely morning and headed down to the docks to look around before our whale watch. It was a warm day still and I am usually fine on the water, so I dressed down and brought my hoodie. Um yeah, next time I should go with jeans, my parka, a hat, and a scarf. I was fine to a point. I powered through because I wanted to be out on the boat the entire time, and I was. Everyone else went inside the cabin when we weren't stopped to look at wildlife, but Sean and I stayed out the entire time. The wind filling up my lungs makes me feel alive! And there were so many gorgeous views that the people inside the boat missed. Sean snuggled up with me to keep me warm and block wind, but even he got pretty chilly. I didn't know just how chilly until we got back to the car. My lips were purple and we were both shivering as we sat in the car with the heat on. No Thyroid Hailey layered on the clothes when we got back to the hotel. It took me three hours to get warm again. So yeah, dress warm...unless you are whale watching in Hawaii, which is what I am used to. Thank goodness for my hoodie!!
For fit notes, I would add that the Livi Active tops at Lane Bryant are items I usually have to size up in so I have some wiggle room. I typically get a 26/28 for a looser fit.
similar
)
Bermuda Shorts - Lane Bryant (
similar
,
similar
)
YourFlex Trainette 3.0
- Reebok Outlet (
Current Version
)
Heather Grey Embroidered Hooded Jacket
- Torrid
Studded Sunglasses
- Lane Bryant
Day 6
We planned to visit the Butterfly Garden on Day 6, but I tried to not over-plan our days so 1) I had more time to rest, and 2) we could take impromptu adventures. So after visiting the animals and insects, we hopped back in the car and started driving around the eastern part of the island. We saw gorgeous homes and picked which ones we would like to live in. We stopped in Sidney to take our
Outlander
-style photos and grab some coffee, walking along the water to the long dock to watch seagulls. Then we drove all along the coast on the way back towards the hotel, stopping at Cattle Point to look at the view. I chose to wear my same Day 4 outfit because I loved it so much. It was just so easy and chic. For our fancy anniversary dinner, I changed into a cute dress, which I also loved so much I bought the pink floral version as well.
I'm wearing a size 3 in the knit skater dress from Torrid. I was actually surprised it was a doable length for me, as most of Torrid's shorter dresses are way too short on my 5'9" frame. The poly/spandex material is cool, lightweight, but hangs beautifully on the body. It fits my bust so well and gives enough room in the tummy and hips. I paired the polka dot print with a teal shrug from ModCloth. I own a handful of these shrugs in different colors. The cropped length is great for fit-and-flare dresses. I wear a size 3X in these. This was the first time I got to wear my whole orchid necklace from Nagasako Designs too. It matches the shrug perfectly and got loads of compliments. Nagasako actually uses real orchids that are dipped to preserve them. I own a few pairs of earrings and a long necklace from them as well. They are based in Lahaina, Maui, where Sean and I have vacationed. I love supporting local artists, but I also love the connection to the island.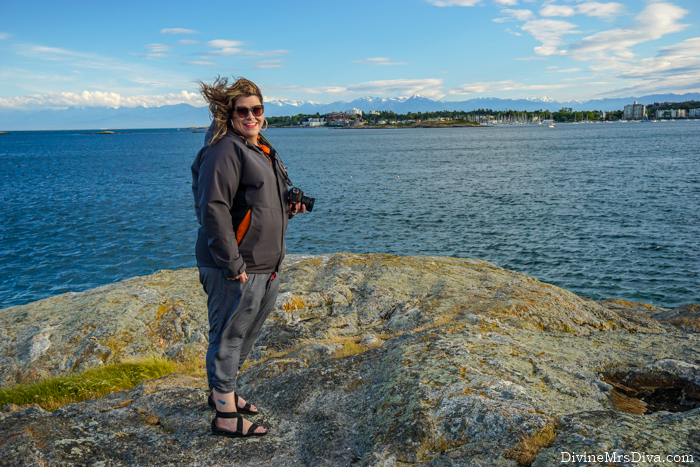 Hiking rocks in Crocs not recommended, but doable. Sean had to give me his jacket because I was freezing!
Printed Soft Pants - Torrid (
similar
,
similar
,
similar
)
Anna Ankle Strap Sandal - Crocs
Gold Long Chain Stone and Tassel Pendant Necklace - Yours Clothing
Black & White Dot Jersey Knit Skater Dress - Torrid (
similar
,
similar
,
similar
)
The Dream of the Crop Cardigan
- Modcloth
Beaded Clutch - Charming Charlie
Whole Orchid Necklace with Chain Dangles in Mahina
- Nagasako Designs
Anna Ankle Strap Sandal - Crocs
Day 7
By the seventh day, I was thoroughly exhausted. I'm glad I planned easier days for us versus my packed full itineraries that I am known for. I challenged myself to be more mellow about our amount of activities, and I'm glad I did. As you know, without a thyroid I just can't do as much and go as much as I would like. While I can walk all day and go go go, I can only do that for about four days before I am so exhausted I can barely function. With easier days I didn't feel that way until day seven. We slept in and got a later start, walking to the Public Market for lunch before heading downtown to do some souvenir shopping. We always choose a piece of art from a local artist, some kind of knick-knack, and a charm for my travel necklace. I chose an easy jeans and a tee outfit for this activity.
We also decided we wanted to go back to Cattle Point to watch the sunset and take more photos. We found a tasty speakeasy for dinner, went back to the hotel to change into warm clothes, and headed to the scenic area for sunset. It was pretty much just us with this spot all to ourselves. Various people showed up for sunset, but they didn't stick around long. We stayed until it was completely dark and had a lovely evening taking photos and sitting there with each other. The sea calls to me and I needed time with her.
similar
)
Embroidered Boyfriend Jean - Torrid (
Same style, similar design
)
Trail Grip 4.0
- Reebok (
5.0 version
)
Girlfriend Jeans - Catherines
Woke Up Fabulous Sweatshirt - Lane Bryant
London Look Parka - City Chic (
similar
)
Scarf and Hat - c/o Lane Bryant circa 2015
Day 8
Heading back home, I was kind of done. I was so tired. I rolled my jeans up to capris and threw on this tee, along with my new Crocs sandals. We walked around a bit downtown, grabbed some treats for brunch, took in the sights at the waterfront and Parliament Building, and then got in line for customs. Most of this day was spent in the car, with a LONG ASS but totally worth it drive through Olympic National Forest. Wait until you see the photos!
This tee is my first purchase from Feminine Funk. They have lots of sassy graphic tees, but this one really spoke to me. I bought a 4X because I don't like tees to cling to my tummy. While I appreciate the sleeve length of this tee, it is definitely too oversized to fit me well. It looks a bit sloppy with the off shoulder seams and weird length. It may lay better when I hem it, but I still don't like it showing my tummy roll. The Swiftwater Crocs sandals are pretty comfy to walk in, but I spent a lot of time on the ferry standing. The nubbies on the bottom of the sole ended up hurting my feet big time. So for walking, they are great. If you are standing a while, not so much. I am wearing the 11 and was surprised how roomy they are width-wise. The straps have velcro, so you can customize the fit a bit more also.
Dare To Love Yourself Tee
- Feminine Funk
Girlfriend Jeans - Catherines
Swiftwater Sandals
- Crocs
Heather Grey Embroidered Hooded Jacket
- Torrid
And there you go! My Victoria vacation wardrobe in a nutshell. I look forward to sharing my vacation photos with you as soon as I get a chance to. Fingers crossed I can catch up a little before my next vacation that is right around the corner!