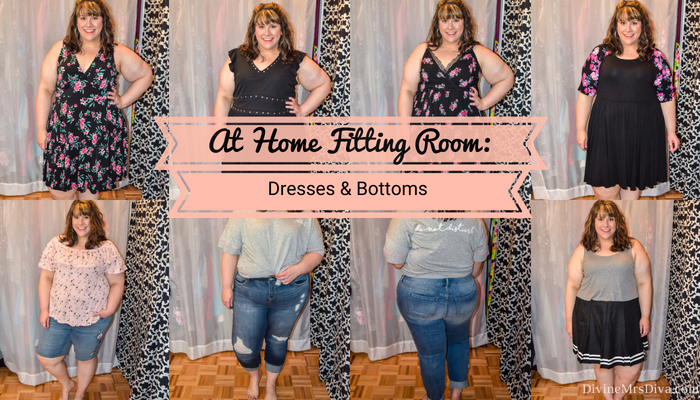 I recently shot a lot of pieces for upcoming At Home Fitting Room posts. You'll be seeing them broken up into three categories to make my life easier. Today, I am showing you dresses, a skirt, jeans, and a couple pairs of shorts that I've purchased over the last eight months actually. I don't always get a timely chance to style items and take photos for the blog. Even when things are no longer available, I still think showing you what an item looks like and how it fits on a non-model body is still important.
The usual spiel: I shop too much and want to use my experience to help you navigate brands and sizing. Let's get to it!

- I bought the items in this post. All opinions presented are my own and without influence. This post contains affiliate links and I will be compensated if you make a purchase after clicking on my links. -
Before we get started, I am 5'9", typically wear a 22/24, wear a 40B bra, a size 11 wide shoe, and my measurements are 52/49/58.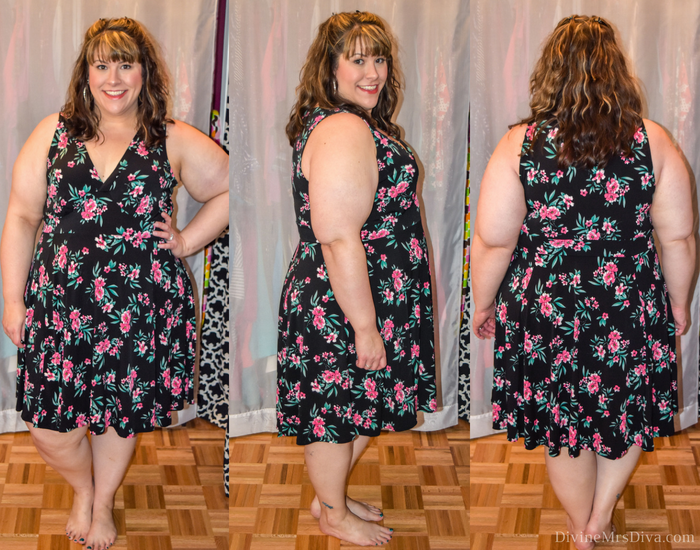 Torrid Black Floral Jersey Knit Skater Dress
(
Regular $58.90; On clearance for $20.49; Still available in sizes 10 to 30; I bought it for $54.
)
This dress is my second one in this style. I loved
the polka dot version
I wore in Victoria so much, I immediately bought this one as soon as I saw it on the website. I am wearing a size 3 and find it fits true to size. The bust fits me incredibly well, though it may skim my upper tummy roll just a smidge. The pattern tends to cover up any visible tummy outline and, honestly, it isn't really a big noticeable issue. I feel very comfortable in it as is. The hem hits me right above the knee and I adore the V-neckline. The fabric is called a "jersey knit" and is a poly/spandex blend, but it feels more like a slightly thicker rayon spandex. It is cool, lightweight, but weighted enough that it hangs really well on the body. I was playing with styling and found this light cardigan to pair it with. I also think it would be cute with my chambray shirt tied at the waist. I'll be wearing this dress to one of my reunion events, so you will definitely see the final look in the future.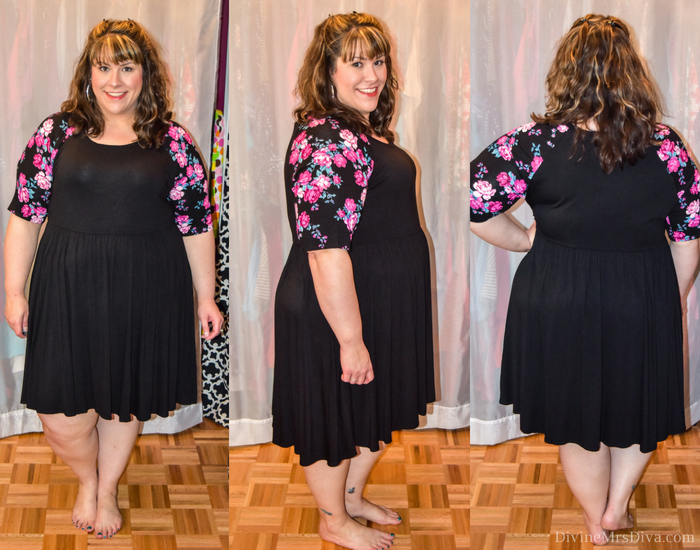 Torrid Black Floral Raglan Jersey Dress
(
Still available in size 1X (14/16) for $58.90; I bought it for $40; Other colors available here, here, and here.
)
I have eyed previous raglan dresses from Torrid and thought they were so cute, but they looked really short. When I saw this floral version, I HAD to have it. It is actually a fantastic length for me, hitting right above the knee in front with a slightly longer back. I didn't expect it to be this long actually. I wanted something that would be comfortable for travel, but maybe versatile enough to wear on its own. I haven't seen many tunic length items I like or that are long enough for me, so I thought this would do. I'll be wearing it on the plane during my upcoming travels because it will pair well with my compression leggings and low-key slip-on sneakers. (
I have to wear compression socks so my feet don't swell on the plane. Leggings, a loose top, and comfy shoes I can take on and off quickly are the way to go.
) Anyway, the jersey knit fabric is lightweight and so soft. There is an elastic waist that keeps the dress in place at the waist and defines my shape a little more. I sized up to a 4 on this one based on some other similar styles of dresses I own. I think it fits very well without feeling too loose or too tight. I highly recommend this style!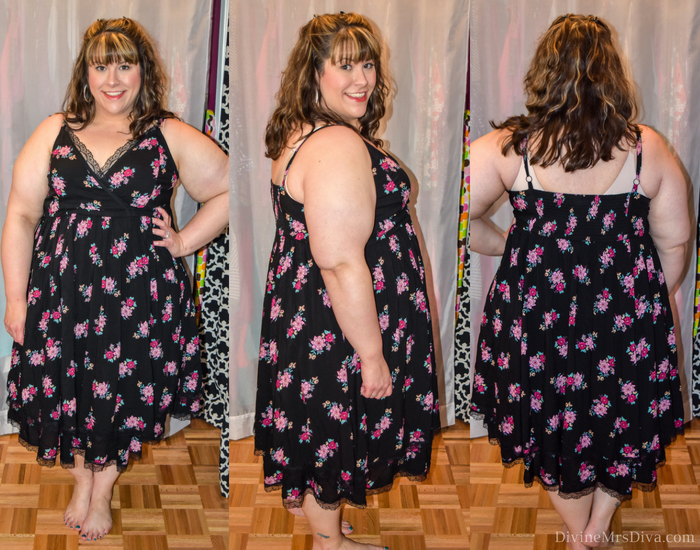 Torrid Black Floral Lace Challis Midi Dress
(
No longer available; Regular $64.90, I purchased for $50
.)
I went a bit overboard around my birthday and bought whatever pleased me - like a clothing-obsessed Joffrey, but with less bloodshed. I really loved the pink/magenta print of this dress, along with the lace trim. I ordered a size 3 and find it fits true to size. The below-the-knee length is a little different than I am used to. I decided to keep the dress though because I love the romantic details. The fabric is suppose to be challis (
which, to my knowledge, has always been more of a rayon
), but this fabric is lighter weight and more gauzy-feeling. It is perfect for a light summer dress. The skirted portion is two layers of fabric, which is also a little different than other dresses I own. I'm not crazy about a smocked back panel, but I can overlook it.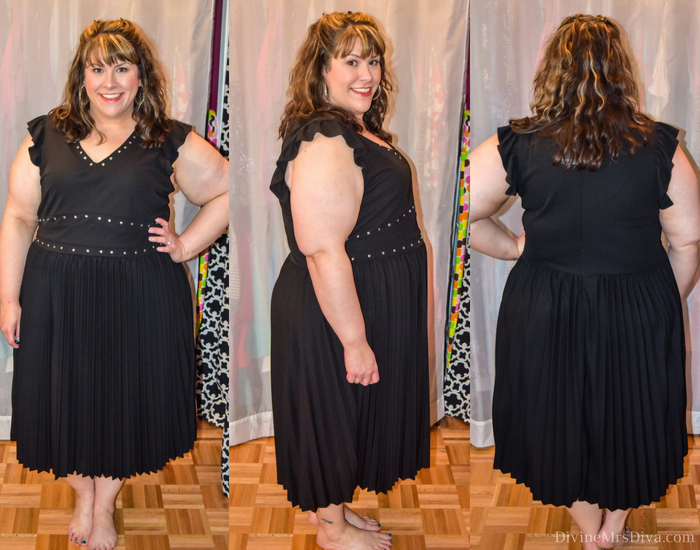 Eloquii Stud Detail Dress with Pleated Skirt
(
No longer available; Regular $130, I purchased for $49
.)
Again I say, I wenteth a little crazy during my birthday month. This was another dress that was a bit different from other items in my closet. I have been drawn to a lot of black clothing this spring and summer, which is a bit out of my usual. I didn't give this dress much of a thought, until I saw it on Jessica Kane. She looked so good in it and I wanted it! I decided to buy it to wear to a birthday dinner or anniversary dinner and the like. I purchased a size 24 because I didn't want to the top to be too fitted. I find it fits pretty true to size. My
red Eloquii dress
is a 22 and fits my bust rather well; but I think a 22 would have been a little tight in this one. I really like this dress and the pleated skirt portion. It is sweet but badass at the same time.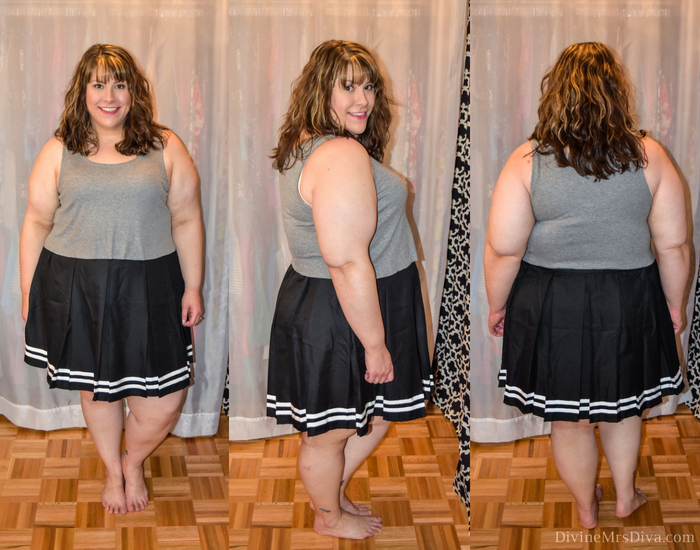 Hot Topic Pleated Cheer Skirt Plus Size
(
Available in sizes 0-5 (12-26/28); Regular $34.90, I purchased for $27.
)
For me, this piece is more for Sexy Time and costumes, but I've been wanting a cheer skirt for some time. It is hard to find one in plus. SO, when I saw this one at Hot Topic I went ahead and bought it. I went with a size 4 because I have found I usually need to size up at Hot Topic. While the skirt is a little loose to stay put higher than my natural waist, it isn't too bad. It also fits my natural waist fine. I think a 3 would probably be too tight. The 4 is a comfortable fit, though the hem is longer than pictured on the website. I would be totally comfortable wearing this out with a regular outfit. (
You will also see this skirt paired with lingerie pieces in an upcoming fitting room post.
)
Torrid Floral Embroidered Boyfriend Jean - Distressed Light Wash
(
Still available in sizes 10-30; Regular, $74.90; On clearance for $30.49: Available in various sizes in regular, short, tall, extra tall, and extra short lengths.
)
I've been pretty obsessed with Torrid's boyfriend jeans. They are the roomiest for my hips and thighs and fit me well, not loose like I picture a typical boyfriend jean. I wear a size 22 in this style and find they fit me very well. I guess I won't say "true to size" since I usually wear a 24. As I said, they are roomy enough I can size down because I do like a closer fit. I also find the Torrid jeans make my ass look way better than a lot of my other jeans. Sean calls them my "apple bottom jeans". lol
These have white and yellow flowers, olive leaves, and a blue hummingbird embroidered on them. My
embroidered bee boyfriends
from last year have been one of my favorite pieces to pop on, so I had to have these. They do have a closer fit than my bee pair, but are very soft and comfortable just the same.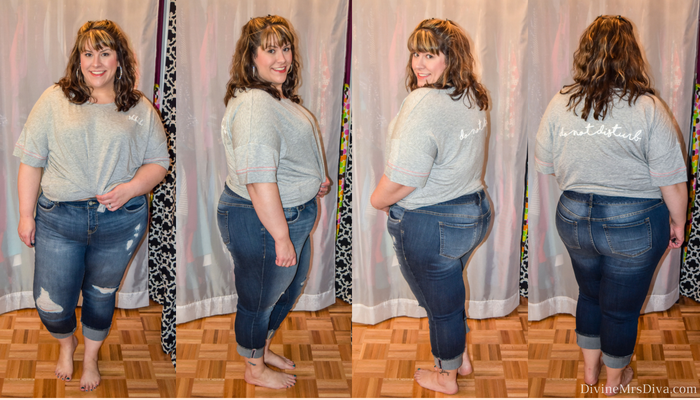 Torrid Premium Stretch Cropped Boyfriend Jean - Distressed Medium Wash
(
Still available in sizes 14 and 18; Regular $68.90, on clearance for $25.99. I bought them for $14.69.
)
An extra 50% off clearance is something I can't say no to. These boyfriends popped up on clearance and I went ahead and ordered them in a 22. They do have a closer fit than my other jeans of this same style, but I think they look great and make my butt look amazing! These boyfriends are also super soft and comfortable. The distressed areas have no backing, so I have to be very careful putting them on. They were a steal really, and I long for the cooler weather so I can wear them out and about.
Torrid Vintage Premium Boyfriend Jeans - Dark Wash with Beaded Embellishments
(
No longer available. Regular $118.90, I bought them for $40.
)
I am finding that I can wear any Torrid boyfriend jean in a size 22; and I am kind of obsessed. I have a couple pairs of cropped boyfriend jeans from previous seasons, so when this beautifully beaded pair went on sale I snatched them up. I love the fit and, of course, the sparkles speak to me! These have been very comfortable.
Catherines Boardwalk Denim Short
(
No longer available; Was $54, on sale for $32. I paid nothing because I had a gift card.
)
My favorite Bermuda shorts that I have been wearing every summer since 2014 are from Lane Bryant. When they introduced more Bermudas this season, I went and tried them on in-store because they looked a little different. They were wider in the leg and did not look good on me at all. I know one day my trusty Bermudas will need to be replaced, so I am always on the look out for more. I made my way over to Catherines to see what they had to offer. I was surprised when these cuties were available. They have the same fit as my trusty LB ones. I am wearing a 24 and find they fit true to size. These have little blue and white stars embroidered on them, with rhinestones and beading as well. I absolutely love the fit and would have bought whatever Bermudas they offered. These were the only ones for some time, but them I saw an embroidered pair and snatched those up too. The
Embroidered Shorts
are on clearance for $15 right now, in sizes 16, 18, 20, 24, and 26.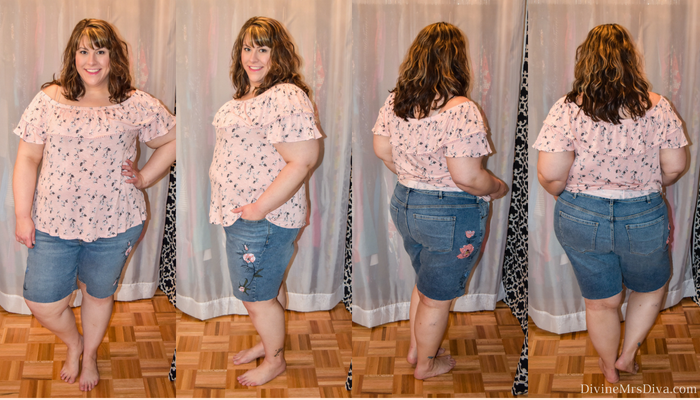 Lane Bryant Denim Bermuda Short - Printed Floral
(
Still available in sizes 12, 16, and 18; Regular $70, I purchased them for $54.
)
I bought these because I really love the floral print on them. It is screen-printed versus embroidered. I bought them pretty soon after I saw them online because I figured they would sell out of my size fast. I was right. They sold out and then brought them back, and now they are almost sold out again. These do have a closer fit like I like my Bermuda shorts, but I am still getting used to the look of the unfinished hem. It skews my view of it sometimes. I think my anxiety has been really bad when I've tried them on, so I thought they made my legs look too wide. The pictures, however, look fine to me. They fit well and are really comfortable. I'm wearing a 24 and find they fit true to size.
Join me next week for more At Home Fitting Room posts!! Have you purchased any of these pieces? Do you have a favorite item you've purchased this summer? Have you been drawn to a certain look, style, item, or color this year?