I'm on a roll this week! My goal is to post more summer outfits before summer is over! Not that long ago, the husband and I went to a comedy show at
our favorite local comedy spot
. It was a warmer day, but I wanted to be a bit more dressed up and I desperately wanted to wear this Torrid top I bought on a random visit to the store.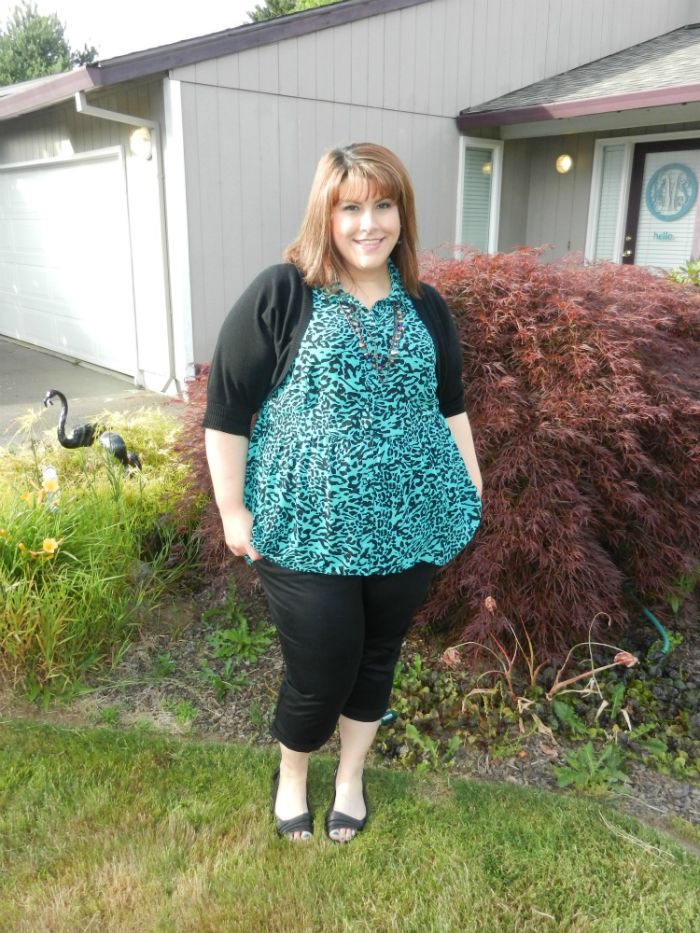 I first saw this top on
Jessica Kane
and LOVED it! As it is sleeveless and sheer, I didn't expect to like it, but the color and pattern pulled me in and I had to at least try it on. Anyway, I LOVED it and snapped it up immediately! I'm wearing a black tank top underneath. Because I still have that annoying hangup of showing my upper arms in public (although I don't mind posting my arms on the blog for whatever reason), I added the shrug for some coverage.
The capris have been so awesome for summer. I bought them in black and
purple
. They are stretchy and a thinner fabric then the denim, so they aren't super hot. They do lose some shape after a few wears. If I don't wash them, I toss them in the dryer for about ten minutes and they are good for a little while longer.
It was still a dressed up enough, but still relaxed and comfortable outfit perfect for our night out. I can't wait to wear it in the fall with boots and jeans or leggings!
Green Leopard Top - Torrd
Genius Fit Skinny Capris
- Lane Bryant
Flats - Avenue
Black Shrug - Lane Bryant
Layered Necklace - Vera Wang from Kohl's (
Similar
)
Do you have any sheer favorites from the summer? Do you plan on carrying them into the fall?