Hey, y'all!
As usual, I hope you all had a beautifully relaxing weekend doing whatever it is you love to do. I had a good mix of relaxing and productive. We watched some DVR shows, bathed the furkids, cleaned all the dog laundry, made some tasty meals, and totally cleaned and reorganized the garage.
The garage was a MESS, y'all! There wasn't a lot of walking room. We had stuff stacked up on stuff and recyclables piled up high. It has been neglected for a while. The picture below is the AFTER. Most of the "stuff" is organized and easy for us to find. Sean now has a table and workspace for working on projects to his heart's content. The trash and recycling is also in its place. We were so proud of our work and the fact we actually got it done this weekend. It's been on the To Do List for at least a month or two.
It is time again for Friend Makin' Monday. If you have a blog, I would like to invite you to answer the questions as well. Leave me a comment here, so I know you are playing. Then you can also leave a comment over at All The Weigh, so other folks can check out your answers as well. It is a fun way to connect to other bloggers.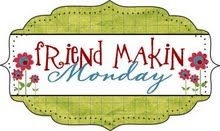 Ten Reasons To Be Thankful
1. My amazing husband who is perfect for me. He's my best friend. We have so much fun just hanging out together. Plus, he's adorable and sweet and romantic and all those other awesome things.
2. My furkids who continuously make me laugh, snuggle me, keep me company, and make me feel the feels. I love them with all my heart.
3. I'm thankful for my mother-in-law for not only raising a wonderful human being, but being so loving and kind to me as well.
4. I'm thankful for my makeshift family. By makeshift, I mean that they aren't all blood related, but they accept me and welcome me as family. My stepdad's side of the family, my sister-in-law and her family, my husband's family - they have all been a blessing to have in my life. I also have two beautiful sisters whom I treasure greatly.
5. My friends are also pretty darn special. A lot of them are also members of my makeshift family.
6. I'm thankful I have a roof over my head and all the amenities that come with that.
7. I'm thankful I get to be a stay-at-home chihuahua mama and housewife. While I don't enjoy the household chores, I do enjoy the freedom to work on projects I love and take care of my home.
8. I'm thankful that my husband had time with his dad before he (his dad) passed away in July. I never had that opportunity before my own dad died.
9. I'm thankful for blogging. I've learned a lot about myself since I started blogging and reading other people's blogs. It has opened up a new world to me that I truly appreciate.
10. I'm thankful for technology: To be able to text, picture message, IM, call, Skype, tweet, Instagram, blog, Facebook; to be able to stay in contact with my friends and family; to have a DVR and no longer have to watch commercials; to be able to check things out on demand from Netflix or Amazon Prime or what have you; etc. etc. etc. I also love air conditioners, iPods and iPod docks, internet shopping, video games, and all the other things I can't think of right now. :-)
Now it's your turn!! Don't forget to link up! Happy Monday!