I hope all of you had a wonderful weekend and festive Thanksgiving. Everything went by so fast, but I had a great long weekend. On Wednesday, I made two pecan pies and some cranberry relish in preparation for the holiday dinner. We spent some of Wednesday evening shopping the pre-Black Friday sales online. I was able to get some great deals via Kohl's, JCPenneys, Amazon, and Torrid. Thursday was pretty laid back before we went to spend the holiday with some of my family. We got home pretty late, but stayed up anyway checking out the online sales some more.
Friday was a gloriously lazy day where we slept in and then played Lego Lord of the Rings for a bit. Saturday evening brought around our first ever Bunco night with friends. It was so much fun and will be a monthly thing for all of us from now on. Sunday was another day of sleeping and being mildly productive. We at least got the carpet shampooed, laundry done, and a few other odds and ends.
I have a zillion things on my To Do List for this week, so hopefully I can find the motivation to get it all done. For today's Q&A Monday, it is all about a wishlist to Santa. I went totally over-the-top with this one because it is more fun that way! :-)
It is time again for Friend Makin' Monday. If you have a blog, I would like to invite you to answer the questions as well. Leave me a comment here, so I know you are playing. Then you can also leave a comment over at All The Weigh, so other folks can check out your answers as well. It is a fun way to connect to other bloggers.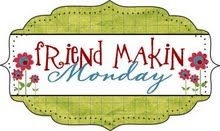 Dear Santa:
List at least ten things that you may or may not need that you'd love to find under your tree this year!
1. A trip to Ireland
2. A gorgeous house with an utterly gorgeous dressing room with glitter wallpaper
3. A sweet little piggy friend
4. Madison Metallic Leather Carrie
5. Swarovski encrusted KitchenAid Mixer
6. Ros Hommerson Brooke Super Wide Calf Boot
7. Personalized Initials of my furkids names and birthdays to add to my special necklace
8. A teleportation device so I can go visit my sisters and friends/family and travel to vacation destinations quickly.
9. A gorgeous rhinestone/beaded/sequin gown and some place to wear it
10. And a private concert for me and my closest friends that features NKOTB, Westlife, and BSB.
So there ya go! It is your turn now. Be as realistic or outrageous as you want to be! Happy Monday and have an awesome week!