*Gobble gobble!!* It is almost time for Thanksgiving. I cannot believe the holidays of 2012 are upon us. My calendar is filling up fast with gatherings and parties, craft fairs, holiday shows, and more.
This past weekend, we had brunch with my mother-in-law to commemorate my father-in-law's birthday. This is our first birthday without him since his passing in July. It is still really difficult to deal with, but I am glad we can all get together to honor his memory.
Saturday night, we enjoyed our annual Friendsgiving dinner! (Friendsgiving is our version of Thanksgiving. My friend Nigel hosts the party for all of his friends. Most of us have the same mutual friends, but it is always nice to see a new face in the crowd. I believe 29 people came out this year.) It was great fun to meet up with everyone and feast on all the yummy food that people brought. We have some great cooks in our group of friends! I'll do a separate post with some pictures from the night.
It is time again for Friend Makin' Monday. If you have a blog, I would like to invite you to answer the questions as well. Leave me a comment here, so I know you are playing. Then you can also leave a comment over at All The Weigh, so other folks can check out your answers as well. It is a fun way to connect to other bloggers.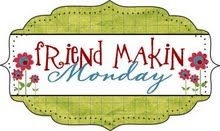 Thanksgiving Edition

1. Do you have any Thanksgiving traditions? If so, please share them.
When I was a kid, we'd always take a road trip to visit my family for Thanksgiving. My grandmas, aunts, uncles, and cousins all live in the same state, so it was our annual trip out to visit them. My older cousin Billy and I would always get the wishbone (and he would always win. I never ever won the wishbone.) It has been a long, long time since those days. At this point in my life, we don't really have any Thanksgiving traditions aside from going to Friendsgiving.

2. List at least three dishes that are on your family's table every year.
I LOVE pecan pie, cranberry relish, and sweet potatoes.

3. Do you prefer pumpkin pie or pecan pie?
I can only have pumpkin pie with whipped cream on it. I enjoy it, but my heart is with pecan pie. It was a staple in my grandma's house in Mississippi.

4. Will you watch football on Thanksgiving Day?
No, I will not. I have not watched a single game this year because I took a break from Fantasy Football. It has been very enjoyable to ignore football.

5. Do you plan to exercise Thursday?
haha I do not plan on it. I will probably get up and make breakfast with the husband, watch the parade on TV, and start getting showered and ready for the afternoon's festivities.

6. Do you prefer ham or turkey?
Hmmmmmm, I enjoy both. Even though we don't really eat meat anymore, I will definitely be partaking of the holiday yumminess in whatever form. I miss honey-baked hams. Or the ham with the spiced pineapple. Oh YUM! I do love a great piece of turkey with fresh cranberries though...and gravy.

7. Will you shop on Black Friday? If so, where will you go first?
Yes, I will be shopping on Black Friday, but from the sanity of my computer. We check out all the online sales while we watch movies and make gift lists. Last year, the husband and I spent all day on our computers partaking in the deals and waiting for some of the time-sensitive Amazon ones. We ended up buying all our gifts that day, so we played with our toys early.

8. Do you take a nap on Thanksgiving?
I don't generally take a nap. Usually we are at someone else's house or we're too busy visiting to fall asleep.

9. Share one dish that probably won't be on anyone else's table.
I can't think of anything out of the norm. I suppose fresh cranberry relish is a newer concept to me, so maybe that? I hate canned cranberry crap. Ew. Otherwise, we have all the traditional goodies.

10. What are you thankful for today?
Pretty much everything. I'm thankful for my amazing husband and sweet little furkids. I'm thankful for all my wonderful friends, family members, and make-shift family members. I'm thankful for laughter and music, health and happiness, and all those other great things. I'm thankful I have the ability to be thankful and the opportunity to have things to be thankful for.


Now it's your turn to answer the questions on your blog or right here in the comments. Don't forget to link up on Kenlie's blog as well. I hope you all have a happy Monday, a great week, and a fun and Happy Thanksgiving!
I will leave you with a Thanksgiving song, sung by a guy I've loved since I was 8-years-old - Joe McIntyre. Enjoy!