Hey, y'all!!
I've been running errands and cleaning house all weekend. I hope you all had a Happy Easter. It was a pretty lazy day for us, getting up late before heading over to the mother-in-law's house for a tasty dinner.
I'm late with this post so I am just going to jump right into it....
It is time again for Friend Makin' Monday. If you have a blog, I would like to invite you to answer the questions as well. Leave me a comment here, so I know you are playing. Then you can also leave a comment over at Losing Weight and Having Fun, so other folks can check out your answers as well. It is a fun way to connect to other bloggers.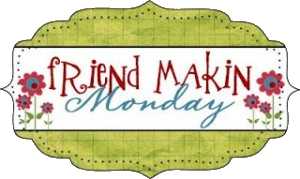 1.Do you eat breakfast each day? If so what?
I usually do eat breakfast every day unless I get up too late. When that happens, I might wait until my husband comes home for lunch or have some kind of brunch meal. My normal breakfast is a banana with almond butter. Sometimes I have gluten free oatmeal with some walnuts and coconut oil mixed in. Lately I have been making fruit smoothies with blueberries, strawberries, banana, spinach, chia seeds, almond milk, and sometimes almond butter.
On the weekends, the husband makes breakfast, so we tend to have eggs, gluten free hashbrowns, bacon maybe...something a little more like that.
2. How do you commute to work/school and how long does it take?
I work at home, so I don't have to commute. It is great!

3. What is the first website you go to each day?
I think I usually check my email first. Then I check
Facebook
,
Instagram
,
Zulily
, and various deal sites.

4. Do you check email/facebook/twitter before you get out of bed?
No. My eyes are too blurry and I am too cranky for all that first thing. When I wake up, I just want quiet and nothing too crazy. I usually wait until after I go potty, brush my teeth, and wash my face.

5. Do you take lunch to works/school from home?
I work at home, so I don't have to do that and my husband comes home for lunch. He doesn't work too far away. My last job, I worked in a kitchen, so I was able to eat for free.

6. What time do you normally finish work/get home?
It takes me pretty much all day. Between working on the blog, catching up online, working on house cleaning, or projects...I usually have to just stop what I am doing come dinner time so I can get dinner made. I'm working on implementing a better schedule for myself so I don't get so burnt out. My husband usually gets home between 6:30 and 7:30, depending on any errands he has to run after work.

7. Do you tend to plan your evening meals in advance or do you grab something on your way home?
I tend to plan things out before I go grocery shopping. We have a dry erase board in the kitchen where we write down the week's menu. Sometimes though, I just don't feel like cooking, so I have the husband pick something up on his way home.

8. What do you typically do in the evening to relax?
We have lots of shows on the DVR, so we watch one or some of those in the evening. Sometimes we work on projects or play Elder Scrolls Online.

9. Do you fit exercise into your daily routine, if so how?
Yes, we have it scheduled for at least a few times a week. We try to get at least a 30 minute workout in before dinner (elliptical and exercise bike) and any extra exercise we can fit in, whether that is taking the furkid for a walk or what have you.
10. If you had an extra hour in your day what would you do with it?
Work on craft projects or projects I have had waiting in the wings for a while.....maybe that is what I would do.
Happy Monday! I hope everyone has a pleasant week!