A couple weeks ago, Mr. Diva and I went to our new favorite comedy club, the
Helium Comedy Club
, to see Patton Oswalt. It was a much-needed night of laughter. If you
follow me on Instagram
, you already know we had great seats (and that I love the club decor!).
I had a cocktail called a Pineapple Upside Down Cake that was delicious. Next time we go, I need to write the ingredients down and try to make it at home. Off the top of my head, I can tell you it had Amaretto, pineapple juice, and orange juice in it. The club also serves this tasty, cheesy mushroom dip with buttery little toasts for dipping. I know it is thoroughly unhealthy, but indulging now and then is okay.
Patton was hilarious, trying out some new material and talking to the audience. He does such a great job when talking to the crowd.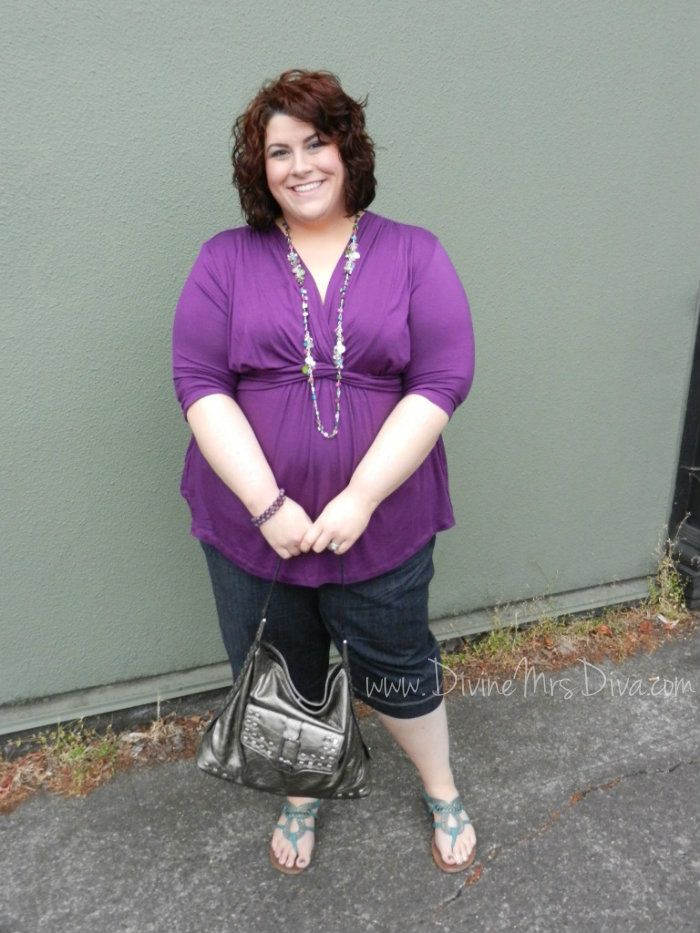 It was a rather warm day, so I wanted to stay cool and be (of course) cute at the same time. I bought this purple version of the
Kiyonna Trina Top
and couldn't wait to wear it. It is definitely a more true purple in person than it shows on the website. I own
this top in blue
as well, so you know I love it. The material is so soft and comfortable. The sleeves are just how I like them. I feel it is such a flattering style. (I want to collect them all! I still need green and black :-)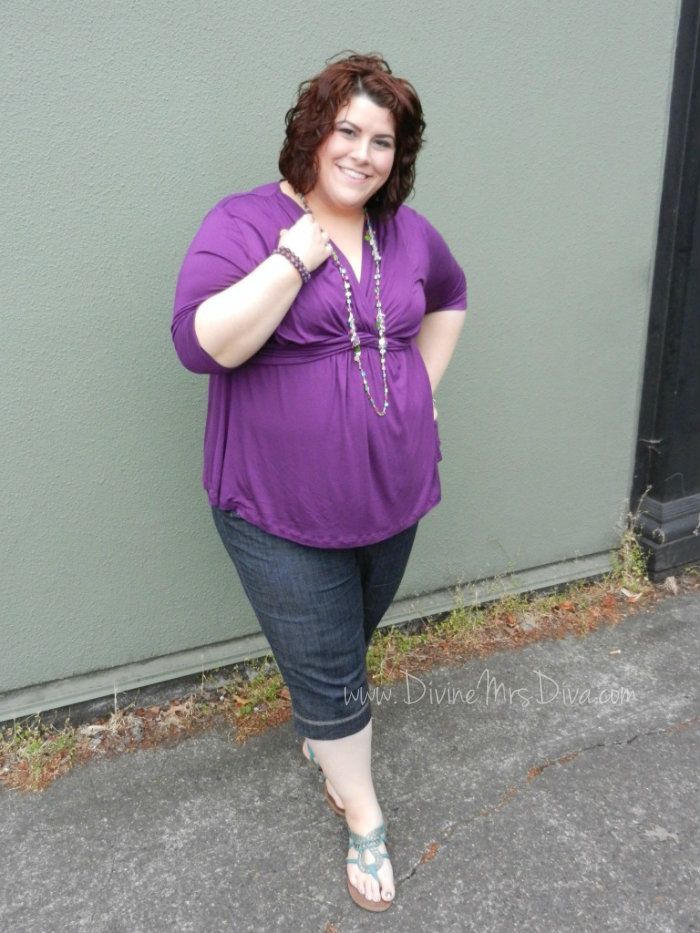 Trina Top
- Kiyonna
Denim Capris - Penningtons (picked them up last summer)
Sandals - Avenue (from Spring 2011, I believe)
Necklace - Lane Bryant (
Similar here
)
Bracelets -
Have had them forever
I didn't use garment tape on the boobage this time because we were in a hurry, so I had a few issues with that. As I've stated before, I am a very small-busted plus-size woman (I'm barely a B), so I do tend to have issues with the bust of all tops. If you have larger breasts, this won't be an issue for you. Still, it wasn't that big of a deal to me.
All in all, it was a great night. I can't wait to go back! It seems like they have a lot of big name comedians quite often. Laughter is the best medicine, right?