Ipsy
is a monthly box subscription service ($10 a month) that sends you about five samples and/or full-size products that could be makeup, skin care, hair care, or nail care in a cute little bag that fits the theme of the month. Based on your answers to a short Beauty Quiz, you are sent the best products for you geared towards your skin tone, hair color, eye color, and other beauty concerns. You earn points by reviewing the products and those points can be redeemed for selected items.
This month's theme was "
Girl Meets Glitter
".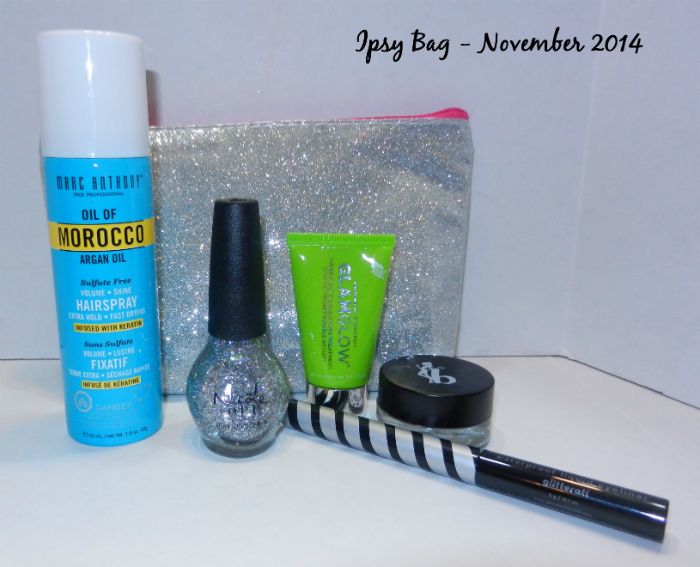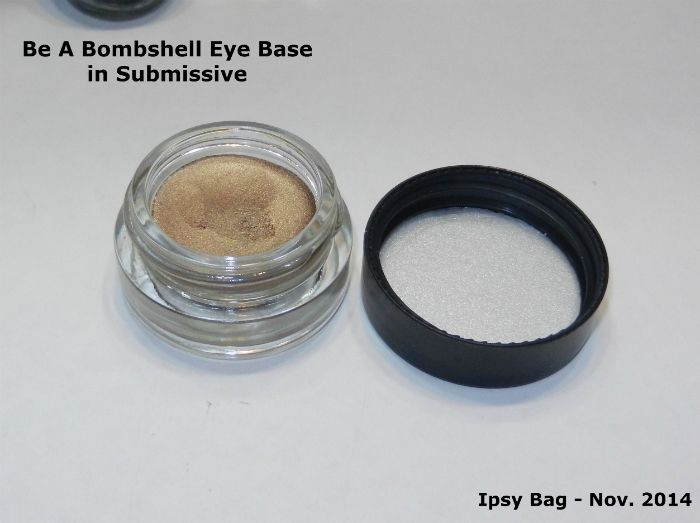 Be A Bombshell Eye Base in Submissive
- This eye base can be worn on its own or under other shadows. Sometimes you need a little something extra for your shadows to cling to to get them to pop. This shouldn't be used in place of a primer. I have only worn it with primer and haven't had any issues with creasing. The color is a soft, shimmery, bronzed gold that blends out and is easy to apply. Full size is $14.00.
See swatch below.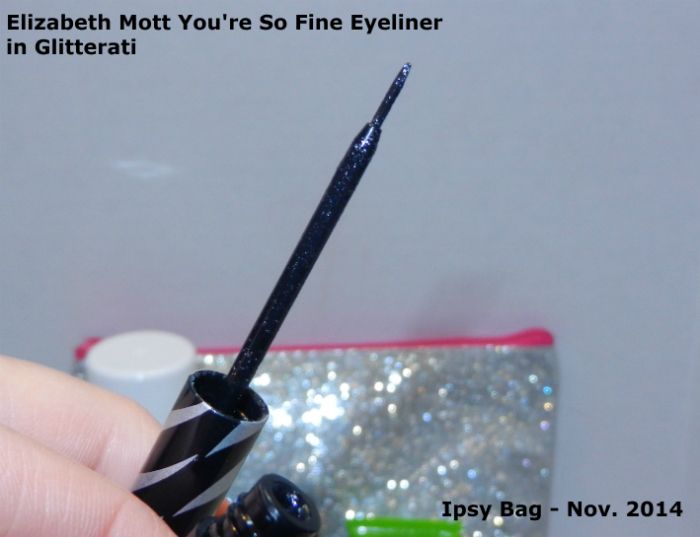 Elizabeth Mott You're So Fine Eyeliner in Glitterati
- I've said this before, but I am very picky about eyeliner and never expect any I receive to meet my standards. I have been proved wrong before and this Elizabeth Mott liner is pretty great. I've only worn it a couple times, but it glides on smooth. The color is a dark black with multi glitter that stays in place. Once dry, this liner stays put. I didn't have any smudging and had to remove it with a makeup remover. When I swatched it on my hand, I had to scrub it off until I used makeup remover (or alcohol) to remove it. That is pretty awesome in my book!! Full size retails for $17.99 and can be found mostly online.
See swatch below.
GLAMGLOW PowerMud DualCleanse Treatment
- I've heard great things about GLAMGLOW and have wanted to try it for a while now. This product claims to achieve deep cleansing in a gentle way. It goes on as an almost gel-like mud mask and turns into a cleansing oil treatment as you massage it and wash it off. I'm definitely a fan of the fruity apple/pear/papaya-like scent. It appeals to my nostrils in a lovely way.
The mud mask dries to a smooth, not too crispy stiffness. I wet my fingertips with warm water and gently massaged the mudded areas in a circular motion. The consistency became a very silky feeling cleanser that foamed just a little bit. Once I felt I had achieved cleanliness, I gently wiped off the cleanser with a damp washcloth and patted my face dry. The result is super soft and silky skin. :-)
The 1.7 oz full size product is $69.00.
Marc Anthony Oil of Morocco Argan Oil Volume Shine Hairspray
- This hairspray contains argan oil, keratin, and grape seed oil to help nourish, strengthen, and condition as you style. It is non-water based, fast drying, non-sticky, and claims to shield your hair from humidity and protect it from the sun.
The first thing that stood out to me about this hairspray is the great Sweet Tarts smell when you spray it on. Even my husband noticed the fruity scent. As someone who doesn't like to wear much hairspray, I appreciate the more flexible hold and the fact that I can still run my fingers through my hair after applying this. I've used it a couple of times and think the conditioning is there because it doesn't dull my hair, but I can't speak to the volume. I have heavy, thick, coarser hair so that may be an issue. I usually need an arsenal of products to give me my desired volume. It isn't super sticky and doesn't feel like a residue is over your hair when you use it. I really enjoy this hairspray and will probably purchase a full size product. This product can be found at Walgreens for around $8.29 for 9 oz, as well as
many other retail locations.
Nicole by OPI Nail Polish in Guys and Galaxies
- I own a few shades from this brand already and think they are quality polishes that do what a polish is meant to do. This shade is an Ipsy exclusive with bigger iridescent sparkles and silver glitter. I love how sparkly this shade is. It can be worn on its own or over other colors and will go with pretty much anything. Love it! Nicole by OPI can be found at various retailers for about $6.99.
See swatch below.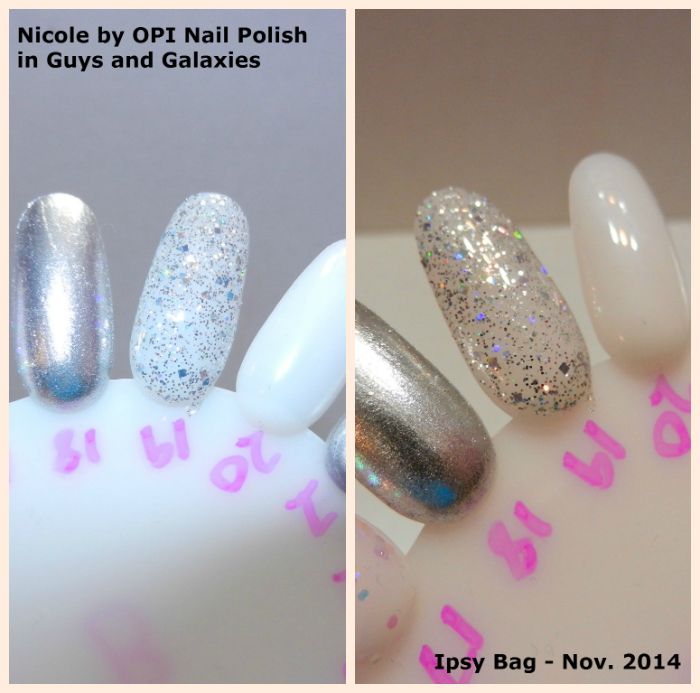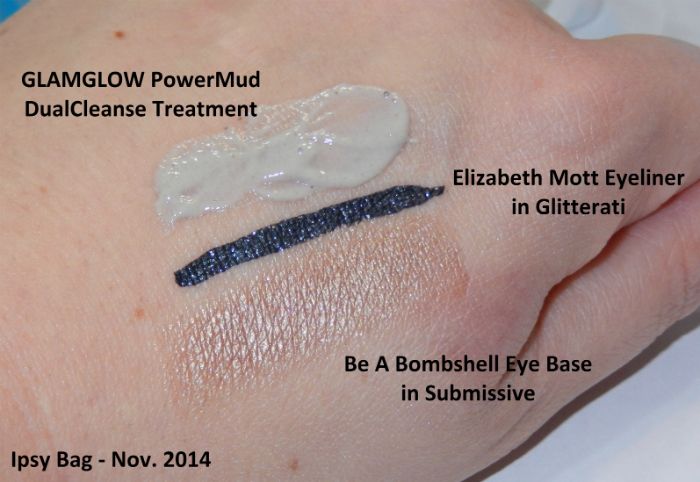 You can sign up for Ipsy using my referral link.
Have you tried any of these products? If you already subscribe, what did you get that you want to rave about? I'd love to hear about your favorite products!