I asked my husband Sean to help me put together a list of some fun gifts for guys, just in case you all need some last minute ideas. This list is definitely geared to the more nerdy, gadget-loving fella in your life, though I think there is something for everybody!
Most of this list is also last minute shopping friendly. If it isn't a gift crate or monthly subscription box, I tried to make sure it was available on Amazon with Prime shipping. If you aren't signed up for Amazon Prime, you can do the 30-Day trial and take advantage of the free 2-day shipping. I did that last year before we figured out we could combine our accounts but maintain their independence.
Let's get shopping!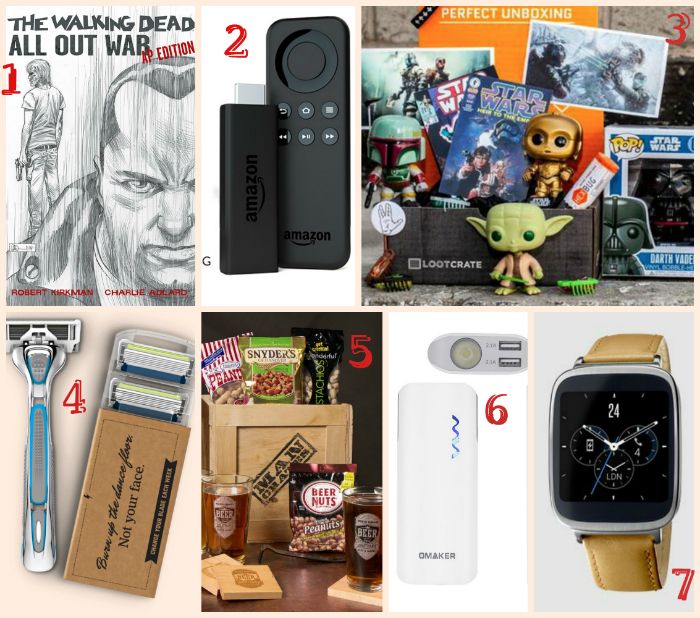 1)
The Walking Dead All Out War Artist Proof Edition
-If you're looking for a gift for a Walking Dead fan, this would be a great one! This 248-page hardcover, featuring the twelve-issue arc from The Walking Dead comic/graphic novel, has artist Charlie Adlard's raw pencil sketches uninked and unaltered from how they appear on his artboard. This is also the first time the story arc has been collected in a single volume.
$25.81 on Amazon with Prime Eligible shipping.
2)
Fire TV Stick
- Sean already bought himself this gadget because he couldn't wait. It is a really great price for a streaming media HDMI stick with Netflix, Amazon Prime video, Hulu Plus, music, games, and more. Plus, it comes with a remote!
$39.00 on Amazon with Prime Eligible shipping.
3)
LootCrate
- This is really a nerd guy's dream! LootCrate is a monthly subscription service all about geeky gamer culture. Each month features a different theme: zombies, super heroes, Game of Thrones, Star Wars, Nintendo, Aliens, Villains, and other awesome things along those lines. Just as the themes vary, so does the content. From candy and stickers, to comics and small magazines, exclusive figurines, graphic tees, decals, cards, posters, and more, there is always fun stuff to look forward to in a LootCrate box. Sean has received a few of them and really liked them. I was also impressed that the t-shirt he received was actually a 3X and fit him well. You wouldn't find that in a girl-oriented box. You can buy one month at a time (about $20), a 3-month plan ($55 ), or a 6-month plan ($106). Some deal sites and podcasts have codes for $3 off from time to time as well, so you might want to Google that.
4)
Dollar Shave Club
- Dollar Shave Club offers quality blades each month for an extremely affordable price. I actually use their blades myself and love the Shave Butter and Post Shave moisturizer. For $9.00/month, you receive a 4-pack of 6-bladed razor cartridges with the ability to add on extra razors, shave butter, face serums, etc. They are great quality products for a fraction of the cost of razors you would get at your local store.
(Full disclosure, this link is my referral code, so if you sign up I get $5 to use on the site.)
5)
Man Crates
- This site offers boxes of gifts in varying themes. Whether your man is a Retro Gamer, cigar lover, BBQ enthusiaist, golfer, gambler, whiskey connoisseur, or the outdoor survival type (and MORE), there is a gift pack for him. Some boxes even offer personalization on things like beer glasses as well.
Prices range from $24.99 to $159.99.
6)
Omaker Portable Charger
- We bought this gadget for our recent vacation. It came in handy on multiple occasions. It is small enough to fit into a pocket if need be and not extremely heavy. With the ability to charge pretty much anything, 2 USB ports, and a high charge capacity, it gets the job done and doesn't break the bank.
$21.99 on Amazon with Prime Eligible shipping.
7)
ASUS ZenWatch
- Sean just showed this to me and said "I wantses it!!", like he is Gollum and it is the Precious. Honestly, it seems like a pretty cool watch. With a classic watch appearance, it can pair with an Android smartphone to answer questions you ask it, view notifications and messages, and even track wellness statistics like your heart rate, step counts, and relaxation levels. Go-Go-Gadget ZenWatch!
$200 via Google Play.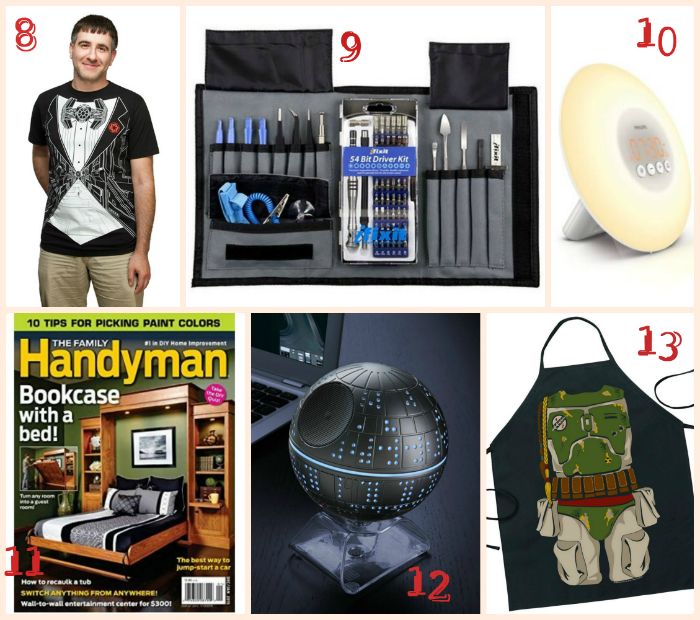 8)
Imperial Tux T-Shirt
- This t-shirt is a fun, geeky must have! I bought Sean one for our 80s Bunco this year, but it can obviously be worn for any occasion. The fit was really good and it was a hit at the party! They range in size from Small to 3X and are on sale for $9.99 at ThinkGeek!
9)
Pro Tech Electronics Repair Tool Kit
- This kit includes a huge array of tools for tinkering and repairing in a case for all the parts - bits, tweezers, suction cup, ruler, driver, spudger, etc. It has a lot of really good reviews. $
69.99 on ThinkGeek.com and also on Amazon for $64.99 with Prime eligible shipping.
10)
Philips Wake-Up Light
- This alarm clock was on Sean's Christmas wishlist, but I am pretty sure he already bought it for himself. Particularly in the dark winter mornings, he has a hard time getting out of bed. This clock has a sunrise simulation that is supposed to help wake you up gradually, with 10 light settings and a "gentle beep" to help you get up. It has 4 out of 5 stars for reviews.
Available for $69.99 on Amazon with Prime Eligible shipping.
11)
The Family Handyman
- This is a great DIY magazine for your handy guy. I bought a subscription for Sean last year since we recently bought a house. He loves getting his issues in the mail and always finds helpful tips and great ideas for things he would love to do to improve our home. A year subscription is about $10. If a physical magazine isn't your thing, they also offer versions for Ipad, Kindle, Nook, and Google Play.
12)
Death Star Bluetooth Speaker
- We are big Star Wars fans here, so we find the Death Star bluetooth speaker pretty fun! The lights turn on when it is in use and the reviews say it has excellent speaker quality.
It is $69.99 on ThinkGeek.com and looks like it is available at Target for $49.99.
13)
Boba Fett Kitchen Apron
- I bought this for Sean for Father's Day and he loves it! He enjoys cooking on occasion (and grilling), so this apron serves him well. It provides him with a covering that is more his personality than all my girly aprons.
$21.43 on Amazon with Prime Eligible shipping.
I hope you found this list helpful! Do you have some other ideas for guy gifts or something that was a huge hit in years past? I'd love to hear your thoughts!