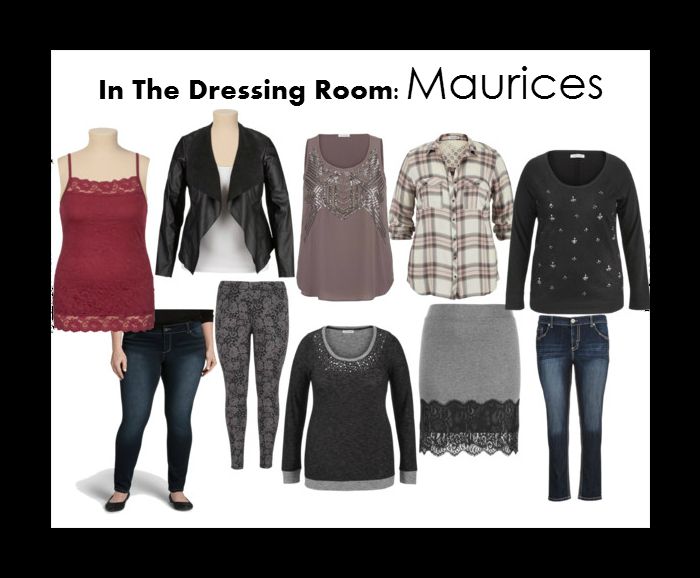 This past weekend, I finally had time to meander through a
Maurices
store for the first time. Actually, I have been to a Maurices once before; But being on the larger end of a 26/28 at the time, I was pretty sure nothing they carried would fit me. Now that I'm a size 24, I figured it would be a good time to check them out and see how things fit. Liz from
With Wonder and Whimsy
has found some really cute items at Maurices and has been encouraging me to go check them out myself.
Immediately upon entering the store, I noticed that the clothing was definitely more youthful and casual, but trendy. There was a laid back vibe about the store that I liked as well. I was greeted by a friendly sales girl who told me about the layout of the store and the sales that were going on at the time. The Plus section was located in a ten foot by fourteen foot (roughly) section of the back corner of the store. I was actually hoping for a more 50/50 scenario like Dress Barn, but there was a lot of clothing in that back corner. The sign above the Plus section noted that they carried sizes 14-24. However, a majority of the clothing is sized like Torrid on a 0 to 4 scale. The jeans are all sized in normal 14 and up numbers. It should be noted that this store also had size 26 jeans in stock.
I snatched up as many things in my size as I could in various styles and fabrics and trotted off to the dressing room. A lot of the larger sizes were out of stock due to the sales they had going on, like a Buy One Get One 50% off sale and an All Sweaters less than $44 were on sale for $19 sale. The dressing room area was a lot more open compared to Lane Bryant or Torrid. There were seats for the husbands/boyfriends in tow and about five dressing rooms with super thick doors that went all the way to the floor. The back of the doors had full length mirrors, while the walls of the dressing rooms had a ton of space to hang items. There was also a bench seat across from the door.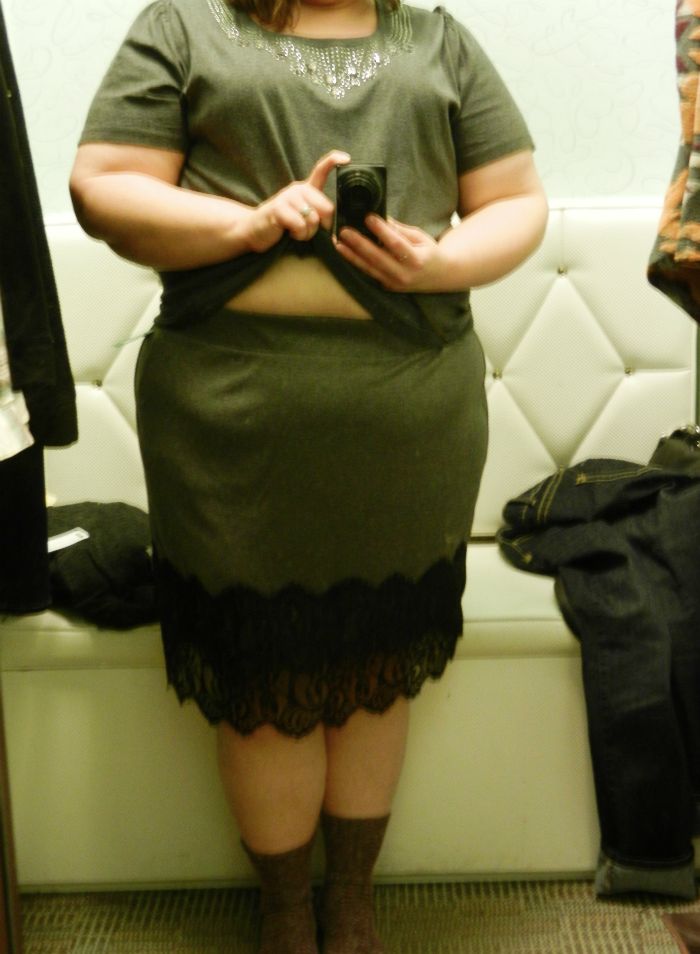 Lace Trim Ponte Skirt
($39) Size 4 - This ponte and lace skirt was my very first item to try on. Pardon my socks. lol It was very comfortable and stretchy and the lace added such a fancy touch. The size 4 was just a smidge too big, but a 3 might have been too small. There is a lot of stretch, but shapewear would have been needed to smooth things out a bit and hide panty lines.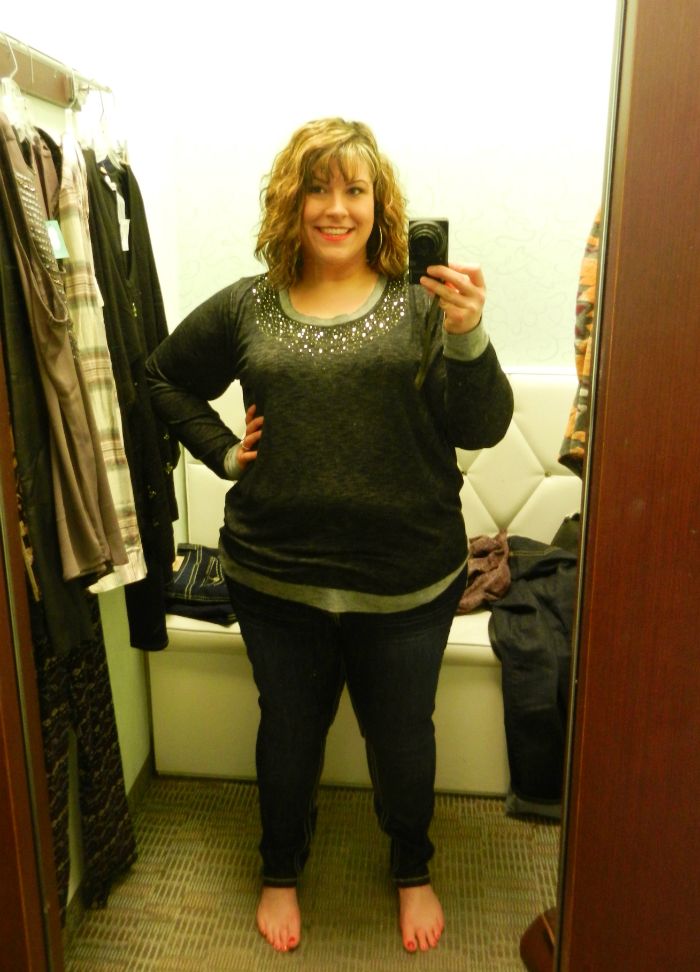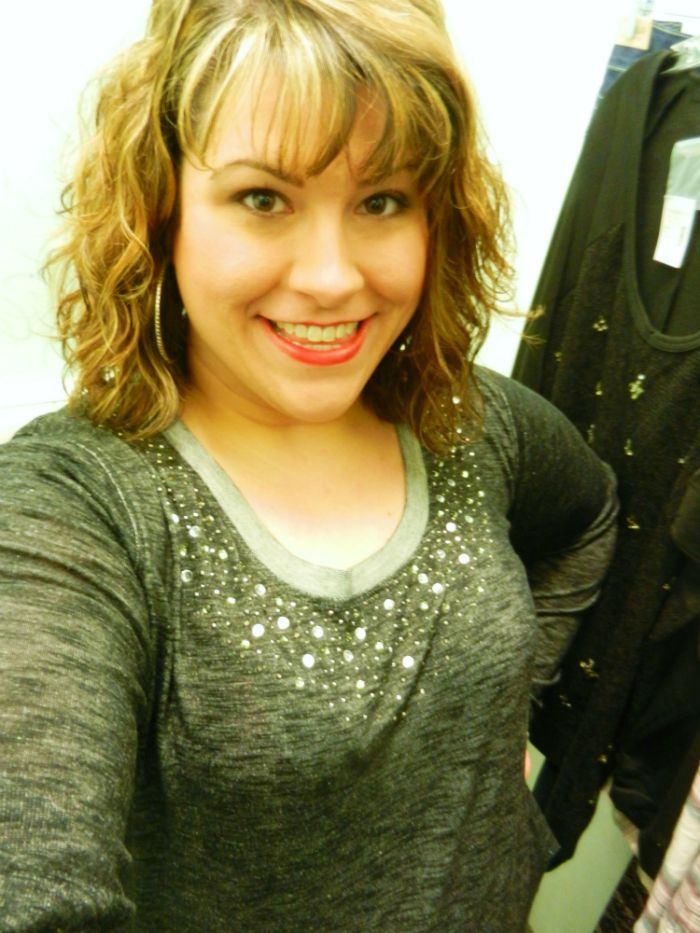 Embellished Long Sleeve Pullover
($39) Size 4 - While defined as a sweatshirt, I feel like this top was more of a tee. The stretchy material is thinner than a regular sweatshirt, which is nice for me because I tend to run hot. Obviously, I was crazy about the rhinestones. The overall fit was great, though I will wear a cami or Spanx cami to smooth out the tummy. I did end up buying this top because it was my favorite of the whole lot and practical for my lifestyle.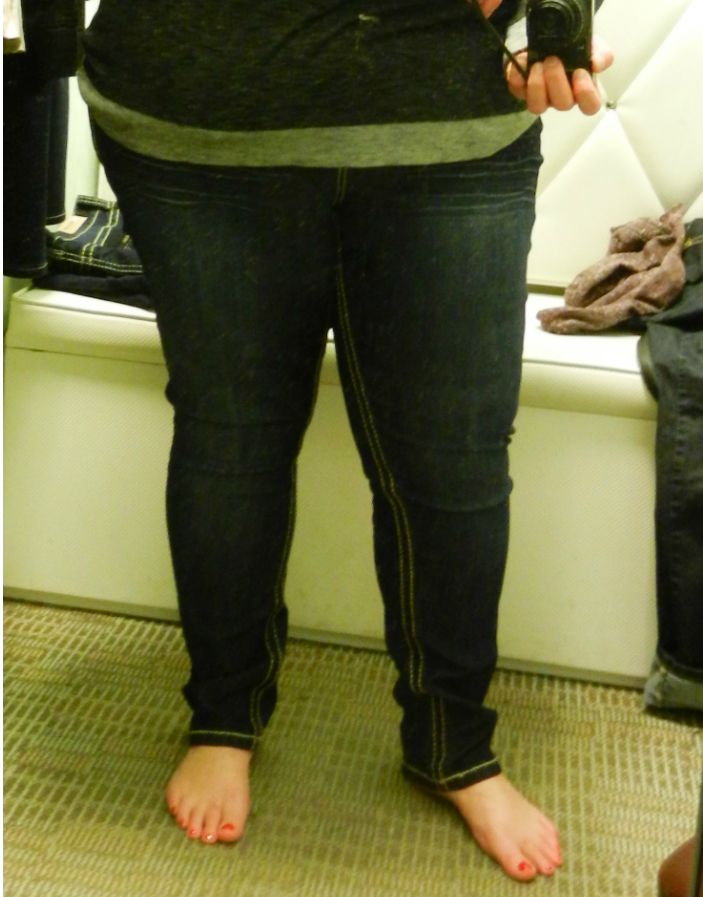 Denim Flex Sequin Flap Pocket Jegging
($49) Size 26 Regular - I initially tried on the 24 in this jean style, but they were too tight. The denim has some stretch in it, but not enough for the 24 to work for me. Plus, the smaller size was super tight on my legs and gave me what I like to call a "Seuss-like appearance." (
That's when my middle looks really big and round and my legs look thinner and short, like a Seuss character. It is mostly an ill-fitting skinny jean problem
.) Anyway, the 26 fit well, though I am not a huge fan of the major contrast stitching or the GIANT flap pockets in the back that hung really low down my butt and just looked weird and made obvious lumps under my shirt.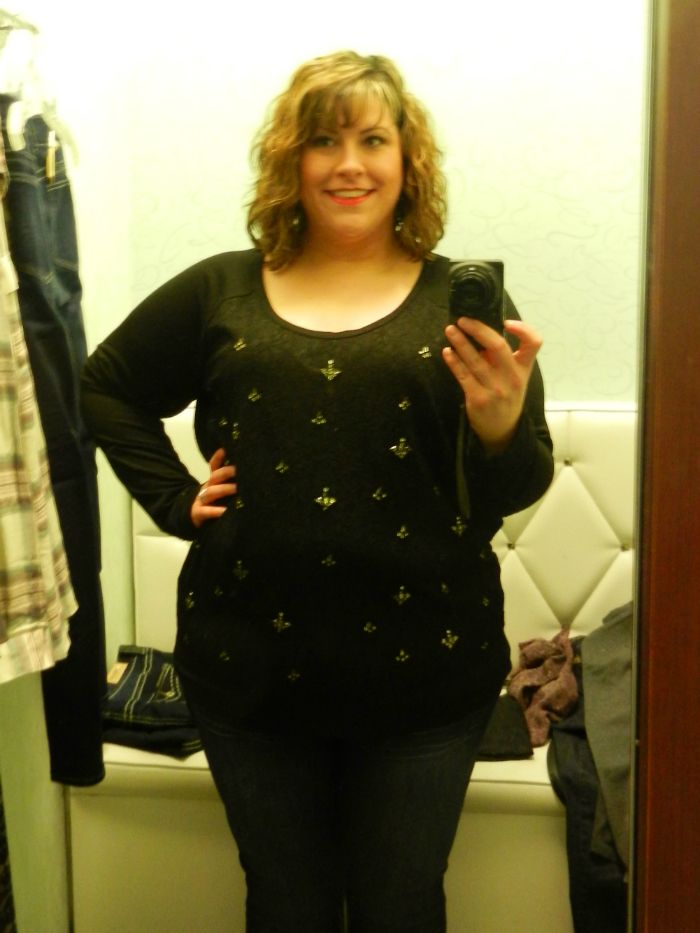 Embellished Lace Front Sweatshirt
($44) Size 4 - This top was a little tighter in the hips because the lace front didn't allow it to stretch as much as a normal sweatshirt would. The material was thicker then the previous top with little rhinestone details on the front. I actually really loved this one too.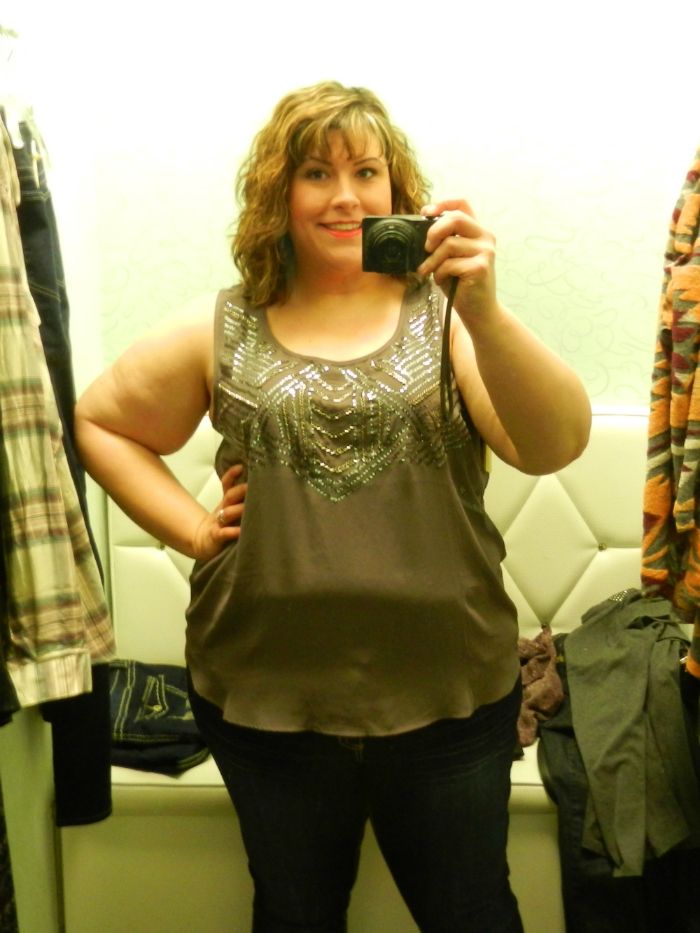 Sequin and Bead Embellished Chiffon Tank
($34) Size 3 - This chiffon top has zero stretch, so I was shocked when the only available size fit me. My tummy roll is obviously prominent, but the top wasn't even tight on my hips. The sequin and beading at the bust was really pretty, while the mauve-grey hue of the top was ideal for dressing up or down.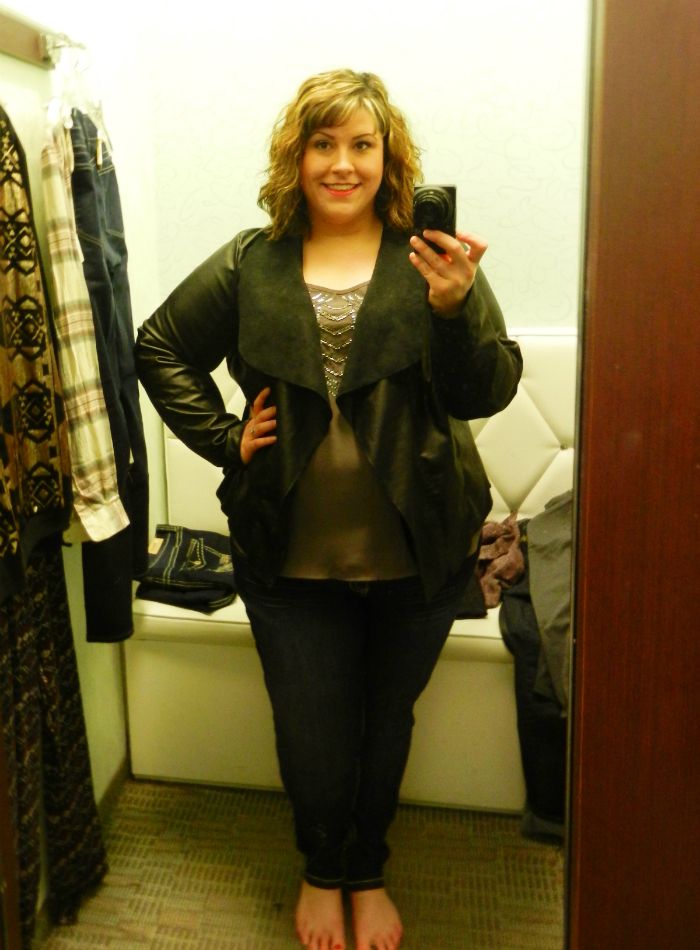 Drape Front Lightweight Faux Leather Jacket
($69) Size 4 - The beaded top looked great under this open faux leather jacket. The collar has a soft sueded texture and hung nicely down the front of the jacket. There are thick stretchy knit insets on the underside of the arm and, I believe, the sides of the jacket. This gives a better fit in my opinion. I will add that I feel like the 4 was a bit big on me and the sleeves were really long.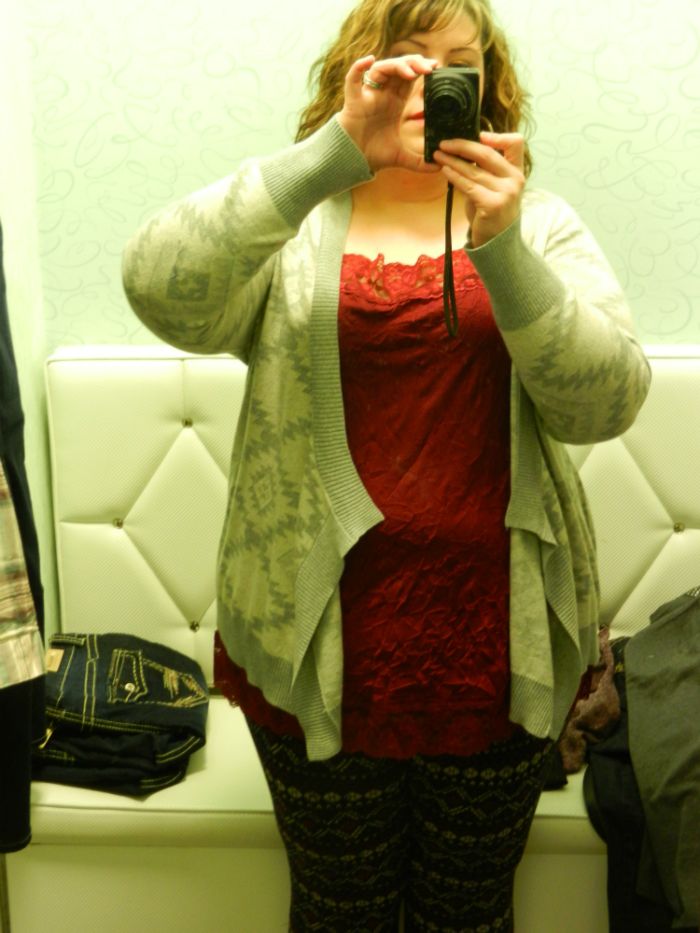 Grey and Ivory Open Cardigan ($49) Size 3 - I could not find this cardigan online, though they do have lots of similar items. Maurices had lots of patterned, sweater-knit cardigans like this, which I find fun and cozy. I loved the Aztec print and soft material. The 3 was plenty big for me with extra cozy room.
Colored Crinkle Cami
($22) Size 4 - Maurices had a lot of basic tees and camis in stock. I loved these camis for layering, with the thick band of lace at the top. This size 4 was almost tunic length though it fit me well otherwise. The material is a bit thinner, stretchy, and soft. This outfit with the leggings would be good for lounging around the house too. (
PSA: Leggings are not pants and should not be worn as such in public.
)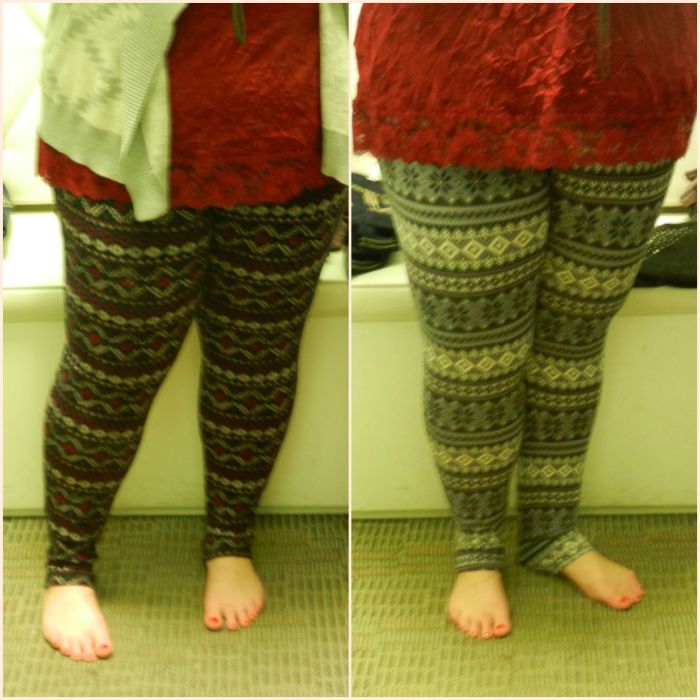 Leggings
($20) Size 4 and Size 3 - I was ecstatic to find patterned leggings on my shopping trip. I have been looking for some in my size for quite some time. I absolutely loved the pattern on the left the best, but the 4 was a little too big. While I considered they might shrink some when washed, I didn't know how much they would stretch when worn so I opted to try a smaller size. The store did not have any other sizes available in the pattern I liked, so I tried a 3 in the snowflake pattern leggings. This size fit me much better, but I didn't want the overtly Christmas/winter pattern. However, I will definitely be keeping my eyes on their leggings and snatch some up next time.
Moto Style Cardigan ($36) Size 4 - I really loved this cardigan. It looks great worn as an open waterfall-style cardigan or zipped up in a moto style. The color is a gorgeous heathered forest green, but brighter. It was really pretty! The material was a thinner, stretchy knit that provided a comfortable fit. When my budget opens up, I will go back and look for it.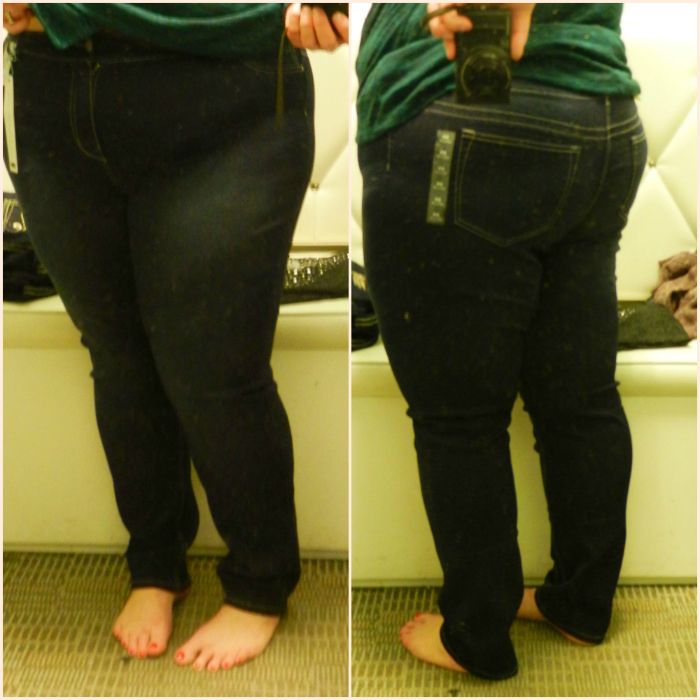 Denim Flex Dark Wash Jegging
($34) Size 24 Regular - This jegging style, sans super contrasting stitching and giant pockets, only went up to a 24 of the in stock merchandise. After trying on the sequin flap pair, I was doubtful these would fit. But I LOVE these! They are so stretchy and comfortable. The dark wash and stitching aren't too distracting and the length was perfect for me. I will definitely be going back to buy these.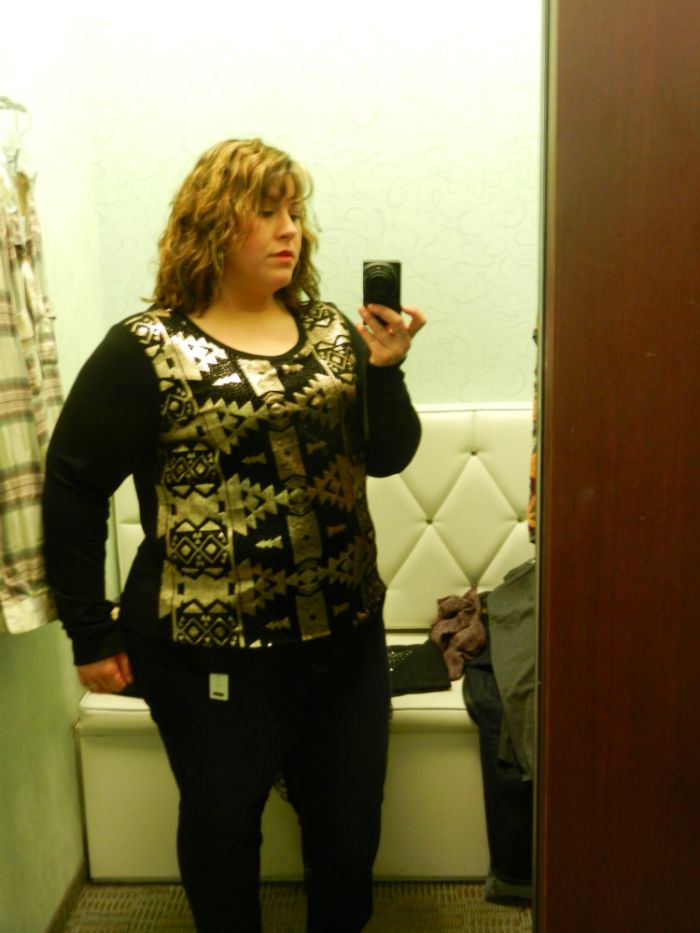 Long Sleeve Patterned Sequin Pullover ($44) Size 4 - The sequins and Aztec print on this sweatshirt reeled me in. However, it was a lot more fitted than the other similar styles. The back of the shirt was stretchy, but the front was not. Tucked into a full skirt, this top would be really fun. I just wouldn't wear it on its own with jeans like this because it was too tight.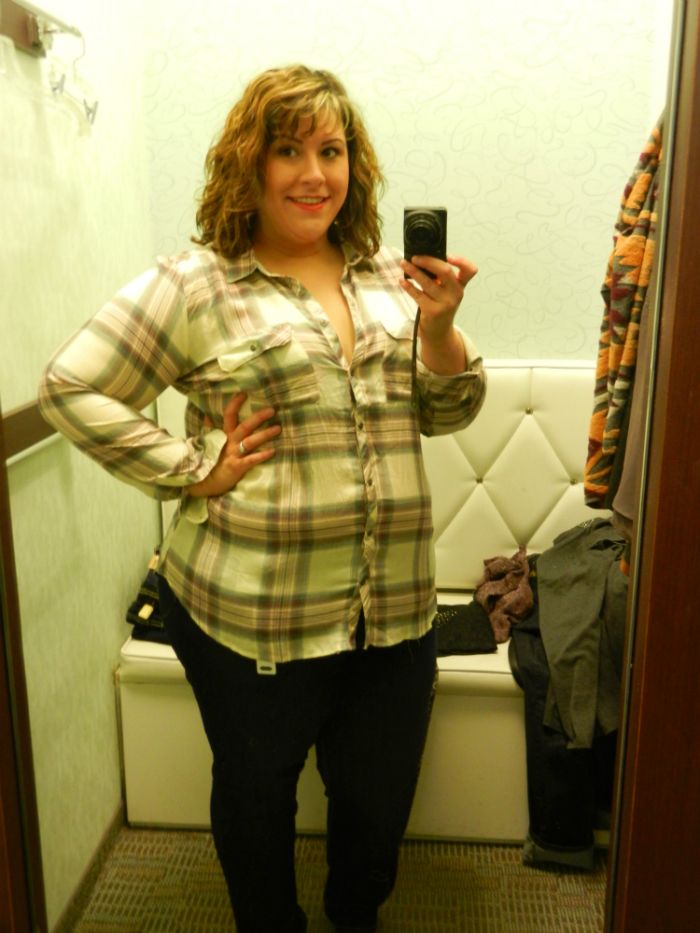 Plaid Button Down Shirt
($36) Size 3 - There were a number of plaid tops in the store, but this was the only one in stock in a larger size. I would definitely need a 4 in this. The bust fit well, but everything else needed to be slightly more roomy. It was a really cute top and had lace in the upper inside shoulder area - not a feature you see from the outside, but I thought it was an interesting and feminine detail.
Overall, I am really happy with my shopping experience at Maurices. They had a lot of pieces I was interested in. The prices are pretty reasonable and they seem to have good sales. I don't feel like the sizing is completely consistent, but it isn't a drastic inconsistency. As with everything, you should try it on, but I do feel like some of the styles would fit larger sizes. I would also encourage you to look at the handbags and jewelry too. I loved the funky statement necklaces and embellished purses.
What do you think of Maurices? I'd love to hear your thoughts!