It is time again for Sartorial Medley, a monthly themed fashion post hosted by myself and Aislynn of
Aislynn's World
. (Did you miss the previous posts?
Check them out
!) We welcome participation from anyone, regardless of your dress size. From now until the 25th, email me your photo and link to your blog post at diva at divinemrsdiva dot com. (I have to type it this way now to ward off the spammers!)
Now on to this month's theme:
Travel Fashion
.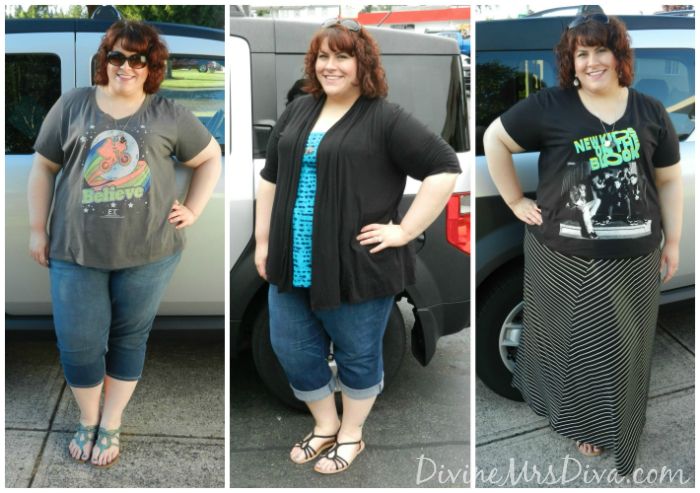 I did take a couple photos after my haircut because of time constraints.
This month is a busy one for both Aislynn and myself. She is off on an adventure in Thailand and then on to New York to visit family, while I took a road trip to see a couple concerts in the midst of buying a house and moving. Since we each have very different travels, we thought it would be fun to showcase a few outfits from our trips this month.
For me, road tripping is about extreme comfort and flexibility. I don't want anything restrictive, warm, or easily wrinkled. What keeps me from wearing something more pajama-like is the fact that I know I am still getting out of the car and need to look cute when I do so.
The first leg of our trip was about three hours long on a rather hot day in these parts. I opted for a fun t-shirt, stretchy capri pants, and sandals. I wasn't sure if we'd have time to go somewhere for an early dinner prior to making it to the hotel or who I would see in the process. I stayed cool and comfortable in this basic ensemble.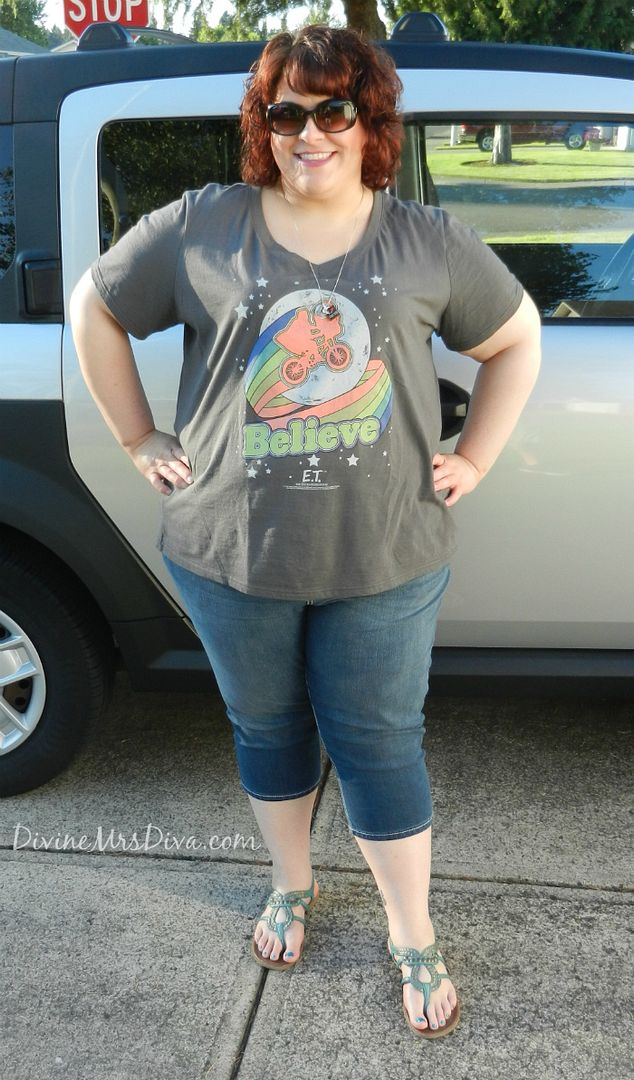 ET Graphic Tee - Torrid
Embellished Denim Capri
- Lane Bryant
Embellished Turquoise Sandals - Avenue

The next morning, we left for the second leg of our trip that Google Maps told me would be about five hours long. It turned out to only take about 3.5 hours, so we were all pleasantly surprised. For this part of the trip I went total comfort. I have had these capris for a few years now, so they are nice and worn in. They stretch out really fast, so they can look a little sloppy after a certain amount of time. This didn't really phase me since I knew that the only people who would really see them were a gas station attendant and possibly staff at the hotel on our way to our room.
Topping off this outfit is my tie-dyed esque tank. It has a more A-line fit in the body and a smocked back, so it is super comfortable and doesn't really wrinkle. While the cardigan wrinkles a little bit, I needed the extra layer in case my husband got overzealous with the A/C. lol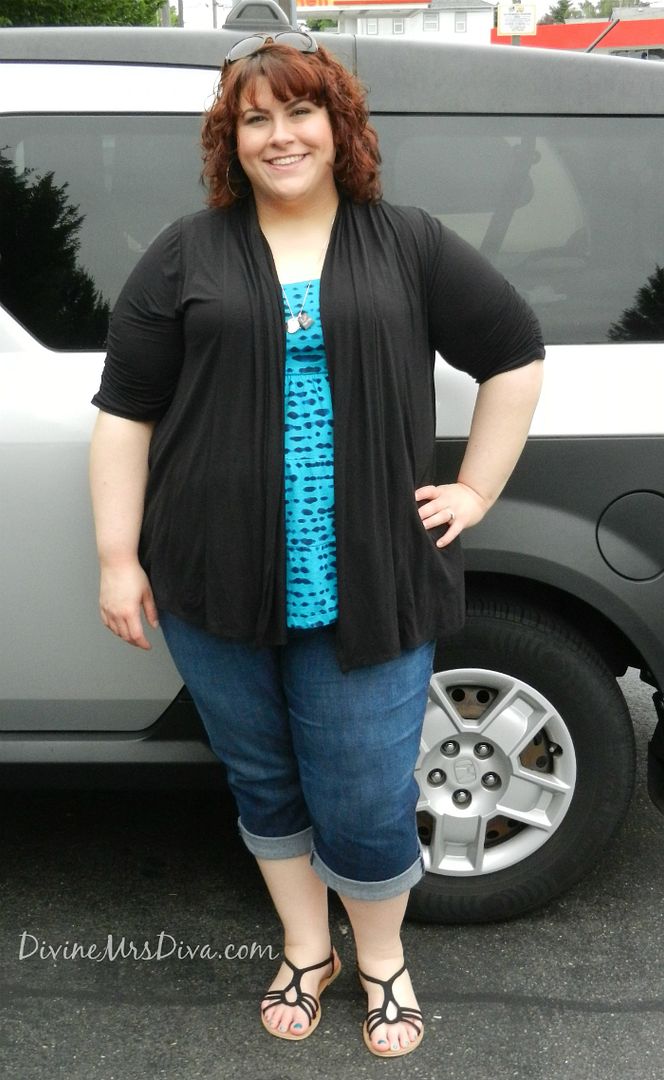 Turquoise Tank - Torrid
Black Open Cardigan - Lane Bryant
Denim Capris - Lane Bryant
Black Sandals - Torrid

For the nine hour drive back home I chose the best traveling outfit of all. I knew I would be exhausted and want to have something hassle-free. I didn't even feel like shaving my legs that day. lol Insert maxi skirt for equal parts chic and comfy. This was really the optimal road tripping outfit because it was so comfortable and provided ease of movement. I didn't even have to iron it or think about it too much as I trudged around our hotel room like a zombie.
Sandals were easy to kick off during the drive. Plus, my awesome t-shirt kept me in my Happy New Kids State of Mind. Since being back home, I have worn this outfit about three times (don't judge!). This t-shirt is certainly a conversation starter - positive conversations at that! I still mentally prepare for ignorant or mean comments like I always got in middle and high school (and up through the present), so when people are cool about New Kids it throws me off. lol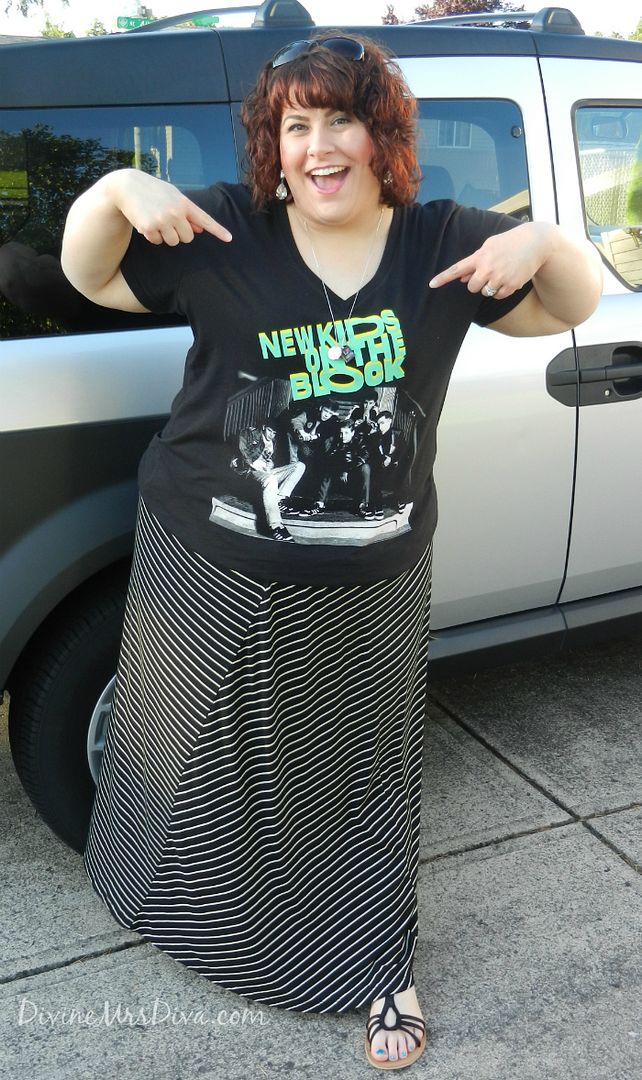 New Kids On The Block Graphic Tee - Torrid
Chameleon Convertible Skirt and Dress
- Kiyonna
Black Sandals - Torrid

What are some of your favorite pieces to travel in? Why not submit a picture of you in your favorite travel outfit to be featured in this post!