Hello and Happy Monday!
We have been homeowners for only a week, but we've been so super busy it feels like months. lol A sweet friend helped me clean the kitchen on Thursday. I don't think the previous owner cleaned some things in the 18 years she lived there. It took us 6 hours to get 85% of the kitchen cleaned and scrubbed down. The mom-in-law helped us prime the walls of my dressing room on Friday. Saturday we had errands and a family gathering to attend to. Then yesterday Sean and I spent 8 hours painting.
I am perpetually sore from head to toe. All I want to do is sleep. And moving day isn't even until this Thursday. So I am grateful for this moment to sit down and answer questions for this week's FMM.
It is time again for Friend Makin' Monday. If you have a blog, I would like to invite you to answer the questions as well. Leave me a comment here, so I know you are playing. Then you can also leave a comment over at All The Weigh, so other folks can check out your answers as well. It is a fun way to connect to other bloggers.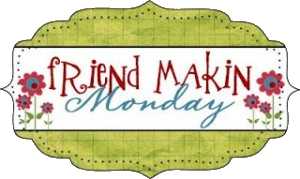 Let's Talk About TV

1. Share your current "Must-See" TV shows.
Summer time offers much less tv. Right now we are watching
True Blood
,
Dexter
,
The Daily Show
,
The Soup
. I watch
Drop Dead Diva
.
Strike Back
starts next month, so we are both super excited about that!

2. Do you prefer reality shows or sitcoms?
I prefer sitcoms and hour-long dramas. I don't watch too many reality shows other than Hell's Kitchen and Project Runway.

3. Who is your favorite talk show host?
Conan

4. Which network(s) do you turn to for news?
I don't. I guess if something major is happening I tune into CNN or MSNBC, but I am not a news watcher.
5. Do you have Tivo or DVR? If so, which programs do you have set to record?
We have a DVR and record everything we want to see on it so we can watch it when we have a chance to sit down.
6. Have you ever started watching a show simply because you heard so much about it on social media? If so, which one did you watch?
I don't think I have started watching something based on social media. Typically I may watch something based on a friend's recommendation.

7. List any TV series that you own on DVD.
My So-Called Life
,
Roswell
,
Boomtown
, and some
Mystery Science Theater 3000
8. Do you have a subscription to Netflix, Hulu, etc? If so, what kind of device do you use to stream it?
We have Netflix right now. We watch it on the tv via the Xbox in the living room and office and I use my iPad mini to watch Netflix as well.

9. If you could star in a TV show that already exists, which one would you choose?
I want to be in Parks and Rec. It is one of my favorite shows and so funny.

10. If you could bring back one TV show that is no longer on the air, which one would you choose?
Oh gosh, I don't know. I miss my old favorites, but all things must end. Maybe I will second
24
because it was such a great show.
Don't forget to link up with Kenlie! And please get some rest for me! I have to go get ready to paint some more tonight. Have a great week!