I don't usually go out on a week night. It throws my whole system off because I start thinking it is the weekend. Sometimes though, you just gotta make an exception. Sean's coworker friend is in a Celtic/folk/punk band called Kilty By Association. They perform at various locations in Portland, Oregon. It had been a while since we saw them perform live and wanted to show our support.
This particular night, we were surprised to hear they were performing in a bike shop, called
Velo Cult
, after hours. When we arrived, the band was setting up on a small raised stage against the wall in the middle of the bike store. The back half of the store looked like any normal shop you would walk into except the lights were down in that portion. I could still see racks of bike clothes and other assorted gear. In the middle of the front half of the shop was a long picnic-style table. To one side of the table were a handful of bike repair stations with a wall full of various tools and a high shelf housing lots of bicycles.
On the opposite side of the store was a full bar with four taps and a long bar with stools. We grabbed a couple beers and sat at the long table to watch the band perform. It was a lot of fun! People watching was lots of fun too. It was very Portlandia. In fact, I don't know how much more "Portland" this experience could have been. lol
Most people were in black or other muted shades of clothing, so I felt really out of place in my wonderfully bright tank and shrug.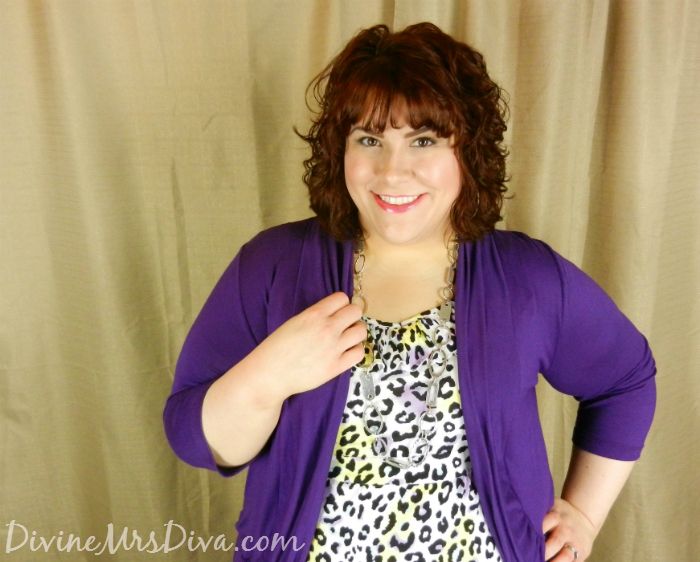 The tank is a Twist Tees tank from Torrid with a little ruffle at the top. I have this style of tank in three or four other patterns as well. (See the
floral version here
and the
polka dot version here
.) Obviously, I love them. The shrug is from SWAK Designs. I have started to collect other colors of this shrug style as well. It is just so comfy and soft and goes with so much! (
Note about the fit of the shrug: This one is a 3X and fits great, but it is a little shorter than I would have liked. I ordered a red one in a 4X. It fits well also, but is a little bit longer
.)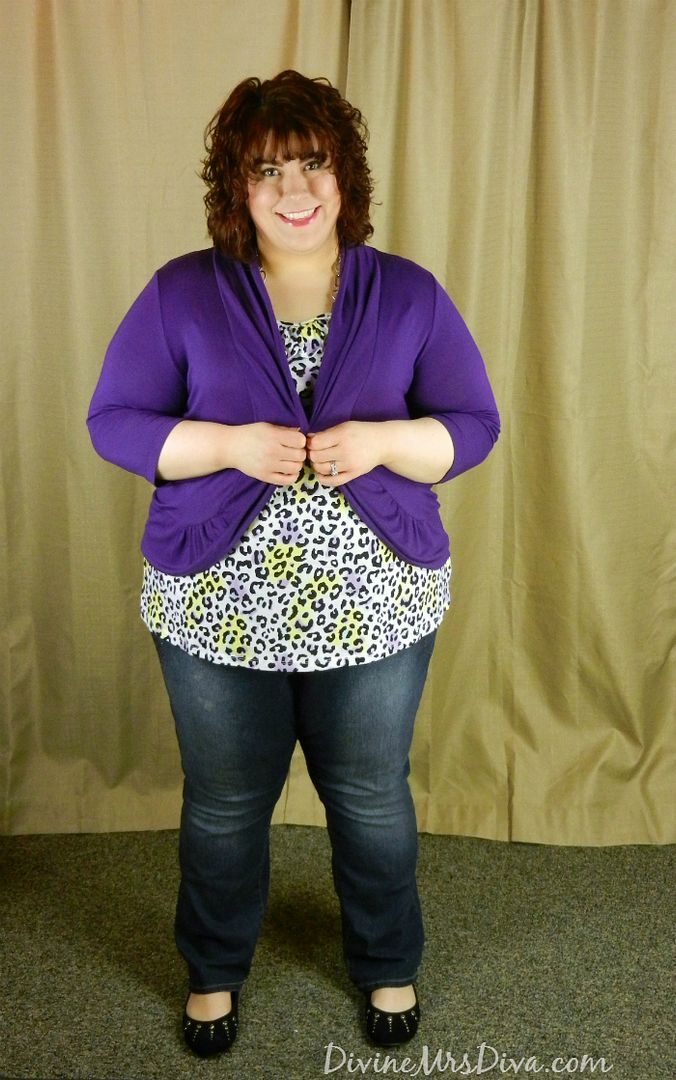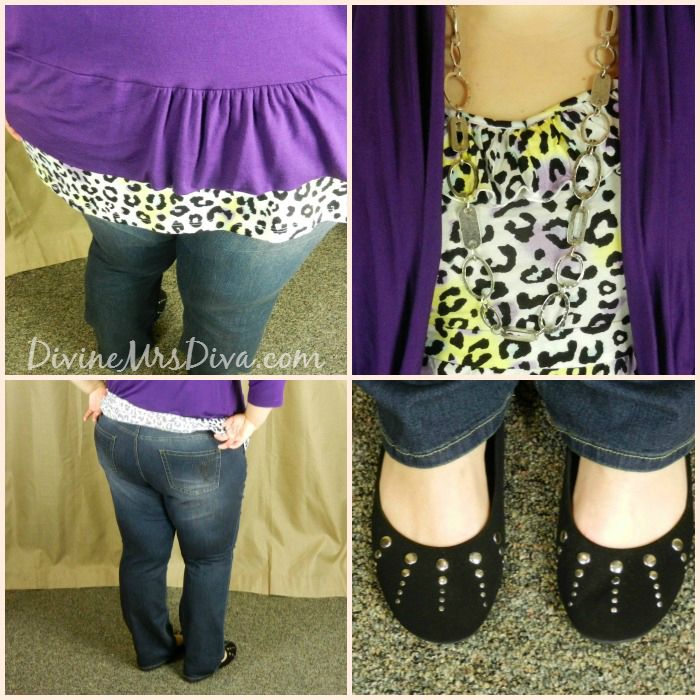 Someone requested better photos of the back of my jeans and pants to see the look and fit, so here you go!
Rhinestone Leg Sophia Skinny Jeans
- Torrid
Twist Tees Multi Animal Ruffle Babydoll Cami
- Torrid
Purple Amber Shrug
- SWAK Designs
Studded Flats - Lane Bryant (Spring 2012)
Chain Necklace - Maurices (
Similar
,
Similar
,
Similar
)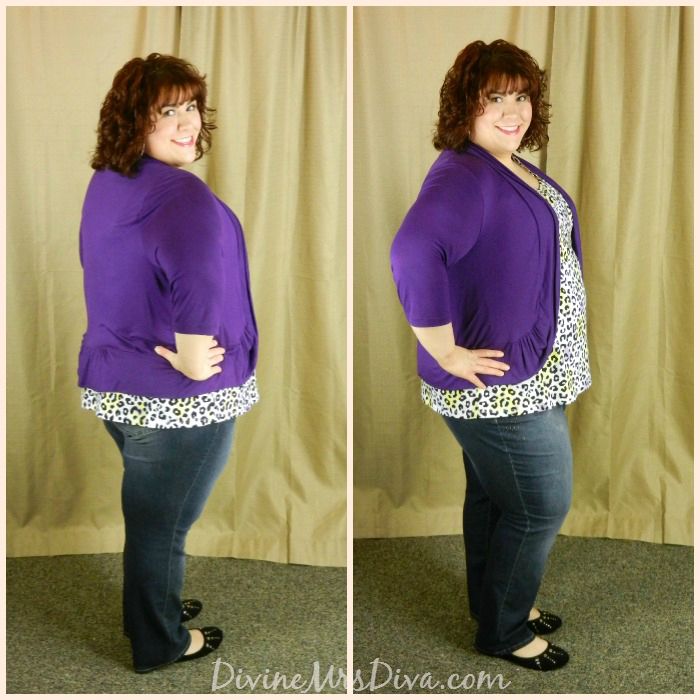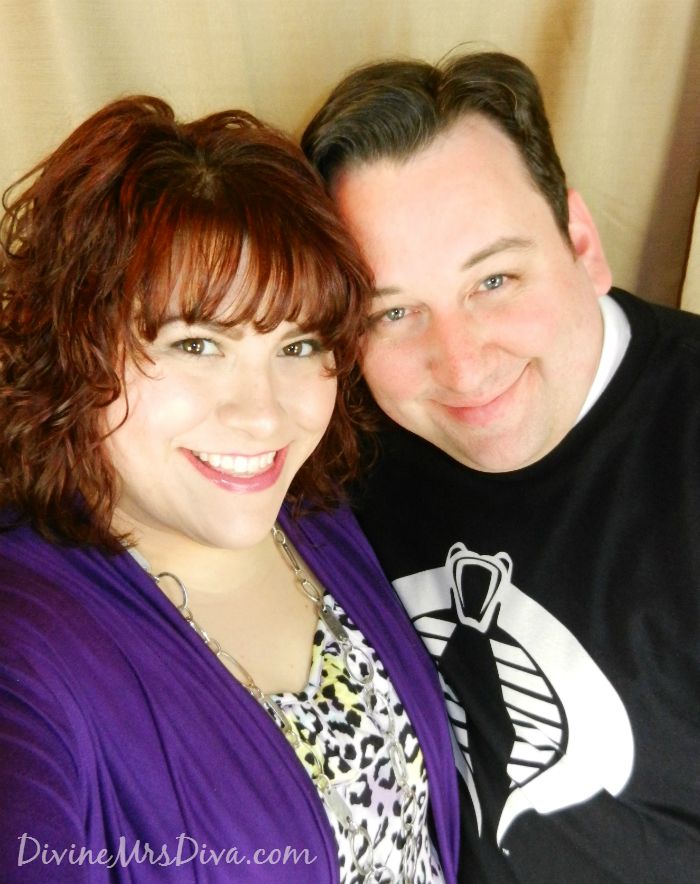 This photo with my Sweetums turned out so cute that I just had to share! Do you like going out on a week night or do you prefer to save your fun for the weekend?