Hey, y'all!!
I hope everyone had a lovely weekend! It was my birthday weekend, so the last three days have been super busy and tons of fun!
Friday, we ate a tasty dinner at a fish place in Portland and then went to a comedy club to see Chris Hardwick perform. After cleaning the house a little bit, Saturday included checking out Crafty Wonderland (a craft fair of mostly local artists) and having friends over for my birthday party!
My birthday was Sunday and was much more low-key compared to the other days. I was able to sleep in until Sean made macadamia nut and coconut pancakes for me for breakfast. We hung out a little, called his mom to say Happy Mother's Day, and then headed to dinner at P.F. Chang's. After dinner, we walked over to Powell's Books to hear Marc Maron talk about his new book and get the book signed by him.
I have so much to catch up on, post about, and do this week. Let's start it off with a new Q & A Monday!!
It is time again for Friend Makin' Monday. If you have a blog, I would like to invite you to answer the questions as well. Leave me a comment here, so I know you are playing. Then you can also leave a comment over at All The Weigh, so other folks can check out your answers as well. It is a fun way to connect to other bloggers.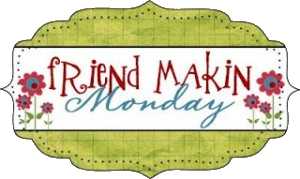 Questions and Answers
1. Do you use coupons?
I try to use as many coupons as I can. Usually the food ones that come with the mail are for really crappy food that I don't eat, so I don't use those. But I use coupons for toiletries, cleaning products, home items, clothing, etc. Costco, Lane Bryant, and other online codes are probably the ones I use the most.
2. How often do you weigh yourself?
Maybe once a year. I don't let some number on a scale dictate my worth
3. What was your favorite TV show as a kid?
How young of a kid? When I was really little, I loved
The Monkees
,
Mr. Ed
,
I Dream of Jeannie
,
Bewitched
, etc. As a slightly older kid, I loved cartoon shows like
Looney Tunes
,
David the Gnome
, and tons of Nickelodeon. Entering my teens,
Full House
,
Saved By The Bell
, etc. were my favorites. My all-time favorite show is
My So-Called Life
, which came out when I was about fourteen.
4. How often do you drink alcohol?
I have wine a few times a month and usually at social gatherings I will have wine or some kind of alcohol. In all, it is about a handful of times a month.
5. Have you ever met a celebrity or public figure that you really admire?
Absolutely.
6. If you had to choose between only your cell phone or only your laptop all week which would you choose?
Laptop. It is more of a useful tool to me and the things I need to get done in a week than my phone.
7. What is your favorite brand of detergent?
I use Gain with Febreze or Tide with Febreze, plus Downy Unstopables.
8. If there was a movie about your life, who would play the role?
Well, I would want to play me. If I couldn't do it, I would choose Melissa McCarthy or Queen Latifah. :-)
9. What book are you currently reading?
Well, yesterday I went to a book signing for Marc Maron's new book
Attempting Normal
, so I am going to start that one. I also need to start on
Saying Goodbye To Your Angel Animals
about dealing with the grief of losing a pet.
10. If you could spend one day on vacation anywhere in the world, which place would you choose?
Ireland.
Now get to it, y'all! Answer the questions, let me know you are playing along, and link up with Kenlie! Happy Monday!