Hey, y'all!! Another weekend has come and gone. I need at least two more days for Sean and I to get more stuff done this week. Isn't that usually the way?
Sean and I ventured out to the
Portland Bloggers
Meet-Up to learn some tips on Social Media Strategies. This is the very first meet-up I have attended, so it was one of those times I was super nervous. I had a hard time even thinking about speaking to people. The fellow bloggers that did talk to me were very friendly and nice, and I even met someone who reads my blog! (Hey there,
Pechluck's Food Adventures
!)
After the meet-up, we ate an early dinner, ran a few errands, and raced home to freshen up before heading to Bunco Night at my sister-in-law's house.
Sunday was super lazy and awesome. We were so busy last weekend that we barely had a moment to relax. Instead of house-hunting, we chose to sit on the couch watching my NKOTB Fenway DVD,
This is 40
, and
Game of Thrones
.
I feel good. I feel rested. And I feel like being productive. This week I will be doing recaps of birthday fun and outfits. Plus, my usual non-blogging stuff like working on projects, cleaning, cooking, and the like.
I hope you all have a great week!!!
It is time again for Friend Makin' Monday. If you have a blog, I would like to invite you to answer the questions as well. Leave me a comment here, so I know you are playing. Then you can also leave a comment over at All The Weigh, so other folks can check out your answers as well. It is a fun way to connect to other bloggers.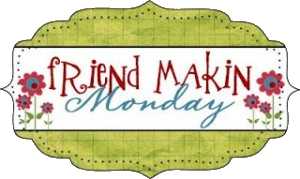 1. Have you ever been skinny dipping?
No way, no how. That is something I have no desire to ever do.
2. If you could choose an exotic vacation destination today, where would you go?
Tahiti, Greece, New Zealand, Morocco, Egypt,...
3. Do you prefer to live in the city or the suburbs?
I prefer the suburbs. In fact, if I could choose, I would be a little outside the suburbs with a big house on a big lot so I don't have people too close to me. I enjoy my privacy and quiet time in my older age. The city just seems too hectic and overwhelming to me now.

4. If you could paint, draw or illustrate any masterpiece in the world, what would it be?
The Taj Mahal, St. Basil's Cathedral in Russia, or the Hanging Gardens of Babylon (if they were real).
5. What is your favorite dish to cook when you're cooking for one?
Hmmmmm, when Sean hangs out with friends or has something else going on, I usually opt for a baked potato with sauteed onions and mushrooms. Or a salad. If it is just me, I'd rather not have to cook.
6. Who has recently influenced you in a spectacular way?
Neil deGrasse Tyson
. I thoroughly enjoy hearing him speak on any topic. I love his humor and his obvious passion for science.

7. Have you ever considered dating a person who's younger than you? If so, how young would you go?
I've never really considered dating someone younger than me. I always preferred slightly older guys. That being said, I am EXTREMELY picky, so most of them never really had a chance in hell.
It really depends on the guy because I've met guys in their 40s who act like children and guys in their 20s who are very smart and mature for their age.
8. What do you typically wear when you're at home with no plans to go out?
I am usually in pajama pants (or some other comfortable knit pants or capris), a t-shirt, and slip-on house slippers.
9. Do you prefer a shower or a bath?
I prefer taking showers. I know baths can be relaxing and nice, but I would want to be in a giant tub. Those are hard to come by. lol
10. When you meet strangers are you outgoing or more introverted?
For me, it depends on the situation. I am just naturally very shy, anxious, and socially awkward. There are times when I am very outgoing and friendly and do my best to be as sociable as I can be. And other times, like this weekend, I am plagued with fear of talking to people I don't know, feel so anxious I almost vomit, and wish I was invisible until I felt comfortable enough to introduce myself to someone or ask someone a question.
Now answer the questions on your blog or in my comments section, link-up with Kenlie, and have a very Happy Monday!!