Hey, y'all!!
Finally winding down a very busy weekend. On Saturday morning, I made a long list of everything we needed to do. I am surprised to report that we accomplished it all!
Our first order of business was going to Costco to scope out food ideas for my birthday party this coming weekend. Then we headed to Craft Warehouse to get frames for our comic fest artwork. My haircut was next, followed by visiting the Grand Opening of the new Lane Bryant. I found some super cute items and had fun interacting with the fun employees. A short trip to Home Goods and an even shorter stop at Ikea for specific containers I needed ended with a stop for dinner. We made it home in time to camp out in the air conditioned bedroom, watch SNL, and pass out.
(By the way, this is the hottest it has been so far this year, pushing 90, and we found out the A/C in the car isn't working. It has made me cranky. I don't deal with heat well.)
Today, we met up with friends of ours to watch Iron Man 3 and celebrate our friend Tim's birthday. Then we stopped at World Market and did some grocery shopping at a couple other stores before heading home.
I'm pooped. Next weekend is my birthday weekend, so it will also be super busy. I am excited though. We have some really fun things planned!
It is time again for Friend Makin' Monday. If you have a blog, I would like to invite you to answer the questions as well. Leave me a comment here, so I know you are playing. Then you can also leave a comment over at All The Weigh, so other folks can check out your answers as well. It is a fun way to connect to other bloggers.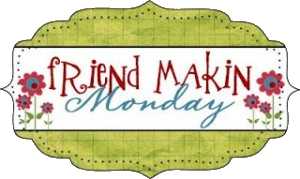 A Little About Me
1. Have you ever experienced love at first sight?
I don't really believe in love at first sight because I feel you have to get to know someone before you can truly fall in love with them. In a different context, the closest I have come to love at first sight would be when I first saw a photo of Joe McIntyre from NKOTB. I knew I wanted to know everything about him from that first photo - and I've loved him for 25 years thus far. lol
2. What channel is your TV on most?
I don't really watch live TV so I'm not really sure how to answer this. I watch everything from the DVR and it is all varied. Hmmmmmm.....
3. Share one quality that you're proud to have.
I am proud to be fiercely loyal.
4. Describe your idea of a great evening.
I love game nights with friends, but I also love just staying at home and hanging out with my husband. Just relaxing with the chiwas, drinking wine, and watching a movie or playing video games is so much fun. Otherwise, I might want to be laying on the beach at night, staring at the stars and counting satellites.
5. If your friends were asked to describe you in three words, which words would they choose?
Creative, Strong, Sassy
6. What is your favorite holiday?
Usually I say my birthday and Halloween, but the past few years I have started to like Christmas again because my husband's birthday is Christmas Day. (And I enjoy giving and receiving presents. lol) Hmmm, maybe Thanksgiving has come back around for me too.
7. If you could change one thing that would make your life easier instantly, what would it be?
I wish we had a more loving, supportive, kind society instead of a hateful one that is hellbent on ripping you apart. I wish people used their brains more and did what they were supposed to do. I get the most stressed out about other people's actions, so if people were decent and kind and intelligent that would make my life a lot easier.
8. What is one healthy food that you crave?
The strong cravings are usually for fruit - oranges, grapefruit, apples, strawberries, blackberries, watermelon, etc. If there is ever a time when we haven't had much fresh veggies (like having lots of cooked meals), I crave salad with a vengeance.
9. Do you wear socks when you sleep?
NO! I hate that feeling. I get claustrophobic when I wear socks to bed. The only time I ever do it is when I put a thick lotion on my heels to soften them up.
10. Share at least three things for which you are thankful.
I am thankful for my husband, my free time, and the love of my friends and my few family members.
Now it's your turn! Answer the questions on your blog, comment below, and link up with Kenlie by leaving a comment on her blog too. I hope you all have a lovely week!