Time for the final installment of my birthday weekend fun! On Saturday, we headed out to
Crafty Wonderland
in Portland, OR to browse the booths and look for treasures. The big Crafty Wonderland sales take place twice a year and I just love them. The booths are filled with all kinds of hand-made goods and unique items. It includes everything from clothing and artwork to hair accessories, decor, purses, jewelry, and more. I call it "
Etsy
in person".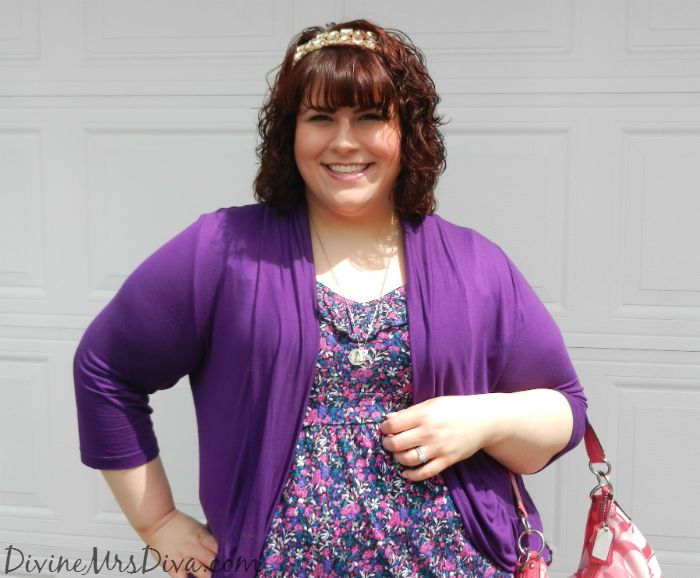 I went with the three Cs for my outfit - comfy, casual, and colorful! The denim capris are soft with some stretch to them. They fit me more like a straight leg or slight skinny jean. The wash is a little bit lighter and they have some embellishment on the back pockets (aka "Sparkle Butt Capris"). So far, they haven't stretched out much during wear.
Sean gave me the headband as an early birthday present the night before in case I wanted to wear it instead of my tiara. (I usually wear my tiara out for my birthday, but I know some people can't handle a grown woman in a tiara who isn't getting married or winning a pageant lol) It added a significant amount of sparkle to my head, which I love! This day was also the maiden voyage of my first Coach purse! I actually haven't switched purses since then. I love the bright, cheery color!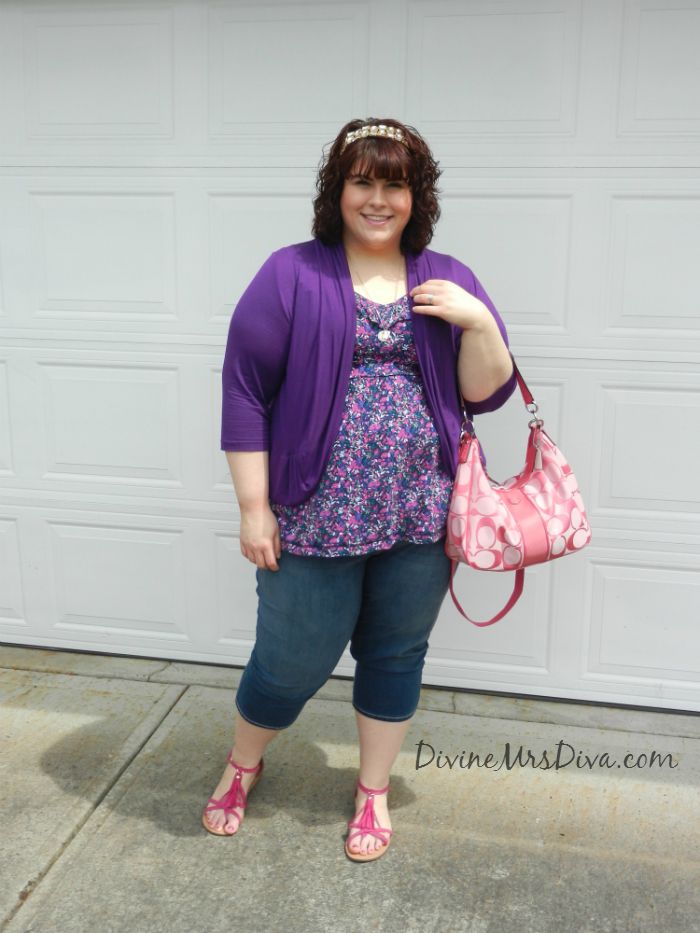 Twist Tees Ruffle Floral Tank - Torrid (Same style but different patterns
here
,
here
, and
here
.)
Amber Shrug
(In Purple Flora Shade) - SWAK Designs
Embellished Denim Capri
- Lane Bryant
Tassel Sandals - Torrid
Rhinestone Headband - Ulta
Coach Signature Stripe Handbag - The birthday present from my sister and stepdad!
More details of my day:
I received a beautiful arrangement from the lovely and thoughtful team at
Kiyonna
, and big, bright peonies from my husband!
I found these goodies at Crafty Wonderland. You should know already that I love chihuahuas and this brooch reminded me of Miss P. Chubby puppies and dancing woodland creatures for the win!!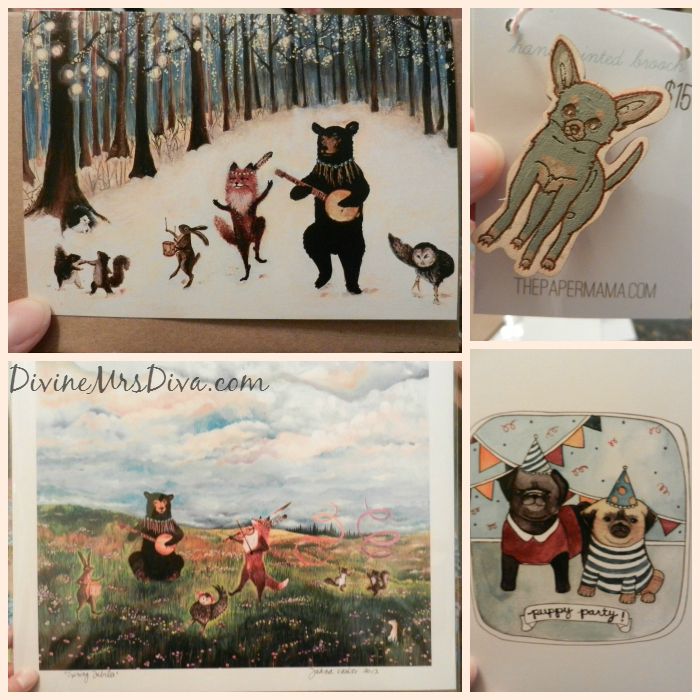 Once we got home from the crafty fun time, I had to freshen up and start up the food for my birthday party. We welcomed friends, chatted, ate, played some karaoke, and had lots of laughs.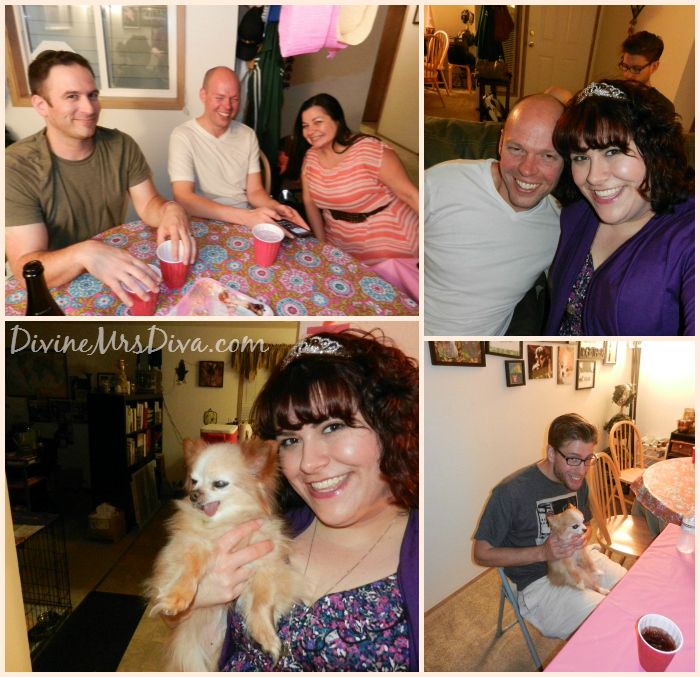 I also received some fun presents.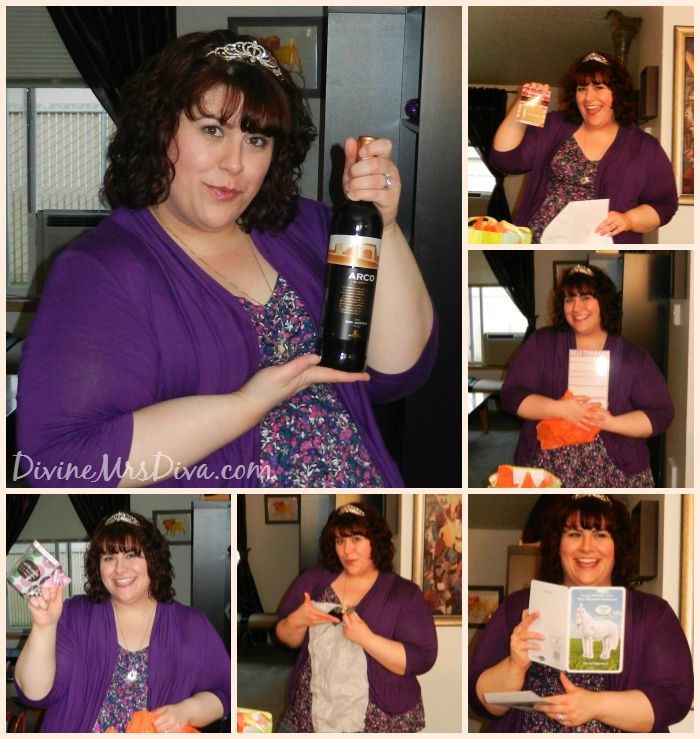 Wine, a Sephora gift card, Self-Therapy notepad, talking unicorn card, peacock bracelet, and coffee mug
Sean gave me this great vegetarian cookbook (with amazing food porn in it lol) and the new Stila After Glow Lip Color in Vivid Violet.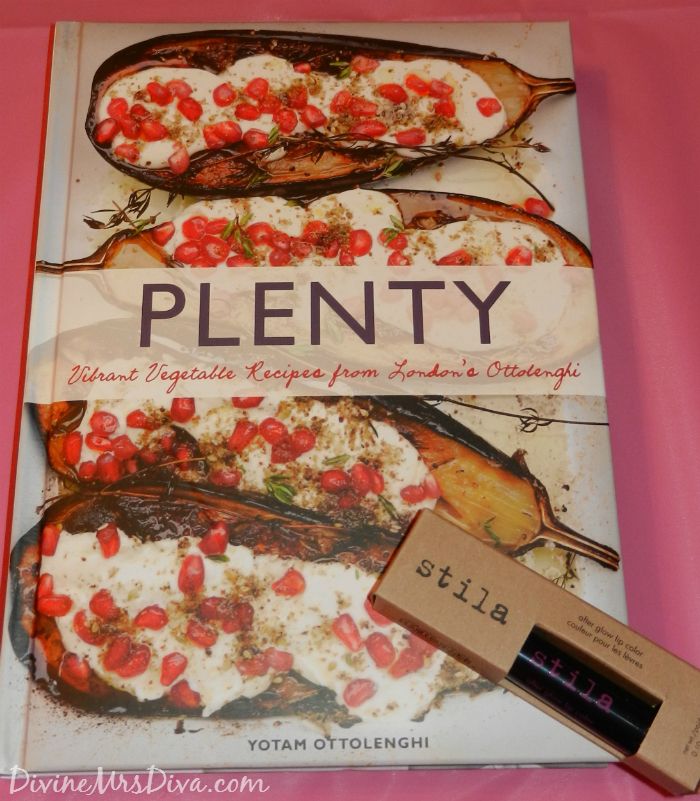 So there we go! My busy, but oh-so-fun birthday weekend adventure this year. It was a wonderful way to grow just a wee bit older. :-)