Hey, y'all! How was your weekend?
I had a fantastic weekend; I really hope you did too! I did an at-home teeth whitening thing at the end of last week. (I'll have a review of that up soon.) It worked pretty well and didn't make my teeth sore. YAY! On Saturday, Sean and I had a game night with some of our wonderful friends. We ate Greek-themed food, drank wine, and played a rousing and offensive game of
Cards Against Humanity
!
Sean and I have both been feeling a little down and out-of-sorts, so he suggested some retail therapy for Sunday. I spent some Real Women Dollars at Lane Bryant, sniffed a lot of candles at Bath and Body Works, and Sean stopped to look in Best Buy. (And we found this "Wide Retriever" jersey for Rusty!)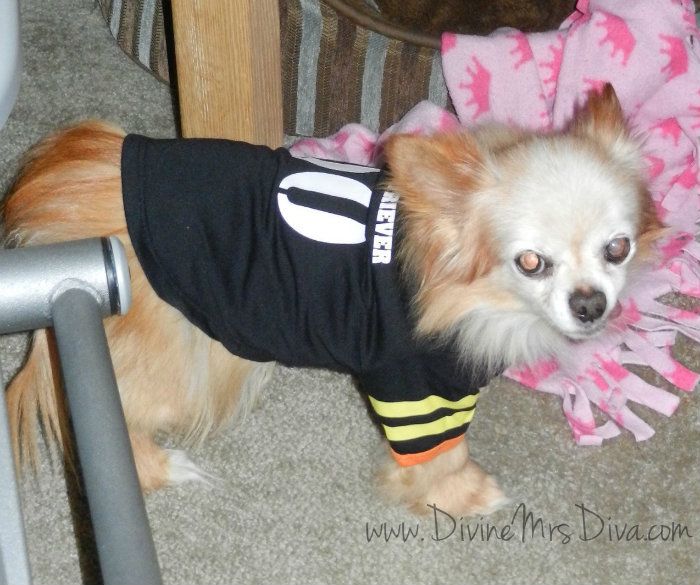 Then we had dinner with the mother-in-law, who brought all kinds of wonderful trinkets for me, to thank me for making the photo book and other picture-related materials for my father-in-law's memorial. It was super sweet and unexpected of her!
It is time again for Friend Makin' Monday. If you have a blog, I would like to invite you to answer the questions as well. Leave me a comment here, so I know you are playing. Then you can also leave a comment over at All The Weigh, so other folks can check out your answers as well. It is a fun way to connect to other bloggers.
1. Have you ever met anyone through your blog that led to an in-person friendship/relationship?
I have yet to meet anyone in person because of the blog, but there are a few people I have connected with via commenting or emails. I look forward to meeting people in person that I've met through blogging.
2. Most bloggers have a specific niche. What would you discuss if it didn't seem inappropriate on your blog?
I'd probably talk more about personal issues, like things from my past, what I have learned, etc. I've started to lean towards that sometimes and may do it a little more often. I find it very therapeutic.
3. If you could meet three bloggers, who would they be?
Oh wow. This is a really difficult question. Hmmmm, I'd say
Cora from Vintage or Tacky
,
Jessica Kane from Life and Style of Jessica
(she only lives a few minutes from me and I have yet to run in to her!), and
Aislynn from Couture for Curves
because we have been email/Twitter pals this year. But you know I can't just choose 3. I'd also add
Rebecca
,
Going Loopy
, and
Katie
!
4. If you had to choose between Facebook or Twitter which one would you choose?
I'm on Facebook more and love to see pictures and such. I think Twitter is great for keeping in better contact on a regular basis with other bloggers and readers. Plus, I tend to be more relaxed on Twitter when I post random things from the day. I want to be more active on both social sites.
5. Do you vlog (video blog?)
So far, I have done one vlog (a Birchbox review). I had a really fun time and look forward to doing more. I tried to do a video to add to my
Kiyonna Luna Lace Dress review/post
, but the wind was so bad that you couldn't hear me. :-/ I'll try again next time.
6. How many blogs do you read on an average day?
I have a LOT of blogs in my regular reading list. I have been so busy lately and am way behind though. I am slowly catching up to everything. I'd say there are probably 5 or 6 that I check in on frequently because I follow those bloggers on Twitter.
7. What is the coolest thing that you've seen online recently?
The internet is full of cool stuff! I wouldn't even know where to start on that. Last week, I wrote a really
personal blog post
and was really nervous about posting it. But what is cool to me, is that people left such wonderfully sweet and thoughtful comments on the post. It has been really touching.
8. If you gave your blog a new name what would it be?
Hmmmm, I haven't really thought about that before. I might simplify it to Divine Mrs. Diva to match most of my social media handles. Picking a name that encompasses everything you want it to is such a daunting task.
9. Have you ever attended a blog conference like Fitbloggin? If not, would you?
I haven't. I'd really love to go to Full-Figured Fashion Week or BlogHer. It always looks like such a fun time.
10. In the past I have asked why you blog. Now I want to know why you read blogs? What do you take from it?
It truly does depend on the blog. I follow a lot of fashion blogs that provide me with inspiration or just a connection to other fashionable plus size women. Some blogs I follow for decorating or crafting ideas. Some blogs allow me insight into someone's personality, thoughts, and life, which I find interesting.
Now it's your turn! Answer on your blog or here in the comments. I hope you all had a Happy Monday!