A couple months ago, I had dinner with family at one of our favorite local restaurants,
Gustavs
. It is a German restaurant that we have been going to for quite some time. In fact, my husband and I had dinner there on our first date. :-)
One of their Summer Specials was this Bulgur Wheat and Wheat Berry salad. I really had no idea what "wheat berry" was. Intrigued, I ordered the special and was pleasantly surprised with the tastiness and texture of this salad. Wheat berry is the whole kernel of wheat. Basically, if you cooked it, dried it out, and pulsed it in the food processor, it would be bulgur wheat.
I've made it twice in order to work out the right tastes and replicate what I had at the restaurant. I hope you enjoy it! Please let me know if you make it and what you think.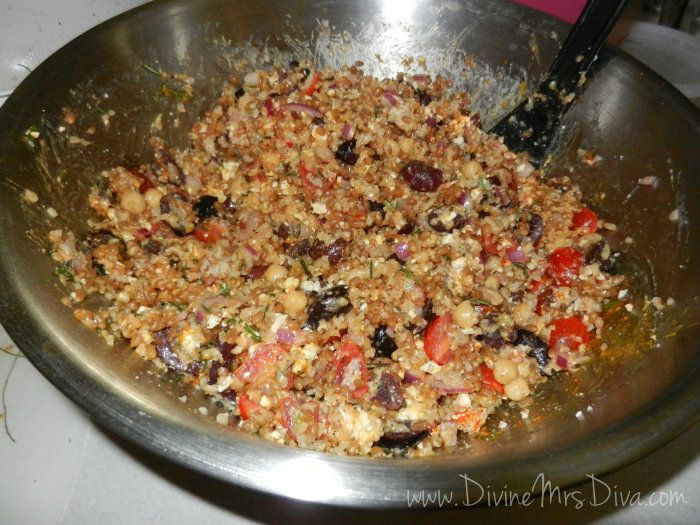 Bulgur Wheat and Wheat Berry Salad
Ingredients
- 1/2 cup Bulgur Wheat
- 3/4 cup Wheat Berry (whole kernel of wheat)
- 8 oz container grape tomatoes, halved and/or quartered
- 3/4 of a brick of uncrumbled feta, like Athenos
- 9.5 oz jar of pitted, sliced kalamata olives (I used about 3/4 of the jar)
- Half of 1 red onion, chopped
- 2 tbsp Greek dressing
- The zest and juice of 4 large lemons
- Handful of chopped fresh parsley
- Salt and Pepper to taste
- 2 tsp turmeric
- 2 tsp smoked paprika
- Mrs. Dash Chicken Seasoning
Directions
To cook the bulgur wheat, bring 1 1/4 cups of water to a boil. Stir in 1/2 cup bulgur wheat and a few shakes of Mrs. Dash Chicken seasoning, cover, and set aside for 30 minutes. After 30 minutes, drain off any extra water and set aside to cool.
To cook wheat berry, place the 3/4 cup of wheat berry in a pot (along with a few shakes of Mrs. Dash) and fill with water until water is about 2 inches above wheat berry. (If wheat berry floats, just stir it up a little. When it gets wet, it sinks down.) Bring water to a boil, uncovered, and cook for 1 hour, or until tender. Drain and set aside to cool.
You can cook both the bulgur wheat and wheat berry the night before, if need be. The longer you are able to drain it and let it cool and dry out just a bit, the better. I left mine out to cool for a few hours the night before and then added the fresh ingredients the next day.
In a large bowl, combine Greek dressing, lemon juice, and lemon zest. Stir in sliced tomatoes, olives, red onion, and parsley. Add seasonings and stir in cooled bulgur wheat and wheat berry.
Sprinkle in feta crumbles and stir well. Taste and adjust seasonings as desired. This salad can be served cold, slightly warmed, as a side or main dish, even over lettuce. Enjoy!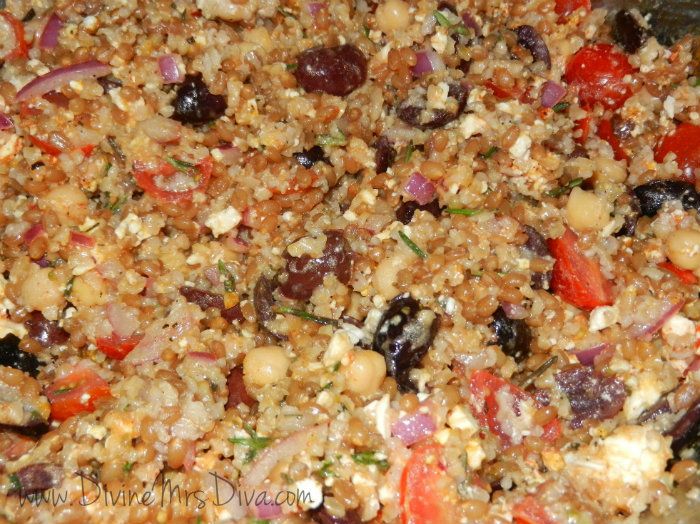 (Photos are from the first time I made a batch, so it features thyme, rosemary, and chick peas along with the other ingredients. The recipe listed above is the reworked version that I perfected and had friends taste-test before I posted this recipe.)