Today, I woke up to the sound of my house being pressure washed. We're renting right now, so the Powers That Be wanted the awnings washed this week. It wouldn't be that big of a deal, except that my dogs needed to go potty. I let them out one by one on leashes (while still in my pajamas) and tried to rush them before the guy got to the back yard.
Once the fella made his way around to the back, I noticed that water was sputtering in the windows. ALL of the windows leaked. They have some kind of little vent in the top (and I am sure some are not caulked properly). The windowsill in my craft room was a pool of water, running down the walls and everything. The only one that didn't leak was our bedroom window because Mr. Diva taped up the vent when he put the air condition in. (We can only use window units in the rental property.)
The guy was done by 11 AM. I managed to clean all the windows, shower, and have lunch ready by the time Mr. Diva came home. I am glad coffee was set up to brew automatically because I needed it this morning!
Unrelated to the above story is my recipe for tasty mushroom pizza. I haven't had too much extra time to cook or try many new-to-me recipes, opting instead for quick and easy and tried and true. One thing we found works well for us on busy weekdays is a homemade pizza. Everything can be chopped and prepped early in the day or week if you want to save some more time.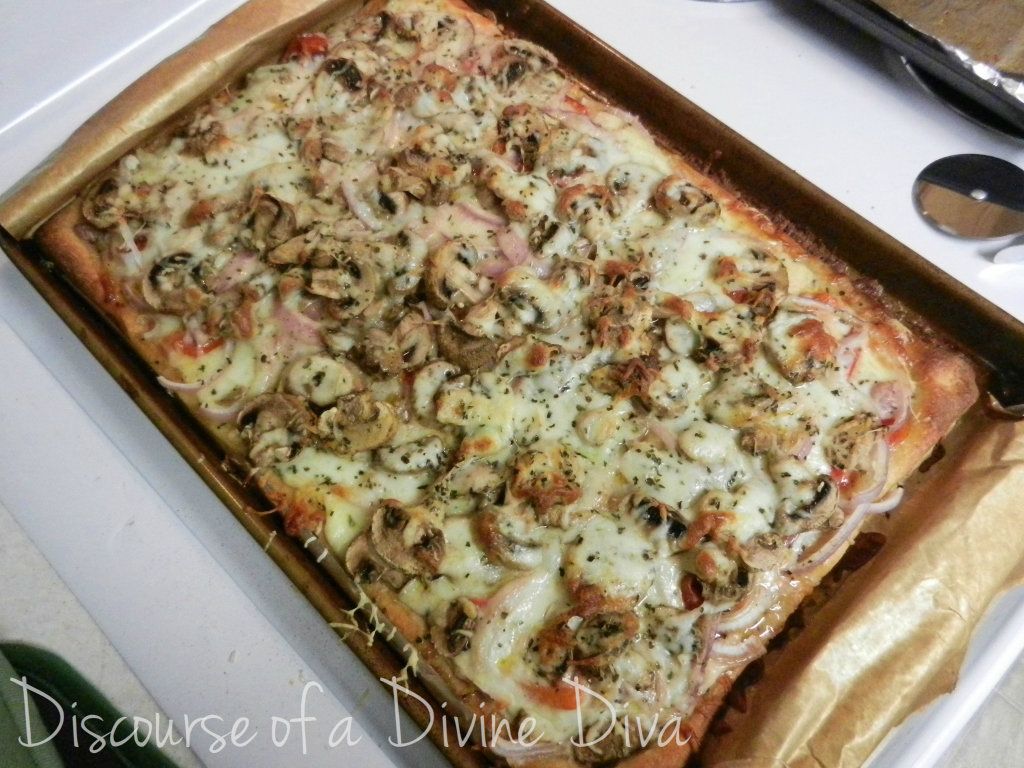 Ingredients
1 container of grape tomatoes
1 or 2 red bell peppers
Olive oil
Salt and Pepper
Sauce of your choice (I used Newman's Own Sockarooni and Classico Light Alfredo)
1 red onion, sliced
Lots of cheese! (I used mozzarella and some Gruyere I had leftover)
2 containers of sliced baby bella mushrooms
1 tablespoon of fresh thyme, finely minced
Store bought pizza crust
Directions
Prepare a baking sheet and turn oven to 400. Chop the bell peppers into small strips and spread out on the sheet pan with the grape tomatoes. Drizzle with olive oil, sprinkle with salt and pepper to taste, and toss it all together. Spread them out in a single layer and roast in the oven for 20 to 30 minutes. (This step can be done in advance so the roasted veggies are ready to go when dinner time comes.)
On another prepared baking sheet, spread the pizza crust out as evenly thick as possible. Follow package directions for pre-baking pizza crust. (I believe it is 375 for 10 minutes.)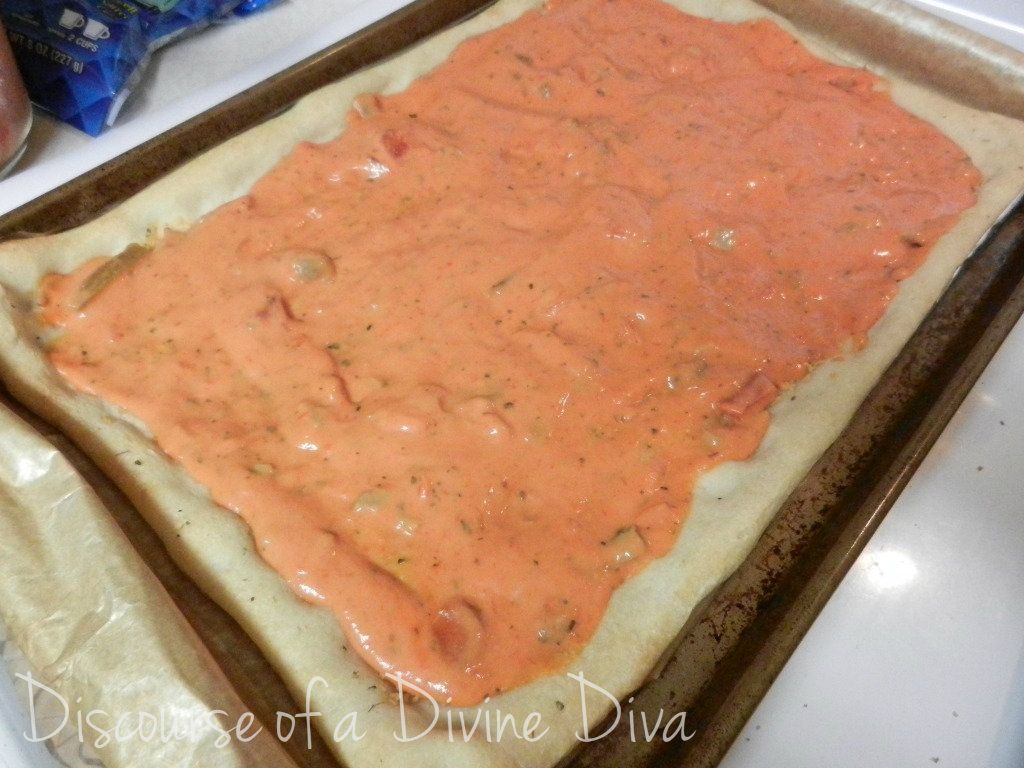 Spread your choice sauce on the crust, leaving about a half inch or so around the edges. (I mixed half Sockarooni and half Light Alfredo.) Top with a little bit of cheese, pepper, roasted tomatoes and peppers, and onions slices.
Then add all the mushrooms, a bit more cheese, sprinkle it with the thyme, add some more fresh ground pepper, and bake it until done. (Same temp as crust for about 25 minutes. Eyeball the cheese to know about when it is done.)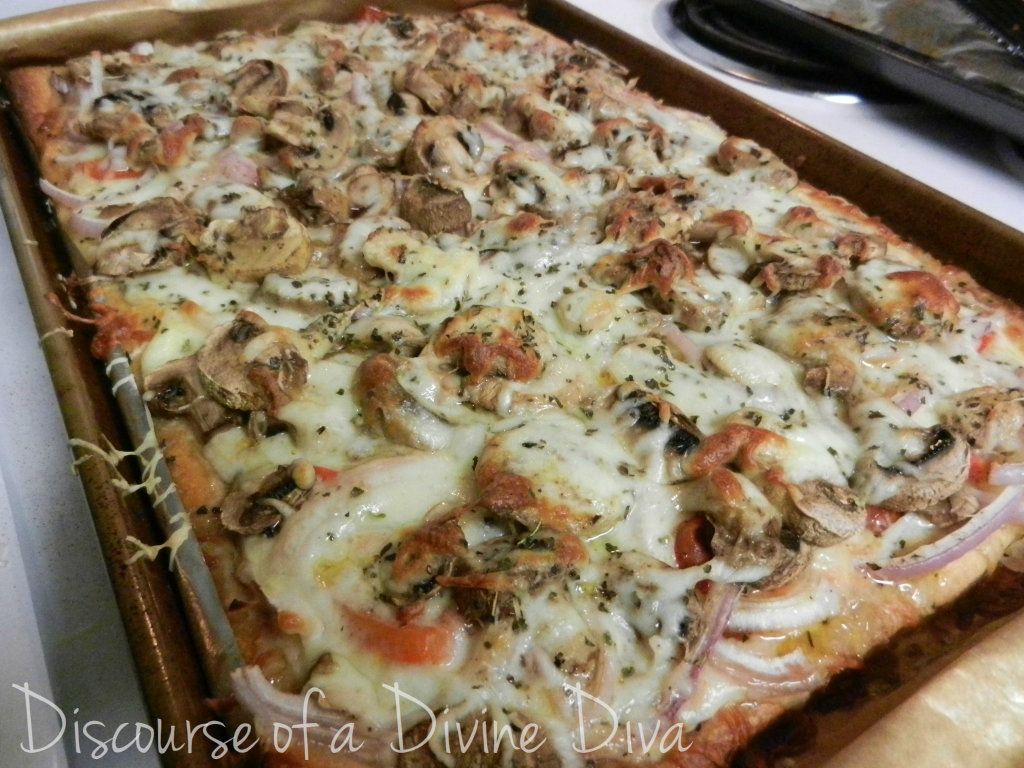 Enjoy!